Alexandria which is a city situated on the northern coast of Egypt on the Mediterranean shores is among the most fascinating cities that has a rich historical and cultural aspect. Alexandria is considered among the most important port cities starting from the ancient times reaching out until today. The city was founded by Alexander the Great after his conquest of Egypt and the name of the city comes from this famous conqueror.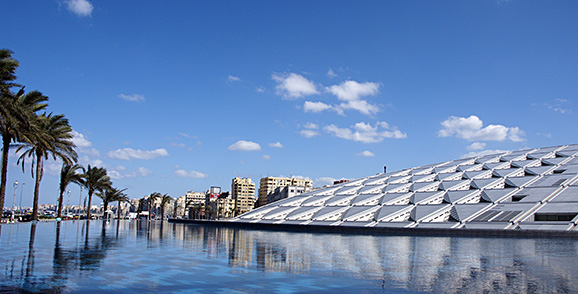 Alexandria was also home to the famous Egyptian Library which today became an attractive destination for tourists. In addition to that, its historical ruins, beautiful coastline and unique flavours make this city unique. Major attractions such as Qaitbay Castle, Pompey's Column, Egyptian National Museum and Montaza Palace offer visitors the opportunity to explore the city's past and experience the beauties of modern Egypt. Alexandria offers unique beauty combined with a rich history, making it a must-visit city when exploring Egypt.
General Information
| | |
| --- | --- |
| Country: | Egypt |
| Region: | Mediterranean Coast |
| Area: | 2,679 km2 |
| Language: | Arabic |
| Average Temperature: | 22-27°C. |
| Climate Zone: | Mediterranean |
| GMT Difference: | UTC +2 |
| Phone Code: | +20 |
| Currency: | Egyptian Pound (EGP) |
| Plug Type: | C and F |
| Flora:  | There are palm trees along the coast in the city and salt vegetation by the sea. |
How to Get to Alexandria?
International visitors can reach Alexandria with direct flights which makes it easy to travel to this beautiful Egyptian city. Borg El Arab Airport serves the city and is connected with international flights. The direct flights between Istanbul Sabiha Gökçen Airport and Alexandria with Pegasus Airlines is the most convenient way to reach this city.
Transportation from Alexandria Airport to City Centre
There are various bus options to reach Alexandria city center from Borg El Arab Airport. Buses operated by a private bus company called Eman Transport which has different bus options at different times. Airport shuttles are also a good alternative running between the airport and city center. The city buses might be a convenient option with their affordable prices but it is important to check the routes and traffic if you want to catch a flight. Before you travel, you can get more information about bus routes, schedules and fares from the information counters in the airport terminal or from local authorities.
If you have a lot of luggage and want to travel fast, taxis are the most convenient options. Taxi service is available just outside the airport terminal. It takes approximately 45 minutes to travel to the city center by taxi. Another option at this airport is the private transfer services which is a comfortable and personalized transportation. It is an ideal option especially for large groups or those looking for extra comfort. Other options to reach the city center from the airport is to rent a car from international and local car rental companies at the airport. However, keep in mind that traffic in Egypt can be heavy and it is important to follow local traffic rules.
Public Transport in Alexandria
Alexandria's urban public transportation network is highly developed and offers a variety of options. Buses, minibuses and trams are frequently used means of transportation in the city. Buses operate widely throughout the city and allow you to travel on different routes.
Minibuses operate on smaller lines and provide faster transportation. Trams which have 20 lines make transportation easier in the city center. If you want more private travel, you can easily find taxis across the city.. Public transportation is affordable and an ideal option for getting around the city especially if you want to explore the historical and cultural sites with limited budget.
Best Time to Visit Alexandria
The best time to visit Alexandria is spring and autumn. The periods from March to May and September to November have ideal weather conditions where the temperature is mild. The summer months which include June, July and August is when the temperature and humidity starts to increase. On the other hand, the winter months which include December, January and February are also mild but not suitable for swimming. Therefore, the most comfortable times to visit Alexandria are spring and autumn.
Festivals in Alexandria
Library Festival of Alexandria: This cultural event is dedicated to the legacy of ancient Egypt's famous library and takes place every year in April.
Alexandria Film Festival: November marks the beginning of this international film festival where directors and stars from around the world meet in this amazing city.
Alexander the Great Carnival: This is an event organized to commemorate Alexander the Great which takes place every June.
Ramadan Festivals: During the month of Ramadan, the streets, markets and cafes in Alexandria become lively after iftar.
Ancient Egyptian Festival: In October, this festival celebrates the rich ancient history of Alexandria where Egyptians wear historical costumes, perform traditional dances and portray the atmosphere of ancient times.
Places to Visit in Alexandria
Alexandria has many different places to visit which makes it a hard selection to pick the best spots if you have a few days in the city. The most important places to visit in Alexandria can be listed as follows:
Qaitbay Castle: Located on the Mediterranean coast, this 15th century castle was built by Mamluk Sultan II Al-Ashraf Qaitbay. With its wonderful sea view and historical atmosphere, the castle is a fascinating place for visitors.
National Museum of Egypt: This museum in Alexandria houses an enormous collection showcasing thousands of years of Egyptian history. It is possible to see some of the most valuable treasures of Egypt such as pharaoh tombs and ancient works of art.
Pompey's Column: This ancient Roman period column is an important historical symbol in Alexandria. The granite statuette at the top of the column is remarkable to show the rich history of the city..
Montaza Palace: This beautiful palace was built in the 19th century and is famous for its magnificent gardens by the sea.
Al-Mursi Abul Abbas Mosque: This fascinating mosque is considered one of the largest and most beautiful mosques in Egypt. The mosque is considered among one of the fine Ottoman architecture examples with details and interior decorations.
Where to Stay in Alexandria?
Accommodation options in Alexandria are quite diverse and offer visitors many options. You can choose from hotels located in the city center or on the Mediterranean coast, luxury resorts with beach views, and boutique hotels that fascinate with their historical texture. Popular areas of Alexandria include the Corniche, San Stefano, and the Bahari district. It is wise to book a room in advance especially if you visit to this Egyptian city will correspond to the peak season.
What to Eat in Alexandria?
Alexandria will offer you different tastes where seafood is very popular and you can try seafood dishes prepared with fresh fish. "Sayadieh" and "Feseekh" are among the top fish dishes in the region while "Koshari" is one of the favourite dishes here consisting of a traditional mixture of pasta, rice, lentils and spices. You can check the local restaurants to find the best examples of Alexandrian cuisine.
Shopping in Alexandria
When it comes to shopping, Alexandria will give you a unique experience where you can buy souvenirs such as handmade jewelry, products decorated with traditional Egyptian patterns, and textiles made of Egyptian cotton. If you want to buy international brands and love this type of shopping, shopping malls will be your destinations. Alexandria is one of the greatest shopping cities that offer both traditional and modern shopping experiences to shoppers.
Nightlife in Alexandria
The nightlife in Alexandria is vibrant with many cafes, bars and nightclubs along the beach. Local music and international DJs can be found in different venues where you can enjoy dancing and the sea view at the same time. Venues in Alexandria are often open until late at night in different parts of the city.
Things to Know Before Visiting Alexandria
The most important thing you need to know before you visit Alexandria is the traditions and religion of the country.
What is more, you should pick clothes to be protected from sun and humidity since Egypt has a hot and humid climate.
Consider all public holidays before you plan your trip since public transport might not be working and some shops might not be open.
Essential Phone Numbers to Know
Emergency: 112 or 122
Tourist Line: + 20 3 3900325
Airport Line: +20 3 459-3200