A city locked in time, Mardin is located between the rivers of Dicle and Fırat. With its unique texture and amazing architecture, Mardin has been inviting everyone to be fascinated by its beauty. With a population of 796.237, Mardin is an ancient city. Marked by the history itself, the city's roots go back to Paleolithic Age. Home to many civilizations, the city is touched by various cultures and nations. 
One of the oldest cities of Northern Mesopotamia, Mardin contains many historic sites to be amazed at. It was not only a stage to great battles and historical events, the city was also a center of civilization in the history. With its 11 counties, Mardin is the pearl of Southeast Anatolia.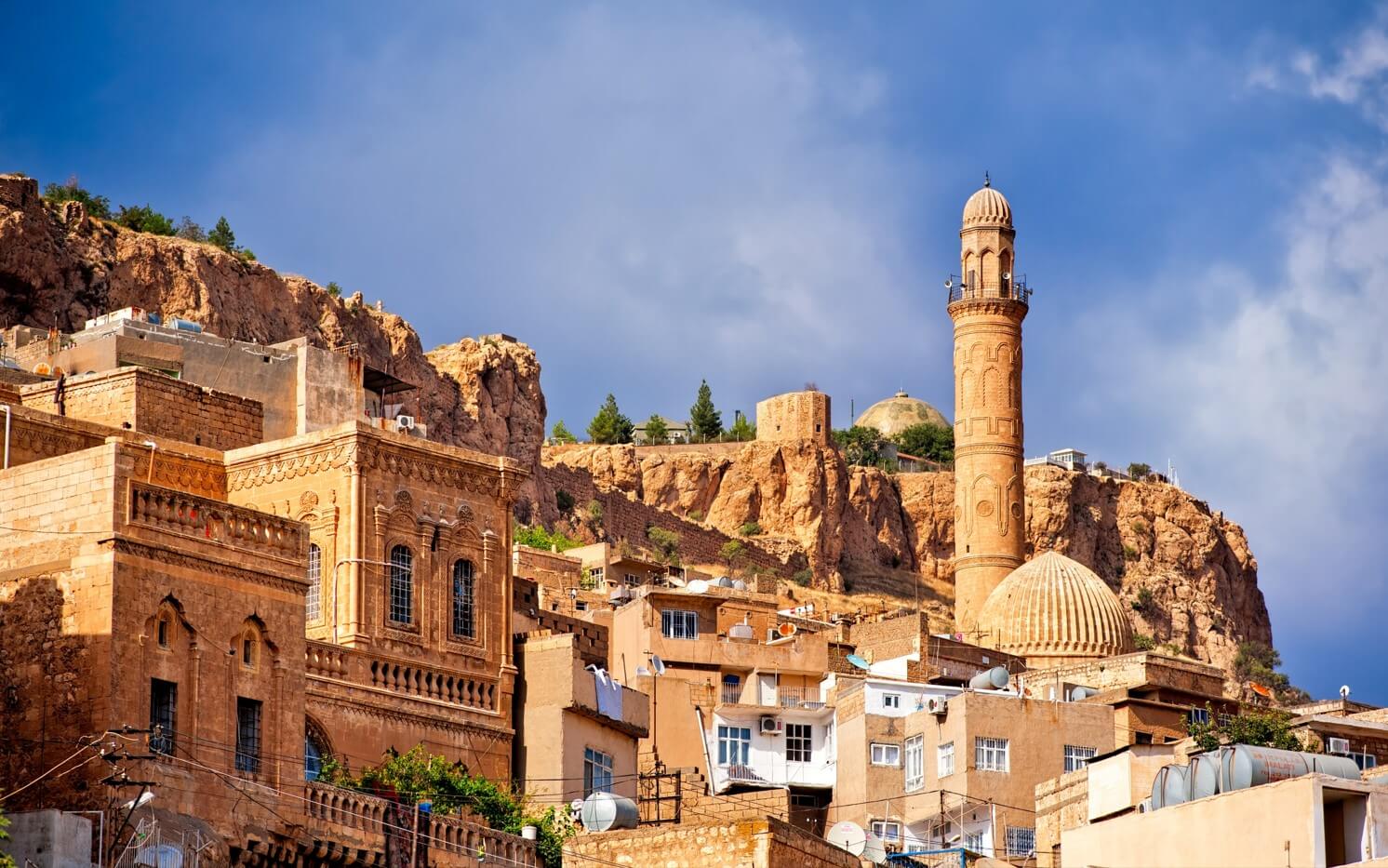 General Information About Mardin
| | |
| --- | --- |
| Country: | Türkiye |
| Region: | Southeast Anatolia |
| Area: | 8.891 km² |
| Language: | Turkish |
| Average temperature: | 23 °C |
| Climate: | Mediterranean Climate |
| Vegetation: | Steppe |
| The difference between GMT: | GMT+2 |
| Telephone Code: | +482 |
| Currency: | Turkish Lira |
| Socket Type: | Type F |

How to Get to Mardin?
Mardin invites you to experience the southeastern culture of Anatolia. There are many alternatives of visiting this shining city. Pegasus Airlines features the most comfortable flights to Mardin with reasonable prices.
A flight from Istanbul to Mardin takes two hours. If you are going to fly from Ankara to Mardin, the trip would take about 1 hour and 25 minutes. Flight to Mardin from Izmir also takes two hours. There are many direct flights from other cities to Mardin. 
Transportation from Mardin Airport to City Center
Mardin Airport is located 20 kilometers away from the center of the city. With its "rent a car" services and bus and taxi stops, Mardin Airport has been active since 1999. 
Mardin Airport features many transportation alternatives. There are minibuses that are stationed near the airport. You can take the minibuses to reach Kızıltepe. The trip between two locations takes about 20 minutes. You can also rent a car via Pegasus Airlines car rental services for a comfortable and faster trip. 
Public Transport in Mardin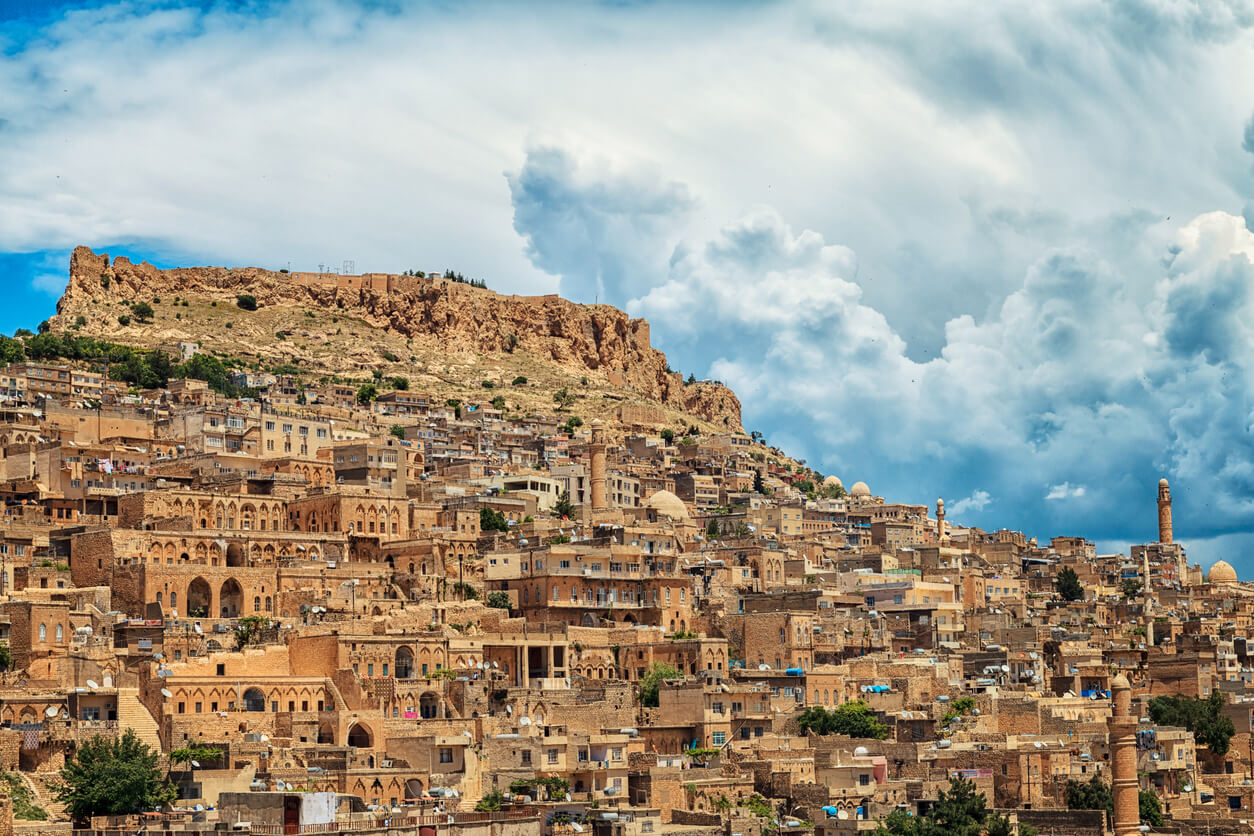 Transportation in Mardin is primarily maintained by minibuses and buses. Since the historic sites of the city can be visited by walking, there is no particular transportation subject is needed. Unlike other cities, Mardin's transportation system does not have a special pass card which allows tourists and locals to get around. But the city administration is planning to create a smart card system.
You can travel around Mardin's counties via buses. These vehicles are stationed in busy spots and they ring around many stops every 5-10 minutes.
Best Time to Visit Mardin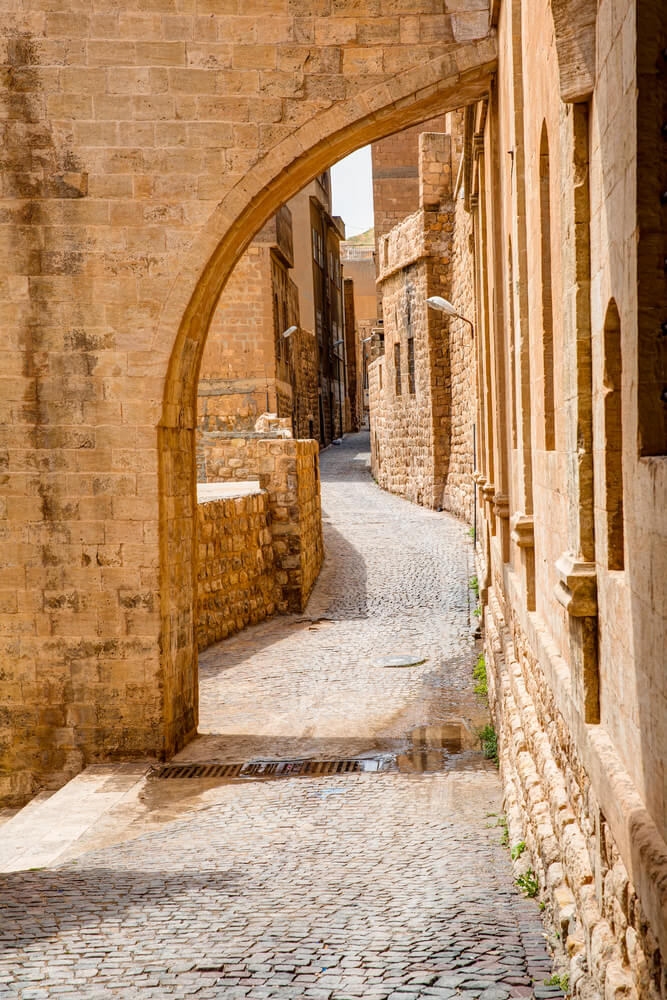 Mardin has a mixture of two climates. The climate of the city changes between continental and mediterranean. Because of the city's geographical stance, the winter months are quite cold. The coldest month of the season is January. Planning your travel before you visit Mardin would be a great idea to have an ideal trip. 
The most suitable time to visit Mardin would be in spring or fall. If you visit Mardin in June, you might have the chance to experience International Cherry Festival.
Festivals in Mardin
International Circus Festival (September)

International Cherry Festival (June)

Mardin International Film Festival (October)
Places to Visit in Mardin
Mardin offers you a glimpse from history in every step. Marked by various cultures, the city's fascinating architecture captures you and amazes you every second. The people of Mardin is as welcoming as the old yet solid yellow stones of the buildings. They smile and welcome you with their own way.
Mardin Castle
Known as The Eagle's Nest, Mardin's Castle is touched by the history itself. Its construction date goes back to 10th century. From then to present, the castle is strong and wonderful as it was hundreds of years ago.  Although it is closed for visitors, the sight of the castle is worth seeing.  
Mardin Dara Ancient City
This open air museum is located on the Silk Road. This special location can be considered as one of the most important settlements of Upper Mesopotamia. This amazing city is near Nusaybin and 30 kilometers away from the city center. 
Zinciriye Madrasah
This Islamic school was built by Artuqids 700 years ago. This amazing place features a sense of history. Its architectural texture offers the chance of witnessing the Seljuk-style art. It is possible to visit this wonderful place by taxi. 
Church of Forties
A sacred place for the Syrian people, Church of Forties was built in 6th century. A great example to the old-fashioned Christian understanding of architecture, the church proves that Mardin is not only marked by history but also many religions and beliefs. 
Mardin Houses
The iconic houses of the shining city of Southeast Anatolia capture and fascinate you every second. The traditional houses of Mardin prove that an urban texture of a city can be amazing. The yellow and stone houses of Mardin are not home to locals only, but they also host the history itself.  
Where to Stay in Mardin?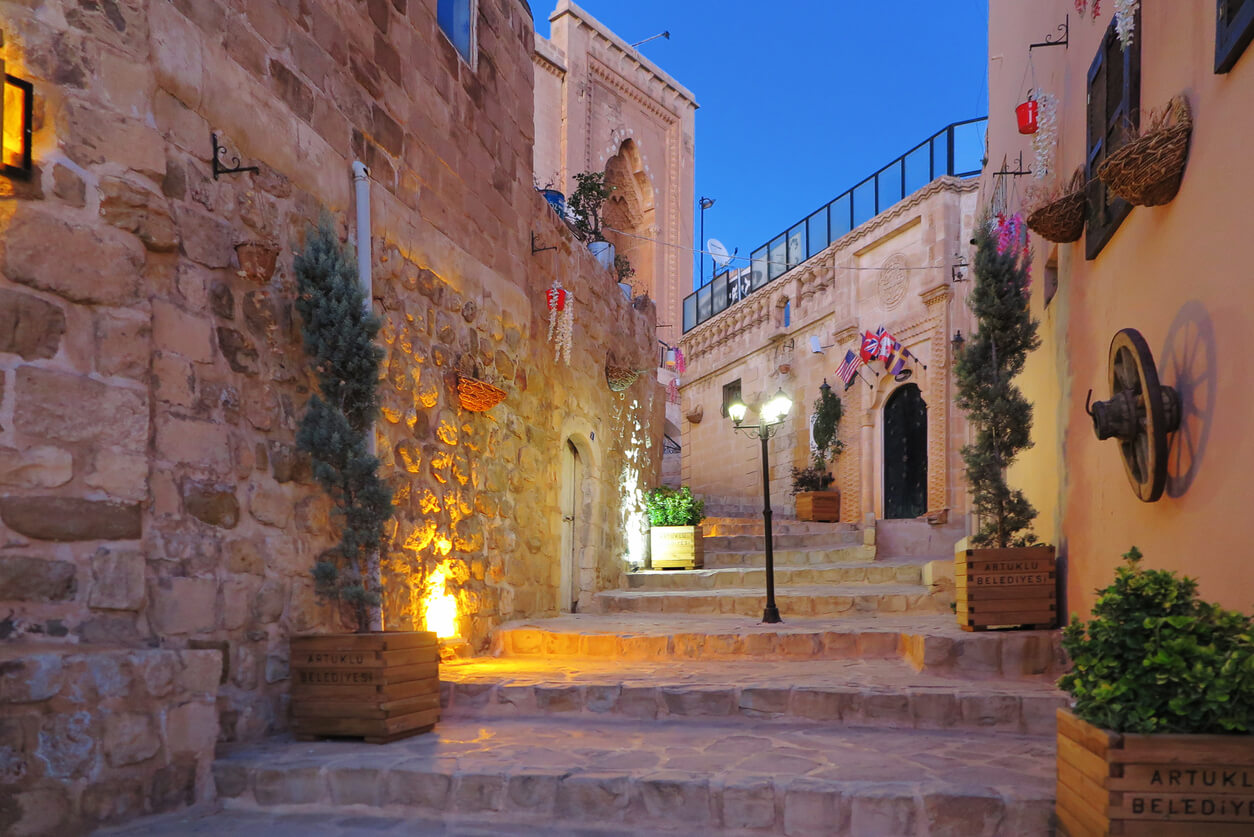 Mardin hotels are marked by traditional yet contemporary designs. Hotels of the city offer 5 star services and vary from apart motels to luxurious ones. 
Mitani Pension & Hostel offers a lovely and relatively cheaper stay. Adopted the concept of Mesopotamian hospitality, many hotels and hostels of Mardin offer suitable prices for any budget.
Darius Konağı is a special hotel with rooms full of high level products and services. The hotel has been known with its luxurious yet traditional understanding of providing accommodation. Darius Konağı  also offers the chance to watch the landscape of Mardin on its terrace.
Suitable for business and holiday trips, Grand Mardin Hotel features many services. Located 10 kilometers away from Mardin Airport, the hotel has conference rooms, open and closed restaurants. 
What to Eat in Mardin?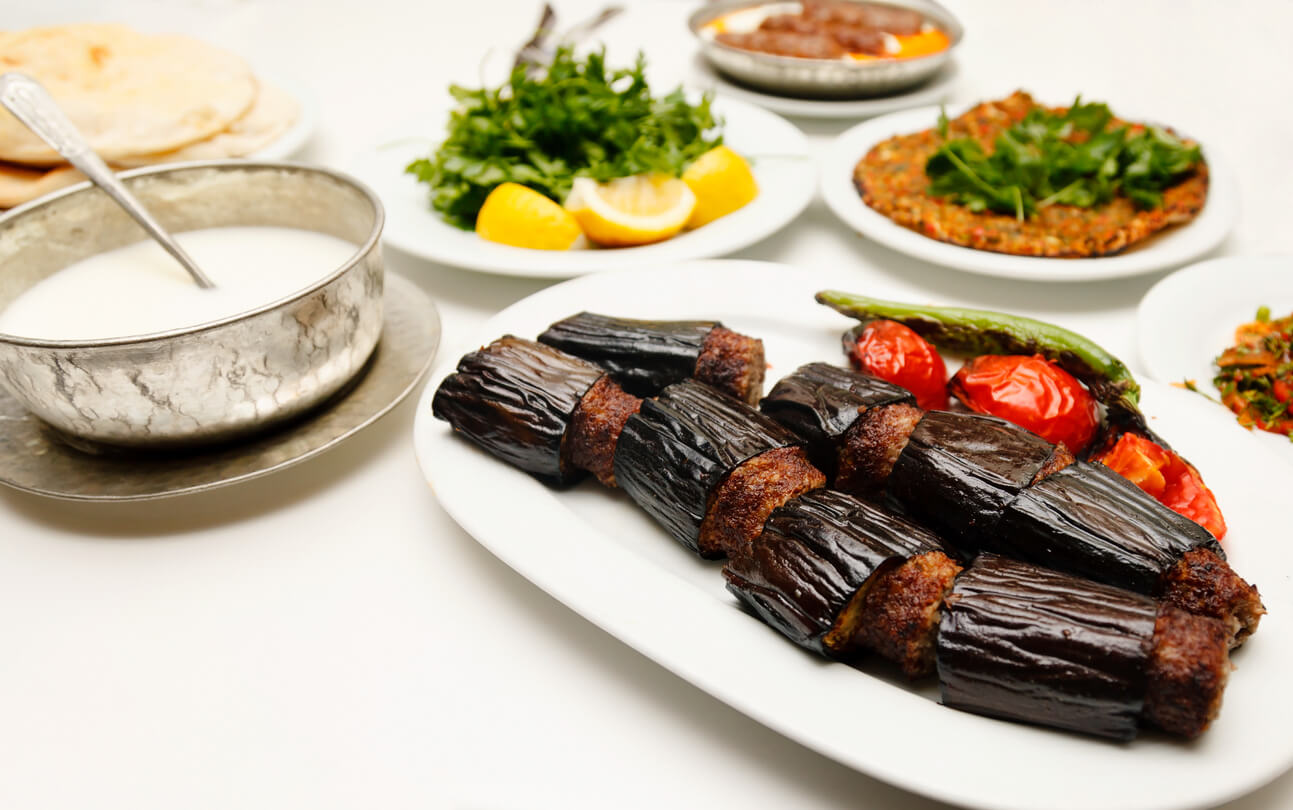 Not only the architecture and the urban texture, but the cuisine of the city is also inspired and enriched by Silk Road and many cultures. Due to Mardin's location, the eastern and the western culinary art are combined in the most delicious way.
Mardin's cuisine is not only famous in Türkiye but it is also famous around the world. The soups which you can find and taste in the traditional restaurants of the city, will be an experience you will never forget.
Genadir and lebeniye are the most famous soups of the city. Other meals of Mardin's cuisine are generally combined with meat. Meals such as kaburga dolması and ikbebet are delicious and quite healthy.  
Kebab: Kebapçı Rıdo

Traditional Food: Antik Sur Restoran

Authentic Food: Cafe Del Mar

Künefe: Sadık Künefe
Shopping in Mardin: Best Souvenirs to Buy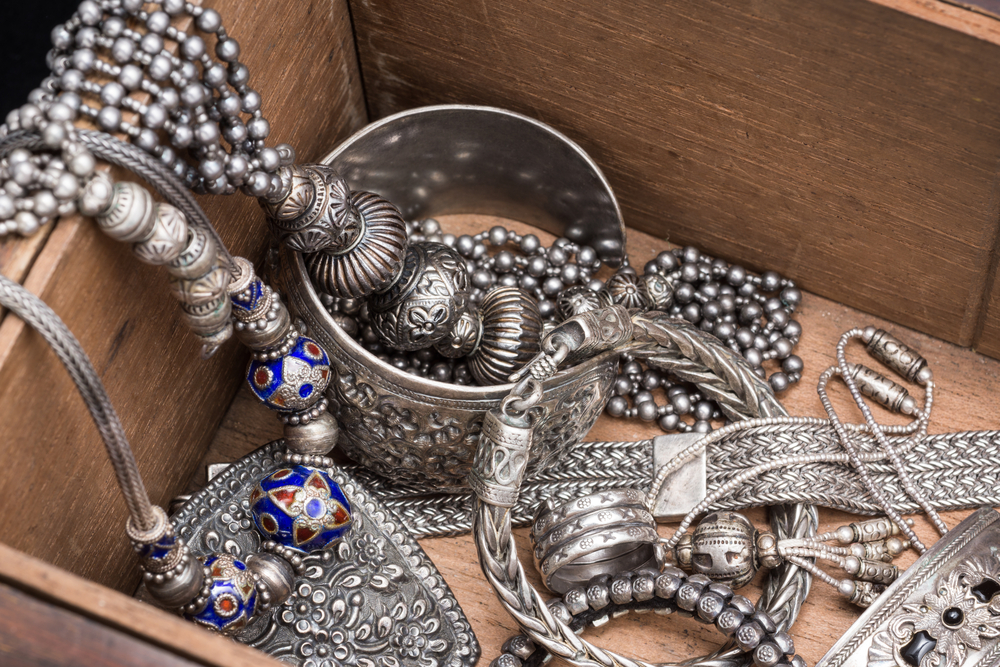 Mardin's famous bıttım soap would be a great souvenir to remember your wonderful travel in Mardin. The bıttım soap is quite healthy and nourishing for skin and hair. It is always a wonderful  idea to buy a unique and traditional gift for friends and family. If you are looking for buying food as a souvenir, you might consider buying walnut sausage. This food is quite famous around Mardin and it is delicious. 
Experiencing the different atmosphere of the bazaars of Mardin is a must. The random stores and places located in the narrow streets of this shining city will fascinate you. Ancient objects, historical items and delicious food enrich the city of Mardin. You can buy anything you want in these bazaars. The locals of Mardin are quite talented when it comes to handmade jewelry. The stores in Midyat feature a wide range in terms of jewelry and handcrafted accessories. 
Nightlife in Mardin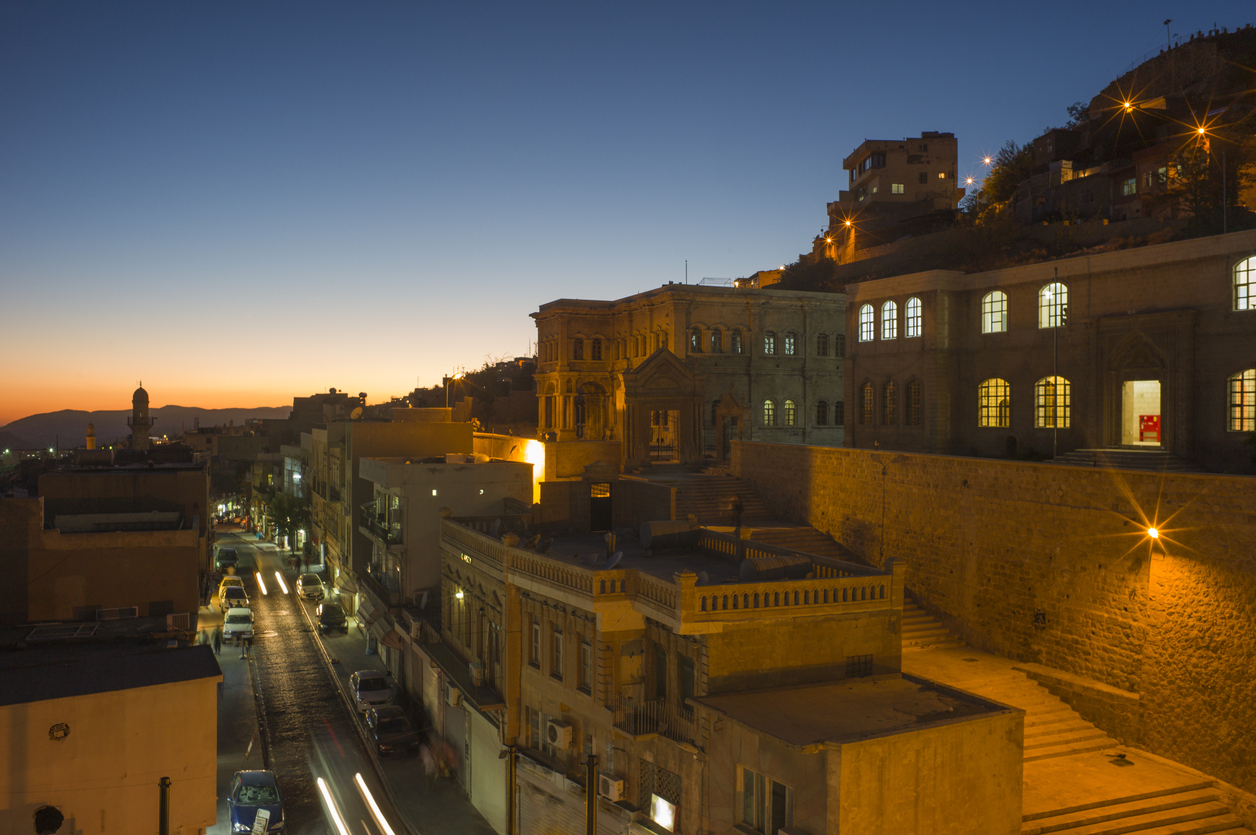 The nightlife in Mardin consists of live music cafes and Türkü bars, where people sing the traditional songs while eating and chatting. These are the places of meeting and spending good time. Although Mardin is not improved in terms of entertainment, city's cultural activities manage to keep you motivated and feel good.  The Sıra Nights of Mardin feature one of the most unique cultural activities. You can go to a sıra night in Antik Sur Restaurant with a reservation. 
Things to Know Before Visiting Mardin
The busy streets of the city are relatively safer.

The weather is below 0 degrees celsius in winter.

The hottest month of the year is July.
Essential Numbers
Fire Emergency:  0 482 213 24 02
Police:  155
Ambulance:  112