Casablanca is the largest city of Morocco and is located in the western part of the country. Morocco is uniquely shaped by Berber, Arabian and European influences and this can also be observed in its biggest city. Nevertheless, Casablanca has always been an important city throughout the ages thanks to its geographical features. Today, the city is one of the most prominent cities in Africa both culturally and economically. Casablanca attracts millions of tourists from every part of the world annually.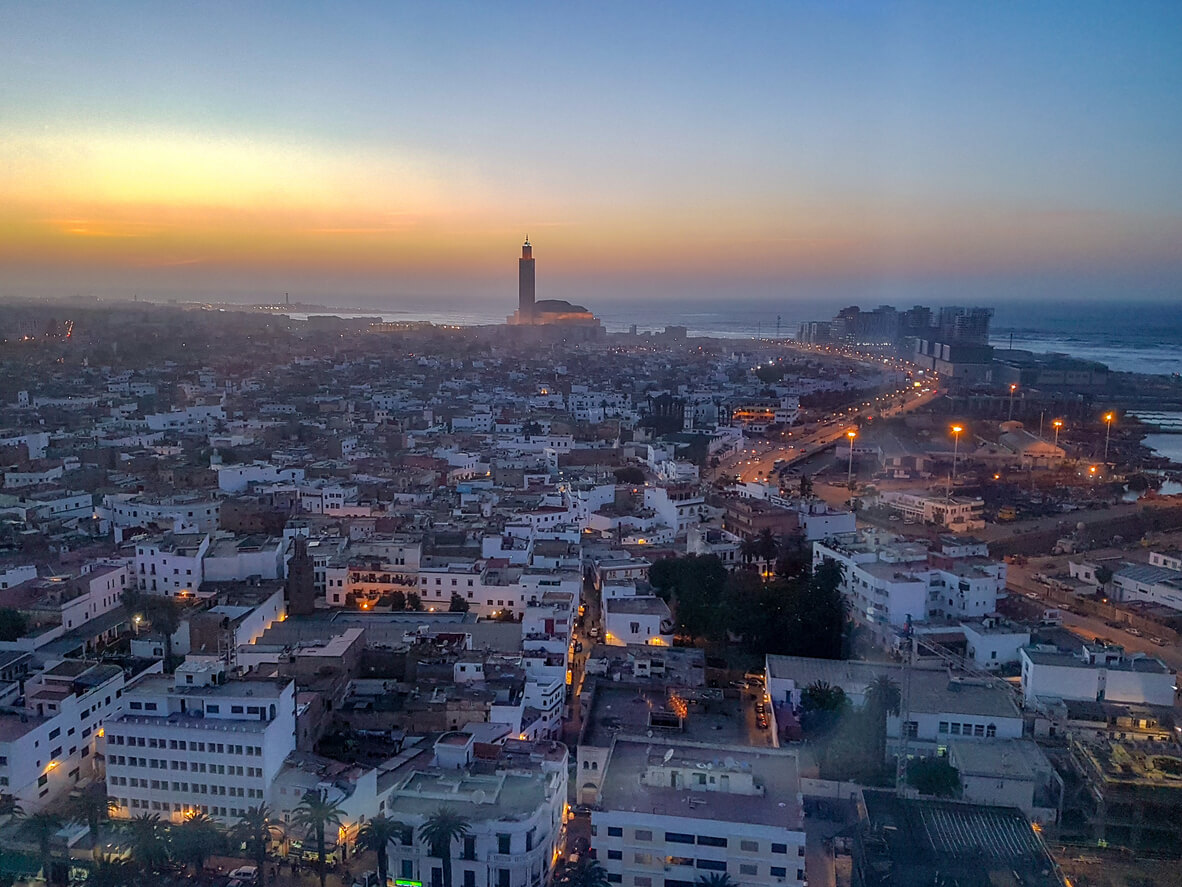 General Information
| | |
| --- | --- |
| Country: | Morocco |
| Region: | Western Morocco |
| Area: | 5.701 km2 |
| Language: | Arabic and French |
| Average temperature: | 17.4 Celsius |
| Climate: | Mediterranean Climate |
| Vegetation: | Typical Mediterranean Plants |
| The difference between GMT: | GMT+3 |
| Telephone Code: | +212 |
| Currency: | Moroccan Dirham (MAD) |
| Socket Type: | Type C and Type E |

How to Get to Casablanca?
Casablanca's spectacular shores deserve to be in your fond memories. Pegasus Airlines offers direct flights to Casablanca from İstanbul Sabiha Gökçen Airport with fair prices. The flight duration is approximately 5 hours. You can buy your İstanbul to Casablanca flight tickets.
Transportation from Casablanca Mohammed V International Airport to City Center
Casablanca Mohammed V International Airport is the busiest airport of Morocco and the fourth busiest one in Africa. The distance between the airport and the city center is 30 kilometers. You can get to the city center with train, bus, taxi or car.
From the underground station at the airport you can take the train to the city center. Trains take off from Casablanca Airport once an hour from 06.00 AM to 10.00 PM, seven days a week. The trip takes approximately 45 minutes.
You can also use busses to get to the city center. They are located in just outside of Terminal 1 and tickets cost 20 MAD. Busses are available once an hour, 24/7. The trip takes approximately 45 minutes.
Taxis in Casablanca are red and white. "Grand" taxis are white and "petit" taxis are red. Grand taxis are big shared cabs and they follow a specific route to downtown. It is not recommended using grand taxis if you are in a hurry since its route is generally longer, but it is cheaper. Petits are four-passenger taxis. They are located at level 0 just outside of the arrivals area and available 24/7.
In Casablanca, you can also enjoy the city with a rental car. Pegasus Airlines car rental service has great offers for you.
Public Transport in Casablanca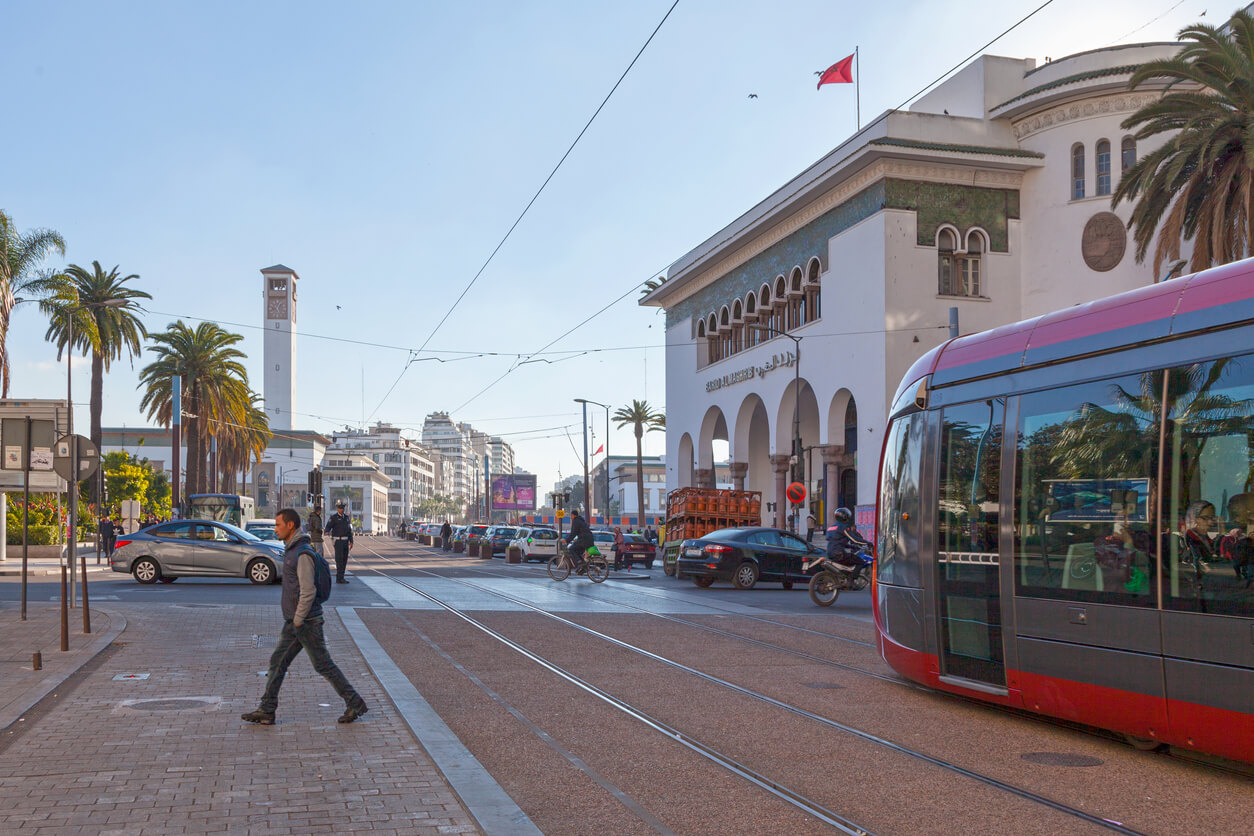 You can use trams, busses and taxis to get around in Casablanca. 
There are two tram lines in Casablanca that travel through the city. You need buy a prepaid card or rechargeable ticket in order to use trams. They are available almost in every train stop starting with 6 Moroccan Dirhams.
T1 is available from 06.00 to 00.47 and travels from Lissasfa to Ennasim with 36 stops along the route.T2 is available from 6.00 to 23.27 and travels from Sidi Bernoussi to Littoral with 30 stops along the route. They are both available for every 10 minutes including weekends. 
Busses cost 5 dirhams regardless of the stop. They are available from 06.00 to 24.00 for the most routes. 
There are two types of taxis in Casablanca. Grand taxis are functioning like a bus and colored in white. They have a certain route and a fixed price. Petit taxis are shared four passenger taxis and colored in red. At night, the price is %50 higher.  
Best Time to Visit Casablanca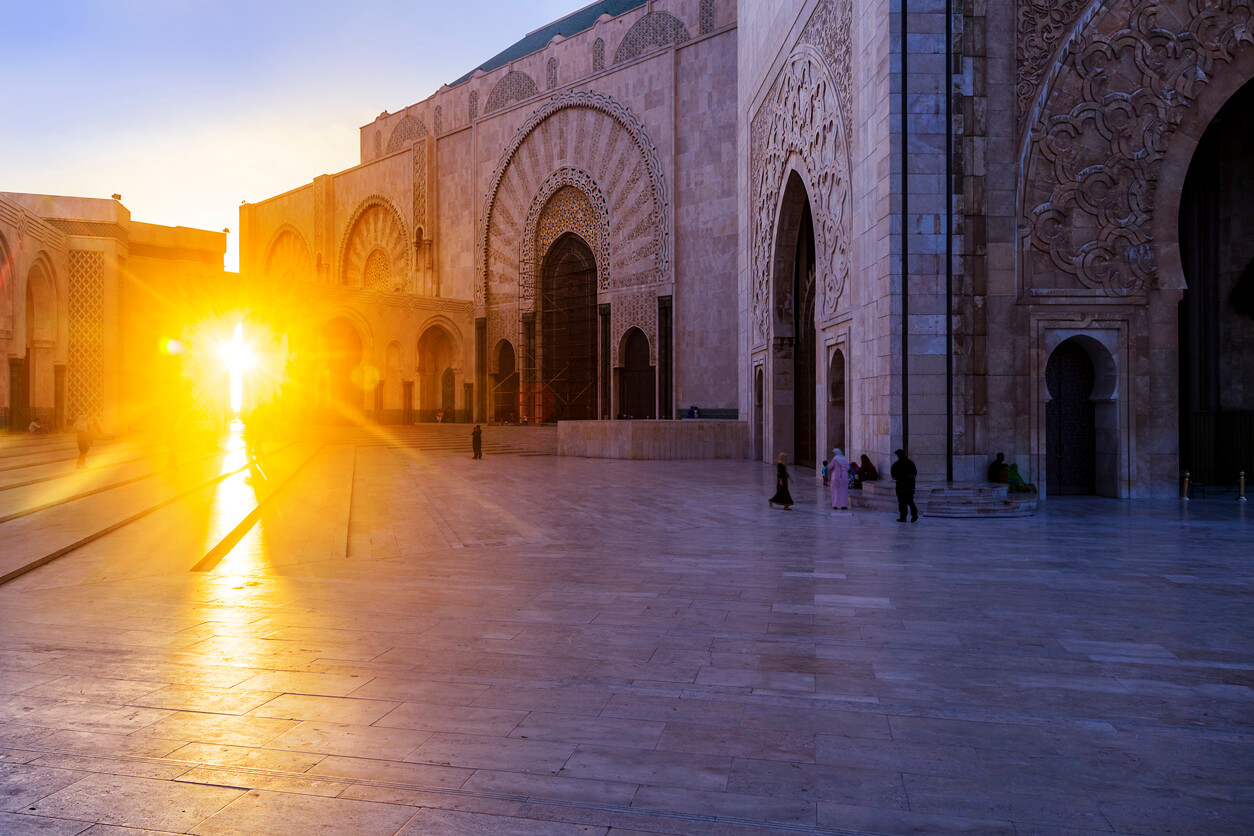 Casablanca is positioned just next to the Atlantic Ocean yet the city has a Mediterranean climate. The weather does not reach extreme conditions throughout the year. The warmest month is August and the coolest month is January. We suggest you to visit Casablanca from late spring to October where the weather is always warm with almost none rainy days. It is also recommended for you to enjoy Casablanca at least two to three days.
Places to Visit in Casablanca
Casablanca has a rich history and there are plenty of historical attractions thanks to it. The city is also a great place for the ones who would like to be explorer.
Hassan II Mosque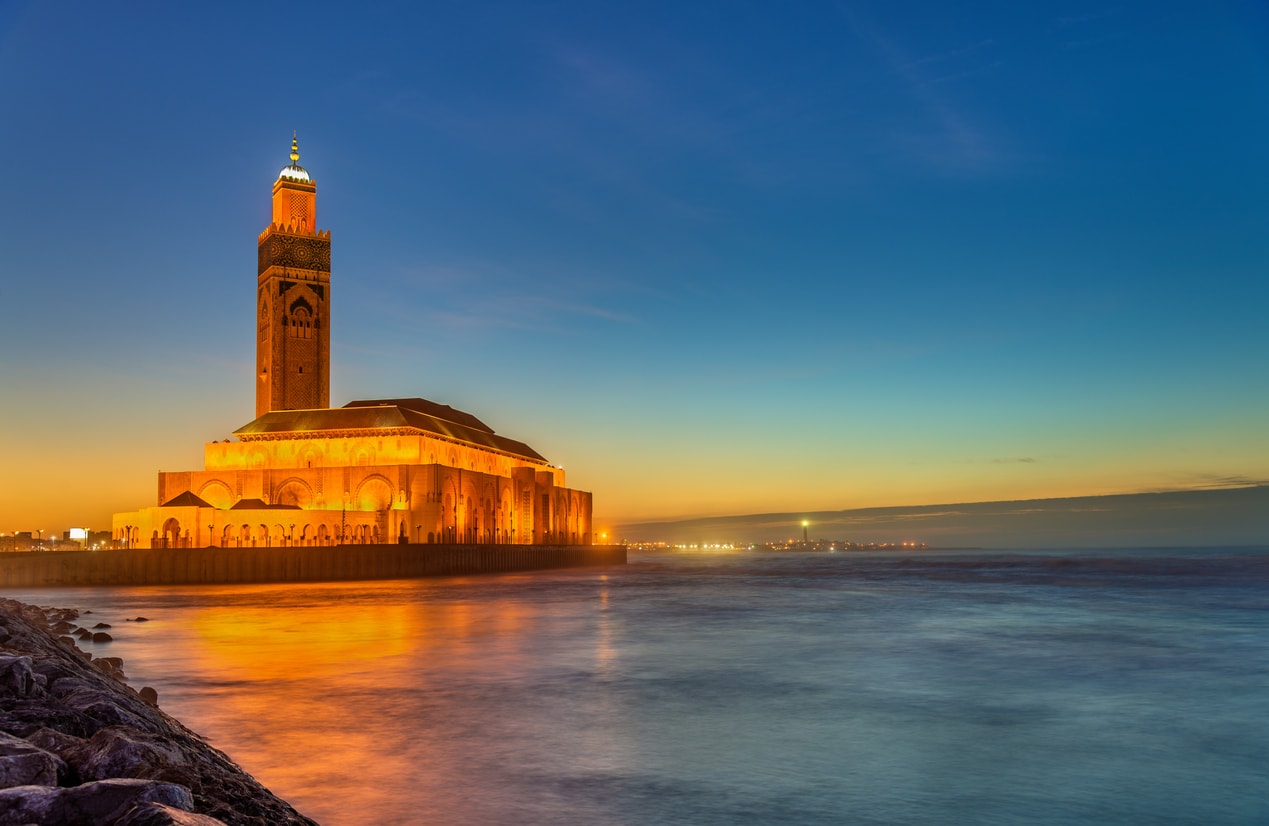 Hassan II Mosque is one of the largest mosques in the world with striking beauty. The mosque is located next to the Atlantic Ocean. Non-Muslim visitors can get in to see great interiors only with guided tours.   
Old Medina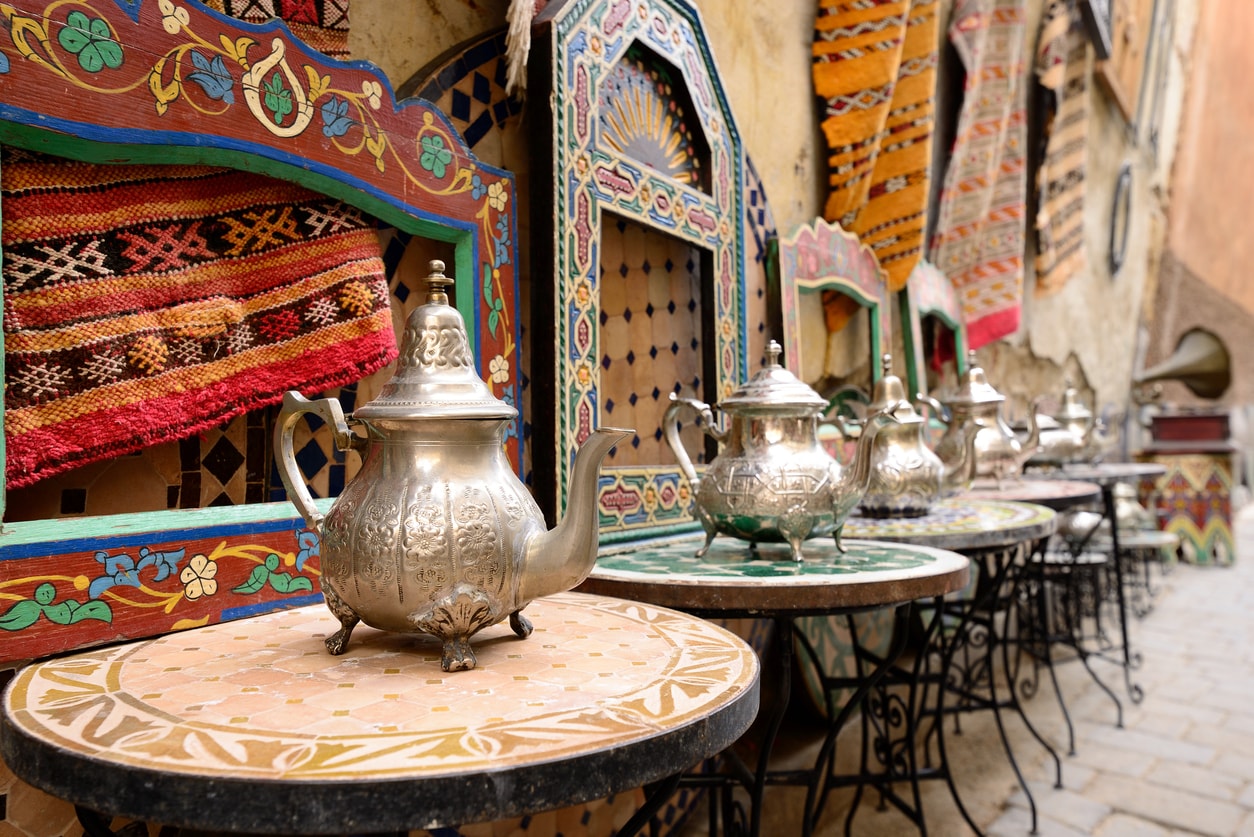 Old Medina is the oldest center of the city and a lovely place to explore on foot. There are many traditional shops all over the neighborhood. Old Medina veils an ancient spirit all over its narrow streets, waiting to be discovered.  
The Corniche
The Corniche is the walkway located on the shores of the Atlantic Ocean. The place has many restaurants, hotels, cafes and nightclubs. The Corniche is the perfect place in Morocco to enjoy the sun.  
Moroccan Jewish Museum
Moroccan Jewish Museum is the only Jewish museum located in an Arab country. The museum has hundreds of traditional clothing items, tools and artifacts. There are plenty of old photographs that depict the life of Jewish people in Casablanca during the 1900s.    
Church of St. John the Evangelist
Church of St. John the Evangelist was built in 1906 by British and is the oldest church in use in Casablanca. There is also a cemetery in the church that dates back to 1864. The church is located near the Casa Port.   
Festivals in Casablanca
Jazzablanca Festival 2019 (July)

Casa Festival 2019 (July)

WeCasablanca (September)
Where to Stay in Casablanca?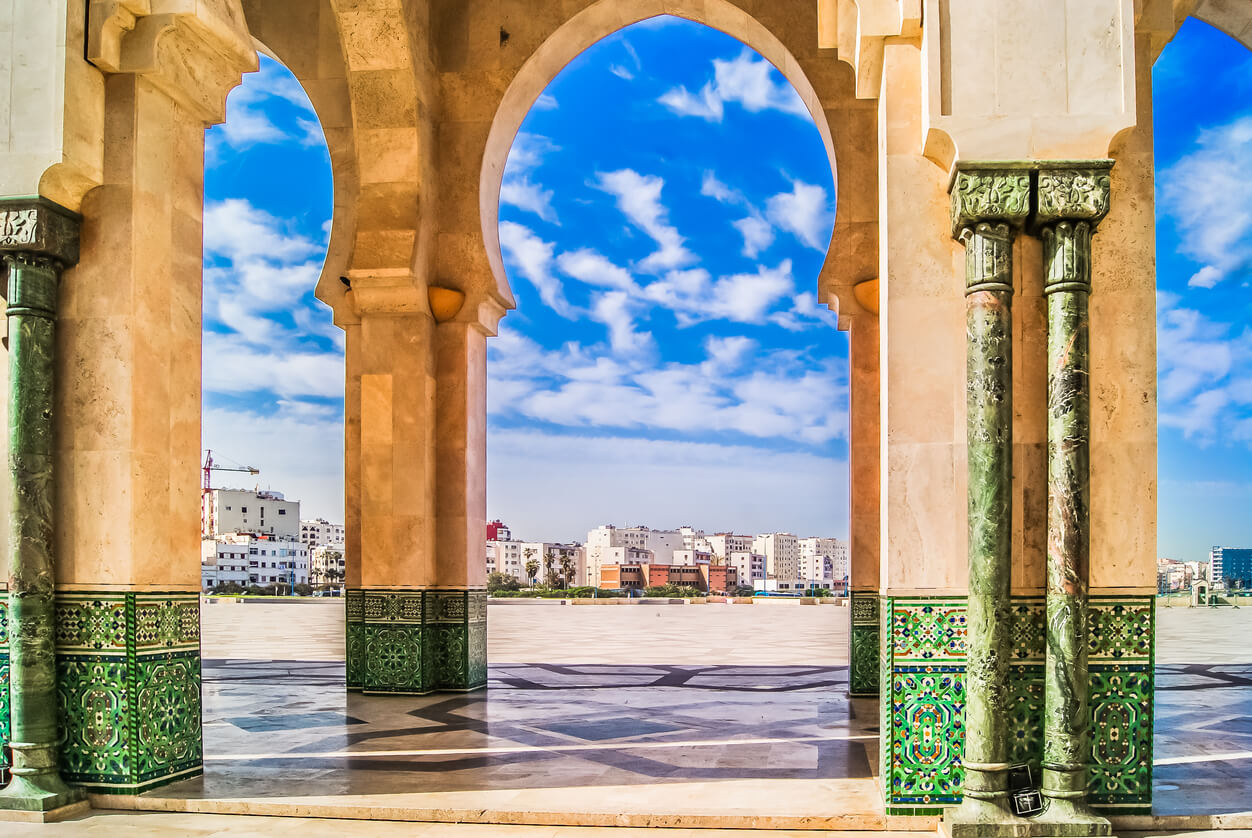 There are many accommodation options for every budget in Casablanca. Many of the hotels are located in Old Medina neighborhood.
If you are planning to stay in Casablanca more than a week, it is probably best for you to stay in hotels located in Old Medina. That will help you to discover everyday life and culture in Casablanca. 
If you are here in a few days, it is best to find a hotel located in the "Boulevard de la Corniche". The boulevard stretches along with the Atlantic Ocean and has the best view of the city.
What to Eat in Casablanca?
Casablanca's food cuisine is a modern mixture of North African traditions, Arabic delights and French kitchen. The city is famous with its slow-cooked meats, vegetables and fresh fishes. Almost every meal is served with salad or vegetables. Here are few of the must-try dishes:
Shopping in Casablanca: Best Souvenirs to Buy
Casablanca has many traditional street shops as well as many modern shopping malls. Morocco Mall is the biggest shopping center in Africa and a sight to see even if you are not going to buy anything. 
Although street shops are scattered all around the town, Old Medina has the most of them. You will notice the locals bargaining for each item they buy so you should too. Vendors would love to oblige.
Kaftans would be the one of the best souvenirs for your loved ones. They are so fashionable and unique to Casablanca that it is next to impossible to find a similar one anywhere else. You can also buy jewelry, shisha pipes, aromatic spices, leather goods and ornate lamps. All of them are available in Old Medina.    
Nightlife in Casablanca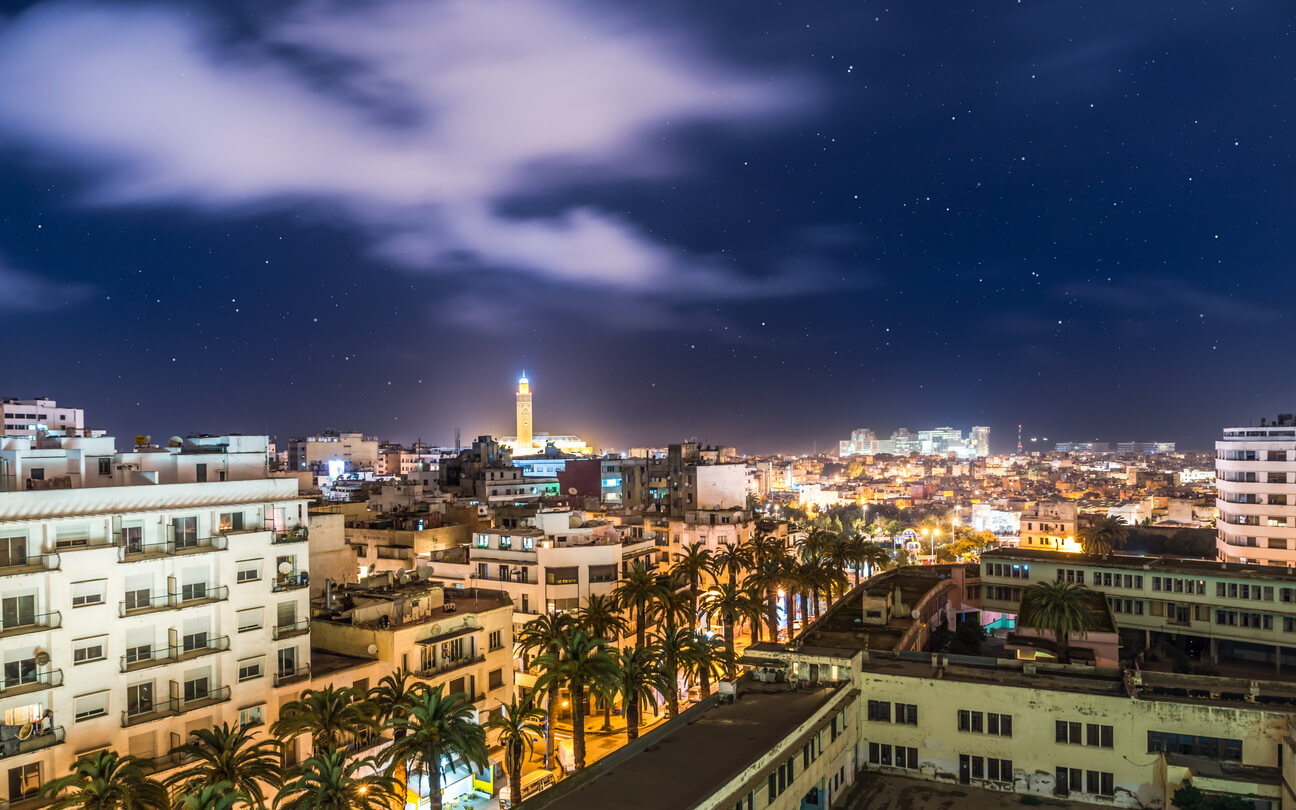 Casablanca has a lively nightlife in comparison to other North African countries. The Corniche has many local bars along the shore where you can spend a pleasant night. "La Bodega" offers a Spanish-inspired meals and drinks. The place has a colorful dance floor and lovely interiors. "Sky 28" in is located in the 28th floor of Kenzi Tower and the best view of the ocean. "Sky 28" has a tranquil atmosphere than promises a relaxing evening.   
Things to Know Before Visiting Casablanca
Morocco has a closed currency so you can only exchange your currency to Moroccan Dirham in the airport or in major banks in the city.

It is common to bargain in Casablanca, especially in Old Medina. 

It is important to bring sunscreen and suitable clothes for protection against direct sunlight.

Women may be expected to cover their shoulders and legs to their knees, especially while visiting mosques. 
Essential Phone Numbers to Know
Country Code: +212
City Code: 22
Casablanca Mohammed V International Airport: +212 5225-39040
Police: 190
Ambulance: 150