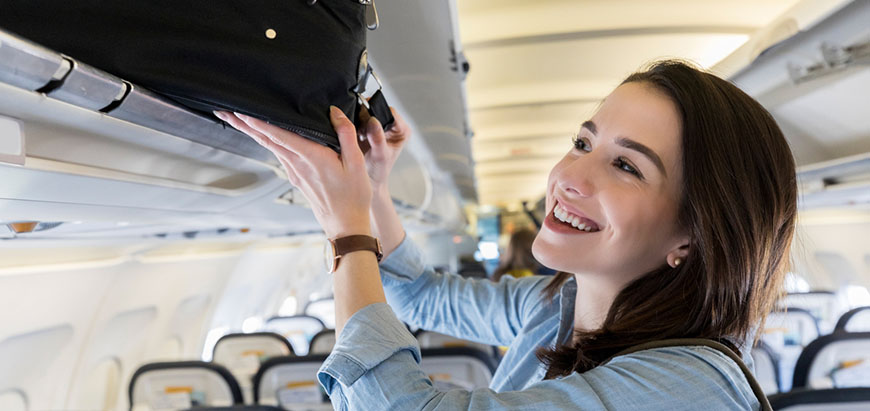 What is Hand Luggage?
Hand luggage or cabin baggage, are all the personal belongings a passenger can carry along the cabin. You may take your handbag, laptop bag, etc. into the cabin as long as they are controlled at the security checkpoints. If you wish, you could place them into the overhead lockers.
What are the Rules for Hand Luggage?
There are fixed rules for hand or cabin baggage for Pegasus Airlines. Visit here for more info on hand luggage.
You can only bring one item of cabin baggage on board with you no larger than 55x40x20 cm in size.
Visit purchasing additional service on Pegasus Airlines for more details.
It is important to know what is permitted and prohibited or restricted in cabin baggage. It is advised to check baggage regulations to know what can or can not be carried in the cabin baggage while booking a flight. To get more information on the list of items that might jeopardize flight safety, please contact our customer service.
Restricted and Prohibited Items on Hand Luggage
The amount of liquids that can be carried in hand luggage is restricted. Too many cosmetic products or liquid food products may not be accepted into the cabin. If you haven't purchased additional luggage, please pay attention while shopping from Duty-Free shops.
Cosmetic products to be carried on the cabin cannot be more than 100 ml. Essential products such as baby food can be carried in zip bags in cabin baggage.
Sharp or pointed objects, blunt objects, explosives, and flammable substances and all objects that can cause harm are prohibited on the aircraft. Items such as drills, etc. should be delivered to the airline as a checked bag.
Drugs without medical prescription or their package cannot be carried in cabin baggage.
To have further information on hand luggage, please visit our website.
Please pay attention to flight safety regulations to pass security checkpoints without any inconvenience while packing. All passengers are expected to comply with check-in and hand luggage regulations to have a pleasant and on-time journey.