30% Off To Turkey This Summer
Get 30% off weekday flights to Istanbul this summer! Book your ticket until 27 May on Pegasus Mobil and get 30% off to flights from Rome, Bologna, Madrid, Barcelona, Prague, Vienna and Budapest to Istanbul between 25 June and 25 July 2018.
Campaign Features
CAMPAIGN DATE
25 May / 27 May 2018

FLIGHT DATE
25 June / 25 July 2018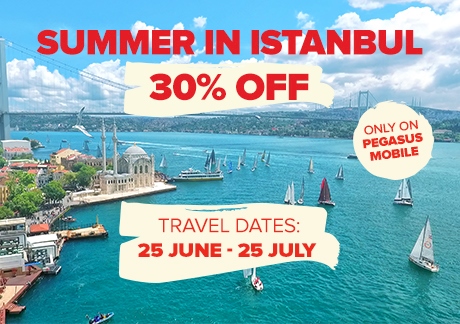 To avail of the campaign, chose a suitable route and date that is included in the campaign via Pegasus Mobile app or flypgs.com mobile site. Select the "30% Off Turkey" button that appears in the Campaigns section of the payment page. When you click on the OK/Continue button you will see the discount reflected in the total ticket price.

Campaign Rules

Sales Dates: 25-27 May 2018 (until 23:59 Turkish local time on 27 May 2018)
Flight Dates: 25 June 2018 – 25 July 2018
Routes to which the Campaign Applies: Campaign only applies to direct flights between Istanbul Sabiha Gökçen and Rome, Bologna, Madrid, Barcelona, Prague, Budapest and Vienna
Campaign Discount Rate: 30% Off (Campaign is only valid on weekday flights)
Sales Channels: Pegasus mobile app and flypgs.com mobile site
Number of Seats: 61.647
The offer is also available for children.
The discount applies to the Basic package on international routes. For flight packages other than the Basic package on international routes the fares for those packages will apply. Any additions to the ticket price including services (such as seat selection, food, additional baggage) and packages will be charged separately.
Check-in fees are included in the fare.
Where discounted tickets are converted to open tickets, since the new ticket will not meet the campaign terms, i.e. it will breach the "Campaign Sales Dates" specified in the campaign rules, when the new date is assigned, the discount that you were entitled to when the ticket was originally issued will not be applied to the new ticket, and the difference between the amount paid under the campaign will be charged according to the current cancelation and amendment rules.
This campaign cannot be combined with any other points or discount offer. The rules of the applicable fare class will be applied to cancelations and refunds/changes.
In the event of a cancelation or refund/change, this may only be done for all guests included in a single PNR. Separate amendments may not be made for each guest.
Pegasus reserves the right to amend the rules of the campaign.