Onur Dedeköylü, who has held the role of Senior Vice President for Marketing at Pegasus Airlines since 2010, has been appointed as Chief Commercial Officer.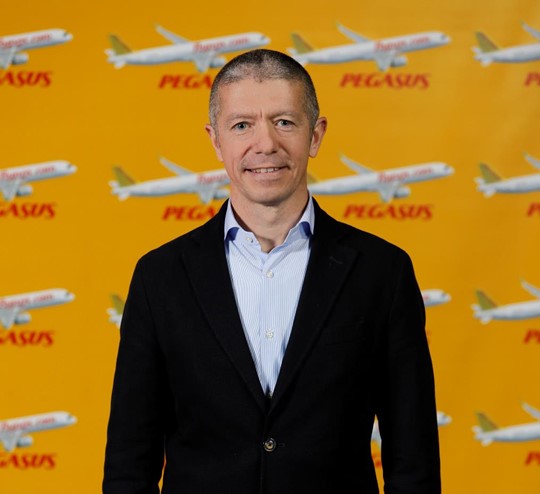 LONDON (20 May 2022) --- Onur Dedeköylü, who has been working as Senior Vice President for Marketing at Pegasus Airlines since 2010 and has made significant contributions to the company's ancillary product management, digital transformation and to building the Pegasus brand, has been appointed Chief Commercial Officer. Onur Dedeköylü will manage the Commercial division, consisting of the sales, network planning, marketing, revenue management and pricing, guest experience and cargo departments. 
Onur Dedeköylü is a graduate of Industrial Engineering from Boğaziçi University and holds an MBA degree in marketing and finance from Georgia State University in Atlanta. He began his career at Gillette working in the fields of sales and marketing. After working at the global headquarters of Kimberly Clark's health products division in Atlanta, USA, he continued his career in the UK. He worked in the fields of market research, product development and brand management at Hasbro's European headquarters in the UK. He continued his career at the Coca-Cola Company, managing the Coca-Cola brand in Turkey. In 2010, Onur Dedeköylü joined Pegasus Airlines as Senior Vice President. In this role, he was responsible for brand management, ancillary product development and management, digital channels management, data analytics and loyalty management functions. Onur Dedeköylü started his role as Chief Commercial Officer on 13 May 2022.
About Pegasus Airlines
Pegasus Airlines was launched in 1990, and adopted a low-cost business model in 2005, upon its acquisition by ESAS Holding. As Turkey's leading low-cost carrier, Pegasus offers its guests the opportunity to travel affordably and on young aircraft under the auspices of its low-cost airline model with the belief that "everyone has the right to fly".  Since 2018, Pegasus has adopted the motto "Turkey's Digital Airline" and operates a network of 124 destinations in 47 countries, including 36 domestic destinations in Turkey and 88 international destinations; it operates connecting flights between Turkey and Europe, North Africa, the Middle East, Russia and Central Asia via Istanbul Sabiha Gökçen Airport in Turkey. With its approach that focuses on guest experience, Pegasus continues to offer digital technologies and unique innovations to enhance the travel experience. Pegasus manages its operations and activities with a "sustainable environment" approach. 
For press information please contact the UK PR team Redmint: +44 (0) 20 3397 3936; pegasus@redmintcomms.co.uk / @redmintcomms 
Connect with Pegasus on:
Website: www.flypgs.com 
Facebook: @pegasusairlines
Twitter: @flymepegasus
Instagram: @pegasusairlines
YouTube: @pegasusairlines