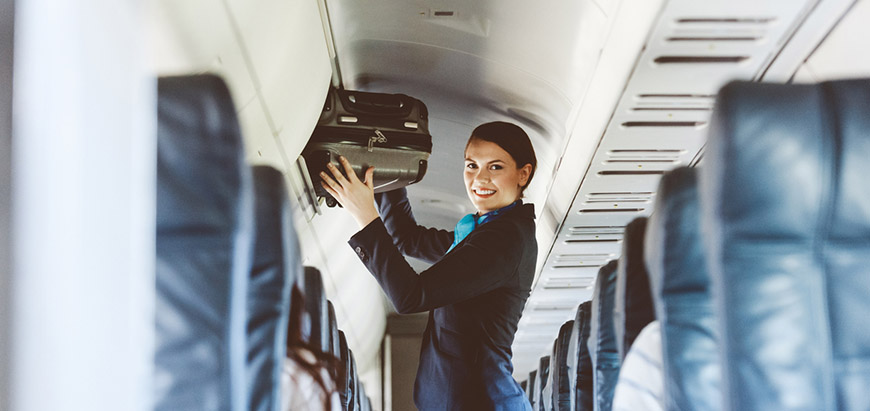 What is a Flight Attendant and What Does a Flight Attendant Do?
Cabin crew consisting of flight attendants carry out the instructions given by pilots or co-pilots outside the cockpit. They are also in charge of the safety and comfort of passengers on a flight, and they inform the passengers when necessary. Male flight attendants are called hosts while female ones are referred to as hostesses. Cabin crew is selected in accordance with the certain rules of aviation organizations and they are also subjected to the rules set by the General Directorate of Civil Aviation. 
What are the Cabin Crew's Duties?
They are in charge of the area from the cockpit door to the rear kitchen area. The cabin crew is not responsible for outside the aircraft or inside the cockpit.
The cabin crew can intervene in normal and emergency situations. They close the exit doors located on the left and right side of the aircraft by following the instructions. 
Hosts and hostesses are also entrusted with the task of opening the emergency exit door in case of an emergency. Passengers sitting in the seat next to the emergency exit doors are also considered to be responsible. 
When the necessary materials to be loaded into the aircraft, the duty of cabin crew varies from company to company. 
The job description of hosts and hostesses regarding the service duties also varies depending on the companies. On some airlines, the cabin crew deals with all the passengers' requests, and on some airlines, they are to only start the buffet service for passengers at certain times. 
The main task of the cabin crew is to explain to passengers what to do in case of emergency, both auditory and visually. 
Hosts and hostesses are also obligated to provide passengers with the necessary information about the journey. 
What are the Requirements to Become a Flight Attendant?
You are expected to meet certain requirements in order to become a flight attendant. Even though these requirements change among the companies, there is a list of "Minimum Requirements to Become a Cabin Attendant" published by the General Directorate of Civil Aviation. In addition to these, it is also expected that you should speak one or more foreign languages, depending on your work zone. 
If you are curious about the requirements of becoming a cabin crew at Pegasus Airlines click here.