Transportation
Casablanca's spectacular shores deserve to be in your fond memories. Pegasus Airlines offers direct flights to Casablanca from İstanbul Sabiha Gökçen Airport with fair prices. The flight duration is approximately 5 hours. You can buy your İstanbul to Casablanca flight tickets.
 

Transportation from Casablanca Mohammed V International Airport to City Center
Casablanca Mohammed V International Airport is the busiest airport of Morocco and the fourth busiest one in Africa. The distance between the airport and the city center is 30 kilometers. You can get to the city center with train, bus, taxi or car.
From the underground station at the airport you can take the train to the city center. Trains take off from Casablanca Airport once an hour from 06.00 AM to 10.00 PM, seven days a week. The trip takes approximately 45 minutes.
You can also use busses to get to the city center. TBusses are available once an hour, 24/7. The trip takes approximately 45 minutes.
Taxis in Casablanca are red and white. "Grand" taxis are white and "petit" taxis are red. Grand taxis are big shared cabs and they follow a specific route to downtown. It is not recommended using grand taxis if you are in a hurry since its route is generally longer, but it is cheaper. Petits are four-passenger taxis. They are located at level 0 just outside of the arrivals area and available 24/7.
In Casablanca, you can also enjoy the city with a rental car. Pegasus Airlines car rental service has great offers for you.
Public Transport in Casablanca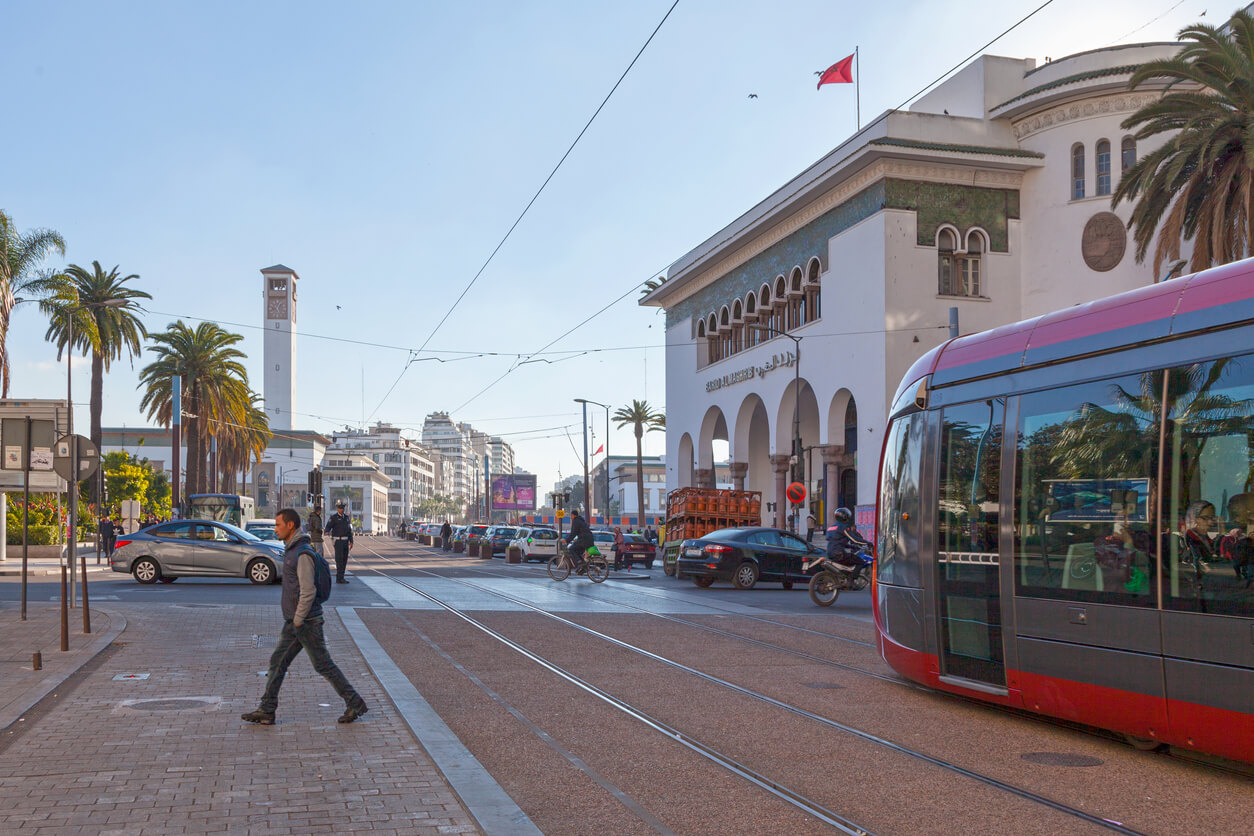 You can use trams, busses and taxis to get around in Casablanca.
There are two tram lines in Casablanca that travel through the city. You need buy a prepaid card or rechargeable ticket in order to use trams. They are available almost in every train stop starting with 6 Moroccan Dirhams.
T1 is available from 06.00 to 00.47 and travels from Lissasfa to Ennasim with 36 stops along the route.T2 is available from 6.00 to 23.27 and travels from Sidi Bernoussi to Littoral with 30 stops along the route. They are both available for every 10 minutes including weekends.
Busses cost 5 dirhams regardless of the stop. They are available from 06.00 to 24.00 for the most routes.
There are two types of taxis in Casablanca. Grand taxis are functioning like a bus and colored in white. They have a certain route and a fixed price. Petit taxis are shared four passenger taxis and colored in red. At night, the price is %50 higher.
<
Accommodation
Before deciding where to stay, visit our Casablanca flight ticket page and discover the historical, cultural and natural beauties waiting for you in the city. Then start planning your trip by listing the flight ticket prices across the date range that suits you best.
Places to see
You can make an online parking reservation in advance on flypgs.com for car parking facilities for your flight from Casablanca or when you arrive at the airport with your vehicle to meet someone.
Accommodation / Car Rental
If you're looking for a more comfortable transportation option when traveling to Casablanca for business or holiday, you can rent a car with Pegasus benefits.