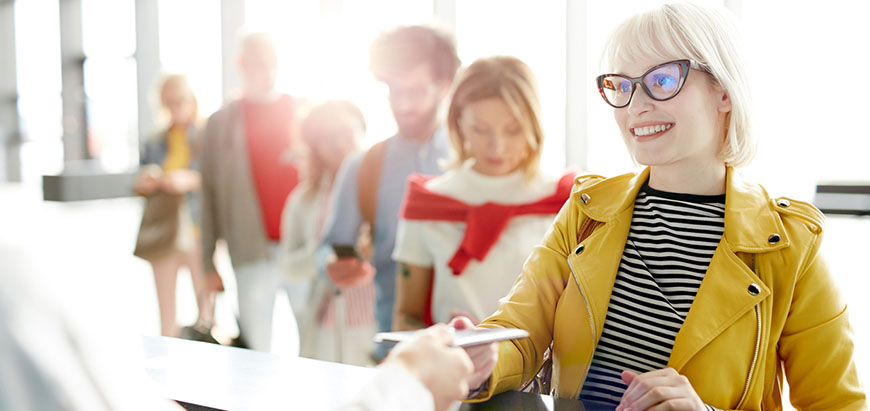 What is Airport Counter Check-in?
Airport counter check-in is, going to the counter area to check-in a certain amount of time before boarding. Passengers go to a reserved area where they can start their boarding procedures with the help of airline employees.
What is a Check-in Counter?
Reserved areas for passengers to check-in are referred to as counter. Passengers can also drop-off their baggage and get their boarding passes at counters.
Counters might be separated with queue barriers into sections at busy airports. Passengers should pay attention to the queue barriers while getting in line.
How to Check-in at the Airport Counter?
Passengers with baggage to drop-off can check-in at the counters. Passengers with hand luggage only or none can have their boarding passes faster through online check-in or kiosk check-in. After completing your check-in online or through kiosks, you are required to get in line and finalize your baggage delivery.
To check-in at the counters, passengers need to get into the line a certain amount of time (please check Pegasus Check-in for timing) prior to boarding. Counter clerks will help you with your check-in throughout the process. You might want to arrive early to avoid long queues at the counters during peak hours.
When to Start a Counter Check-in?
During holiday seasons (public holidays etc.), it is advised for passengers to be at the airport at least 2 hours prior to boarding time, when they have baggage to be delivered to the cargo hold of the aircraft.
Please visit to get more information on "When to start counter check-in?". Please pay attention to not to confuse domestic and international flights while checking in.
Ways to Avoid Counter Check-in Queue
If you want to head straight to the boarding area, the following might be helpful:
By checking in online through our website or our mobile application, you can go straight to the boarding area when you do not have any baggage to be delivered or only have hand luggage.
You can save more time by doing self-check-in through kiosks.
You can finalize your check-in and baggage process by arriving a few hours prior to your boarding time.