Transportation
Doha is a city that attracts tourists from all over the world every year and improves its touristic values day by day. Pegasus Airlines offers direct flights takes 4 hours and 15 minutes from Istanbul Sabiha Gokcen Airport to Doha Hamad International Airport. You can get your Doha flight ticket right now for a comfortable flight with Pegasus Airlines, and a great holiday awaits you.
 

Transportation from Doha International Airport to City Center
Hamad International Airport is 19.2 km from the city center. You can go to the city center from the airport by public transport, by taxi, by renting a private car.
There are multiple public transport buses from the airport to the city center. Bus Pavilion is located to the right of the arrivals hall. After you exit the Arrivals Hall you can find it by following the signs to the Bus Pavilion. Route 777 and Route 757 buses are the main busses that take off from the airport every 20-30 minutes. All the busses are operating 24/7.
You can also find different private taxis, sedans or vans, depending on the number of people traveling and your luggage weight. Arriving passengers can board a taxi at the Taxi Pavilion. Taxi drives take approximately 20 mins. If you want to travel around Doha as you like you can find a car to rent just for you with a great offer by using Pegasus Airlines car rental service.
Public Transport in Doha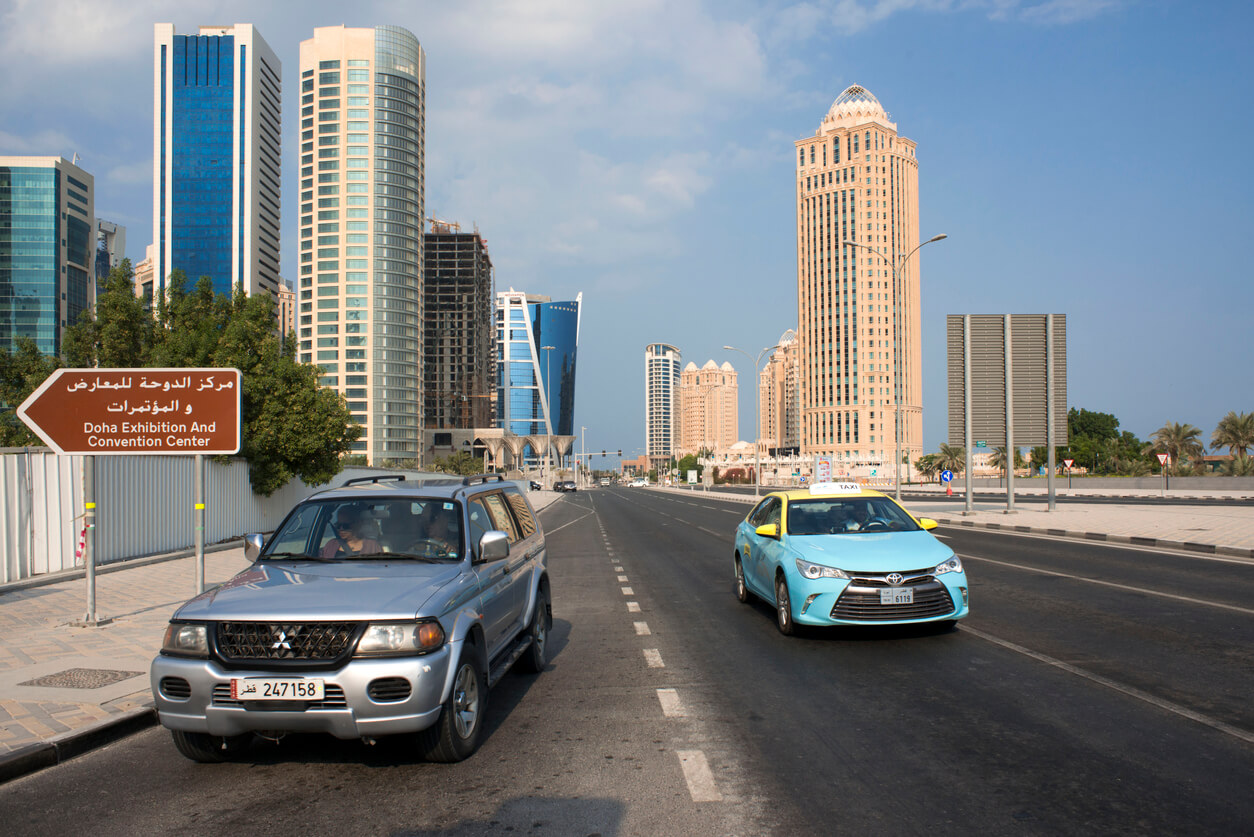 In Doha, buses and taxis are the most commonly used public transportation vehicles.
You can find a detailed city bus network and schedules here or you can visit the website of Mowasalat which is a special company for public transportation in Doha. As you arrive at Doha you can find smart tickets called Karwa in the airport where the bus pavilion is or you can buy it from Doha Bus Station, the Pearl Qatar, Qatar Mall and at Partner Merchants outlets. Karwa offers different types of smart cards, which are rechargeable for a long term of usage, unlimited use within 24 hours or two times usage within 24 hours.
Taxis and exclusive luxury limousines are among the other options you can use to travel around Doha thanks to its improved highway and road network. Taxi services can be found anywhere in the city as you can find in the Airport as well. 
Accommodation
Before deciding where to stay, visit our Doha flight ticket page and discover the historical, cultural and natural beauties waiting for you in the city. Then start planning your trip by listing the flight ticket prices across the date range that suits you best.
Places to see
You can make an online parking reservation in advance on flypgs.com for car parking facilities for your flight from Doha or when you arrive at the airport with your vehicle to meet someone.
Accommodation / Car Rental
If you're looking for a more comfortable transportation option when traveling to Doha for business or holiday, you can rent a car with Pegasus benefits.