Public Transportation in Qatar
As an oil-rich country, Qatar is diverse in terms of private vehicles and public transport. Since the locals prefer to use their own vehicles for transportation, public transport is generally preferred by tourists. There are subways, buses, taxis and car rental options in Qatar.
Transportation from Doha International Airport to the City Center
There are several options for going to the city centre from the airport. You can either use public transport or the taxis. Taking a cab approximately takes 10 minutes to the city centre. On the other hand, the buses number 103,777, 737, and 747 are good options for going to the city center in an affordable way.
Places to Visit in Qatar
Qatar is one of the most interesting countries in the Middle East. It charms its visitors with the artificial architectural buildings, magnificent views luxurious skyscrapers, and rich museums. Here is a list of places you should see while you're travelling.
Doha Coast
If you are a person who enjoys taking photos, you must visit this place. Doha coast is famous for its view of magnificent skyscrapers on the shore. You can have a little walk, enjoy the weather and take some photos there.
Souq Waqif
If you would like to experience the traditional atmosphere of Qatar, Souq Waqif is one of the best places you can visit. You can do some shopping and enjoy the local life.
Museum of Islamic Art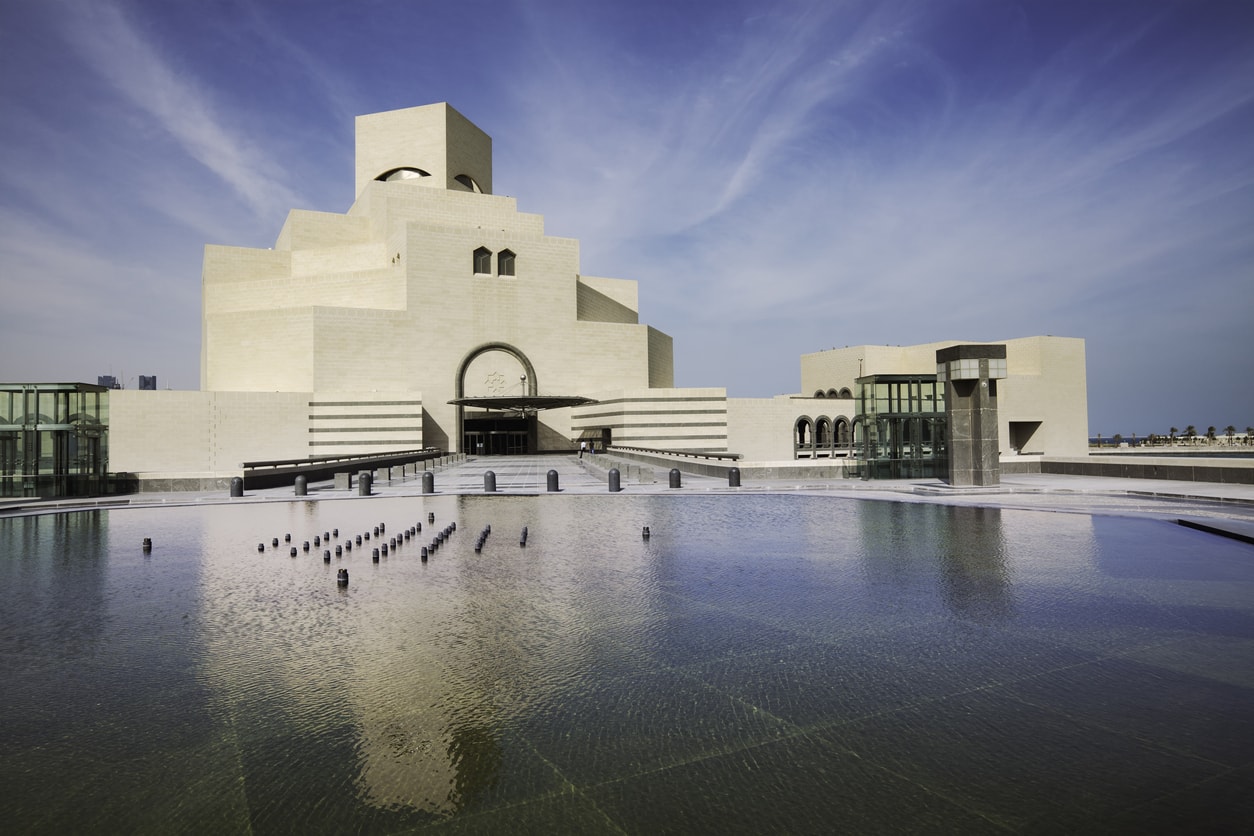 People who are interested in Islamic Art should make sure to visit this museum. You can visit the museum to see the effects and important traces of Islam lived in different geographies around the world. The museum hosts millions of tourists throughout the year. In the museum, you can see many valuable works of Islam.
Rumelia Park
This park is one of the most stunning places in Qatar. In the park you can find playgrounds for your children, a nice cafeteria to rest, an open-air theatre, art galleries and retailers.
Pearl Qatar
One of the most popular things about Qatar is, of course, the artificial islands. Pearl Qatar is one of them that connects the bridges of Doha. Due to the fact that the island is a popular luxurious destination, many people enjoy their time on yachts and beach.
Al Zubarah Fort
Al Zubarah Fort has been on the list of the World's Heritages by UNESCO for a while. Regarding the fact that it is not far away from the center, you can visit and see the historical beauties of the city.
Where to Stay in Qatar?
Mostly people assume that the accommodation in Qatar is fairly expensive. However, Qatar is famous for providing different kinds of options for different budgets. While the ones who like to have luxurious accommodation can stay in the center, Doha, the ones who look for a budget-friendly stay can check the other districts and neighbourhoods around the city.
What to Eat in Qatar?
As a result of being visited by millions of people every year, Qatar offers all kinds of food. You can either find international cuisines like Chinese, Italian, and Indian, or local cuisine, which is influenced by Middle Eastern cuisine. However, Machbus, Falafel, Luqaimat are some of the most popular local dishes in Qatar. Moreover, you can try these places famous with their dishes:
Ghuzi: Shujaa Restaurant
Falafel: Beirut Restaurant
Luqaimat: Kebab Al Tayeb
Shopping in Qatar: Best Souvenirs to Buy
For souvenirs, Qatar delivers various options to buy for yourself or your beloved ones. You can buy local fragrances, wall ornaments, accessories, and special woven fabrics. You can also find a wide range of products to buy in several stores and shopping malls.
Things to Know Before Visiting Qatar
There is very few public transport in Qatar. Due to the fact that the country is rich in oil and the income level is high so local people generally drive private vehicles.
All stores are officially closed for the prayer on Friday from 11.30 to 12.30 AM.
There are no clothing restrictions for tourists coming to Qatar. Tourists can dress as they wish, provided they are mostly modest.
There is no clear attitude about alcohol in Qatar. Tourists can drink in hotels and in some places.
Nightlife in Qatar
Doha is the most entertaining city in the country. People prefer to enjoy in the capital due to its wide range of options. Visitors can find either local entertainment options or the western style nightlife.
Holidays in Qatar
Islamic New Year – January
National Sports Day - the second Tuesday of February
Beginning of March Bank Break – March
Feast of Ramadan
Eid al-Adha
National Day - December 18
Festivals in Qatar
Qatar Art Festival – December
Doha Culture Festival – March
Doha Tribeca Film Festival – October
Qatar Sea Festival – March
Qatar Masters Golf Tournament – February
Qatar Open Tennis Tournament - January
FAQ about Qatar
Despite the fact that Qatar is a well-developed country with a high prosperity rate, there are some misunderstandings and questions about Qatar. Here they are:
How should women dress in Qatar?
Even though there is no restriction for the tourists, it is suggested not to wear clothes that don't cover your knees. Other than that, people are allowed to wear anything else in Qatar.
Is Qatar a safe country?
Yes. Absolutely Qatar is one of the safest countries in the Middle East. Locals and tourists can wander around safely.