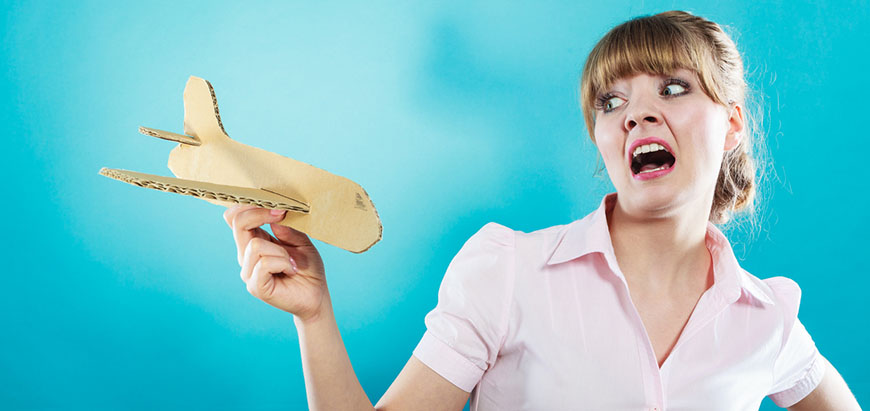 What is Aerophobia? 
Aerophobia is used for people who are afraid to fly. For some, even thinking about flying is a stressful situation and flying phobia, coupled with panic attacks, can lead to dangerous situations. Psychiatrists can help with flight-related fears and people who are afraid of flying can overcome those fears on their own over time. There are also people with flight phobias who do not use any air transport. When it comes to flight phobia, it's very difficult to travel to many places. For this reason, experts are working on various treatment methods for flight phobia. 
What is The Name of the Flying Phobia? 
Fear of flying is called aviophobia or aerophobia. Fear of getting on a plane can be a heritage from childhood or it can emerge from adulthood as a result of various triggering factors. According to researches, air travel is the least likely form of transportation with a risk of death. Therefore, this psychological disorder which causes fear of flight can be overcome by obtaining more information about aircraft phobia which is among the unnecessary fears. 
What Causes Aviophobia?
Aviophobia is the idea of fear that is at a certain level of violence against the act of flying or even the thought. When the thought of flying appears in the head, a state of anxiety occurs and the person can attribute it to a variety of reasons. As the level of violence increases, anxiety can turn into a panic attack causing the person to behave unconsciously.
Fear of flying is a fear that can occur as a result of a single trauma as well as many external factors coming together. Man is not born afraid to fly. This fear has later become a part of your personality. This condition can be treated with the help of psychiatrists. 
What Can Be Done to Overcome Airplane Fear?
If the flight phobia is at a severe degree, it is difficult for a person to overcome this fear alone, but there are always some questions that one can ask himself. 
Why am I afraid to fly?
When did I first start to be afraid to fly?
If your fear of flying is at a level that will keep you from traveling, it is recommended that you consult a specialist. Other than that, if the act of flying creates a slight tension in you, you can always get support from the aircraft personnel. All flight personnel is trained to assist in such situations. 
Airplane Fear Treatment
People who are afraid to travel by plane can be treated by psychiatrists who are experts in this field with methods such as hypnosis. The severity of flight phobia can be very high, so diagnosis and treatment are of vital significance in such cases. It is often recommended that people who carry this fear should not travel by plane before overcoming their fears. If you want to overcome this fear that is lowering your standards of living, you can get help from many psychiatrists who are specialized in this field.