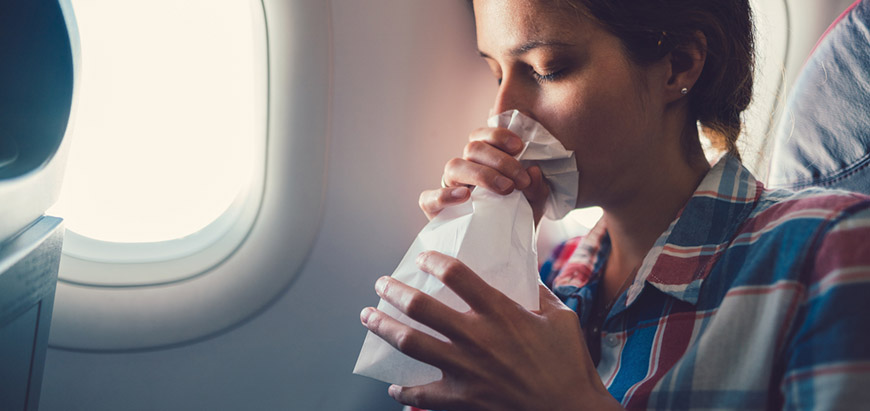 What is Airsickness?
Airsickness is a type of incompatibility disorder causing cold sweats, nausea and vomiting during the flight. It is felt intensely, especially when the plane is shaking, often the tremors of the plane trigger the airsickness. Those who experience the discomfort of airsickness during the flight can reduce the effects of airsickness by paying attention to several points. 
How Does Airsickness Occur?
Although airsickness is due to many reasons, this disorder caused by the communication incompatibility between the ear and the eye. There are hairs in our inner ear that are sensitive to movement. These hairs detect forward movement during air travel but the eye, which sees a fixed view on the plane, can't tell if it's moving. Simply the ear sends the message of "We're moving" to the brain while the eye sends a "No, we're standing still" signal. This creates a confusion in the brain resulting in, dizziness, nausea, sweating, yawning, trembling, fatigue and vomiting occur. 
Airsickness is an important disorder that lowers the living standards of those who want to travel regularly by air. Certain methods can be applied to minimise and even get rid of the effects of airsickness completely. 
How to Prevent Airsickness?
You can sit by the window against airsickness. If your airsickness isn't caused by the fear of heights or flight phobia, this might work.
Right middle sections are where the shakings are felt the least on a plane. You can choose your seats accordingly. 
When you feel nausea, lean back and try not to move the head much.
Always choose light foods before your flight and drink plenty of fluids. Avoid fizzy drinks and foods that can bloat you. 
You can chew mint gum before boarding the plane. Mint gum can be good for nausea.
Wide-body aircraft transmit less movement, meaning you feel less of the plane's movements. If you can choose your plane, fly with wide-body planes.
Get on board wearing comfortable clothes if you can. You will be more comfortable while sitting and wearing comfortable clothes will reduce the risk of stress-induced airsickness.
Try not to read anything on the plane and don't look at the bright displays.
If your condition deteriorates during the flight, be sure to inform the cabin crew.