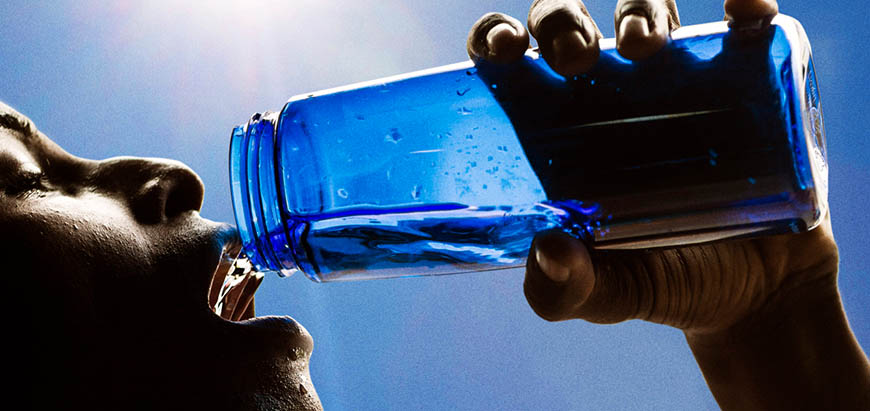 What is Dehydration?
Dehydration can simply be defined as fluid loss. Your body should take fluids regularly against fluid loss. If the body doesn't get as much fluid as it loses, the dehydration process begins. As dehydration increases, sweating and urination decrease, tissues dry up and organs are damaged at the end of the process. If you do not pay attention to dehydration, you may experience conditions that can lead to renal failure. 
How Does Dehydration Occur?
Dehydration is a fluid loss disorder caused by factors such as intense exercise, being at a high altitude or intestinal disorders. Especially in intestinal disorders, the risk of dehydration increases as fluid and electrolyte loss escalates. However, dehydration occurs with the increase in body temperature when carbohydrates and fats burned during the exercise. During exercise, the brain can suppress the feeling of thirst. Therefore, while exercising, you should plan your fluid intake not only according to your needs but also according to a routine.
What Causes Dehydration on Board?
Dehydration is not something that develops in a short time, it occurs when you do not observe the fluid balance of your body. People living at high altitudes have a higher risk of dehydration. The body consumes more fluid and loses more fluid than people living at low altitudes because oxygen levels, which naturally decrease in air travel, increase the number of breathing and heartbeats. In other words, you should pay more attention to fluid intake during your long-haul flights and high altitude slots. 
What are the Symptoms of Dehydration?
The main symptoms of this disorder are listed below:
Increased body temperature
Examples of drying skin such as cracking on the lips
Dizziness
Lightheadedness and sleepiness
Feeling thirsty that you drink a lot of water but do not decrease
Headache
Dark urine
Drying in the mouth
How to Prevent Dehydration?
If you drink plenty of water against fluid loss, you can prevent the possible discomfort. According to medical advice, an adult should consume at least 2 liters of fluid per day. In this way, you can maintain the balance of the amount of fluid in your system. In addition, cold liquids are excreted more from the body. So you can reduce the risk by consuming liquids at room temperature.
What is the Difference Between Dehydration and Dehydratation?
They both mean the same thing: fluid loss in the body. The use of dehydration is wrong in the medical language, it is more appropriate to use dehydratation.