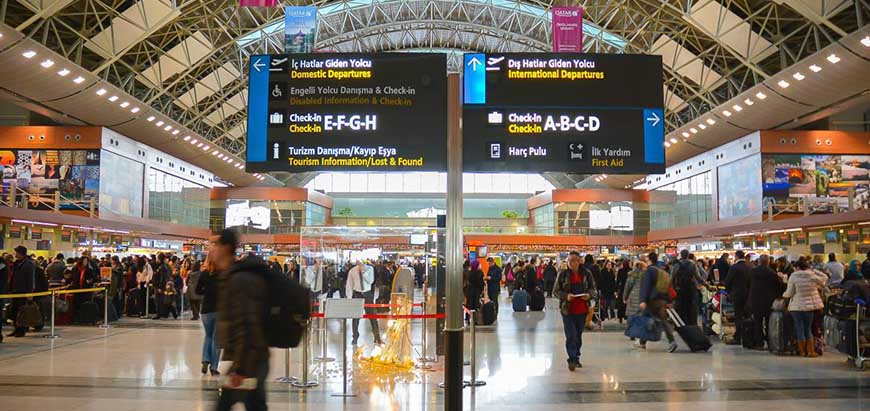 What is Domestic Flight?
Domestic flights are flights within a specific country's boundaries. Passengers or cargo transportation can be handled through airline companies. Additionally, domestic flights can be arranged for military purposes. In these cases, flights take place within the country and traveled only through certain domestic flight lines. For these flights, passengers use domestic terminals. All of the airports designed for public use have domestic terminals. Airports with international terminals can also be referred to as international airports.    
What Does Domestic Arrivals Mean?
It is the terminal where passengers traveling within the country arrive at the airport. A passenger traveling from Ankara to İstanbul arrives at the airport through domestic arrivals. People who land after their domestic flights, get through the gates at the airport. After arriving at the domestic arrivals, there is no need to get through the security checkpoints. However, passengers with checked baggage should go to the baggage claim area.  
What Does Domestic Departures Mean?
The domestic departure area is the area in which passengers taking a domestic flight need to be. It is located within the domestic terminal. Passengers traveling from İstanbul to Ankara can start the process by getting to the Sabiha Gökçen Airport's domestic terminal. To be able to fly through domestic departures, passengers need plane tickets. You can purchase tickets online or through agents.
Steps for Domestic Departures
Please pay attention to the instructions and prepare your id and boarding pass beforehand.
It is recommended passengers go to the airport early during holiday seasons. Busy airports can have extra passenger traffic, especially on domestic flights.
Please make sure that you do not exceed the baggage and size allowance. In case of excess weight or baggage, you will be charged. Please check our Baggage Rules.