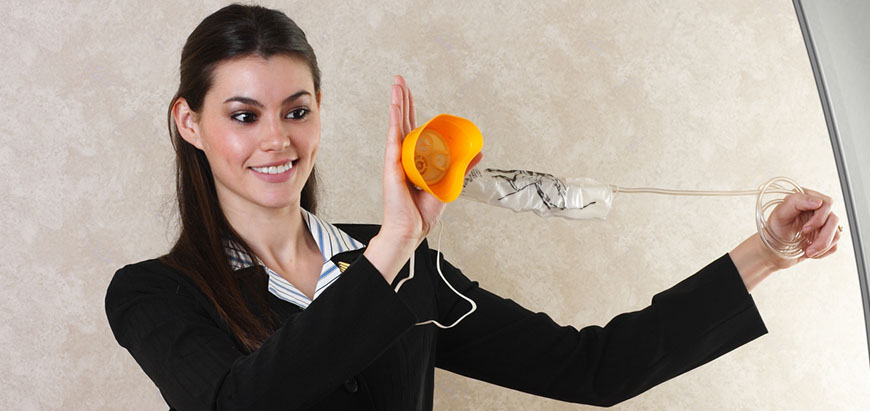 What is Hypoxia?
Hypoxia is a disorder caused by the oxygen-consuming organisms' inability to feed their tissues with enough oxygen. It can be simply referred to as oxygen deficiency. Hypoxia can be seen in high-altitude flights and dives at shallow levels, and hypoxia may also occur as a result of major disorders. Although it is rarely seen during flight, it is a serious disorder that requires professional help. 
What Causes Hypoxia During Flight?
Oxygen levels are always sufficient in planes. High-altitude flights make it difficult to saturate the blood with oxygen because the cabin pressure is very low. In such moments, oxygen-carrying blood cells do not perform their duties adequately resulting in the tissues to be fed with less oxygen. When the amount of oxygen may decrease, especially passengers with cardiovascular, respiratory and lung diseases should pay attention to this. On long-haul flights, healthy individuals are not affected by low cabin pressure at high altitudes; but especially among patients with lung and heart problems,  visual impairment, respiratory failure, shortness of breath and loss of consciousness may occur. 
Under normal conditions, partial oxygen pressure in the human body should be at least 0.16. Below 0.16 hypoxia occurs. 
What are the Symptoms of Hypoxia? 
The symptoms of hypoxia can change according to the severity of the condition.
Headache
Shortness of breath
Fatigue
Palpitations
Lack of concentration
Skin bruising
Dull look
Memory loss
Loss of consciousness
What Should Be Done In the Case of Hypoxia?
In the case of hypoxia, an expert should definitely intervene. Depending on the causes of hypoxia, it is necessary to open the airway to facilitate the breathing of the patient and to speed the blood circulation. For a person who has been exposed to hypoxia for a long time, the situation can be very serious. Therefore, patients with heart, lung and respiratory diseases should consult their doctor before flying.
Ways to Avoid Hypoxia
Hypoxia occurs at low oxygen levels. In order not to be exposed to hypoxia, it is necessary to avoid such environments. 
For high-altitude flights, it is advisable to avoid fizzy drinks to minimize the impact of conditions caused by depletion of oxygen in the blood. 
In the modern aviation industry, all kinds of measures are taken against hypoxia. Most commercial flights operate at an altitude of 5,000 to 7,000 feet, increasing oxygen density from 10,000 feet. At 30,000 feet (commercial flights do not reach this altitude), 100% oxygen is given with pressure, and special clothing is used in this case.