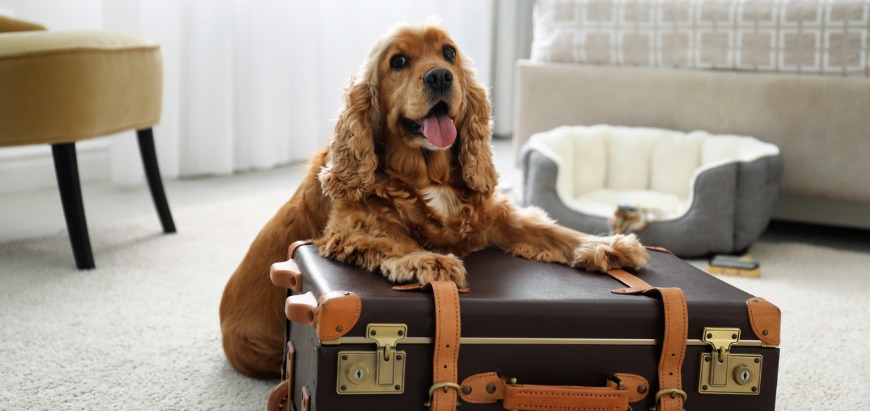 What is Pet Passport?
The Pet passport is not only a travel document that you need in order to bring your pet abroad with you but also an identification for animals such as cats, dogs, and weasels. If you plan to go to an EU country or Northern Ireland with your pet, you must get a "passport" or an "animal health certificate" for your pet, as well as having "microchip" operations performed. Additionally, if you're taking your dog directly to Finland, Ireland, Northern Ireland, Norway, or Malta, tapeworm treatment is required.
You must get an export health certificate if you are travelling to a non-EU nation (EHC). If you reside in England, Scotland, or Wales, an export application form (EXA) must also be completed. An EHC verifies that your pet meets the country's health regulations before you depart.
What Information Does a PET Passport Contain?
The pet passport contains the pet's date of birth, microchip number, vaccinations, check-ups, and basic information about the owner.
Vaccinations
Rabies vaccine

Immune boosters

Blood tests
You should have your pet vaccinated against rabies before travelling. Your pet must be at least 12 weeks old before being vaccinated.
You should have your pet microchipped before the rabies vaccination or at the time when you are going to get the rabies vaccination. If you have been vaccinated against rabies without having a microchip inserted, your pets should be vaccinated again.
The rabies vaccine administered must comply with the procedures of the country in which it is administered.
As long as your pet's rabies vaccinations are kept up to date, the blood test will continue to be valid.
You should regularly give your pet immunity-boosting vaccinations. Regularly check your pet's passport or health certificate to find out when the boosters should be given.
If you have not received the boosters that should be administered to your pet, your pet should be vaccinated and have a blood test again. This process also requires you to wait 3 months before travelling.
The following information should be included in the vaccination record of your pet in the pet passport or health certificate:
Date of birth of your pet,

Your pet's microchip number, the date it was placed or read, and where it is on your pet's body,

Date of vaccination,

Vaccine manufacturer and product name,

Vaccine batch number,

The date of vaccination and the sign "Vaccination is valid until the following date",

Signature and contact information of the vet.
If the information in your pet's passport is filled in in the wrong place, your pet may not be allowed to travel.
Microchip
The vet's microchip number must be processed in your pet's passport or health record. The microchip's expiration date should come before your pet's vaccinations.
The personnel will determine whether your microchip complies with the International Organization for Standardization (ISO) standards ISO 11784 and ISO 11785 if you are travelling on globally recognized routes.
You might need to bring your own microchip reader when travelling if your pet's microchip does not adhere to ISO standards. Before leaving your country, you should check with your travel agency regarding the microchip reading process.
If your pet's microchip cannot be read upon arrival to the UK, for instance, entry may be denied or quarantined.
You will need to repeat the entire procedure if your pet's microchip cannot be read. You must wait the necessary amount of time before going in case your pet needs a booster shot or new blood test.
How and Where to Obtain the Pet Passport?
When issuing a passport for your pet, you must follow these steps:
You should have your pet chipped.

If you are going abroad, you must ask your veterinarian to fill out the exit form for abroad while obtaining the passport.

Then, the veterinarian takes a blood sample and sends a copy of the passport to the place where the test will be performed.

With the result of the Rabies Titration Test (FAVN Test - Fluorescent Antibody Virus Neutralisation Test), the relevant Customs Veterinarian should be applied in the city where you will depart to go abroad.

For pets entering EU-member countries, a Rabies Titration Test must be performed at least 3 months in advance. After the test result, there is a waiting period of 3 months from the day of the rabies vaccination in Turkey. After completing the period, you can get an International Health Certificate by applying to the Provincial Directorate of Agriculture. The report is valid for 10 days after receiving it. You must make your international flight within this period.

Following your pet's vaccination, you must wait 21 days before travelling, if you are going to get a

UK pet passport

. The first day is the day following the rabies shot. 

For the test, you must deposit money in the bank beforehand and you must write Rabies Titration Test in the payment description.

If there is no break in the vaccine cover, there is no need to wait.
What Should Be with You When Buying a Pet Passport
Your pet,

Identification and vaccination records of your pet,

Rabies blood test results if your pet needs it.
All documents issued on behalf of your pet must be presented in their original form. Document photocopies are not allowed.
In some circumstances, such as if your pet has undergone a blood test, you should travel using previous pet passports. Consult your vet to see if this applies to your pet.
Only EU vets can submit rabies vaccination information in the EU pet passport. Any vet in any nation can process the details of tapeworm treatment in your passport. 
You must obtain a new pet passport once all the treatment spaces in your current one are filled.
Before Travelling
Check whether your vet has filled in the following sections in the pet passport:
Information about the owner,

Your pet's identity information,

Information that your pet has been vaccinated against rabies,

Rabies blood test applied to your pet, when necessary,

Information of the vet who issued the passport,

Information about your dog's tapeworm treatment, when necessary.
Conditions of the European Union for Travelling with Pets
The European Union's pet-travel guidelines make it easier for you to travel with your pet to another EU country. These regulations also apply to travel to EU nations from non-EU nations or regions. With the following few exclusions, your pet may travel with you to another EU member state or, if applicable, from a non-EU member state to an EU member state: Finland, Ireland, Malta, Norway, and Northern Ireland, however, admission requires documented proof that your pet has received tapeworm treatment.
When travelling from one EU country or Northern Ireland to another EU country or Northern Ireland, a valid European pet passport (usually a cat passport or dog passport) is required, or an EU animal health certificate is required when going from a non-EU country. The European pet passport is a document that adheres to EU standards and is necessary for entry into EU countries.
The EU animal health certificate is a separate document from a pet passport that provides specific information about your pet (identification, health, and rabies vaccines) and is based on the EU standard model. If you are travelling from a non-EU nation or region, your pet must obtain an EU animal health certificate provided by a vet in the place of departure no more than 10 days before entering the EU. 4 months from the date of issuance until the expiration of the rabies vaccination, according to the document, are allowed for travel between EU nations.
The EU animal health certificate for your pet is required, but you also need to fill out and include a written declaration confirming that the move is being made only for personal reasons. This declaration is also required if your pet is going with someone you have given permission to. In this scenario, you and your pet must be reunited within five days of your travel.
Pet Passport Validity Period
Pet passports are valid for 3 months if your pet belongs to Turkey. This differs in EU pet passports. As long as your pet has received their rabies vaccination, a pet passport is valid for life.
What Documents Are Required for Pet Travel?
In order for a pet in Turkey to go abroad, its microchip must be applied, its passport must be issued and registered in the Pet Registration System (PETVET). A passport is required for domestic flights, as well. If the pet does not have a passport, administrative sanctions are applied.
For international flights, the required documents and conditions may vary depending on the destination country. Remember to confirm the conditions of the country you will go to from the official authorities.
What to Do If the Pet's Passport is Lost or Stolen?
According to The EU Pet Travel Scheme: How to Complete Pet Passports If the passport is stolen, lost, or damaged, it can be replaced with documentation of the animal's vaccination record and blood test results (if suitable), all of which must include the microchip number. The Pet Passport Control Sheet should include information on the lost or stolen passport, such as the serial number, country, and date of issue (if known) as well as the owner's personal details. We recommend that you contact your veterinarian to get a new passport and vaccinate your pet. 
How to Deliver the Found Pet to the Owner?
If it is understood that the lost pet has an owner, the owner is notified. Then, there is a mandatory period of 72 hours for the owner to take the pet in everywhere around the world. It is important that your pet is microchipped and that its microchip is readable in case of loss.
Pet Passport Fee
The fee for pet passports differs around the world. For example, it is between €20 and €448 for pets that reside in EU countries. (2023) If you wonder how much a dog passport is, there is no difference in fees for passport processing for dogs and cats. However, additional vaccines and procedures may cost more. You can consult it with the nearest vet in your area.
What Should I Pay Attention to When Travelling with My Pet?
For specific rules that contain answers to your specific questions and the special rules to be considered while travelling with a pet, such as "Does a dog need a passport?", you can visit General Terms & Conditions page. 
Regarding the laws governing pet passports, each nation has its own application requirements. When taking your pet to a foreign country, you should check with reliable sources about any issues that could worry you. Make sure your pet complies with the requirements to enter the destination country whether you're travelling to an EU or non-EU country.