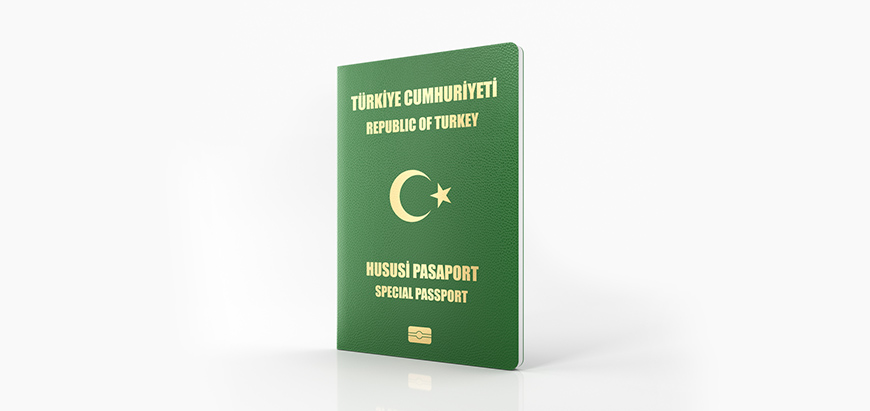 What is a Special Passport/Green Passport? (for Turkish citizens)
*Please note that the information on this page is intended for the use of citizens of the Republic of Turkey.
A special passport is the type of passport issued to civil servants working on behalf of the state and their families for 5 years as long as they meet certain requirements. It is also called a green passport as it is green. A special passport has many privileges. It provides visa-free entry to many countries limited to the number of days. 
Which Turkish Citizens Can Get a Green Passport? 
A special passport is only issued to persons who have civil servant status in a government organization and are registered with the Pension Fund. 
Former members of the Parliament and former ministers,

Civil servants and other civil servants who are in first, second and third-degree positions or retired,

Metropolitan provincial and district presidents (during their tenure),

Former mayors who retired in the first degree,

State athletes,

Privatized Turk Telekom, T.C. Ziraat Bank, Halk Bankası, and Emlak Bank employees, under certain conditions,

Businessmen who have exceeded certain export rates in accordance with the "Principles for Issuing Special Passports to Exporters" issued in 2017,

Children who are not over the age of 25 and spouses of civil servants are given green passports.
How to get a Green Passport?
People applying for a special passport should apply to the civil registries by completing the necessary documents and payments. The appointment for the green passport application can be made online on the General Directorate of Population and Citizenship Affairs page. 
Necessary Documents for Green Passport for Turkish Citizens
Those wishing to exercise the right to a green passport can apply by completing the following documents. 
For employees: Signature circulars prepared by the provincial, regional or general directorate of the institution where the officer works

For retired employees: Document showing the staff details given on the date of retirement

For people who have resigned: document showing their staff details for the period they worked

For the deceased beneficiary: a document showing the staff details on the date of the demise of the beneficiary

For the ones under 18: Consent from parents

1 biometric photo (5 x 6 cm)

Identity card
How Long Can I Use My Green Passport for?
Special green passports can be issued from 6 months to 5 years according to the request of your manager and the parameters set by the Ministry of Interior. 
Advantages of Green Passport
A list of countries where green passport holders can go without a visa can be found here. A private passport is also exempt from passport fees.