Transportation
Bishkek is a city that is growing in terms of tourism with its history, and the architectural and natural beauties. Pegasus Airlines offers direct flights takes 7 hours and 50 minutes from Istanbul Sabiha Gokcen Airport to Manas International Airport. Pegasus Airlines offers you comfort and quality service on this long flight. Get ready for a great holiday with your Bishkek flight ticket.
 

Transportation from Manas International Airport to City Center
The distance between the airport and the city center is 25 km. Depending on your arrival time at Manas International Airport; you have several different transportation options to the city center.
The most preferred ones are mini buses and taxis. The most affordable option for transportation to the city center is the minibus. The minibuses Marshrutka 380 depart from just outside the airport and serve between 6:30 am and 8:30 pm. It takes 40 minutes to reach the city center by minibuses.
If your arrival time is not matching the working hours of the minibuses, or if you want a more comfortable journey, you can use the official taxis. Taxis can be booked from the taxi offices located in the passenger's lounge at the airport. Manas Taxi and Super Taxi are among the recommended official taxi offices. With Super Taxi you can get an invoice for the fee you will pay for the journey. The journey to the city center by taxi takes about half an hour.
If you want to travel around Bishkek as you like you can find a car to rent just for you with a great offer by using Pegasus car rental service.
Public Transport in Bishkek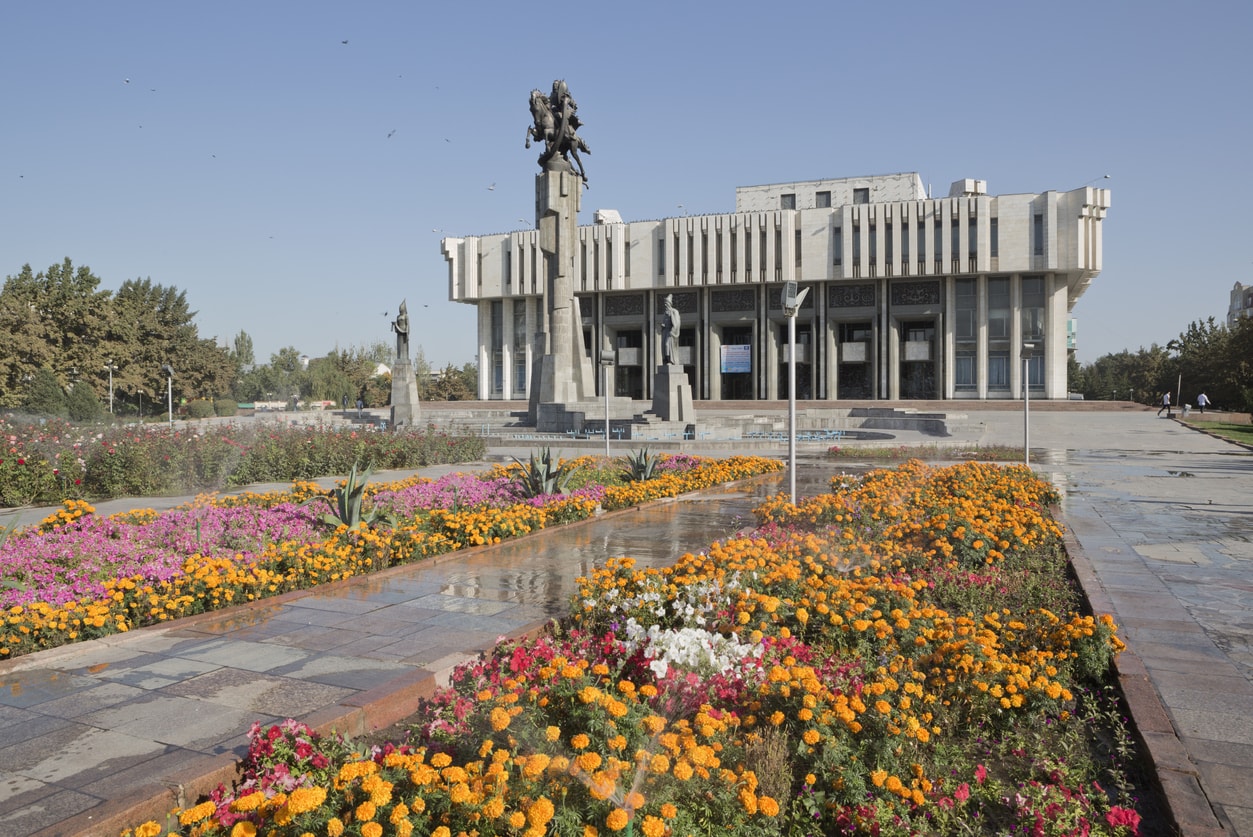 The most common public transport in Bishkek is Marshrutka, buses and trolleybuses, and taxis.
Marshrutka is the most common and cheapest public transport in Bishkek. Although it is not preferred because they are overfilled with people during the rush hours and the drivers drive fast, the area they go to is larger than the other public vehicles. Marshrutkas can be found almost anywhere in the city.
Buses provide a comfortable and safe transportation throughout the city. Trolleybuses and buses of the same numbers have different routes, so you should pay attention to which vehicle to use. Bus, trolleybus and minibus numbers, departure plan and routes can be found from here. Also you can search for public transportation to your destination from your point of departure from here. Taxis are also very common in Bishkek.
Accommodation
Before deciding where to stay, visit our Bishkek flight ticket page and discover the historical, cultural and natural beauties waiting for you in the city. Then start planning your trip by listing the flight ticket prices across the date range that suits you best.
Food
Airports Near Manas International Airport

Places to see
You can make an online parking reservation in advance on flypgs.com for car parking facilities for your flight from Bishkek or when you arrive at the airport with your vehicle to meet someone.
Accommodation / Car Rental
If you're looking for a more comfortable transportation option when traveling to Bishkek for business or holiday, you can rent a car with Pegasus benefits.