Public Transportation in Kyrgyzstan
It is possible to travel in Kyrgyzstan by minibus, bus, taxi, car rental, and trolleybus. The most commonly used transportation method called minibus called Marshrutka. The marshrutka, which runs from 06.00 to 21.00, is one of the economical ways to travel. Trolleybuses are also a means of transportation which is a mix of tram and bus used in all cities. The trolleybus is the most economical way to travel. Trolleybus tickets are approximately 10 Som. Buses are also an economical alternative. There is no card in the country for public transport. Tickets can also be paid in cash.
Transportation from Bishkek Airport to City Center
The distance between Bishkek Airport and the city center is approximately 25 km. There is no public transport from the airport to the city center. Therefore, you have to take a taxi or rent a car. It is possible to reach the city center within 40 minutes by licensed taxis outside the airport terminal. Renting a car is often preferred. Before you travel, you can take advantage of Pegasus car rental service and travel with your vehicle waiting for you at the airport.
Transportation from Osh Airport to City Center
The distance between the city center and Osh Airport is about 10 km. The most economical and easy way to reach the city center is public transportation. You can reach the city center in a short time by bus or marshrutkas. The marshrutka number 142 and buses number 10 operate between 07.00 and 19.00. Vehicles depart every 10 minutes and reach the city center in about 25 minutes. Taxi is one of the alternatives you can use. You can reach the city center in a short time with taxis at the exit of Terminal 2.
Places to Visit in Kyrgyzstan
Bishkek
Bishkek is the capital of Kyrgyzstan. Bishkek is also the largest city in the country. The city has a different culture with statues of Lenin from the USSR era, the Russians making up 20% of the population and with the fact that Russian is widely spoken on the street. There is even a Putin bar in the city. With its unique city planning, wide boulevards and a park that crosses the entire city, it looks more like Europe than a Central Asian country. With its national parks, monuments, squares, and museums, the city has a lot of places to see.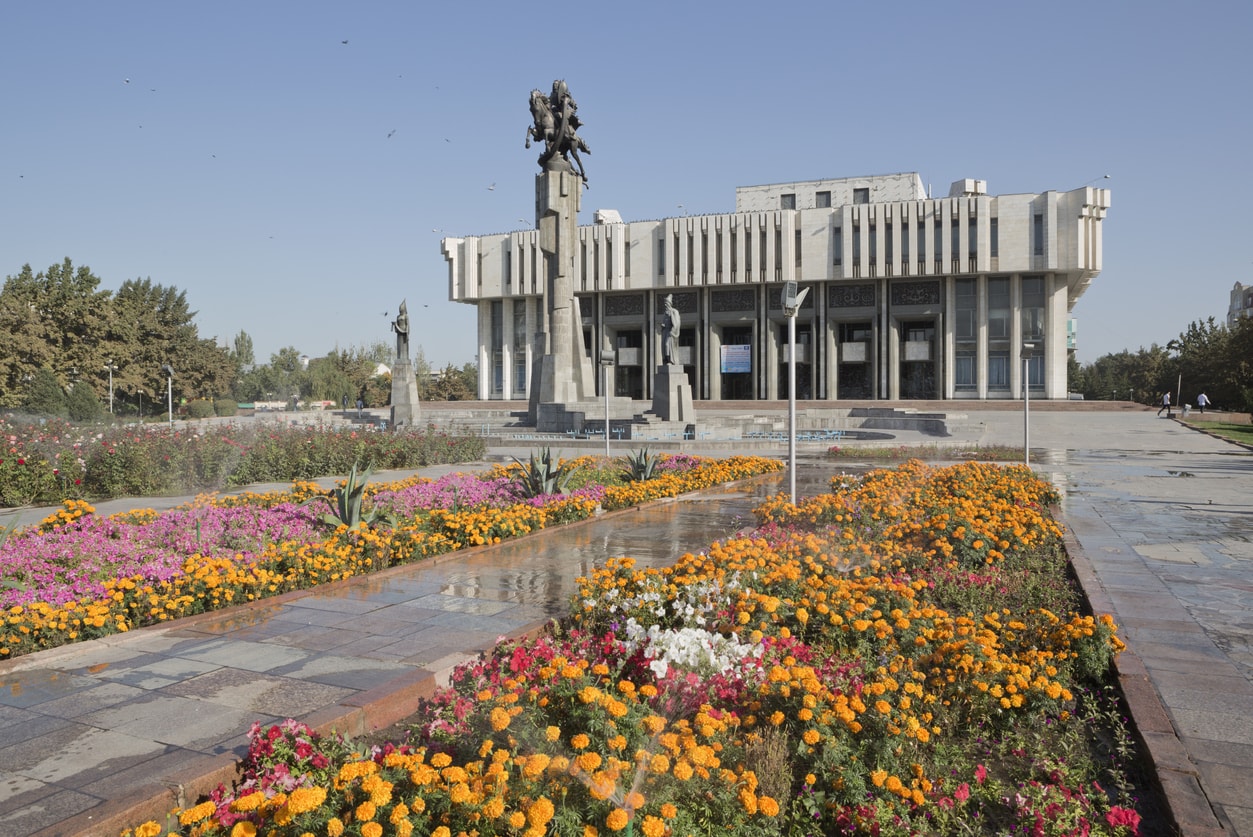 Burana Castle, Gapar Aitiev Art Museum, Osh Market and Ala-Archa National Park are some of the must-see places. The big square, the heart of the city, Ala-Too is decorated with fountains and cafes and venues. There is a statue of Manas, the legendary hero of the Kyrgyz. Regional points of interest include National Historical Museum and Kyrgyz National Museum of Painting.
Osh
Osh, the second-largest city in Kyrgyzstan, is located on the historical Silk Road in the southwest of the country. Osh, a 3000-year-old city, is important both for Turkish history and Islamic religion. The city is located in the southwest of Kyrgyzstan and south of the Fergana Valley.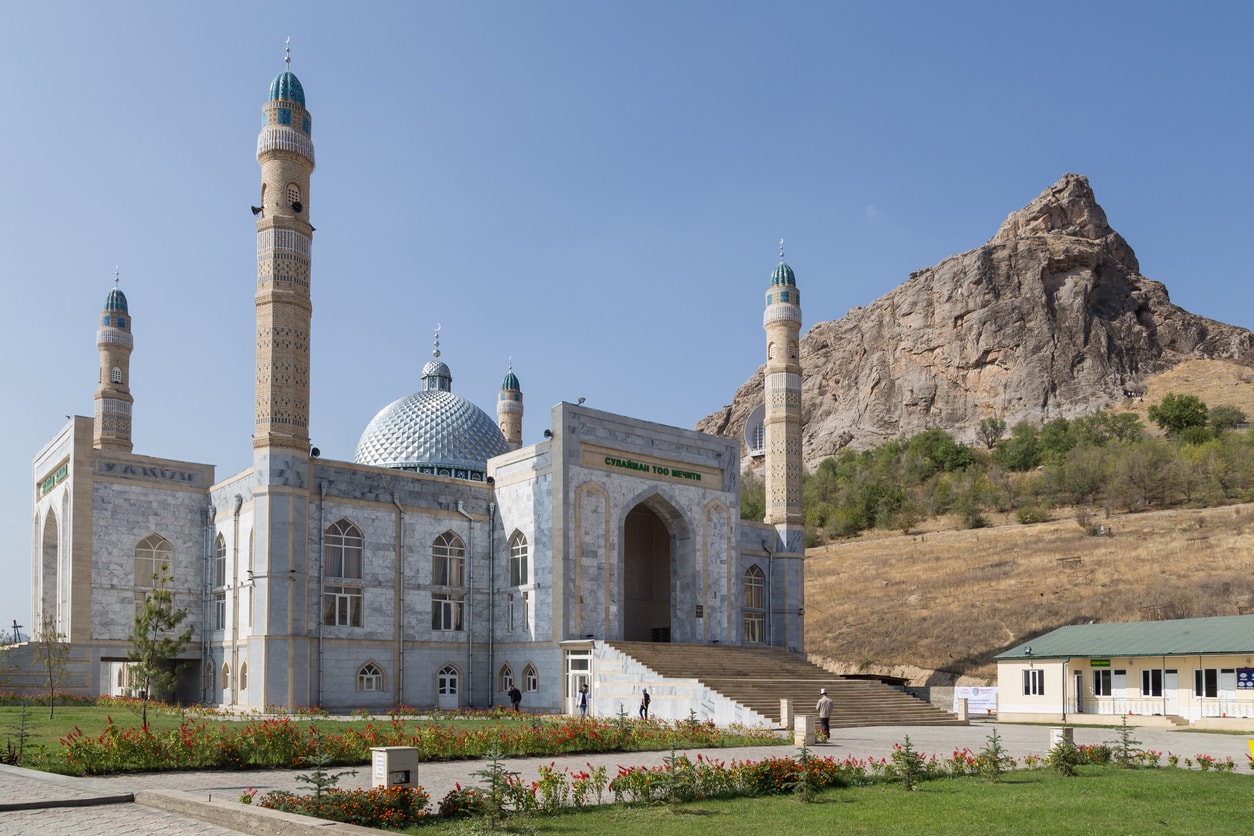 The city is famous for its silks and spices. Süleyman Mountain, Süleyman Mountain Museum, Bara-Koh Summit and the 16th century Rabat Abdullah Khan Mosque are among the must-see places.
Lake Issyk
Lake Issyk is the largest of the lakes in Kyrgyzstan and one of the most important tourist spots in the country. Issyk Lake, the second-largest crater lake in the world, is located in the northern part of Kyrgyzstan, 1609 meters above sea level. The lake does not freeze in winter despite the coldness of the surrounding snowy mountains. With its crystal clear waters shining like silver, the lake is a favorite place for Russians and Kyrgyz people during holiday periods.
Where to Stay in Kyrgyzstan?
Hotels are generally preferred for accommodation in the country. In large cities, hotels can be found for every budget. In smaller cities, it is possible to stay in houses supported by the CBT, the Kyrgyzstan Community Based Tourism Association. You can also experience a different accommodation in a tent named "bozuy".
What to Eat in Kyrgyzstan?
Kyrgyz dishes consist mainly of meat and pastries. As in Kyrgyz food, Kyrgyz soups contain dough and meat. Minced meat is never used. Meats are offered as pieces of meat even in soup. The meat is often accompanied by noodles and sometimes diced potatoes. The most famous dish of the country is beshbarmak prepared with sheep or horse meat. Shashlik and soups are also popular foods. In addition to meat dishes, rice is usually served as plov. Kımız (mare milk), which is unique to Central Asia, is among the tastes you should try. Below are some restaurants where you can taste these famous Kyrgyz dishes.
Beshbarmak: Navas/Bishkek
Shashlik: Tsarskiy Dvor/Osh
Plov: Arzu/Bishkek
Regional Dishes: Cafe Faiza/Bishkek
Shopping in Kyrgyzstan: Best Souvenirs to Buy
There are many alternatives for shopping in Bishkek and Osh. On Manas Street in Bishkek, you can find traditional caps and various leather goods. Traditional Kyrgyz clothes and hand-woven carpets and rugs are among the souvenir alternatives. Osh cities are famous for their spices. You can find various spices and local products in Osh. Bayalinova Street and Jayma Bazaar are popular spots for souvenirs.
Things to Know Before Visiting Kyrgyzstan
Shops are usually closed from 13.00 to 14.00 on weekdays and Saturdays. Many markets and shops are open on Sundays.
If you are going to stay in Kazakhstan for more than 5 working days, you must inform the relevant institutions.
Most of the signs are written in Cyrillic alphabet, so you should keep a dictionary with you. You can also download smartphone applications.
Although the currency is Som, Dollar and Euro are also used at touristic shopping points.
You can negotiate even if the taxi prices are reasonable.
Be sure to visit Doldoy Market and Osh Market in Bishkek.
Nightlife in Kyrgyzstan
Kyrgyzstan's nightlife means Bishkek nightlife. Bishkek has hundreds of bars, cafes, restaurants, and clubs. Some places serve as a bar early in the night. After 11 at night, the bar gradually turns into a club. One of them is the Zavod Pub in Bishkek. Although nightlife is not very active during the week, it is especially lively on Friday and Saturday nights.
Holidays in Kyrgyzstan
1 January – New Year
7 January – Russian/Orthodox Christmas
21 March – Newroz
1 May – Labor Day
5 May – Constitutions Day
31 August – Independence Day
Festivals in Kyrgyzstan
Bishkek Jazz Festival (April/Bishkek)
Bicycle Race (May/Arslanbob)
World Nomad Games (July/Bishkek)
Kyrgyz Traditions and Ceremonies (July/Bishkek)
Taigan and Burkut Festival (August/Issyk Lake)
Visa Requirements
Some countries citizens don't need a visa to get to Kyrgyzstan. However if you need one, it is recommended that you apply in advance to have a stress-free trip. You can check if you need a visa from here.
FAQ About Kyrgyzstan
What is Kyrgyzstan nomad culture?
Although the Kyrgyz people are now settled, nomadism is an integral part of national identity. Especially in summer, they live in the dormitories called Bozüy on the plateaus and plains. Horse riding and sports activities that require agility are also part of this culture.
How many regions are there in Kyrgyzstan?
The country consists of 8 regions, including the capital Bishkek. The oblasts are named Bishkek, Batken, Chuy, Jalalabad, Narin, Osh, Talak and Issyk Lake.
What are the working hours in Kyrgyzstan?
Institutions are open between 09.00-18.00 on weekdays. They are closed on weekends (Saturday- Sunday). Most markets and shops are open on Sundays.
What does the flag of Kyrgyzstan mean?
The flag has the yellow sun figure on the red background. The 40 rays of the sun represent the 40 Kyrgyz tribes, the red background symbolizes peace and the top view of the sun represents the Kyrgyz tents.