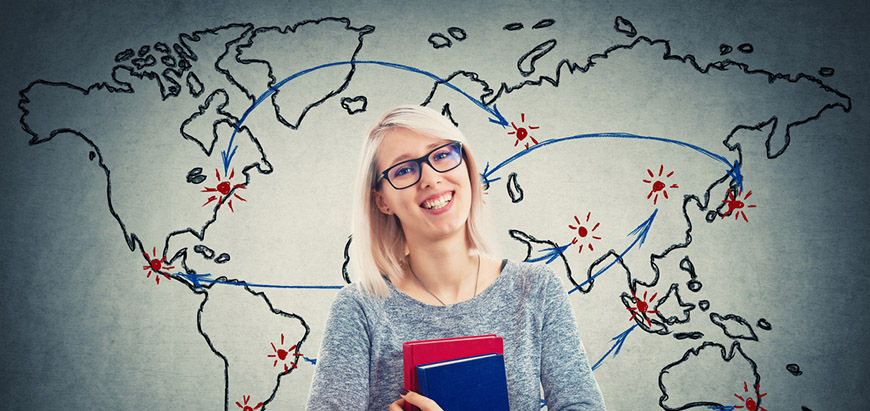 What is a Student Visa?
People traveling abroad apply for a visa if it is requested by the destination countries. Students who are considering studying abroad in countries that require a visa are also obliged to get a visa. A student visa is provided to students who want to study abroad. Those who consider applying for a student visa should check all details regarding the visa procedures. Especially those planning a long-term education abroad should know all the details for an easy visa application process. 
How to Get a Student Visa
If you plan on studying abroad, you should keep in mind that this process also changes depending on the countries. At this point, pay attention to learn all the necessary information from the institution through which you are applying for a visa.
Necessary Documents for a Student Visa
The list of necessary documents can be different depending on the country but the following documents are requested by most countries:
Visa application form 

Passport 

Certificate of identity register copy (criminal record)

Letter of acceptance from the school 

Payroll (where requested)

Documents showing the financial situation 

Residence

Travel insurance

Language preference form

Administrative fee

Property deeds 

Certified SSI (SGK in Turkish) employment and monthly insurance details of the person who will cover the costs

Military status certificate (if necessary) 

Student certificate

Diploma and transcript (if available) 

Visa fee receipt

Work permit (if it is to be worked as a student)

Parental leave (if the student is under the age of 18)

Exam results document showing the English level (for long-term visa)
Countries such as Germany, Great Britain, France, and Greece require fewer documents for students who plan to study for a short-term (less than 90 days). 
How Much Should I Pay? 
Visa procedure is completed in a few steps: 
Appointment fee

Notary fee

Certified translator fee

Visa fee

Travel insurance fee
These costs vary by institution. If there are intermediary agents during visa applications, there might be additional charges.