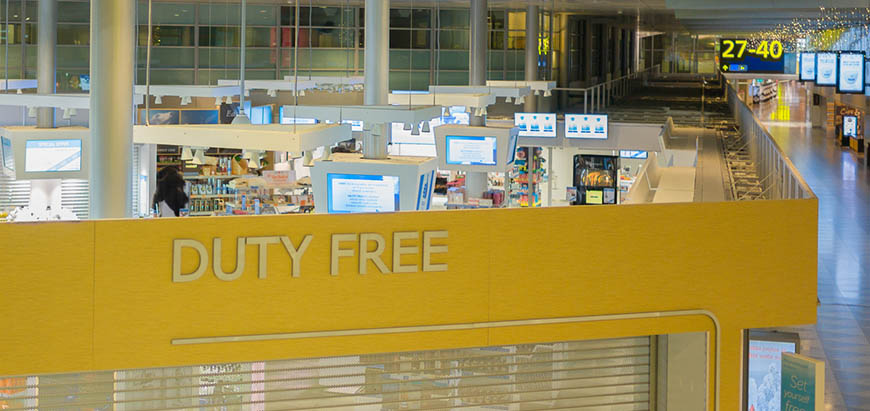 What is Duty-Free?
It is an English word meaning free from taxes. There are certain stores at international terminals which are free from duties. These shops located at the airport are called duty free stores or shops. Lots of product can be bought at a cheaper price from these stores as they are free from duties.  
Where Can You Find Duty-Free Shops?
Duty-Free shops are located at the international terminals. You can find these stores through the help of duty-free signs, airport maps or mobile apps.
What Does Duty-Free Shopping Mean?
Duty-free shopping means shopping without paying duties or taxes. In anywhere you shop, you always pay duties through the things you purchase. At duty-free stores, you can buy the products a lot cheaper.
How to Buy Duty-Free?
You need to go to the international terminals where duty-free shops are located. Once you see the duty-free sign, it means you are at the right place. You need to show your passport to be able to shop from duty-free stores. The products you can purchase from these shops are limited to a certain amount by the laws and each registered to your passport.
How Many Products Can Be Bought From Duty-Free Shops?
It is quite hard to not go buy anything from duty-free where you can find world-renown brands a lot cheaper. However, there are important things to be considered while shopping like limitations. Just like there are a limited amount of things you can carry onboard, products bought from duty-free are also restricted. Please pay attention to this while shopping and remember that some products cannot be put into the checked baggage and there is a certain baggage allowance for the hand luggage as well.  
What are duty free items?
Apart from affordable perfumes and cosmetic products, we also think of imported products such as chocolate or gifts. High-end products can be bought a lot cheaper from these shops compared to a regular store as duties are not applied to the duty-free products.