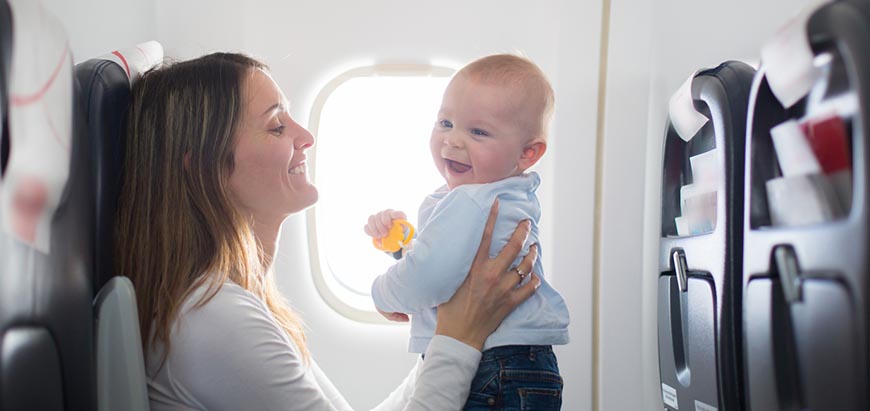 Infant Passengers
Infant passengers are passengers between 0-24 months. Rules for infant passengers can be different depending on the airlines. However, they also have similarities. Ticket prices also vary depending on the airline.
Traveling with Infants
If you plan flying with Pegasus Airlines, please check for further information General Rules. To fly with infants and children without any problem please check our website.
Pay Attention to These While Travelling with Infants
Passengers should be careful about certain matters while traveling with infants. These are shaped through the opinions of professionals and Pegasus Airlines' rules for passengers carrying infants.
Please consult your doctor if you plan traveling with an infant less than 6 months. Infants can travel by plane after the first week as long as they are accompanied by their parents but it is always a good idea to consult professionals beforehand.
Day time is a better option for traveling infants. Infants can be tired and restless during evening hours.
Take your baby's needs into consideration. Baby food, diapers or a favorite toy, etc...
In case you need anything, flight attendants will help you with anything. Please do not hesitate to ask for help.
You can choose the seats close to the toilets while traveling with them.
You should have a medical report to travel with a baby less than 1 week.
You can get help from flight attendants if you need to heat your infant formula. The only thing you need is to call them.
It is important to arrive at the airport early for passengers traveling with an infant. So that you can find enough time to complete the procedures and have enough time to take care of your baby.
Strollers are not accepted to the aircraft. However, you can deliver them as checked baggage to the staff.
It can be more comfortable for you to use kangaroo baby carrier if you are traveling alone with your baby.
During take-off and landing, babies can be affected by the pressure changes. You might want to feed your baby in these cases.