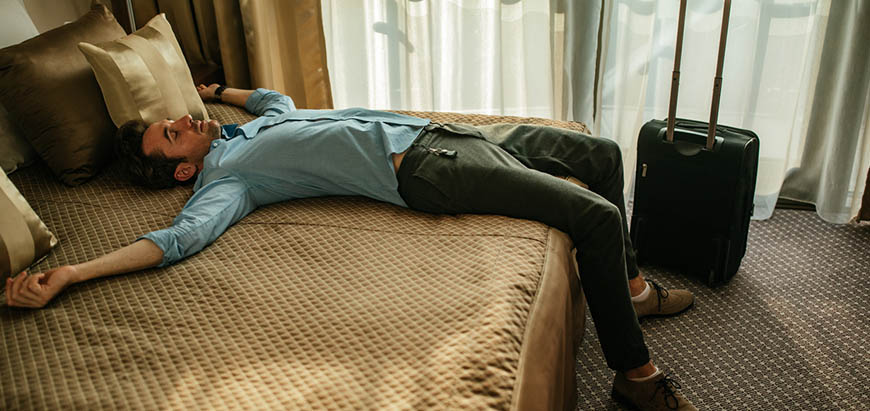 What is Jet Lag? 
Jet lag is a disorder as a result of long-haul flights and it is caused by the irregularity between the body's biological clock and the time of the country of destination. Traveling to somewhere with a different time zone causes jet lag and this creates exhaustion, insomnia, inattention, digestive troubles. Insomnia is one of the common effects of jetlag. 
What Causes Jet Lag?
Time zone change affects the body and this is referred to as jet lag. Researches show that jet lag is commonly observed in flights from west to east during the day. The older the passenger, the higher the risk of having jet lag as young bodies can adapt themselves to these changes more easily than the others. 
Our bodies have a routine of 24 hours. Jet lag is caused by the disruption in this routine. So, we can have jetlag in the country we travel, as our routine is disrupted. For example; there is a three-hour difference between İstanbul and Bishkek. Flights from Bishkek from İstanbul take about 5 hours. A person traveling to Bishkek tomorrow at 12, arrives at Bishkek at 20.30, not at 17.30 and this causes jet lag. There are a few things to be done to ease jet lag. 
How to Reduce the Effects of Jet Lag?
Caused by the time zone difference, jet lag can affect everyone differently depending on people's physiological and psychological characteristics. Jet lag can be long or short. There is not a cure for jet lag but there are some ways to reduce the negative effects.  
Ways to Reduce Jet Lag
There are some ways to reduce the effects of jet lag. 
If you will travel to somewhere with a different time zone, you could adjust your biological routine accordingly. It is not recommended to change your biological routine if you will not stay there for more than 2 days. 
Do not take alcohol and do not tire yourself the day before the flight.
Prefer flights landing in the early evening to have time to adjust your sleep routine easily. 
If you are to attend an important meeting, you can go 1-2 days before the meeting to adjust yourself to the time zone.
To be awake during the day, will help you reduce the jet lag.