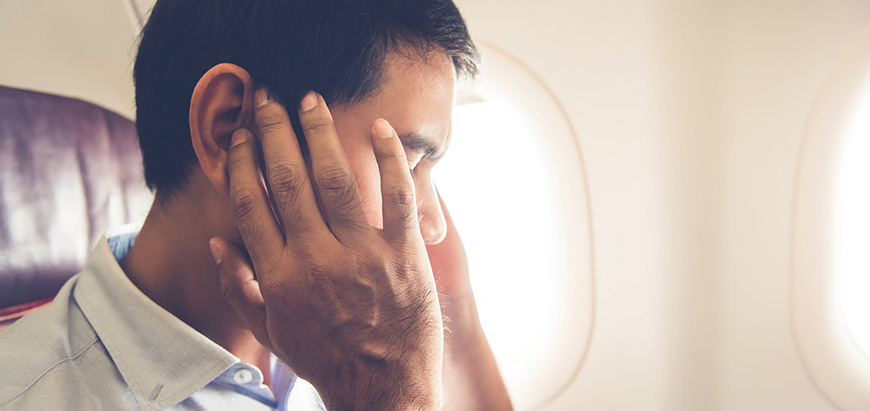 What is Ear Congestion-Hemotympanum (Ear Bleeding)? 
Ear congestion is a type of ear disorder caused by pressure changes. Depending on the severity of ear congestion, ear-bleeding or severe ear pain may occur as a result of ear congestion. This happens when the pressure in the ear changes, especially during the flight. Many people experience this discomfort during landing. 
What Causes Ear Congestion on Flight?
Ear congestion develops due to the changes in cabin pressure. Especially the pressure on the eardrum can cause severe ear pain while landing. If the pressure in the ear does not subside, this can cause serious problems such as hearing loss. It is necessary to take this issue seriously as changes in cabin pressure can cause ear, nose and throat problems. 
How to Prevent Ear Congestion on an Aircraft?
The most effective precaution against ear congestion is chewing gum and consuming plenty of fluids on board. If the nose is also blocked due to ear congestion (or might be the opposite), nasal sprays can be used. One method used to reduce the pressure in the ear is the Valsalva maneuver. The Valsalva maneuver is performed to send air to the eustachian tube and it is used to reduce the pressure in the ear. This method, which should only be applied by professionals, is the action of breathing at a moderate pace when the respiratory airways are closed. To put in simple terms, you simply try to breathe by covering your mouth and nose. 
What Causes Ear-Bleeding on an Aircraft?
There are many causes of ear-bleeding on board and passengers suffering from this disorder should definitely get help from professionals. For example, one of the causes of ear-bleeding is pressure trauma. Conditions such as upper respiratory tract or ear infections can also cause ear bleeding onboard. If your ear bleeds as a result of sudden pressure change during a flight and or diving and you experience dizziness, you should consult a professional. 
How to Prevent Ear Bleeding on an Aircraft?
In order not to be exposed to pressure trauma-induced ear bleeding, you can reduce the pressure on the middle ear, especially by doing swallowing moves during landing. Drinking plenty of water and chewing gum also helps to reduce the pressure in the ear.