Transportation
Pegasus Airlines has direct flight options from Turkey to Kyiv. You can fly directly from Ankara and İzmir to Kyiv by using Pegasus Airlines. The flights last approximately 2 hours. Kyiv flight ticket can be easily bought online. There are also many indirect flight options.
Transportation from Kyiv Airport to the City Center

There are two airports in Kyiv: The busiest airport is called Kyiv Borispol Airport (KBP) and the small airport is Kyiv Zhulyany Airport (IEV/UKKK).
The distance between the city center and Kyiv Zhulyany Airport (IEV/UKKK) is 9 kilometers. It takes 25 minutes to get to the city center by car. The airport presents premium to low-cost parking options. It is possible to rent a car or use taxis from the airport, too. Taxis at the airport can be pre-booked.
Public transportation is another option. You can use metro, trolley bus and minibus. The bus stop is located 200 meters from Terminal A and Terminal D. Every 15 minutes trolley bus number 22 departs from the airport to metro station "Syrets". You can buy the bus tickets from the driver, but do not forget to validate it. Arriving at the city center takes around 35 minutes by taking the bus (18 minutes) and transferring to the metro. Metro trip takes 10 minutes.
In order to reach the main railway station, you can take minibus 805, which departs every 11 minutes. You can prefer minibus 368 that departs every 16 minutes, as well. Both take 20 minutes.
The distance between the city center and Kyiv Borispol airport (KBP) is 35 kilometers. You can use car rental, taxi options, which takes 30 minutes, as well as public transportation. Sky Bus (line number 322), runs between the airport and Kyiv's the main railway station (Kyiv-Pasazhyrskyi). The bus station is at Terminal D. It is easy to distinguish this purple bus with is noticeable color. Sky Bus runs every 15 minutes (at night every 30 - 45 minutes). Sky Bus to city center journey takes approximately 50 minutes. If you want to use the metro, the bus stops at the metro station "Kharkivska". You can transfer from bus to metro at this station.
Pegasus allows passengers to rent a car or to make a reservation in advance, to provide an organized and comfortable trip. You can reserve a car before starting your journey even from a different country. Pegasus rent a car service provides 24/7 customer support and secure online payment.
Public Transport in Kyiv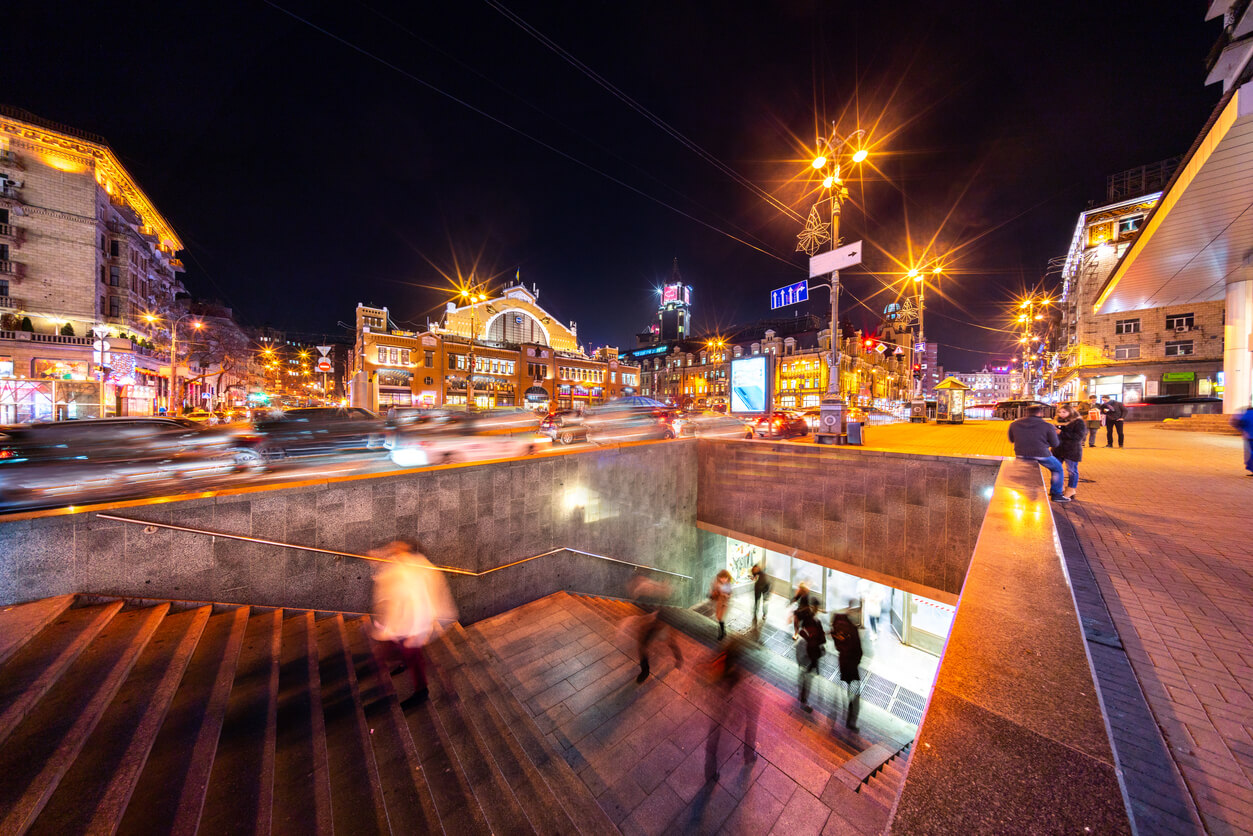 There are many transportation options in Kyiv. Taxis are commonly used. Metros, trams, funicular, trolleybus, bus, marshrutkas (public minibus), railway train, light rail, and suburban are public transportation options in Kyiv. All the information about each public transportation including the map, name of the stations, tickets, ticket price, distance, intervals, work days and time information can be reached from Kyiv Public Transportation Web page and Ukraine Travel Center web page.
Metro lines (M1-red, M2 – blue M3 – green) go through the city center. There are 3 transfer points: "Majdan Nezalezhnosti" (blue) to "Kreshhatyk" (red), "Teatralna" (red) to "Zoloti Vorota" (green) and "Palatc sportu" (green) to "Ploshcha Lva Tolstogo" (blue). All the stations are announced and displayed on the screens in the metro. Maps are translated into English. Metro working hours are between 6:00 to 24:00. There are different versions of metro tickets (monthly, PayPass, cards with magnetic tapes, refillable metro cards). You can buy a simple token from the ticket machines in stations.
The best transportation ticket option for tourists is "Kyiv Smart Card", which is one ticket for all Kyiv public transportation including trams, trolleybuses, funicular, suburban electric train, marshrutkas, subway, and buses. The Smart card is not refundable and expires in 1 year after its first use. In addition, the balance is not transferable.
You can obtain this card from Kyiv Metro Ticket Offices. Moreover, you can purchase the smart card from self-service boxes (Ibox, EasyPay, PrivatBank, 2Click), kiosks ( "Press", TourInfo, T-Kiosks), on payment portals (Ipay, Portmone, EasyPay, Privat24) and over Privat24 App.
Kyiv smart card price changes according to the number of trips that are covered. Currently, there are six types of tickets based on trip numbers; 1-9 trips, 10-19 trips, 20-29 trips, 30-39 trips, 40-49 trips, and 50 trips.