With just 42.933 km² of land and population of just over 5,7 million, Denmark definitely qualifies for a place in the league of small nations. The Kingdom of Denmark or the Kongeriget Danmark located between the North Sea and Baltic and on the periphery of the European continent but also provides a bridging link to the rest of the Scandinavian peninsula.
The smallest country in Scandinavia; one of the world's oldest monarchies; twice named the happiest people on earth; bicycle culture; wind energy; home of Hans Christian Andersen – Chart-topping contentment and quality of life, blockbuster dining, and design, and a cheerful emphasis on hygge – but Denmark is so much more! The national anthem begins with "There is a lovely Land"… Any visitor will agree with every word of it. It's worthwhile exploring this tiny and yet so big Nordic country, which left its mark on the world stage.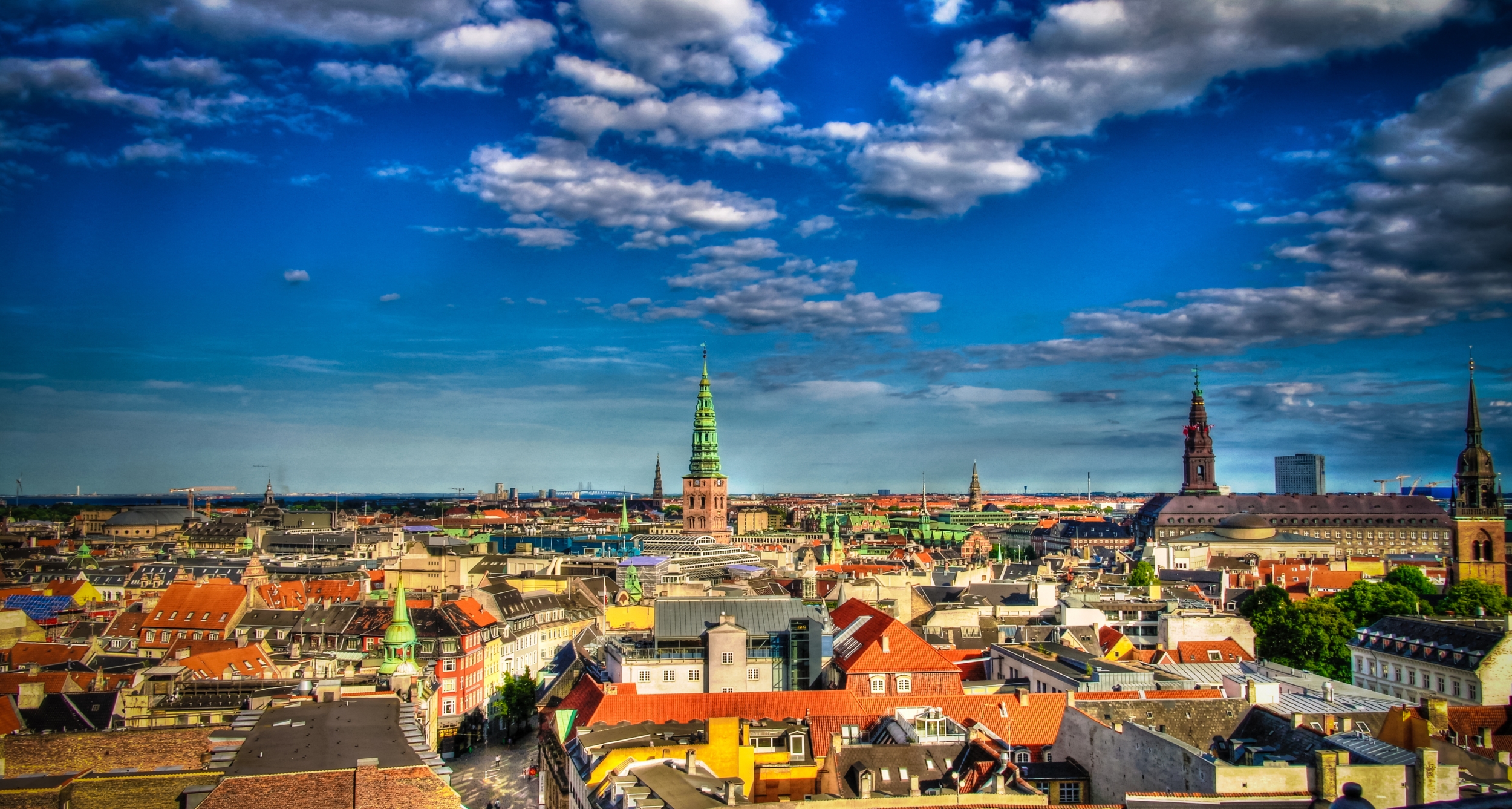 General Information About Denmark


| | |
| --- | --- |
| Continent: | Europe |
| Capital of Denmark: | Copenhagen |
| Country Code: | DK |
| Language: | Danish |
| The difference between GMT: | GMT/UTC+1 |
| Telephone Code: | +45 |
| Domain Extension: | .dk |
| Currency: | Danish Krone |
Official Language
Danish or Dansk, Faroese (spoken in the Faroe Islands), Greenlandic (in Greenland), German (small minority)
Note: Most Danes are multilingual. The most common languages include English, German, and Norwegian. Swedish and Norwegian may be understood and spoken basically. English is the predominant second language.
Common Phrases in Danish
●        Mange tak! - Thanks a lot!
●        Hvordan har du det? – How are you?
●        Hvad hedder du? – What is your name?
●        Hej mit navn er … - My name is …
●        Jeg taler ikke dansk. – I don't speak Danish.
The Population of Denmark
5,809,502 (July 2018 est.) people live in Denmark. With excellent access to the North Sea, Skagerrak, Kattegat, and the Baltic Sea, population centers tend to be along the coastal areas, particularly in Copenhagen and the eastern side of the country's mainland. Over 1 million people live in the greater Copenhagen area, while the other major populated cities are Arhus, Aalborg, Odense, Esbjerg, Vejle, Randers, Viborg, Kolding, and Silkeborg. All located in Jutland except Odense.
Danish (includes Greenlandic (who are predominantly Inuit) and Faroese) 86.3%, Turkish 1.1%, other 12.6% (largest groups are Polish, Syrian, German, Iraqi, and Romanian) (2018 est.)
Location
Denmark is in the north of Germany (has a 68 kilometer shared border which is the only physical border), west of Sweden (divided by the Øresund and Baltic Sea) and south of Norway (divided by the Skagerrak) and east of Great Britain (divided by the North Sea).
It consists of the peninsula of Jutland and is an archipelago made up of 527 islands (two major islands: Sjaelland and Fyn). While they are recognized as part of the Danish Kingdom, the island group known as the Faroe Islands are self-governing. 
Denmark has 7,314 miles (11,771 km) of coastline, which is longer than the Great Wall of China. No place in Denmark is more than 30 miles (50 km) from the sea. In other words, you are never far away from the sea, and it's never more than 1 hour away from any point in Denmark.
Religion
With 74.8%, the official religion is Evangelical Lutheran and Muslims follow with 5.3%.
Local time
Denmark, which is a member of the European Union (EU) is in the Central European Time Zone (CET)
Central European Standard Time is one hour ahead of GMT/UTC or GMT+1
Central European Summer Time is 2 hours ahead of GMT/UTC or GMT+2
Currency in Denmark
Danish krone (DKK). Denmark has negotiated an opt-out from the euro and thus is not obliged to introduce it.
Climate in Denmark
The weather in Denmark is often very unpredictable. Being influenced by the ocean and thus is dominated marine type of climate. Winters are usually mild and cold, summers are rarely hot but warm and very delightful. Clouds, humidity, rain, and wind are predominant in Denmark. Rain falls throughout the year but is relatively light in winter and spring and greatest from late summer through autumn. Denmark's geographical position of being so far north affects winter daylight hours, as the sun rises by 8 AM, and sets no later than 4 PM. The winter days are short, cold nights, almost always at freezing. February is the coldest month with an average temperature of 0ºC. Snow falls from December through March but seldom lasts long.
Surrounded by the North Atlantic Ocean and the Arctic Ocean, Greenlands's climate is arctic in nature. Snow never melts in Greenland.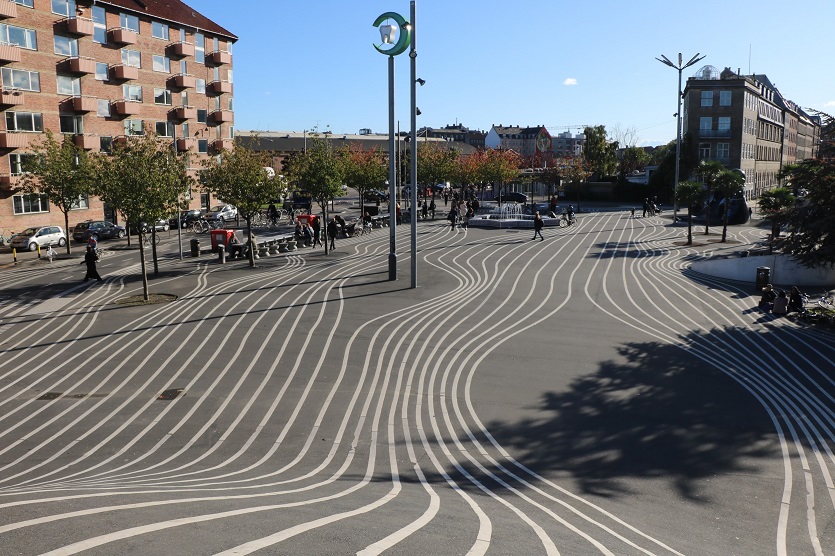 Danish Culture
The Danish culture is based on "Jante Law". It's a concept created by Norwegian/Danish author Axel Sandemose in his 1933 novel, "A Fugitive Crosses His Tracks". It states that everyone is equal, no one is special and everyone should be treated as such.
In Denmark, there is a strong regard for the common good. Freedom for the individual, equality, respect, tolerance and a strong sense of mutual trust are core values in Denmark.
Danish cycling culture is as old as the bicycle itself. The "bike" is a Dane's best friend. Danish cities are among the most bicycle-friendly in the world with comprehensive systems of bicycle lanes in most major cities and designated bicycle routes crisscrossing the nation. Thus, there are more bicycles than humans in Copenhagen.
A wonderful Danish phenomenon is encapsulated in the miracle word "hygge". It is a cozy feeling of relaxing and enjoying yourself in your own company or together with others. It not only constitutes a lifestyle but is the country's trademark which shows the Danish soul.
Holidays in Denmark
Denmark is a lively Country in Europe with an annual calendar filled with events.
Christmas, Easter and the midsummer festival of Saint Hans are among the most important holidays. The major national holiday in Denmark is Independence Day, which is celebrated on June 5th annually. The Queen's Birthday in April is also marked, especially in Copenhagen, by parades and ceremony.
The Rock Festival in Roskilde is the most popular event along with the Copenhagen International Jazz Festival.
Travel to Denmark
Most people who visit Denmark travel by air. Denmark has several international airports, the largest of which are Copenhagen and Billund. The vast majority of overseas travelers will fly into the Copenhagen Airport, Kastrup. There are also domestic flights between Copenhagen and the cities of Aalborg, Aarhus, and Rønne.
You can travel to most cities by train, bus, or ferry. Copenhagen has one of the world's most efficient metro systems – a fully-automated system operating 24/7. Public transport in Denmark uses common pricing and zoning system.
All across the country, you'll find a wide variety of family-friendly accommodation, accessible restaurants, efficient services, and welcoming staff.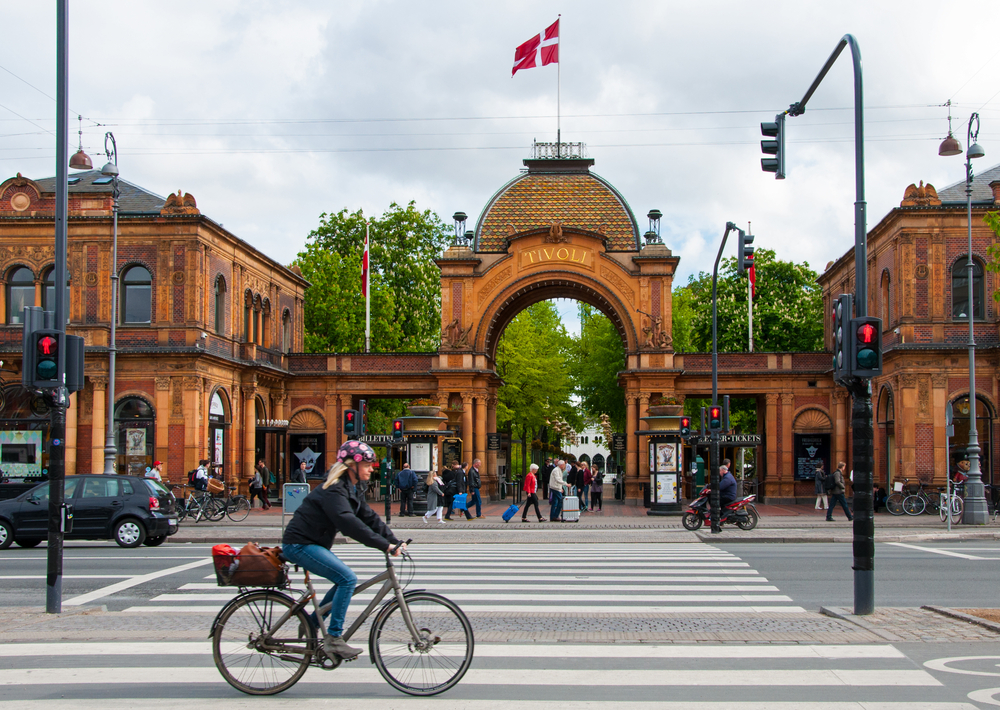 Places To Visit in Denmark


The Little Mermaid
Denmark's biggest attraction, but also the smallest J The charming the de facto symbol of Copenhagen is this bronze fairytale statue commemorates one of director Hans Christian Anderson's most famous tales.
Frederiksborg Castle
It is one of the can't-miss sights which is also home to the National Museum of Denmark (Nationalmuseet). The museum's immense collection includes artifacts from Danish pre-history, Egyptian mummies and coin exhibits from ancient Greece and Rome.
Tivoli Gardens
It is the second oldest amusement park in the World where you will get the sense of a fairy-tale-like atmosphere
The Kronborg Castle near Halsingor 
This impressive castle was the actual inspiration for "Elsinore" in Shakespeare's Hamlet.
Legoland
It is a huge amusement park dedicated to the iconic plastic toy offering mind-blowing Lego models with great theme parks.
Bakken Amusement Park
It is the oldest operating amusement park in the World The world's offering a perfect blend of children's amusements, restaurants, pubs and bars with entertainment and live music.
Nyhavn, Copenhagen
"New Harbor," is 17th-century waterfront, canal and entertainment district, a lovely place for a stroll lined by colorful buildings.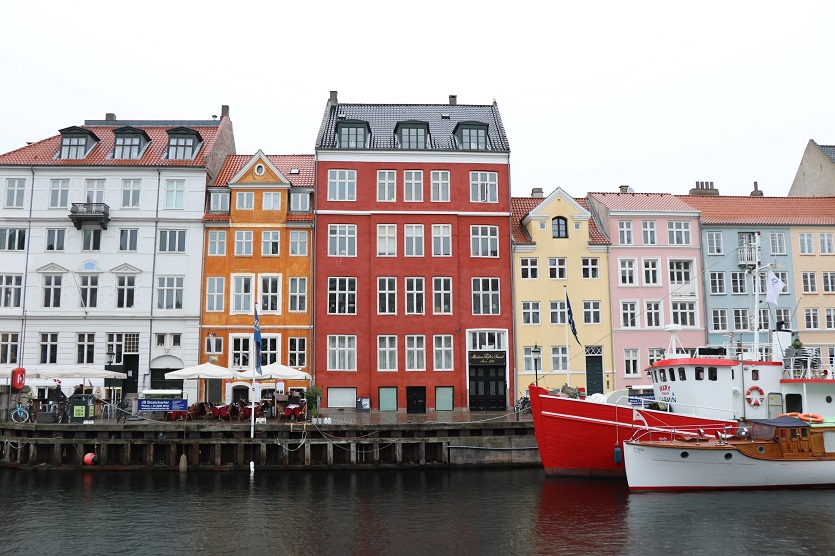 Viking Ship Museum (Vikingeskibsmuseet), Roskilde
Denmark's national museum for ships, seafaring and boatbuilding in the prehistoric and medieval period.
The Oresund Bridge Connecting Denmark and Sweden
An engineering marvel of 16.4 km. This is definitely one that you cannot miss the chance also to visit Sweden in such unusual way!
Cold Hawaii
It is one of the best beaches in Scandinavia for surfing
Where to Stay in Denmark?
Copenhagen offers a variety of accommodation options for its visitors ranging from international backpacker hostels to luxury hotels.
If you are in Copenhagen for a calm vacation, Nørrebro district would be the best for you. There are countless indie shops, local bars, coffee shops, and parks in the neighborhood.
If you are in Copenhagen on a budget, it is recommended for you to stay in backpacker hostels around Copenhagen Central Station. There are also many other 3 and 4 star hotels located in the area. 
What to Eat in Denmark?
Denmark is an amazing culinary destination with many authentic dishes. They mostly consist of fish, pastry, and vegetables Denmark, especially Copenhagen, has many top-notch restaurants that offer delicious food from various world kitchens'.
Seafood
Most distant you can get from the sea is roughly 50 kilometers in Denmark. Thus most of its traditional recipes consist of various and fresh seafood. "Kødbyens Fiskebar" serves simple yet fresh and traditional dishes in Copenhagen.
Smørrebrød
Smørrebrød is an open-bread Scandinavian sandwich with various ingredients like pork, beef, fish, cheese or potatoes. There are many amazing restaurants that serve smørrebrød in Copenhagen, "Domhusets Smørrebrød" is one the best ones and is located in the city center.
Tartlets
Danish people love desserts and their traditional tartlet recipes with fresh fruit are highly popular. "Bageriet BRØD" in Copenhagen regarded as one of the best bakeries in the country.
Shopping in Denmark: Best Souvenirs to Buy
Denmark has many authentic souvenirs that reflect the country's rich cultural heritage. Viking jewelry, scarves, Danish elves, ceramics, and hay toys some of the amazing souvenirs that you can buy for your loved ones.
Things you need to know before going to Denmark
Denmark is a member of the European Union and a signatory of the Schengen convention permitting unlimited Visa-free travel to EU nationals, currently including the UK.
Even though, Denmark is regarded as the world's safest place and travel here is as close to risk-free, we always recommend getting travel insurance.
Should you need emergency assistance, dial 112 and general police assistance, dial 114
Electricity Socket: 230V AC electricity.
Denmark is very punctual and everything is on time including trains, buses, etc.
You should definitely try Danish hot dog and Danish bakeries and smørrebrød.
The best way to prepare for the weather in Denmark is dressing in layers as Danes do.
Tipping is minimal. Restaurant bills normally include a service charge and taxi drivers don't expect a tip, although it's customary to round up the amount
It's a lovely country as the anthem states with full of fairy tale charm where royals still rule and mermaids may swim. So, put Denmark on your bucket list to experience a fascinating blend of rich history and modern culture, stunning landscapes, relaxed vibe, great nature, cozy cafes and a vivid nightlife. Yes, it sounds too good to be true, but it's even better!

Nightlife in Copenhagen
Copenhagen offers a variety of nightlife options to its visitors. There are many live music venues, pubs, dance clubs, and rock bars in the city, especially around Vesterbrogade Street. While pubs and restaurants are usually closed before midnight, many bars and clubs are open until dawn.
Holidays in Denmark
Some religious days are subject to change every year such as Easter Holiday or Good Friday.
1st of January – New Year's Day
18th of April – Maundy Thursday
19th of April – Good Friday
22nd of April – Easter Monday
1st of May – Labour Day
17th of May – General Prayer Day
30th of May – Ascension Day
5th of June – Constitution Day
10th of June – Whit Monday
24th, 25th, and 26th of December – Christmas Eve, Christmas Day and Holiday
Festivals in Denmark
Sankt Hans Aften/Saint John's Eve (23rd of June)
Roskilde Festival (June, Roskilde)
NorthSide (June, Aarhus)
Copenhagen Jazz Festival (July, Copenhagen)
Visa Requirements
Denmark is one of the Schengen Area countries and mandates an application process to its visitors. The application of up-to 90 day visits is possible through private visa application companies which are endorsed by the national embassy of Denmark. For further information, you can click here.
FAQ about Denmark
Do people in Denmark understand English?
Yes, most people in Denmark speak English fluently and they are more than happy to help you about directions, popular attractions, etc.
Is Denmark an expensive country?
Yes, the country can be considered as expensive in comparison to other European countries. Still, there are many budget-friendly options for accommodation, food, night outs, and shopping.
Yes, the water is perfectly clean and has all the essential minerals. Many of the Danish drink from the tap water.
Yes, Denmark is one of the safest countries in Europe.