Public Transportation in Macedonia
You can use public buses and taxis to get around in cities. Macedonia does not have public railway transportation.
Public buses cover all of the populated areas in Macedonia. In order to use public buses, you need to buy a rechargeable card from kiosks and sale points which are available in most stops in the city centers.
There are special tourist cards available with varied prices and durations. Most buses are available with 10 to 30 minute intervals during the day. 
You can check detailed inter-city bus timetables and routes from here. The site is available in English.
There are also many taxis available in populated areas and they offer fixed fares for specific routes. It is recommended for you to download a taxi service application to avoid excessive fares.  
Transportation from Skopje International Airport to City Center
Skopje International Airport is located 24 kilometers away from the city center. You can get to the city center with direct bus and airport taxi.
Direct bus costs 180 MKD and the trip approximately takes 40 minutes. Direct bus is only available during the day. You can check the timetable from here. 
There are also many airport taxis available in the airport 24/7 with fixed fares to specific routes. The trip to the city center from the airport approximately costs 1220 MKD.
Places to Visit in Skopje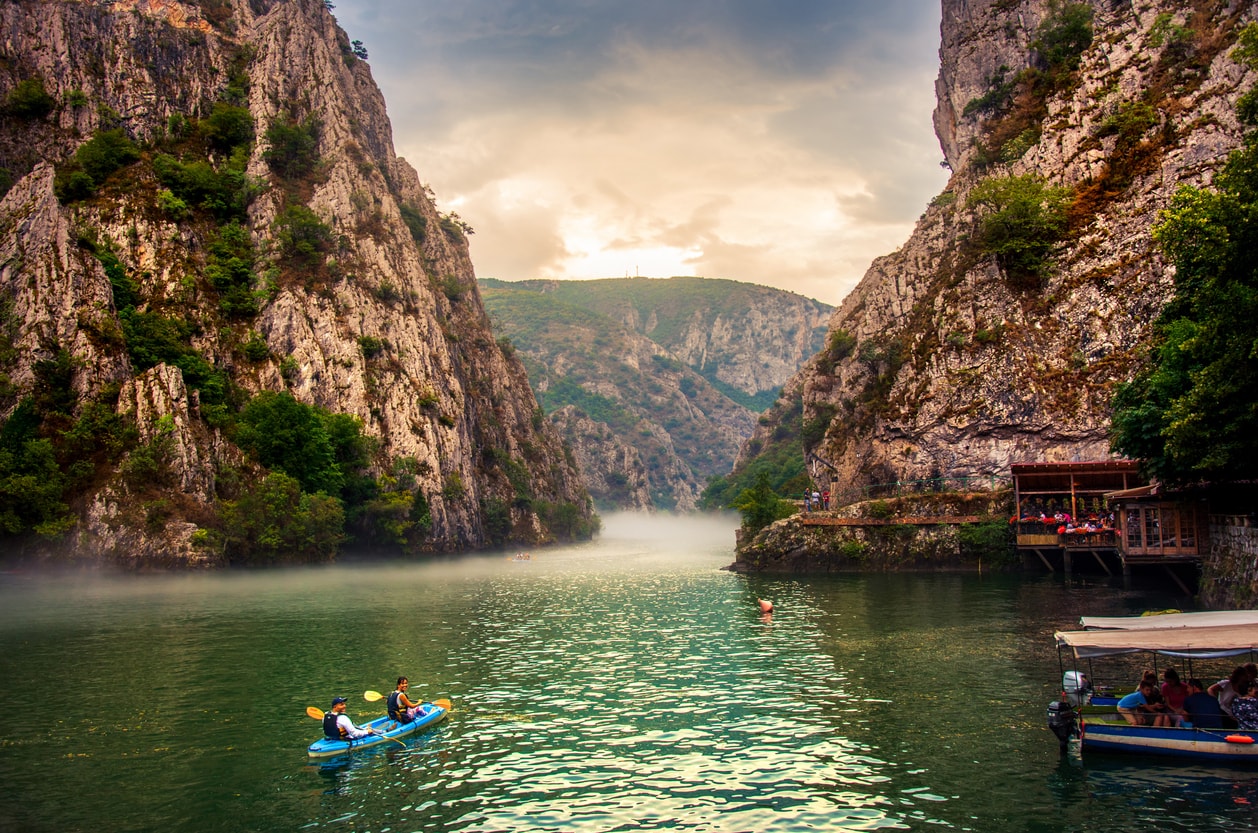 Skopje is one of the most significant spots in Southern Balkans in terms of cultural heritage and historical landmarks. The city attracts a growing number of tourists every year.
Stone Bridge
Skopje known as the city of bridges and Stone Bridge is one of the oldest ones. The bridge was constructed in 1469 and is located in the heart of the city.
Macedonia Square
Macedonia Square is the main square of the city and famous for its amazing sculptures. There are many great restaurants, cafes and bars that surround the square. Macedonia Square is the perfect place to start your Skopje trip.
Skopje Fortress
Skopje Fortress was built in the 6th century by the Roman Empire and since then the fortress has gone through many renovations. The castle is situated on the highest point overlooking the Vardar River and located walking distance away from the city center. Skopje Fortress is also known as "Kale Fortress".
Where to Stay in Macedonia?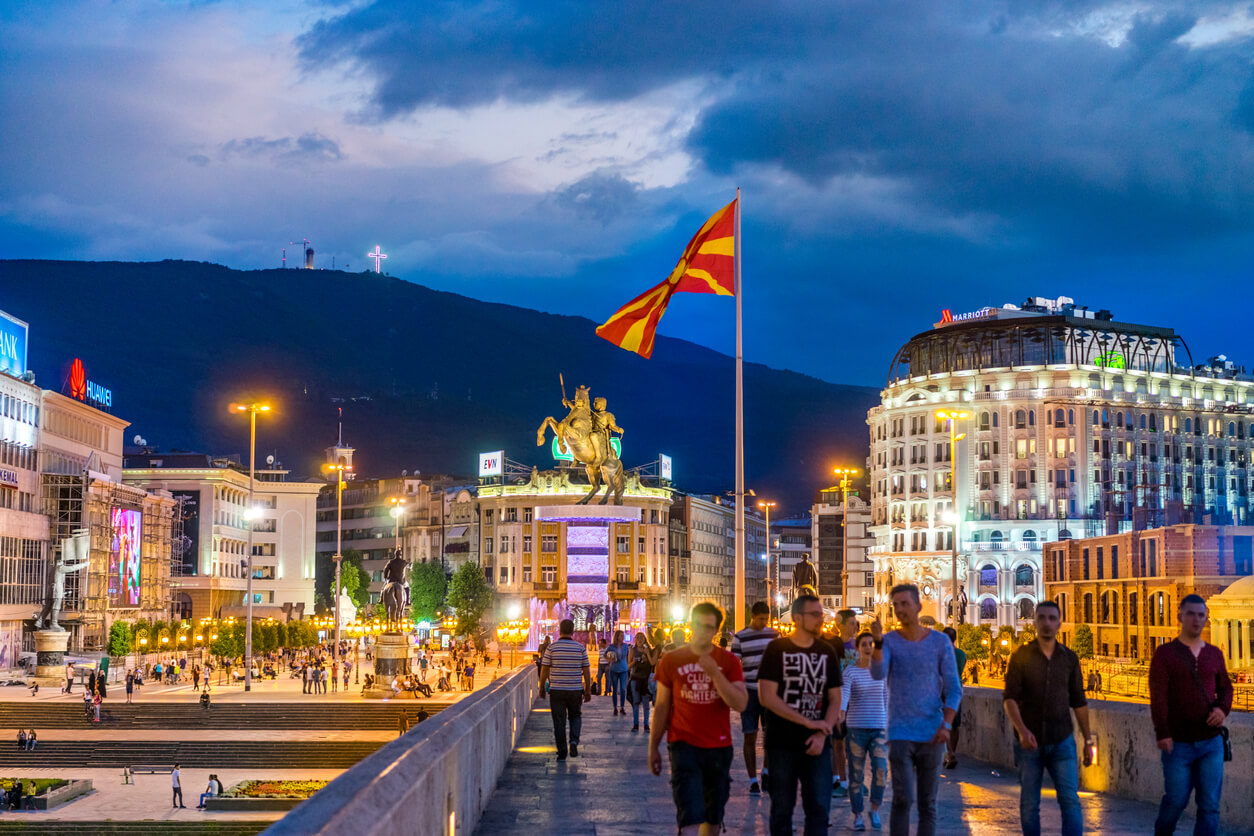 Skopje is one of the most popular tourism destinations of Macedonia and offers many accommodation options to its visitors. 
If you are in Skopje for the first time, it is recommended for you to stay in hotels around Skopje Fortress since you will be walking distance away from cities' most popular historic and cultural attractions.
If you are looking for a calmer vacation, it is recommended for you to stay in hotels located around Kozle Street, on the southern side of the city.
What to Eat in Macedonia?
Macedonia is one of the most amazing culinary destinations of Balkans because of the country's multicultural structure. Its traditional recipes mostly consists meat, vegetable and pastry products. 
Skopje Meatball
Skopje Meatball is the renowned dish of the city and made without bread crumbs and spices, unlike other famous meatball recipes. Restaurants located around the Old Bazaar in Skopje are the best places to eat Skopje Meatball.
Turli Tava
Turli Tava is a mixture of season vegetables, spices, olive oil, and beef or pork meat and also known as the Macedonian stew. It is recommended for you to try Turli Tava in "Makedonska Kuka" restaurant located on Mitropolit Teodosij Gologanov Street in Skopje. The restaurant is also famous for its various traditional Macedonian and Eastern European recipes.
Trilece
Trilece is one of the most famous dessert recipes of the Balkans. The dessert is made with buffalo, cow and goat milks. There are many great shops around Old Bazaar where you can find traditionally made Trileces.
Shopping in Macedonia: Best Souvenirs to Buy
Macedonia is famous for its traditional shoes (opinci), textiles, handmade jewelry, spices, and dried meats. There are many authentic souvenir shops located around the Old Bazaar. 
Things to Know Before Visiting Macedonia
You are not expected to give tips in local restaurants.

It is common to bargain in Macedonia, especially in local shops.

Visitors should always be cautious about pickpocketing in public transport. 
Nightlife in Skopje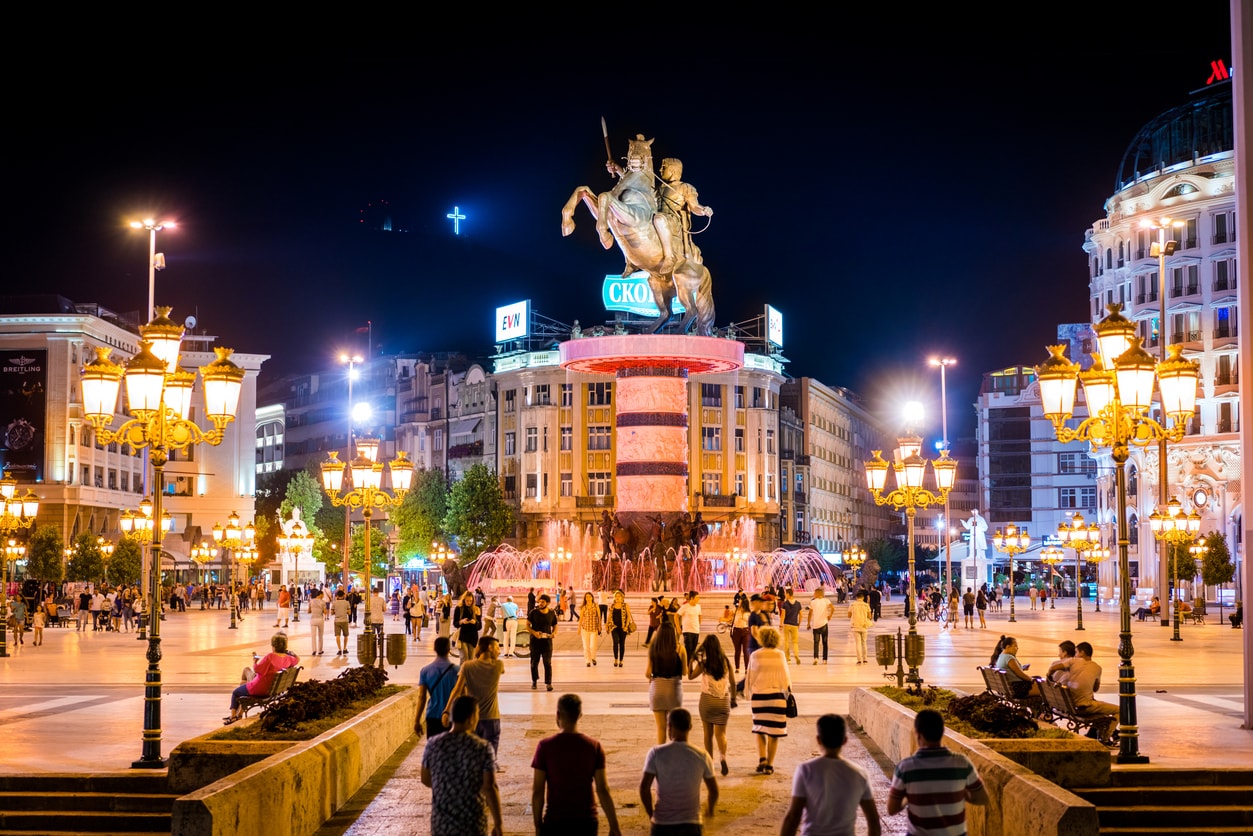 Skopje offers a variety of nightlife options to its visitors. Bars and restaurants around Antonie Grubisic Street are widely popular in the city.
Holidays in Macedonia
Some religious days are subject to change every year such as Easter Holiday or Eid Al Fitr (End of Ramadan).
1

st

of January – New Year's Day

7

th

of January – Orthodox Christmas

28

th

and 29

th

of April – Orthodox Easter

1

st

of May – Labour Day

24

th

of May – St. Cyril and St. Methodius Day

4

th

of June – Eid Al Fitr (End of Ramadan)

2

nd

of August – Republic Day

9

th

of September – Independence Day

11

th

of October – Revolution Day

23

rd

of October – Macedonian Revolution Day

9

th

of December – St. Clement of Ohrid
Festivals in Macedonia
Ohrid Summer Festival (July-August, Ohrid)

The Galicnik Wedding Festival (July, Galichnik)

Skopje Jazz Festival (August, Skopje)
Visa Requirements
Macedonia does not mandate visa for touristic visits up to 90 days in 6 months from many countries all over the world including United States of America, Europe and Russia. If you are a citizen of other countries you should check whether you need to apply for a visa or not. You can check the requirement for your country from here, the official web site of the Macedonia Government.
FAQ about Macedonia
Do people in Macedonia understand English? 
No, most of the locals can't understand English except for young people and tourism industry employees.
Is Macedonia an expensive country?
No, Macedonia is one of the most budget-friendly countries in its region.
Is tap water drinkable?
No, it is not recommended for visitors to drink tap water.
Is Macedonia safe?
Yes, Macedonia is a fairly safe country. However, visitors should be cautious about pickpocketing in various means of public transport and in crowded areas.