Transportation in Spain
Public transportation in Spain ranges from modern metros to well-connected speed rails between major Spanish cities. There are underground railway systems (metros) in major Spanish cities such as Madrid, Barcelona, Bilbao, Malaga, Seville and Valencia, and tickets and passes allow travel on all modes of public transport including metro, bus, and suburban train services. Metros offer the quickest way to get around these cities, although they can become very crowded during rush hours. No smoking is permitted on metro trains or in stations. There are excellent bus (autobús) services in all major cities and towns in Spain and comprehensive long-distance 'coach' (Autocar) services between major cities.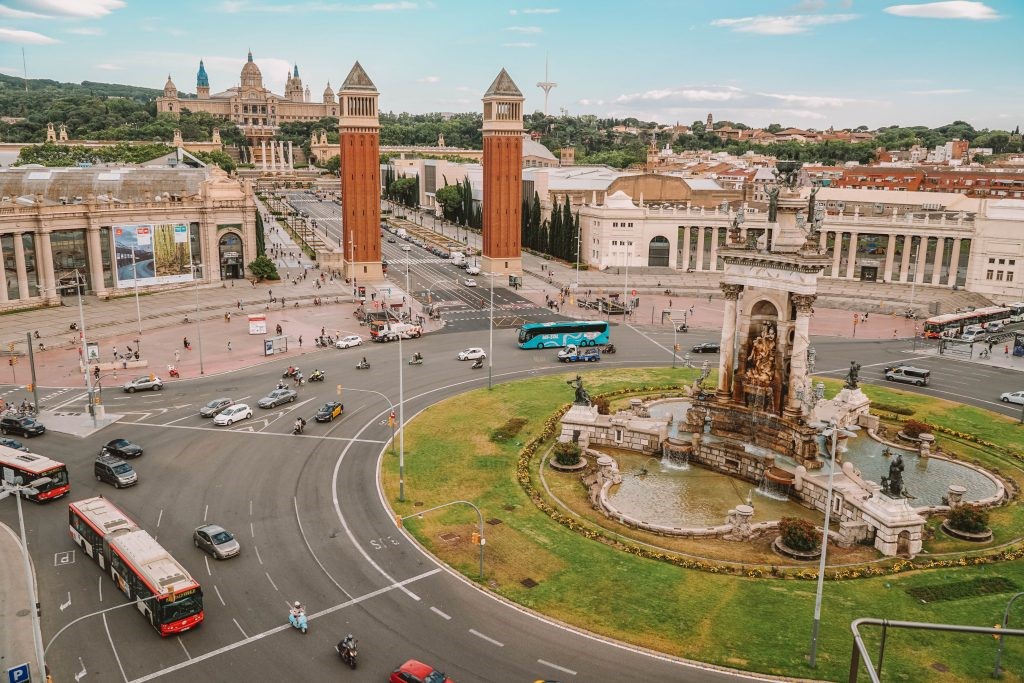 Buses are the cheapest and most common form of public transport in Spain and most coastal towns and rural villages are accessible only by bus. In rural and resort areas, bus services are often operated by the local municipality and services are usually irregular. Small towns can often be reached only via their provincial capital, and in the centre of Spain, it's difficult to get from one major city to another without going via Madrid. Local bus timetables may be published in free newspapers and magazines, or online. Also, Spain has an extensive high-speed train network, with routes connecting much of the country. Taking the train is one of the fastest ways to get from city-to-city, with high-speed services between major destinations such as Barcelona, Madrid, and Valencia.
Places to Visit in Spain
La Sagrada Familia
In 1883 the brilliant architect Gaudí agreed to take on this project, succeeding Francisco de Paula, and worked on it until his death. Work to complete this great basilica still continues today. The first architect to undertake this project originally planned a neo-Gothic building. However Gaudí took over following his death, and while conserving the original layout he soon stamped his own personal imprint and distinctive style on the building.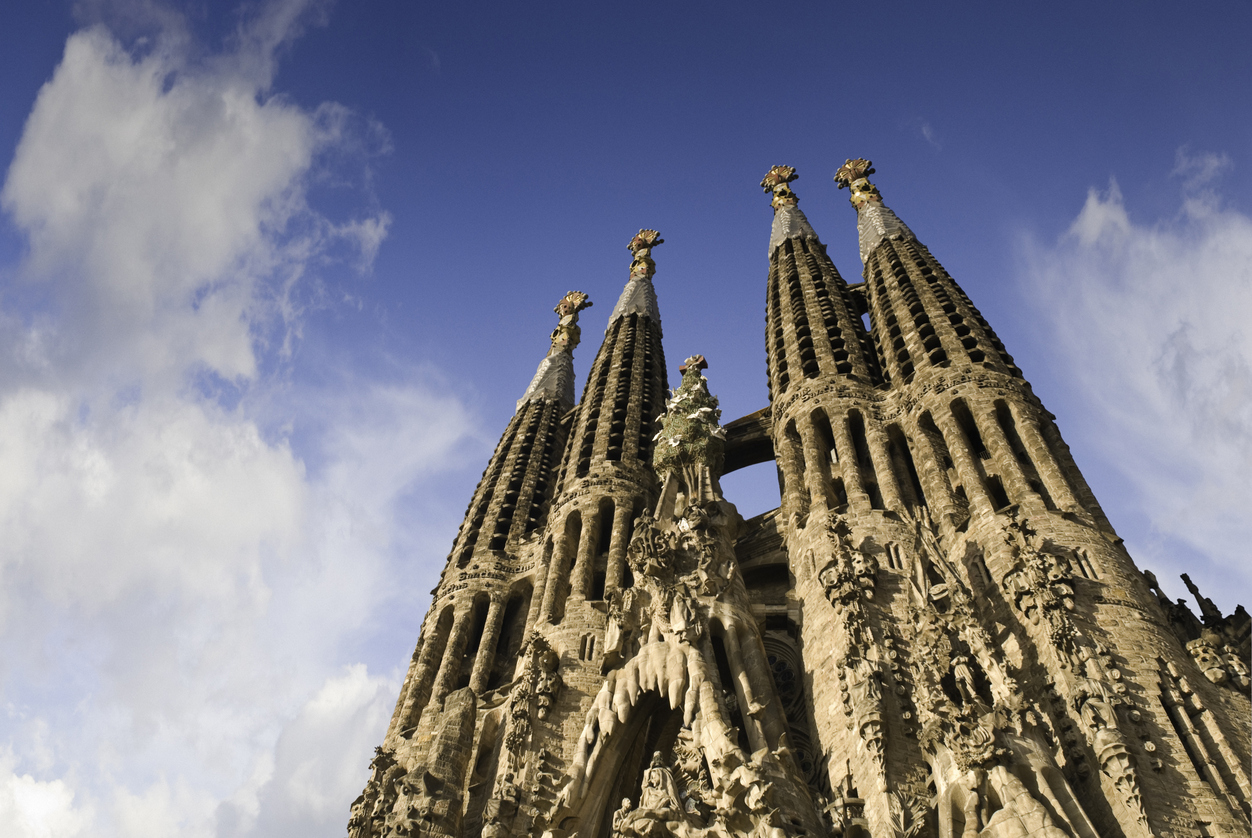 He finished only the chapel of San José, the crypt and the door of El Nacimiento. The façades and the entire exterior have a glorious profusion of brightly-coloured decorative elements. There is a cryptogram over the La Pasión door. No trip to Barcelona is complete without a visit here. The cathedral is open daily, though restrictions apply during mass times. Be sure to dress appropriately and remember that some parts of the cathedral could be closed as construction continues. It is good to know you can buy tickets for the cathedral online. A basic ticket costs around USD 19*, with more expensive options for audio guides, and the chance to go to the top of one of the cathedral's towers, also available.

The Caminito Del Rey Hike
Until recently, this almost 8-kilometre path near Malaga (Andalusia) was considered to be one of the most dangerous in the world. Today the entire route has been carefully restored, earning it the Europa Nostra Award for heritage conservation, and although it's now much safer, one thing hasn't changed - the unique experience of strolling along walkways hanging over 100 metres up on a sheer cliff face. If you decide to take this path, there are probably some things you would like to know. It's located in the south of Spain, and you can get there from the municipalities of Ardales or Álora (ask for tourist information when you arrive). The path goes through the beautiful natural area of the Desfiladero de los Gaitanes, which is 700 metres deep. The Guadalhorce River flows through this area. The panoramic view of this natural canyon sculpted by the river will captivate you.
Toledo
Perched on a mountaintop in central Spain, Toledo served as the Spanish capital until the 16th century. Because it was inhabited by Jews, Christians and Muslims for many centuries, the city is sometimes called the "City of Three Cultures." Today, Toledo is a popular destination for its wealth of historic art and architecture that dates back to the Roman Empire. The best thing to do in Toledo is to get lost amid the medieval streets and admire the old architecture that includes a stunning cathedral, synagogue and mosque.
Spanish Islands
Spain has some of the most beautiful islands in Europe. The largest Spanish Islands are equally divided between the Balearic Islands and the Canary Islands. East of the Spanish mainland, the four chief Balearic Islands (Ibiza, Formentera, Mallorca, and Menorca) maintain a character distinct from the rest of Spain and from each other. Mallorca is the largest and best-known Balearic island while Ibiza is famous as a party destination. The Canary Islands, also known as the Canaries, are located just off the southern coast of Morocco in the Atlantic. They are popular for their beautiful beaches, mild climate and important natural attractions, especially the Maspalomas Dunes in Gran Canaria and the Teide Volcano in Tenerife.
Holidays and Festivals in Spain


La Tomatina (Tomato Fight Festival)
The origins of this mass tomato battle date back to a fight amongst children in 1945 and it has been celebrated every year since then. The "Tomatina" is held on the last Wednesday in August in the town of Buñol. This unusual fiesta brings together crowds of people every year, ready to have a great time of laugher and fun, hurling tomatoes at each other. Participants at this joyful pitched battle have a wonderful time throwing tomatoes at anything that moves.
Las Fallas De Valencia (Festival of Fire)
Valencia welcomes in Spring with the Fallas. During the months proceeding this unique spectacle, a lot of hard work and dedication is put into preparing the monumental and ephemeral cardboard statues that will be devoured by the flames. The festival has been designated as a UNESCO Intangible Cultural Heritage of Humanity since 2016. The Fallas is Valencia's most international festival. In a competition of art, ingenuity and good taste, during the week beginning on 19 March the city fills with gigantic cardboard monuments, the ninots. The celebration's origins go back to the parots of the carpenters: a wooden lamp that was used to light the workshops in winter and was burned in the street on the eve of San José's Day. At first, they were given a human appearance by decorating them with old clothes, but in the mid-19th century, they started making them bigger and taller and improving their forms to convert them into decorative dolls.
Feria De Abril (April Fair Of Seville)
One of the most famous traditional Spanish festivals, the Semana Santa or the Holy Week takes place during the Easter. It is one of the most popular religious festivals in Spain. A dozen men and women come out to march through the streets, whilst carrying the statue of their church's patron saint surrounded by hundreds of candles.
Semana Santa (Holy Week)
One of the most famous traditional Spanish festivals, the Semana Santa or the Holy Week takes place during the Easter. It is one of the most popular religious festivals in Spain. A dozen men and women come out to march through the streets, whilst carrying the statue of their church's patron saint surrounded by hundreds of candles.
Visa Requirements For Spain 
If you are a citizen of an EU country, Switzerland, Norway, Iceland or Lichtenstein, you will need a valid passport or ID card. Additionally, in the case of a minor traveling with an ID document, this must be accompanied by written permission from the parents. Spain is one of 26 countries making up the 'Schengen' area, they have one common visa and no border controls between them. There are three types of visa allowing entry to Spain:
Airport transit visa.
Short-stay Schengen visa.
Long-term visa.
Unless you're a citizen of the EU/EEA or Switzerland you'll need a longer-term national visa (visado nacionale) if you intend to live, work, study or carry out research in Spain for longer than three months. This will depend on your purpose of stay.
Things You Should Know Before Visiting Spain
A siesta is a pretty big deal in Spain. Usually, around 1-4pm, many shops, offices, and restaurants will shut their doors for a little afternoon break.
It is wise to keep in your mind that dinner in Spain starts usually much later than its Northern European neighbours. Dinner will usually start around 10 pm for locals and can last a good few hours.
Nudity is legal in Spain.
It is not customary to tip in Spain, especially for cheap meals. Usually, people just round up the check.
Even in big cities like Madrid and Barcelona, the tap water is safe to drink (in Madrid it comes fresh from the Guadarrama mountain range).
FAQ about Spain

Do people in Spain understand English?
Yes, most of the people in Spain understand English and they are more than happy to help you with directions, popular attractions, etc.
Is Spain an expensive country?
No, Spain is a budget-friendly country in comparison to other European countries.
Is tap water drinkable?
Yes, public tap water in Spain is safe to drink and tested every day.
Is Spain safe?
Yes, Spain is one of the safest countries in European Union. However, visitors should be cautious about pickpocketing in various means of public transport and in crowded areas.