Public Transportation in Bosnia and Herzegovina
You can use buses, trams, small buses and taxis to get around in Bosnia and Herzegovina. You need to get a rechargeable card to use public transport. The card's initial cost is 5 KM and it is available in populated areas and most stations. You can check timetables and routes of various means of public transport from here. The site is available in Bosnian.
Transportation from Sarajevo International Airport to City Center
Sarajevo International Airport is located 10 kilometers away from the city center. You can get to the city center with shuttle bus and taxi.
Shuttle buses are available 5.30 to 22.00 in summer and 6.25 to 22.30 in winter. The trip costs 5 KM and takes approximately 20 minutes. 
There are also many taxis available in the airport 24/7. Most taxis offer 30 KM fixed price to the city center. 
Places to Visit in Bosnia and Herzegovina 
Bosnia and Herzegovina is a small country located in Southeastern Europe. It was a part of the former Yugoslavia back then. In 1992, Bosnia and Herzegovina gained national independence. Although it has experienced unfortunate events in its history, Bosnia and Herzegovina is a modern country that has closed its wounds and has stepped into the future. The country's landscape is mostly mountainous but has a small coast to the Adriatic Sea.
Tourism is growing every year in Bosnia and Herzegovina. Famous series like Game of Thrones has been filmed there since there are impressive old ruins and castles along with a 20 kilometers long beach in Bosnia and Herzegovina. So, there are plenty of wonderful places to visit. 
Sarajevo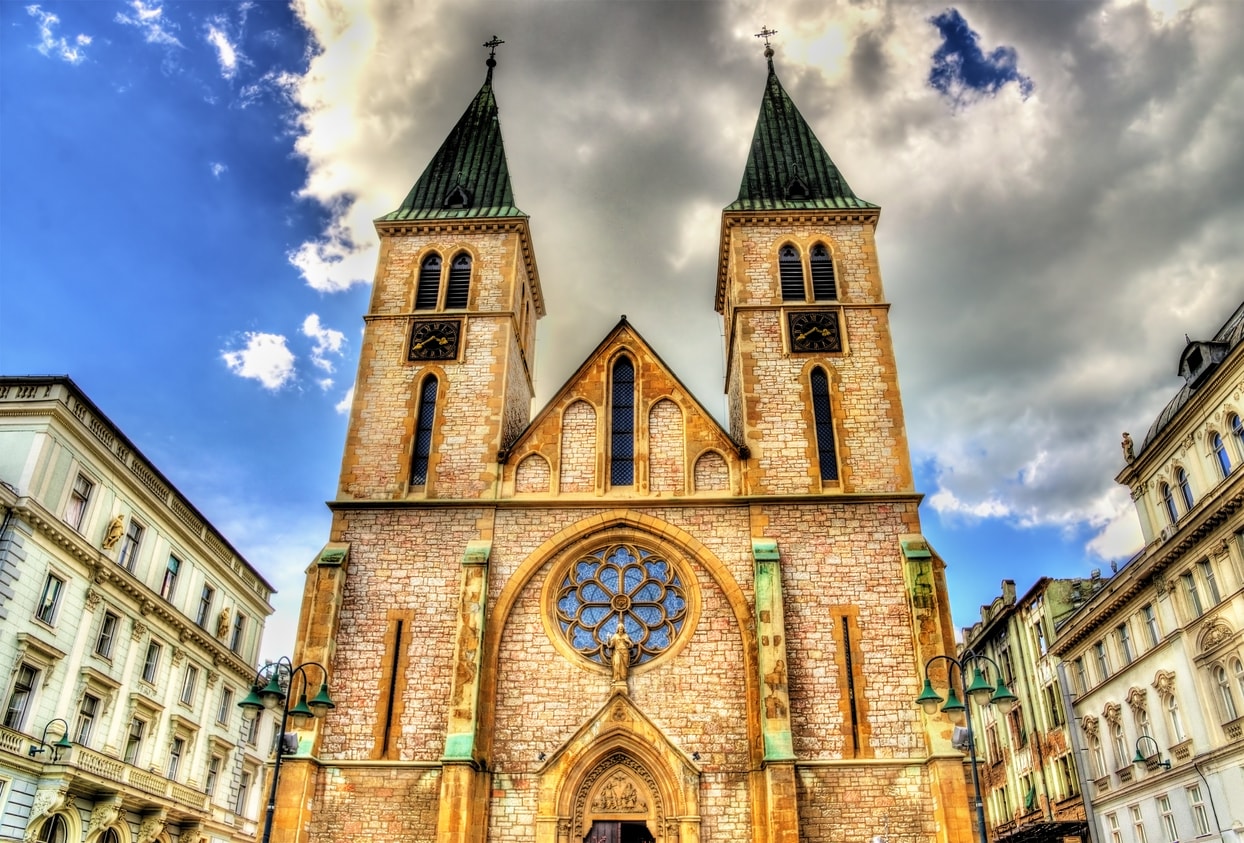 Sarajevo is the capital city of Bosnia and Herzegovina and is the most popular tourism destination of the country. The city has numerous landmarks from various civilizations, especially from Ottoman rule such as Baščaršija district, Gazi Husrev-beg Mosque and BrusaBezistan. Sarajevo is also home to many amazing museums, spectacular cathedrals, and natural beauties.
Mostar
Mostar is located in the southern part of the country, on the banks of Neretva River. The city has many historic landmarks, the most famous one being the UNESCO World Heritage listed Mostar Bridge and attracts many tourists from various parts of the world.
Where to Stay in Bosnia and Herzegovina?

Sarajevo is one the most popular destinations of Bosnia and Herzegovina and offers many accommodation options to its visitors. If you are in Sarajevo to enjoy its amazing historical and cultural attractions to the fullest, it is recommended for you to stay in hotels located on ObalaKulina Bana and MulaMustafeBašeskije streets. These hotels are at walking distance from main attractions of the city such as Baščaršija, Sacred Heart Cathedral, and Sarajevo Museum.
What to Eat in Bosnia and Herzegovina?
Bosnia and Herzegovina is an amazing culinary destination thanks to its multicultural origins. Its cuisine is a delicious fusion of Turkish, Croatian and Serbian kitchens. Its traditional recipes mostly consist of meat, pastry, and dairy products.  
Ćevapi
Ćevapi is the renowned traditional kebab of the Balkans. It consists of minced meat and spices accompanied with lepinja bread, onion and ajvar. "CevabdzinicaHodzic" restaurant near the Baščaršija Mosque serves one of the best Ćevapi in Sarajevo as well as other traditional Bosnian recipes.
Pita Sirnica
Pita Sirnica is a Bosnian all-time favorite pastry and comes with various ingredients like spinach, meat, cheese or pumpkin."Pekara Edin" in Baščaršija serves amazing traditional pitas in Sarajevo. 
Trilece
Trilece is the renowned dessert recipe of the Balkans. The dessert is made with buffalo, cow and goat milk. "Nafaka" near Baščaršija tram station is popular with its delicious trilece.
Shopping in Bosnia and Herzegovina: Best Souvenirs to Buy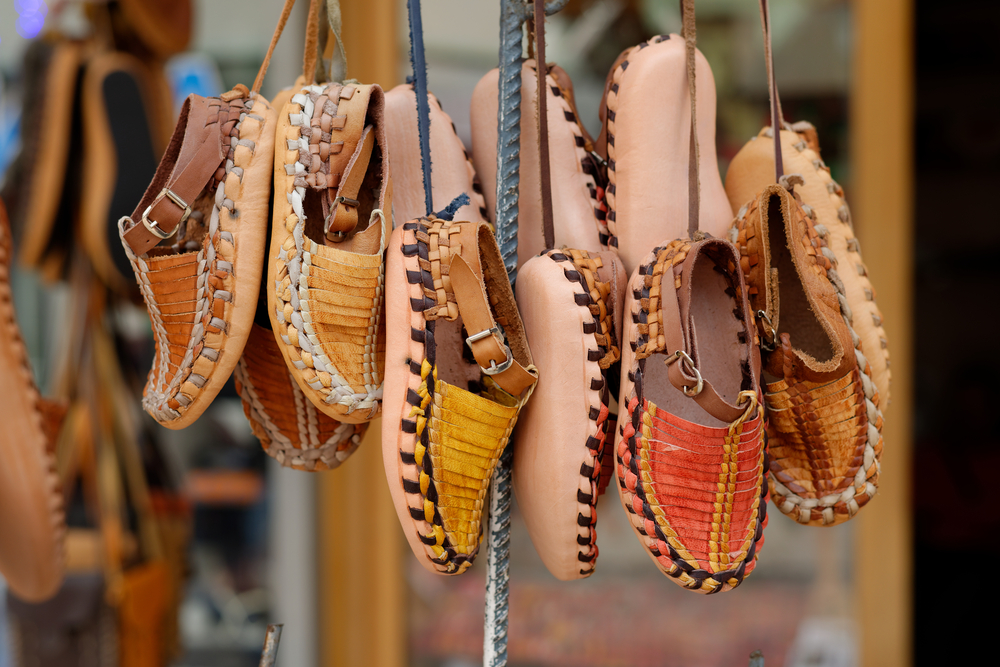 Bosnia and Herzegovina is famous for its copperware, Bosnian rugs, handicraft bullet jewelry, and war souvenirs such as helmets or badges. There are many traditional shops in popular tourism destinations like Baščaršija or Mostar where you can enjoy a selection of amazing local crafts.
Things to Know Before Visiting Bosnia and Herzegovina
Most shops accept payment only in cash.

Euro is commonly accepted in many local shops. 

Visitors should be cautious about pickpocketing in public transport. 
Nightlife in Sarajevo
Sarajevo offers a variety of nightlife options to its visitors. There are many pubs, dance clubs, and rock bars in Sarajevo. Most of the bars are concentrated in the city center, north side of the Miljacka River. 
Holidays in Bosnia and Herzegovina
Islam, Orthodox and Catholic Christianity are commonly practiced in different parts of Bosnia and Herzegovina, so that some of these religious holidays are celebrated only in these regions. Also, some religious days are subject to change every year such as Easter Holiday or Eid Al Fitr (End of Ramadan).
1

st

and 2

nd

of January - New Year's Day and Holiday

7

th

of January – Orthodox Christmas

1

st

of March – Independence Day

26

th

of April – Orthodox Good Friday

28

th

and 29

th

of April – Orthodox Easter

1

st

and 2

nd

of May - Labour Day and Holiday

9

th

of May – Victory Day

5

th

of June - Eid Al Fitr (End of Ramadan)

1

st

of November – All Saints' Day

25

th

of December – Catholic Christmas
Festivals in Bosnia and Herzegovina
Kid's Festival (April, Sarajevo)

KozaraEtno Festival (June-July, Kozara)

Sarajevo Film Festival (August, Sarajevo)

Jazz Fest Sarajevo (November, Sarajevo)

The MESS International Theater Festival (October, Sarajevo)
Visa Requirements
Bosnia and Herzegovina is a country in the process of being a candidate for the European Union and is not covered by the Schengen visa. However, the visa policies in Bosnia and Herzegovina are very similar to the Schengen visa and it is possible to visit the country with a Schengen visa. If you don't have one, it is also possible to enter Bosnia and Herzegovina without a lengthy visa process. The country allows visa-free stays up to 90 days within a 3 months period from 101 countries. You can check this link to see if your country is one of these countries and learn more information about Bosnia and Herzegovina visa requirements.
FAQ about Bosnia and Herzegovina
Do people in Bosnia and Herzegovina understand English? 
No, most of the locals can't understand English except for young people and tourism industry employees.
Is Bosnia and Herzegovina an expensive country?
No, Bosnia and Herzegovina is a budget-friendly country.
Is tap water drinkable?
Yes, tap water does not pose a health risk but most locals prefer to drink from bottled water.
Is Bosnia and Herzegovina safe?
Yes, Bosnia and Herzegovina is a fairly safe country with low crime rates. However, visitors should be cautious about pickpocketing in various means of public transport and in crowded areas.