Public Transportation in Romania
You can use public buses, trams, trolleybuses and taxis to get around in cities. Romania does not have a public metro service except for Bucharest. In order to use public transport, you need to buy a rechargeable "Multiplu" card from kiosks and sale points which are available in most stops in the city centers. The initial cost of card is 1.80 lei.
There are also many taxis available in populated areas and they offer fixed fares for specific routes. It is recommended for you to download a taxi service application to avoid excessive fares. Taxis cost around 1.50 lei per kilometer.
Transportation from Henri Coandă International Airport to City Center
Henri Coandă International Airport is the most used airport of Bucharest and located 16 kilometers north of the city center. The airport is also known as the Otopeni Airport. You can get to the city center with train, bus and taxi.
Express 783 bus line connects the airport to the city center while making stops in significant tourism destinations such as Piața Romană, Piața Universității, Piata Victoriei. You can find the bus in front of the Arrivals Terminal. The bus is available 24/7 and departs with 20 minute intervals during the day and costs 3.5 lei for one trip. At night, the bus departs with 40 minute intervals. Express 782 bus line is also available in the airport to get to the city center with a different route.
The train is another option for you. You can buy the ticket for 8.1 lei that includes 2 kilometers ride with the shuttle bus to the train station. The service is available every hour between 5.15 am and 8.20 pm. It is strongly recommended for you to ask for the train schedule from the CFR ticket counter beforehand.
There are many taxis that offer fixed prices for visitors to the main attractions of Bucharest. There is a newly implemented ticketing system in the airport to prevent fraud cases. Taxis cost 1.36 lei per kilometer.
Places to Visit in Romania
Bucharest is one of the most significant spots in Eastern Balkans in terms of cultural he
ritage and historical landmarks, thus the city attracts more than a million and a half tourists annually.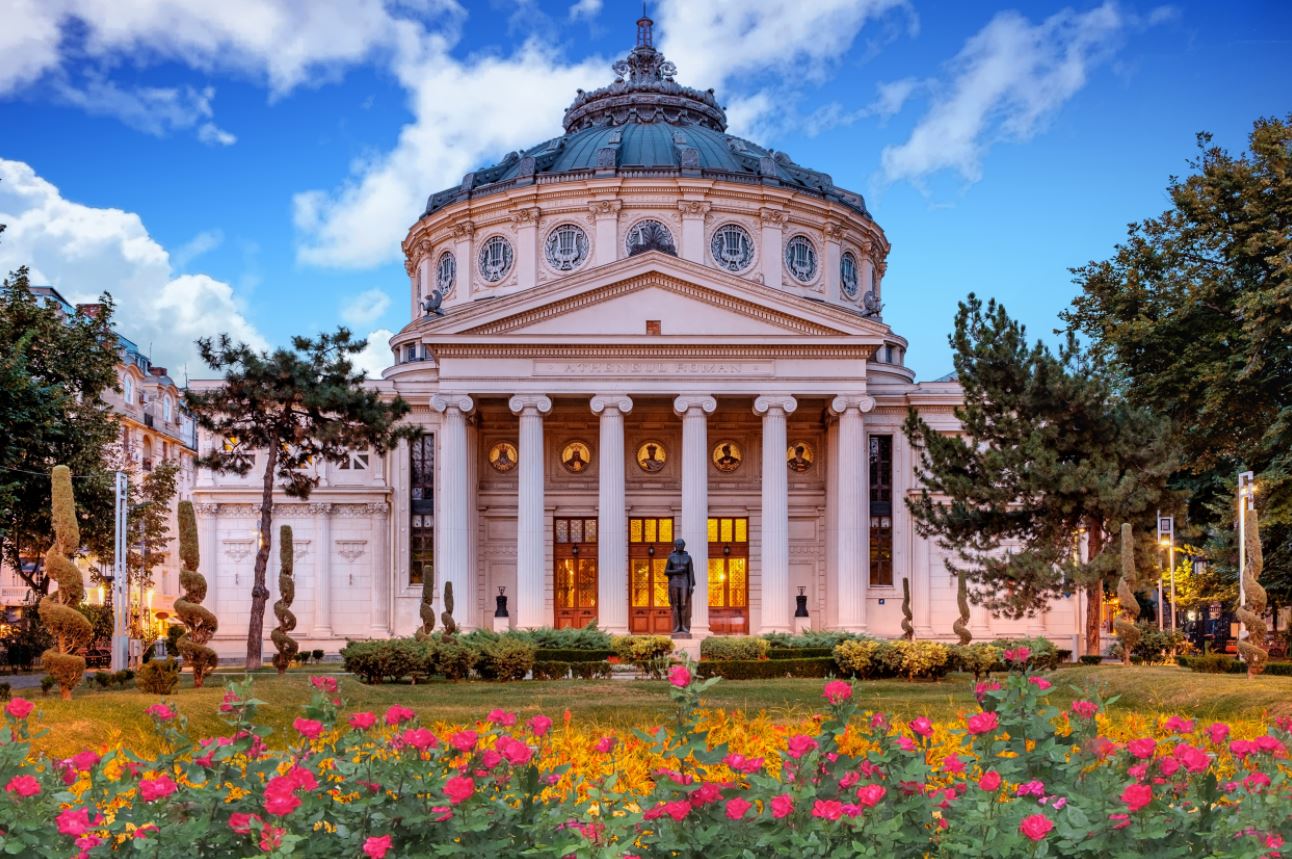 Ateneum, Bucharest
Bucharest Parliament Building
Bucharest Parliament Building is the iconic symbol of Bucharest. The palace is the largest parliament building in the world and located in the heart of the city. It was completed in 1997. There are guided tours in the palace every half hour.

Lipscani
Lipscani neighborhood is the old center of the city. There are numerous historical buildings, top-notch restaurants and cafes scattered around Lipscani. The neighborhood is also a great place to shop from reputable brands as well as authentic Romanian vendors.
King Mihai I Park (Herăstrău Park)
King Michael I Park is the go-to place for locals to get away from the noise of the city. The park is home to a spectacular lake and swarming with flowers, trees and amazing restaurants.
Where to Stay in Bucharest?
Bucharest is one of the fastest-growing tourism destinations of the Balkans and offers a variety of accommodation options to its visitors.
If you are in Bucharest for the first time, it is recommended for you to stay in hotels around Piața Unirii since you will be walking distance away from cities' most popular historic and cultural attractions. Piața Unirii is located in the old part of the city and surrounded by many great restaurants, cafes, and bars.
If you are looking for a calmer vacation, it is recommended for you to stay in hotels around Dorobanti district. The district is away from the noise of the city and has plenty of green parks. These hotels are also closer to the airport.
What to Eat in Bucharest?
Bucharest's multicultural environment can be observed through its one of a kind cuisine. Although the blended soup recipes of Bucharest are well-known throughout the world, meat is the key ingredient of almost every traditional meal. Mititei (Mici) Mititei is the renowned meatball recipe of Romanian cuisine with plenty of various spices and garlic. "Fabrica de Mici" is one of the best restaurants that serve traditional Mititei. Tochitură Tochitură is made with beef or pork in tomato sauce and traditionally accompanied with eggs and Romanian corn polenta. "Vatra Restaurant" serves one of the best Tochitură in Old Town. Papanași Papanași is the traditional sweet doughnut recipe of Romanian cuisine. Papanaşi consists of authentic Bucharest cheese, sour cream and jam. "Caru' cu bere" in the Old Town serves one of the best Papanaşi in Bucharest.
Shopping in Romania: Best Souvenirs to Buy
Romania is famous for its handicrafts, pottery, ornaments, and rugs. There are many traditional shops in popular tourism destinations where you can enjoy a selection of amazing local crafts.
Things to Know Before Visiting Romania
It is customary to leave a 10% tip in restaurants.
There is no night tariff in popular tourism cities.
Visitors should always be cautious about pickpocketing in public transport.
Nightlife in Bucharest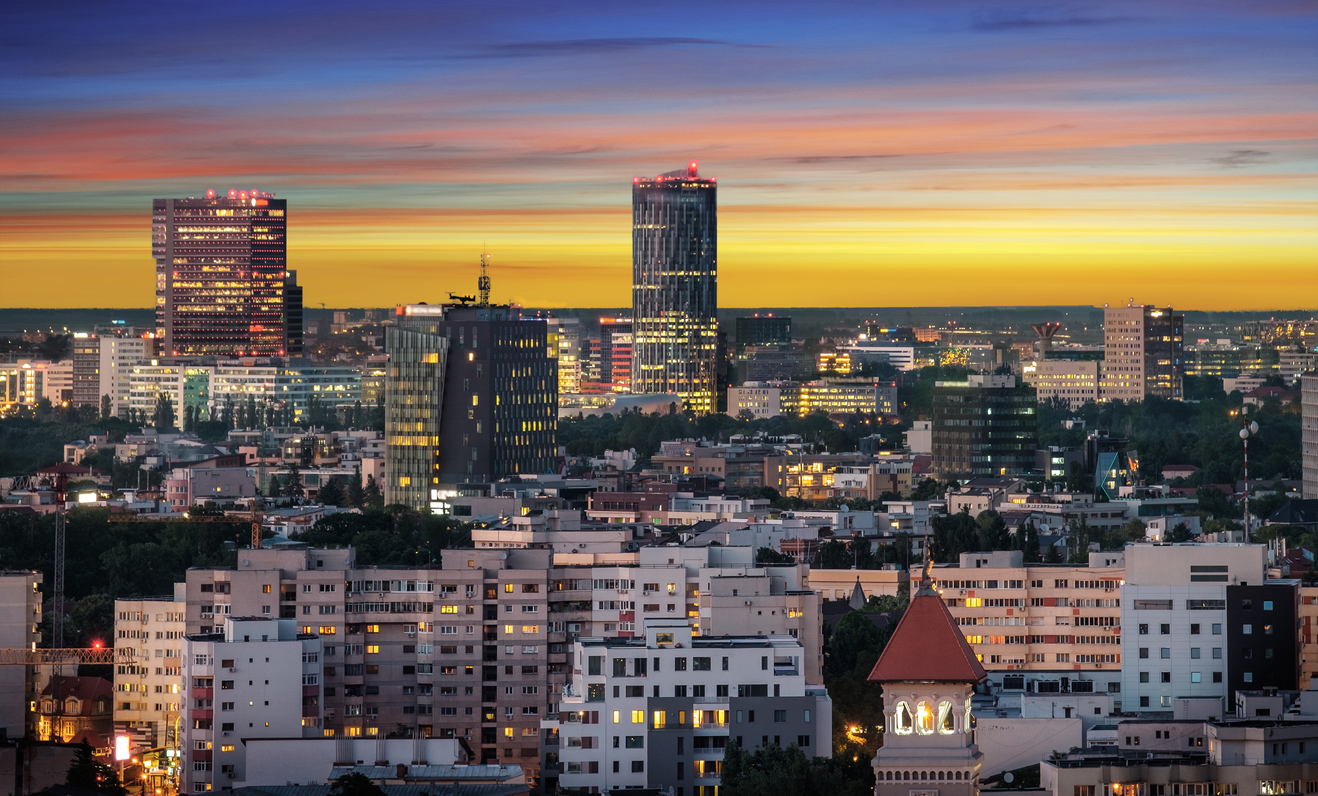 Romanian people love good music. There are countless concerts in Romania throughout the year and this love for music established a dynamic and diverse nightlife in its main cities. Bucharest offers a variety of nightlife options to its visitors, especially in the Old Town district.
Holidays in Romania
Some religious days are subject to change every year such as Easter Holiday or Eid Al Fitr (End of Ramadan).
1st and 2nd of January – New Year's Day and Holiday
24th of January – Unification Day
26th of April – Orthodox Good Friday
29th of April – Orthodox Easter Monday
30th of April – Romania Public Holiday
1st of May – Labour Day
1st of June – Children's Day
16th of June – Orthodox Pentecost
17th of June – Descent of the Holy Spirit
15th of August – St. Mary's Day
30th of November – Feast of St. Andrew
1st of December – National Day
25th and 26th of December – Christmas Day and Holiday
Festivals in Romania
UNTOLD Festival (November, Cluj-Napoca)
Bucharest International Jazz Competition (May, Bucharest)
Bucharest Art Film Festival (June-July, Bucharest)
Transylvania International Film Festival (May-June, Cluj-Napoca)
Visa Requirements
Romania is one of the Schengen Area countries and mandates an application process to its visitors. The application is possible through the national embassies or via private visa application companies. For further information, you can check the official site from here.
FAQ about Romania
Do people in Romania understand English?
No, most of the locals can't understand English except for young people and tourism industry employees.
Is Romania an expensive country?
No, Romania is a budget-friendly country.
Is tap water drinkable?
No, most Romanians usually drink bottled water.
Is Romania safe?
Yes, Romania is a fairly safe country. However, visitors should be cautious about pickpocketing in various means of public transport and crowded areas.