Public Transportation in Kazakhstan
Transportation in the major cities of Kazakhstan is easy and convenient. In Almaty you can travel around the city using one of the metro, bus or taxi options. You can also visit the city with the minibuses called matryoshka. However, buses are not available after 10 pm. In the capital city of Astana, you can reach all parts of the city by buses called Saparzhai.  Or you can rent a car through Pegasus and travel as you wish.
Transportation from Airport to the City Center
You can get to the city center by buses 79, 86, 92 or 106 from Almaty Airport, which is the largest airport in Kazakhstan and approximately 15 minutes away from the city center. Or you can go to the city center by taxi waiting in front of the airport.
Places to Visit in Kazakhstan
Almaty, one of the most popular cities of Kazakhstan, is located on the historical Silk Road, and the capital Astana has a very attractive structure. When you're in Kazakhstan, here's what you should see.
Almaty

Central State Museum of Kazakhstan
If you are interested in ancient art and history, this museum is for you. An important figure of the golden man is also included in the State Central Museum also exhibits artifacts from the Bronze Age.
Big Almaty Lake
If you want to add natural beauty to your holiday, you should definitely go to the Big Almaty Lake. The lake turns into different shades of blue depending on the light in all seasons.
Kazakh Museum of Folk Musical Instruments
If you want to discover local music and want to study local musical instruments, Kazakh Museum of Folk Musical Instruments is for you. By going to this museum, you can make your holiday more beautiful with musical instruments and learn about the region.
Zenkov Cathedral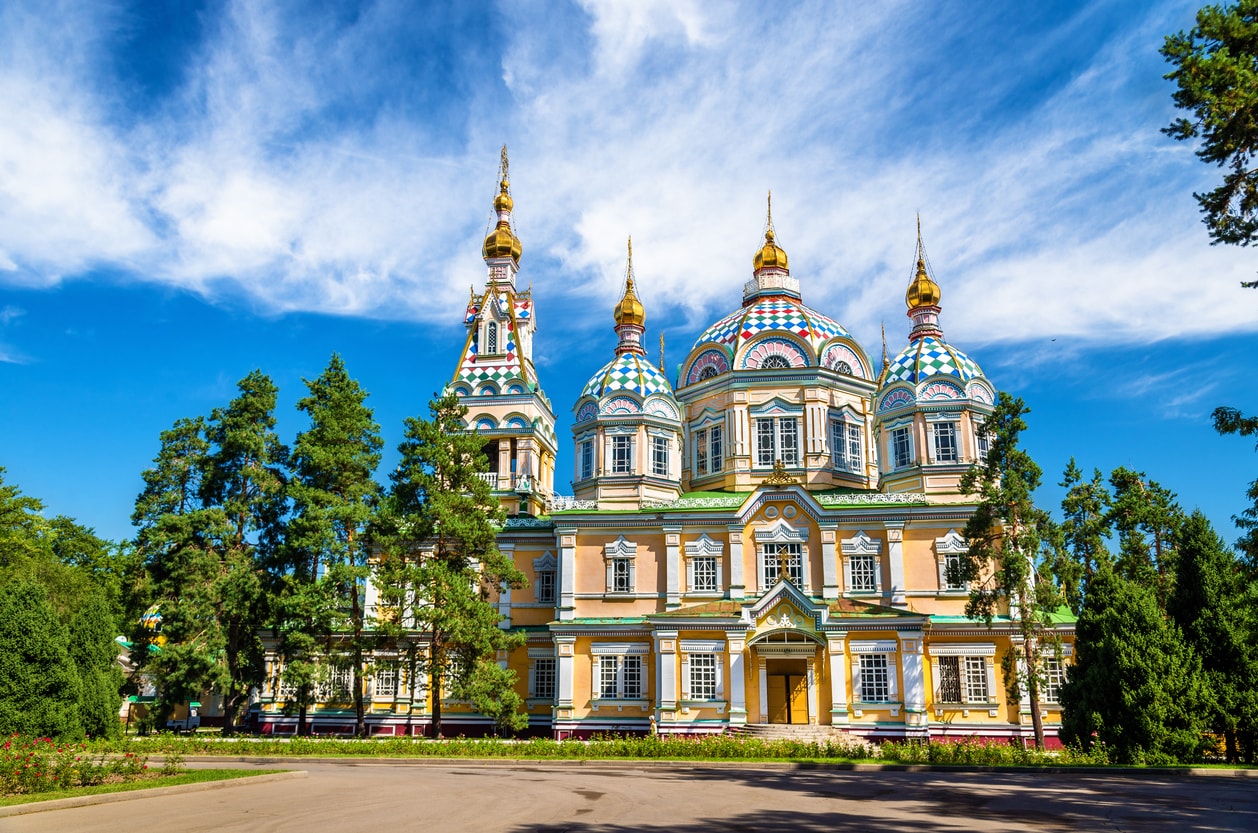 Zenkov Cathedral, one of the most magnificent buildings in Almaty, is the second longest wooden structure in the world. This building is also known as the Ascension Cathedral.
Astana

Palace of Peace and Reconciliation
With a height of 77 meters Palace of Peace and Reconciliation is one of the must-see places in Kazakhstan. In this structure which has an extraordinary architecture, arrangements such as concerts, theater and seminars are made.
Dostoevsky's House
This house, where Fyodor Dostoyevsky, one of the most important names in Russian Literature, lived between 1857-1859, is a must-see for literature enthusiasts.
Bayterek Tower
Bayterek Tower, which is the symbol of Astana, is actually a observation tower. From the unique Bayterek Tower, you can also watch the magnificent city of Astana from a hill.
Where to Stay in Kazakhstan?
Kazakhstan offers many accommodation options. In Almaty you can stay in the hotels in the city center or in the airport area. Or you can stay at hotels in the Medeu area and be surrounded by nature and enjoy your holiday. In the capital city of Astana, if you want to be close to the city center, you can go to Nurzhol Boulevard and choose one of the most suitable hotels for your budget.
What to Eat in Kazakhstan?
Kazakhstan's cuisine combines with Central Asian Turkish culture and has a rich culinary culture. If you go to Kazakhstan, these are the flavors to try.
Famous Food
Kumys
Pasty
Şubat
Sur et
Baursak
Kazakhstan Restaurants
Daredzhani (Almati)
Line Brew (Almati)
Kazan by Assorti (Almati)
Satti (Astana)
Shopping in Kazakhstan: Best Souvenirs to Buy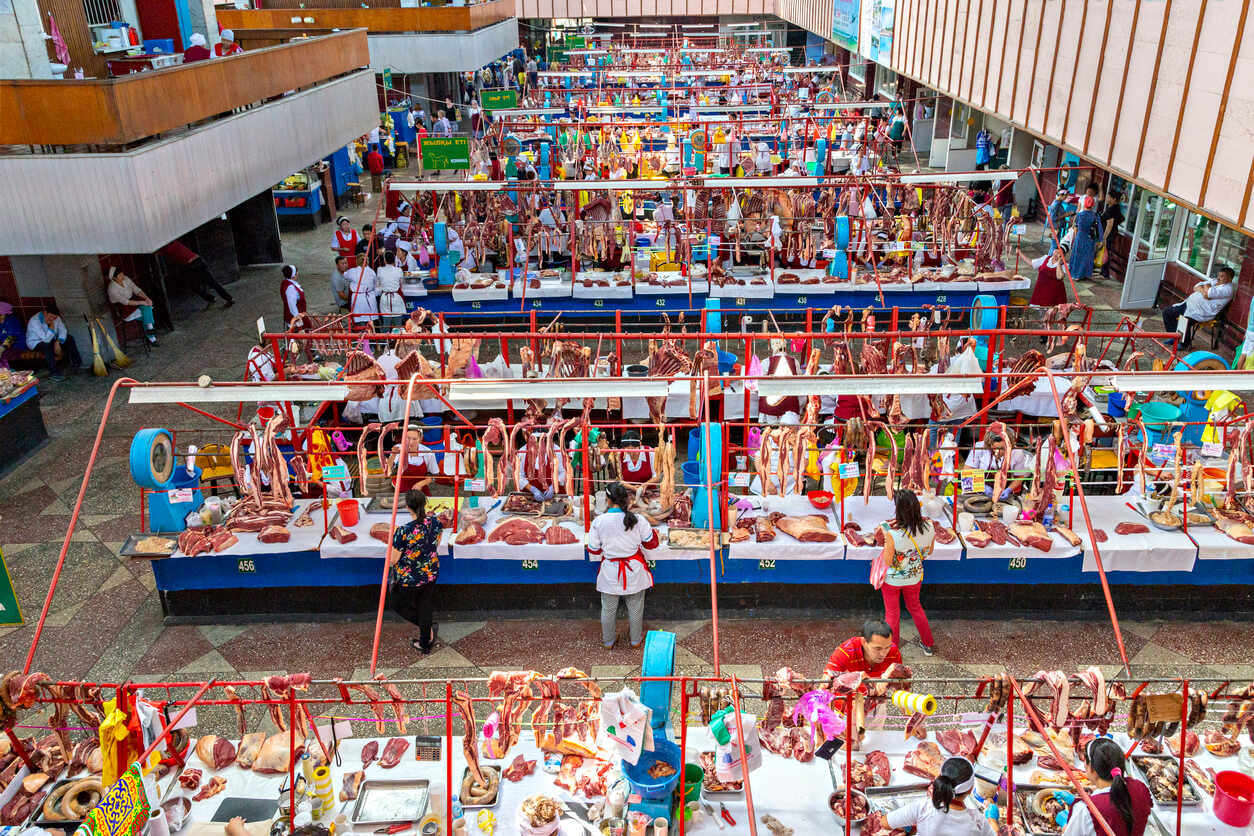 It is possible to buy beautiful souvenirs on your way back from Kazakhstan. You can take Kazakh dolls with traditional costumes or you can buy Dombra themed items which are Kazakhstan's local musical instruments. Or you can buy silver and gold souvenirs if you wish.
Things to Know Before Visiting Kazakhstan
Kazakhstan is a very safe country.
You can also communicate with people in English and Turkish.
Nightlife in Kazakhstan
In Kazakhstan you can find the nightlife that suits your needs. Especially the music places in Almaty will meet your expectations. If you like 80-90s music; in Almaty you will definitely find suitable places for yourself. In addition to these venues, techno music lovers are also beautiful and suitable for all budgets.
Holidays in Kazakhstan
New Year (1 January)
Orthodox Christmas (7 January)
Nowruz (21 March)
Victory Day (9 May)
Capital Day (6 July)
Independence Day (16-19 December)
Festivals in Kazakhstan
Tent Festivali (Almaty, May)
International Art Festival (Astana, June)
Tengri's Spirit (Almata, June)
Action Film Festival (Almata, July)
The Spirit of Dance Festival (Astana, September)
Visa Requirements
Kazakhstan does not apply visas for many nationalities for up to 30 days, but if they want to stay for more than 5 days in Kazakhstan, they have to register with the immigration police within 5 days. Check for your nationality here.
FAQ about Kazakhstan
What are the emergency numbers in Kazakhstan?

Police:03
Ambulance: 03
Fire Department: 03
Is there a Turkish representative in Kazakhstan? Where?

EMBASSY in ASTANA
Address: Taşenova Cad. No:3 Blok A ASTANA
Nu:+77172704704
EMBASSY in ALMATY
Address: Tole Bi 29, 48100 ALMATI
Nu: +77019216280 / 0077272784165
CONSULATE GENERAL of AKTAU
Address: 15. Microdistrict Samal No:56 130000 AKTAU
Nu: +77292424329