Gastronomy in Russia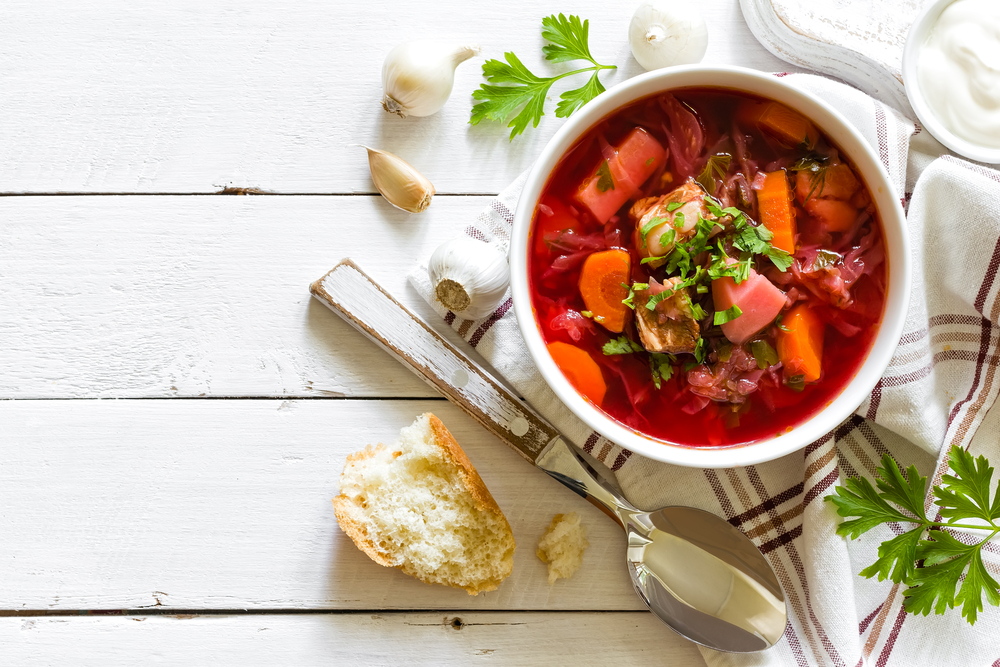 An unparalleled variety of fish is yielded in the country's seas, and in like any country with a cold climate, there is an extreme love and appreciation of fat loaded meals. When you travel to Russia, have a bite of smoked or salted fish. Many restaurants have their original ways to cook fish and also have authentic recipes of salads and dishes containing fish.
One of the most iconic delicacies you could have in Russia is caviar. It is also called "black gold" due to its high price. According to international law, each tourist is only allowed to take 250 gm of caviar with them. 
The majority of the restaurants in Russia tend to have a vegetarian menu. If you are a vegetarian and happen to travel to smaller cities, make sure you inform the staff of a restaurant about your preferences because some places do not have nonmeat meals.
Holidays and Festivals in Russia
1 January: New Year's Day – is the most beloved holiday by all Russians. The New Year holiday lasts for 10 days. Some people claim it is the best time to visit Russia because there are fun events that are not to be missed such as parties, free concerts and dozens of authentic dishes. It all makes New Year holiday in Russia very special.
7 January: Christmas – almost immediately after the New Year there is Christmas, another crucial day in Russia, especially for Orthodox Christians. Christmas is celebrated with a solemn festive dinner among close friends and family.
23 February: Defender of the Motherland Day – is a widely celebrated holiday dedicated to those who serve the country. Women are expected to give soldiers and officers gifts, but congratulations and presents are also received by women working as military personnel.
8 March: International Women's Day – a women's holiday officially established during the Soviet era. Men are supposed to give women flowers and gifts and help them do chores.
9 May: Victory Day – is the official day off for everyone in Russia. Every Year a military parade is held on the Red Square, and as a tribute, people lay flowers in front of the monuments dedicated to killed during the Second World War soldiers.
SongFest Greebland in July – is not only one of the oldest Russian festivals but also the largest cultural events of the summer season on Vyatka land. During the festival tourists and artists live in tents on the banks of the Bistrina river. The first live music festival was organized in 1986 and was named after a writer Alexander Green.
16 December - 15 January: Journey to Christmas festival – is held in Moscow and lasts a whole month. Stunning fireworks, light installations, street theater performances, and ice ballet create a magical atmosphere of a New Year. The square is decorated with Christmas trees and various light compositions, and there are also free painting or cooking masterclasses for everyone. This festival is an absolute must-do in Moscow in winter!
Places to visit in Russia
Moscow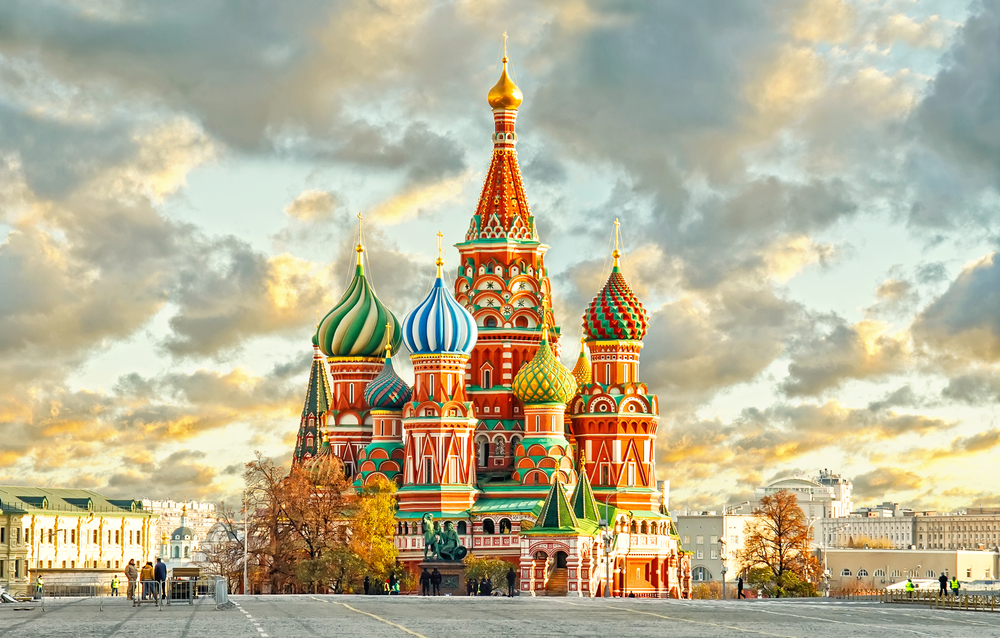 Moscow, the capital of Russia, is not only the cultural and industrial capital but is also the biggest city of the country. It is situated in the centre of the European part of the Russian Federation, spreading over 2500 sq km. The population of Moscow is more than 12 million inhabitants (2019).
One of the most iconic places to visit in Moscow is the Kremlin, the residence of the president and his administration. Moscow has dozens of places to visit, but the Kremlin has always been one of the most iconic ones. Having a walk on Red Square, which used to be a market square, and seeing the Kremlin are absolute must-do's during your travel to Russia.
The Bolshoi Theatre in Moscow is the main opera and ballet theatre of the Russian Federation, it is well-known outside the country. Usually, tourists coming from abroad or even Russians residing in other cities and regions go to The Bolshoi Theatre to enjoy incredible performances and plays.
There is also a great number of museums and galleries you probably would love to see. One of them is The Moscow State Historical Museum located right in the heart of Red Square. It is the largest museum of Russia, and its enormous collection of exhibits demonstrates the evolution of the nation from ancient times to the present day.
The central part of the city, which is around the Kremlin and the Bolshoi Theatre, is better seen on foot. However, the fastest and cheapest way to get around in Moscow is to use the metro.
Mineralnye Vody
If you prefer active tourism Mineralnye Vody is a great destination. The city is situated in the northern part of the North Caucasus, between the Black and Caspian Seas. Approaching the city you will witness a spectacular view of the cone-shaped mountains named Mushuk and Beshtau. Mineralnye Vody is located just 90 km from the highest mountain in Europe, Elbrus.
The city is also home to many magnificent churches and cathedrals. Two most popular ones are the Church of the Holy Virgin Protection with its great bell turret and the Church of St. Nicholas where the icon of The Quick to Hearken is kept. This unique icon was made by the Athos monks, every year it attracts thousands of tourists and representatives of religious communities.
Grozni
Grozni is one of the biggest and most modern metropolises of Russia. The city lies on the mountain slopes of the North Caucasus in a beautiful river valley of Sunzha. The rich historical and cultural heritage of Grozni is reflected in its ancient traditions, arts, and architecture.
The most iconic place of Grozni, the Heart of Chechnya mosque, is one of the biggest mosques in Europe, the main hall of which is covered by a 23 meters dome. There are four minarets, each of them is 63 meters tall, and 36 stunning chandeliers shaped like three main Islamic shrines: mosques of Mecca, Medina, and Jerusalem.
Krasnodar
One of the largest administrative, industrial and transportation hubs of Russia, Krasnodar, is located on the right bank of Kuban River and just 150 km from the Black Sea. The city is full of quiet parks, squares and places where a calm atmosphere prevails, which makes it a great option for travelers with children. 
There is a number of places both tourists and locals enjoy, one of such spots is Ocean Park, which occupies 3 thousand square meters and has 200 species including sharks. There are an underwater tunnel, a lake with ducks and swans, and a waterfall in the aquarium. This place is definitely worth visiting if you are fond of nature. There are also many theaters in Krasnodar, and the most popular of them is M. Gorkov Academic Drama Theater found in 1920. The theater`s repertoire was based on classical and modern drama.
Things you need to know before going to Russia
Tourists should not be terrified by a Russian harsh winter. Temperatures across the country vary from -8° C to -31° C. But most of the big cities in Russia are well supplied with plows and cleaners to grapple with snow and ice. Many tourists visit Russia in May – September, and the height of a touristic season is during the White Nights. Also, fewer visitors go to the Russian Federation in October – April, the best season for skiing.
In order to visit Russia citizens of almost all countries must get a visa. Make sure all entry requirements are verified a few weeks before your travel. Tourists entering the country by train also must have a visa.
The addresses in Russia are written in reverse order (Postcode, city, street name, house number, apartment number, and the person's name).
SIM cards are available and cheap in Russia. Since almost all public places are equipped with free WI-FI there is no need to use international roaming.
Debit and credit cards are accepted in Russia. There are also plenty of ATMs, and the best currencies to exchange are US dollars or euros.