Public Transportation in Lebanon

There are few public transportation options in Beirut and Tripoli. You can use the buses provided by LCC (Lebanese Commuting Company) by using prepaid cards. You can recharge the yellow card continuously, and use the monthly red card without any limitations.   Some of the private vans run on official lines, but the rest run on additional routes. Taxis and Uber are among other  popular alternatives. It is suggested to bargain in advance when you travel with taxis, although they generally ask for reasonable prices. 
Transportation from the Beirut Rafic Hariri International Airport to the city center

Beirut Rafic Hariri International airport is located 9 km south of Beirut, in Khaldeh. Unfortunately, there is no public transportation from the airport to the city center. So the only option to go to the city center is a taxi. However, these taxi services can be more expensive than the city taxis. Therefore, it is suggested to agree on the price with the driver before the trip. Most of the drivers can speak in English and French so it is relatively easy to communicate with them. 
Places to Visit in Lebanon

Although there are many alternative activities to do in Lebanon, here are our top picks to explore this beautiful land:
The Roman Temple at Baalbek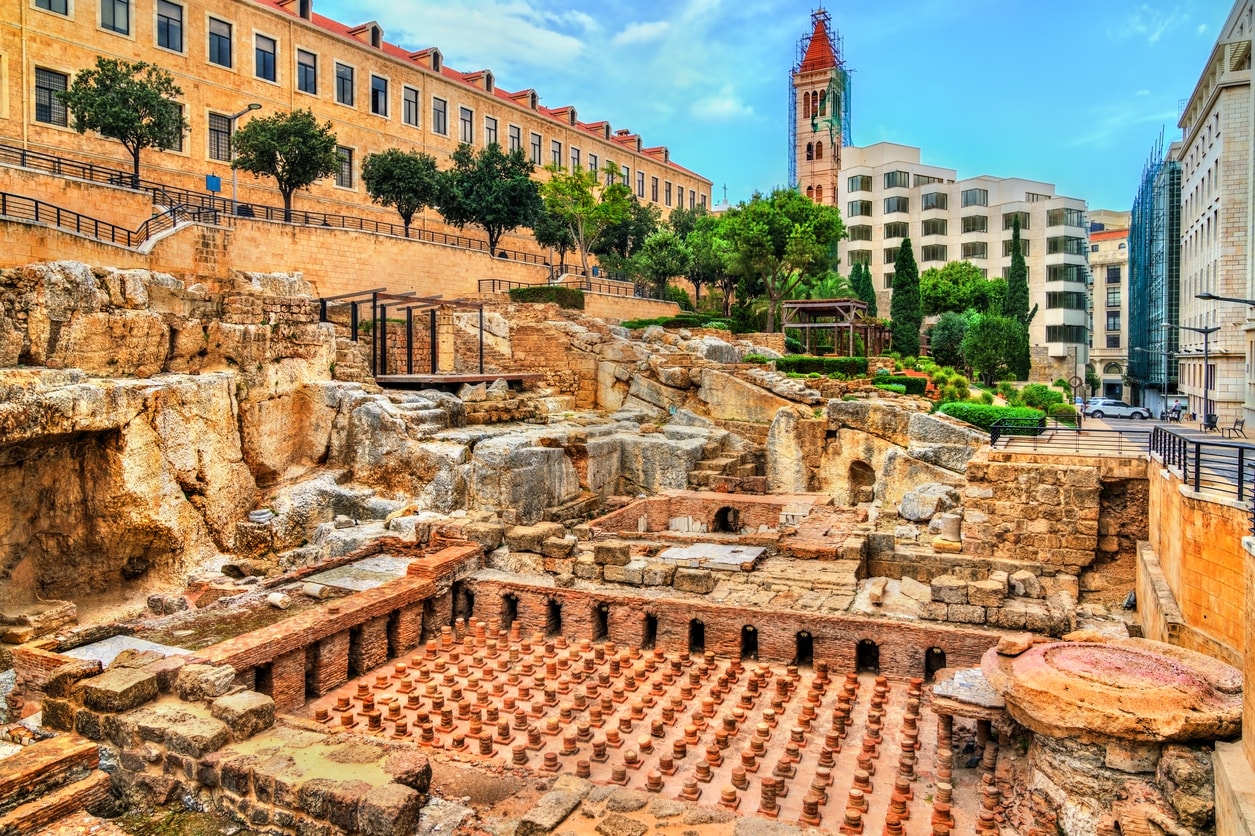 This impressive monumental is also called Heliopolis by Greeks or City of the Sun. It is of the most celebrated sanctuaries of the ancient world. The view of the Imperial Roman columns soaring over the skyline of the Bekaa Valley is extraordinary. In summer, the Baalbeck International Festival is held in this UNESCO World Heritage Site.
Byblos 

The gem of Beirut, also a UNESCO World Heritage Site, is known locally as Jbeil. While Byblos is famous for being the first Phoenician city, its history covers more: The city was home to many ancient and modern civilizations, from Egyptians, Assyrians, Persians to Greeks and Romans, as well as Crusaders, and later Mamluks and Ottomans. Medieval ramparts, authentic souks, cobbled streets, and the tiny fishing harbor are impressive artifacts waiting for you in Byblos.
Beirut Old City Walk
You will meet with the rich history of the city by strolling through the streets of Beirut.  If you don't want to discover the city by yourself, there are many guided tours. Do not skip visiting Martyrs' Square and Roman Baths. You can enjoy the old streets of Beirut all day, especially if you like exploring the authentic spirit of the city.
Jeïta Grotto

One of the touristic attractions in Lebanon is the Jeïta caves. The impressive area was a nominee for the World's Seven Wonders. An hour away from Beirut, the touristic area offers a unique experience. Jeïta brings together various beautiful elements of the nature, from animals to beautiful flowers. After being destroyed in the Civil War, it is renovated back to its original beauty by the Lebanese government. 
Beirut Souks in Downtown

Beirut Souks in Downtown is reconstructed after the Civil War and continues 5,000 years old trading tradition in Beirut. You can find many famous brands in this area. However, if you are interested in flea markets, then visit Souk Al Ahad on sundays. For book lovers, there is a Book Market on the first Saturday of every month at the Monot Street.
Beirut Art Center

Lebanon, homeland of the famous writer, poet, visual artist, and philosopher Gibran Khalil Gibran, covers many inspiring artistic places. One of them is Beirut Art Center. If you enjoy art, then you shouldn't miss this place. It is a non-profit establishment which presents contemporary local and international art. It hosts exhibitions in a variety of media, such as sculpture, painting, photography, and architecture. Moreover, there are screening and performance rooms where you can witness the modern Lebanese art.
Where to Stay in Lebanon?

Beirut presents many alternatives for accommodation. The hotels at the downtown offer more reasonable prices than the ones at the coastline. Avenue General De Gaulle includes 4-star and 5-star hotels as well as cafes and restaurants. Besides the hotels, hostels and residences, rent room, and flat options are available.
What to Eat in Lebanon?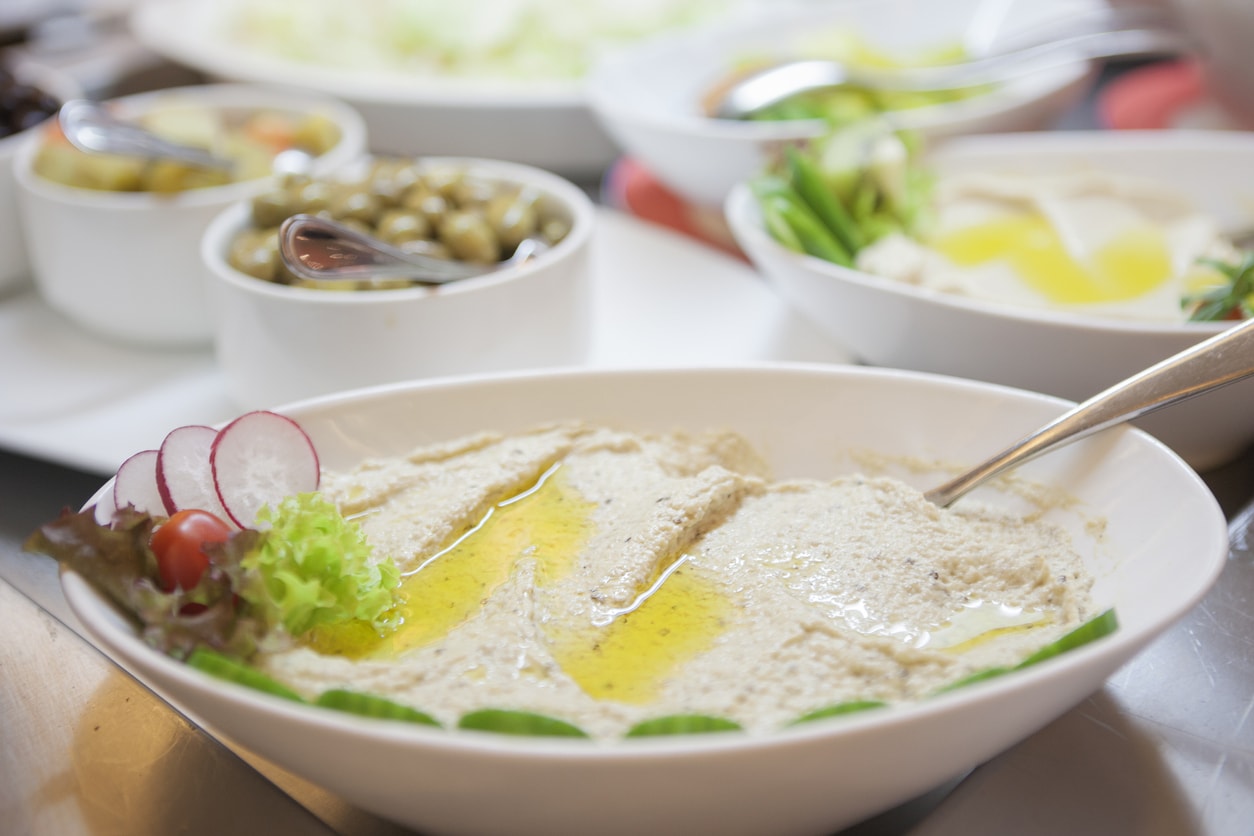 Lebanese cuisine will be a delightful experience to taste, especially if you tend to like similar Middle Eastern food. Here is our top picks for you to try during your trip to Lebanon:
Famous Foods

Kafta

Kibbeh

Fattoush

Falafel

Kibbe Nayeh

Manakish

Baba Ghanoush 

Kanafeh

Kebab

Hummus

Shawarma

Tabbouleh

Rice Pilaf

Sfeeha
Restaurants

Shawarmas, manakish, classic Lebanese dishes and grills: Barbar/ Beirut

Arabic Food and Kebab: Abdel Wahab / Archarief Street – Beirut

Hummus, Baba Ghanoush, Tabbule and Fattoush (Side dishes and salads): Grand Cafe / Beirut

Classic Lebanese dishes: Le Chef in Gemmayzeh
Shopping in Lebanon: Best Souvenirs to Buy

The most popular souvenirs of Lebanese cover home decoration items, such as plates, prints and pillows, wood carvings products, hookah, and traditional clothes, including lovely kaftans. The bazaars that sell these items can be found all around the city. Moreover, handmade carpets and sweets also take the attention of visitors. 
Things to Know Before Visiting Lebanon

When taking a taxi, negotiate the price in advance. Since there are usually no taxi-meters in taxis, the drivers can charge high rates. 

There are many ATMs around the city. Since some of the restaurants and places do not accept credit cards, you had better carry some amount of cash with you.  

Try to reserve your accommodation and taxis in advance. Otherwise, you may face problems. 

There are military checkpoints in Beirut, so do not worry if you see armed soldiers. Keep in mind that it is forbidden to take photographs in those areas. 

Although the official currency is the Lebanese Pound, almost all shops, restaurants, and tourist attractions accept dollars and euros.

Lebanese roadways are a little bit chaotic, even in one-way streets, so you better check both sides before crossing any roads. 
Nightlife in Lebanon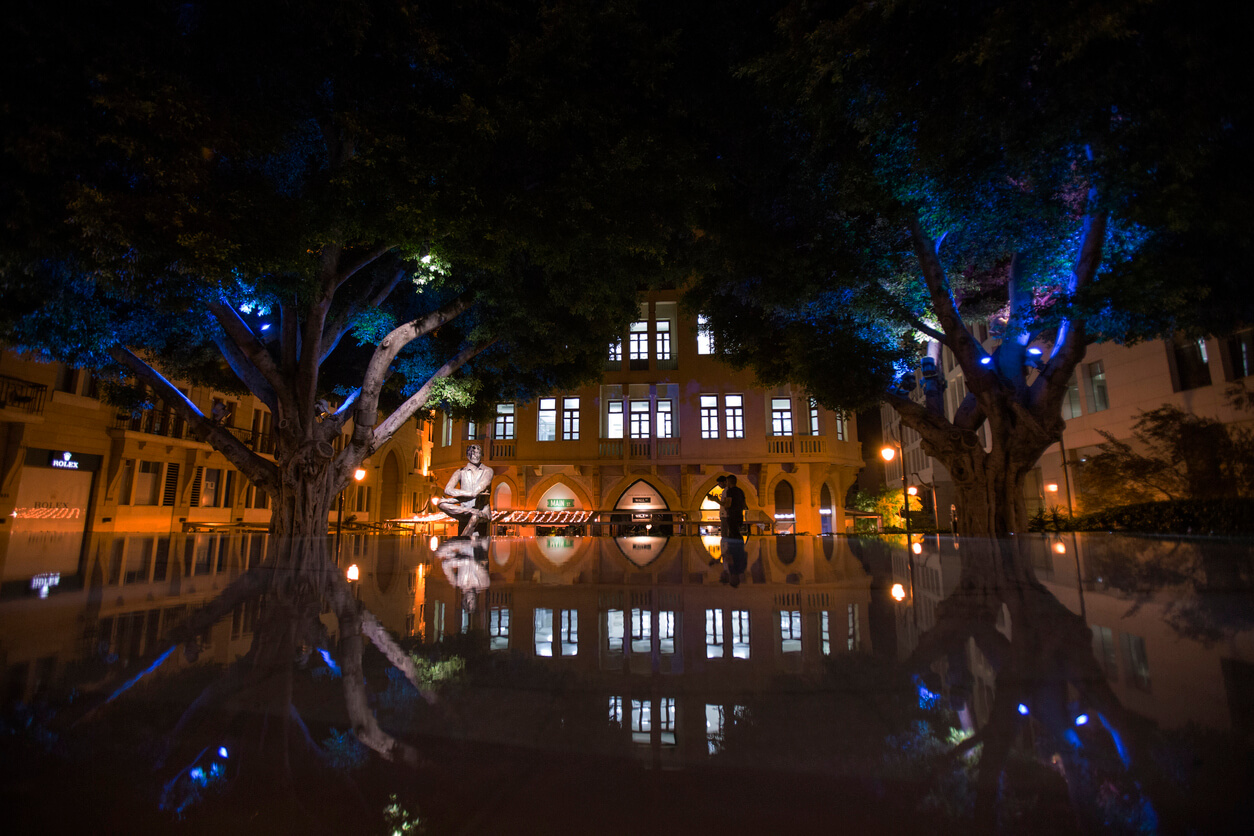 The nightlife in Beirut is vivid, exotic and lively. The locals prefer to go out, enjoy the night, and visit various restaurants. The multicultural richness makes the nightlife more colorful, and thus, Beirut presents a wide range of nightlife hotspots. Especially in summer nights, you can find any kind of activities from the traditional Middle Eastern entertainment with traditional music and dances to modern, bubbled DJ parties. There are many restaurants, bars, and cafes appealing to different budgets and tastes. Cafés in Solidere Street and other authentic places in Gemmayzeh street offer many alternatives. If you are interested in Middle Eastern nights, you can find it at some of the hotels.  
Holidays and Celebrations in Lebanon

New Year's Day

Armenian Christmas Day

St Maroun's Day

Rafik Hariri Memorial Day

Good Friday

Easter Monday

Orthodox Good Friday

Orthodox Easter Sunday

King's Day

Labor Day 

Martyrs' Day

Resistance and Liberation Day

Eid al-Fitr

Whit Monday

Eid al-Adha

Assumption Day

Islamic New Year

Lebanese National Day

Ashura

Prophet Muhammad's Birthday

Independence Day 

Christmas Day

Boxing Day
Festivals in Lebanon

Al Bustan International Music and Arts Festival  

Baalbeck International Festival

Beirut International Film Festival

Beiteddine Festival

Byblos Festival

Batroun International Festival

Jounieh Summer Festival
Visa Requirements

Most nationalities do not have to take a visa if they visit Lebanon for a maximum of 90 days in 6 months. However, people who have an Israel entrance or exit stamp on their passports are not allowed to enter the country. For your nationality please check here.
FAQ About Lebanon

What are the religions in Lebanon?
Lebanon is a secular country that is home to a number different religions and sects. The main two religions are Islam (Sunni and Shia) and Christianity. There are minority religions in the country, too.
What do women wear in Lebanon? Are there any restrictions?
Women can dress as they wish in Lebanon. There is no legal restriction on the dress code. The only exception is visiting religious places, like mosques, where people are expected to follow a more modest dress code. 
Is it safe to visit Lebanon? 
There are rumors about the safety of the country, due to the Civil War and the Lebanese - Israeli war.  However, the Civil war that took 25 years and ended in 1991 and Lebanese - Israeli war took place in 2006 for a brief time frame, making the country mostly peaceful now. The only safety exception is the north-eastern part of the city, which is usually highlighted as no-go zones due to extremist groups. Except those few locations, Lebanon is a safe place to visit. The crime rates are reasonable in the country, where tourists can enjoy Lebanon as they wish.