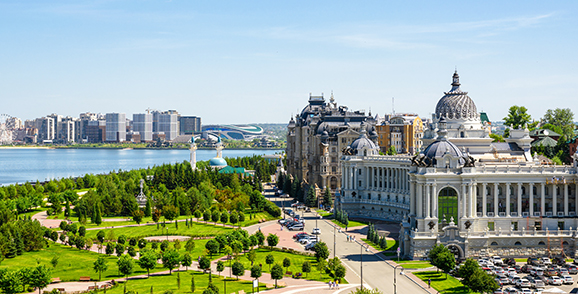 Kazan, the nest of one of the UNESCO World Heritage sites in Russia, enchants visitors with its perfectly blended culture, 1000-year-old history and vivid streets both at night and daytime. Following Moscow and St. Petersburg, Kazan is known as the third capital of Russia due to its historical significance and contemporary development. Business travelers, education tour developers and excursionists are welcome for fantastic travel experiences in Kazan. See what you can do in our Kazan Travel Guide.
| | |
| --- | --- |
| Country: | Russian Federation |
| Region: | Tatarstan Republic / Volga Federal Region in Russia |
| Area: | 425.3 km2 |
| Language: | Russian |
| Average Temperature: | Between -10.4 and 20.2 degrees C |
| Climate Zone: | Humid continental climate zone with long and cold winters |
| GMT Difference: | UTC +3 |
| Phone Code: | (+7) 843 |
| ISO 3166 Code: | RU |
| Currency: | Rubble (Russian) |
| Plug Type: | C and F |
| Driving side: | Right |
| Postal Code: | 400 |
| Car Plate: | KZN |
| Elevation: | 60 meters |
| Population: | 1.3 million |
Location of Kazan
Kazan is located in the southwest of Russia and stands as the capital of the Tatarstan Republic, a part of the Volga Federal District. Established on the intersecting waterway of the Volga and Kazan rivers, the city conserves its economically significant role even today. Geographically, the republic and its capital Kazan borders the oblasts of Samara, Kirov, Ulyanovsk, Orenburg and neighboring republics Udmurtia, Chuvashia, El Mari and Bashkortostan affiliated with Russia.
Best Time to Visit Kazan
Owing to the continental climate under the semi-Siberian effect, Kazan and its surrounding are highly chilly in autumn and winter. The temperature decreases to -10 degrees C in December, January and February. March average is almost 3 degrees C. If you want to have white nights at the end of the year, you may have a Christmas holiday in Kazan. If you are eager to wander around, you may prefer spring and summer days. Spring comes late in May, with temperatures over 16 degrees C. Summer is not so hot and sweating, which makes excursions easier. The best time to visit Kazan is the Nardugan Festival or the Rudolf Nureyev Dance Festival.
Nardugan Pagan Holiday Festival: The week starting with December 22nd opens the celebrations of the rising sun and awakening nature. You can watch traditional dances, see traditional costumes and taste typical and homemade Tatar cuisine.
Rudolf Nureyev Ballet Festival: It is held in May; classical ballet and modern dance performances are worth seeing in the city center.
Kazan's Shalyapin Opera Festival: It is held in February; classical opera performances are scheduled throughout one week.
How to Get to Kazan
Located on the confluence of rivers in the Volga Region, the easiest and fastest route to Kazan is to get on an airplane. Flights to Kazan arrive at Kazan International Airport (KZN), the largest air hub in Tatarstan It is located 25 km to the southeast of the city. If you buy cheap flights to Kazan from Istanbul or Antalya, they depart from Sabiha Gökçen International Airport (SAW) or Antalya Airport (AYT). Flights to Kazan take 4 hours and 15 minutes from Istanbul. See Pegasus offers for connecting flights to Kazan from various destinations.
Transportation from Kazan Airport to City Centre
There are three alternatives to get to Kazan city center from the airport. You can have a train voyage from Terminal 1 to the Old Station on the avenue Said Galiyeva. Aeroexpress Trains take you to the city center in 20 minutes. The second alternative is to take a taxi to the city center, which is less common for locals. The third route is to take bus 97 from the airport to the metro station Prospekt Pobedy. In that case, you will have 11 stops to reach Kazanskaya River in the center.
Public Transport
Major tourist attractions in Kazan are available within a-few minutes' walk. However, urban transport serves various schemes, including public buses, metro, trolleys, trams and minibuses. Dating back to 1889, tram lines operate in main streets, and ten trolley lines support them. Russian, English and Tatar announcements help passengers to spot the stops. Public buses usually go to peripheral areas and suburbs. The metro line goes in a north-south direction. You can take the metro from Prospect Pobedy to Kremlyovskaya, to the second train station in the north and the Ploschad Tukaya, where cafes and restaurants are present.
Intercity Transport
Commuter trains operate in cities like Moscow, Samara, Ulyanovsk, and Yoshkar-Ola. You can find short and long-distance trains at Old Station, but New Station, located in the north, is a hub for only long-distance trains. Kazan's river port has a waterway station. You can get on intercity cruises and commuter boats here.
Places to Visit in Kazan
Kazan hosts various cultural and historical as well as sightseeing tours. Kremlin Kazan, Kul Sharif Mosque and Söyembika Tower are just a few places to visit in Kazan:
Kremlin Kazan: Built as a Tatar fortress by Ivan the Terrible in 1551, the building evolved into a typical Russian palace (Kremlin) during the latter eras. Explore the area, starting with the White Clock Tower and wander around the UNESCO-listed complex.
Kul Sharif Mosque: For the memoirs of the so-called Tatar imam, the mosque was renovated in 2005. Prays and verses from the Quran, inscriptions of God's 99 names and its unique architecture convert the mosque into a spectacular and spiritual spot.
Söyembika Tower: Known as the leaning tower of Khan's Mosque, it is a part of Kazan Kremlin. Its changing colors during the daytime and its various stories will fascinate you.
Bolgar City: Built in the 7th century, the city was excavated in 1969. Russia's first UNESCO World Heritage Site, the city is an open-air museum now.
Trans-Siberian Voyage Route: Returning to Moscow, you are recommended to use the Trans-Siberian rail route, of which Kazan is an important stop. This 140-year-old route will lead to an interesting voyager experience.
Where to Stay in Kazan
Hotels in Kazan offer comfortable accommodators. There are 3-4 star hotels and B&B options in the city. To get very affordable prices, see Pegasus' hotel and Airbnb reservation pages.
What to Eat in Kazan
Delicious meat and dough recipes are the basis of traditional Tatar food. Visit the Museum of Chak Chak to see and taste Tatar dishes. You should try bashkir, chak chak, kak-tosh and bursak dishes here. Alternatively, Dom Tatarskoi Culinary, Dom Chaya, Bilyar Restaurant, and Baumann street food appear to be the most popular places to eat Tatar dishes in Kazan.
Traditional Food in Kazan
You should try both sweet and salty food based on home recipes. Selected Kazan food is as follows:
Guobadia: Crunch layers of dough are stuffed with meat, chicken or sweet flavors.
Chak-chak: Sof deep-fried dıugh filled with honey and sugar
Elesh: Closed and round-shaped pie filled with juicy meat.
Echpockmack: A triangular dough filled with potato, onion and minced meat.
Pirog Smetana: Light sour cream pie.
Kazylyk: Horse meat sausage spiced with coriander.
Shopping in Kazan
The best souvenirs to buy in Kazan are handmade textiles and clothes. Ichigi is a pair of Tatar-style leather boots decorated with flowers and figures. Tubeteika, a headdress for men and kalfak, a female hat, are typical head clothes worn in the region. You can visit shops in Tinchurin Park for traditional souvenirs, books and antiques.
Things to Know Before Visiting Kazan
Kazan is a safe city; you can walk and cycle in the center. Some Russian words will help you if you are willing to use public buses and trolleys, which are very cheap and comfortable. If you would like to take a taxi, remember to bargain with the driver for the price before getting in the vehicle. Kazan remains in the time zone of Moscow. This means you will be three hours further than London, two hours further than Central Europe and an hour later than Eastern Europe. The time in Istanbul and Kazan will be the same.
Nightlife in Kazan
Entertainment in Kazan is a part of urban life. You will find hookah rooms, nightclubs, karaoke clubs, and stylistic cafes in the center, mainly along Bauman Street.
Essential Numbers
Country Code of Russian Federation: +7
Area Code of the Republic of Tatarstan: +843
Dial Ambulance: 112
Phone of Kazan International Airport: .+7 843 267 87 03