Jeddah is the second populous city of Saudi Arabia and is one of the most influential cities in the country. For centuries, Jeddah has been the traditional gateway to the Arabian Peninsula for pilgrims and traders that are traveling to sacred Mecca and Medina. Now, the city is a modern tourism destination with its cosmopolitan culture, world-class cuisine, and commercial venues.
General Information About Jeddah
| | |
| --- | --- |
| Country: | Saudi Arabia |
| Region: | Western Saudi Arabia |
| Area: | 1,600 km2 |
| Language: | Arabic |
| Average temperature: | 28.0 °C |
| Climate: | Subtropical Desert Climate |
| Vegetation: | Desert Plants |
| The difference between GMT: | GMT+3 |
| Telephone Code: | +966 |
| Currency: | Saudi Riyal |
| Socket Type: | Type G |

How to Get to Jeddah?
Jeddah attracts a growing number of tourists annually thanks to its proximity to sacred cities, cultural heritage and natural wonders. Pegasus Airlines offers direct flights to Jeddah from İstanbul. 
The flight duration to Jeddah from İstanbul is 4 hour and 5 minutes. You can buy your direct flight tickets to Jeddah from İstanbul from here.
Transportation from King Abdulaziz International Airport to City Center
King Abdulaziz International Airport is located 23 kilometers away from the airport. You can get to the city center with taxi and car.
There are also many taxis available in the airport 24/7. You can also enjoy the city with a rental car. Pegasus Airlines car rental service has great offers for you in here.
Public Transport in Jeddah
You can use public buses and taxis to get around in the city. Jeddah has seven bus lines that cover most of the city. You can check their timetables and routes from here. The site is available in English. You can also uses taxis to get around in Jeddah and taxis are the most used means of transportation by tourists in the city. 
Best Time to Visit Jeddah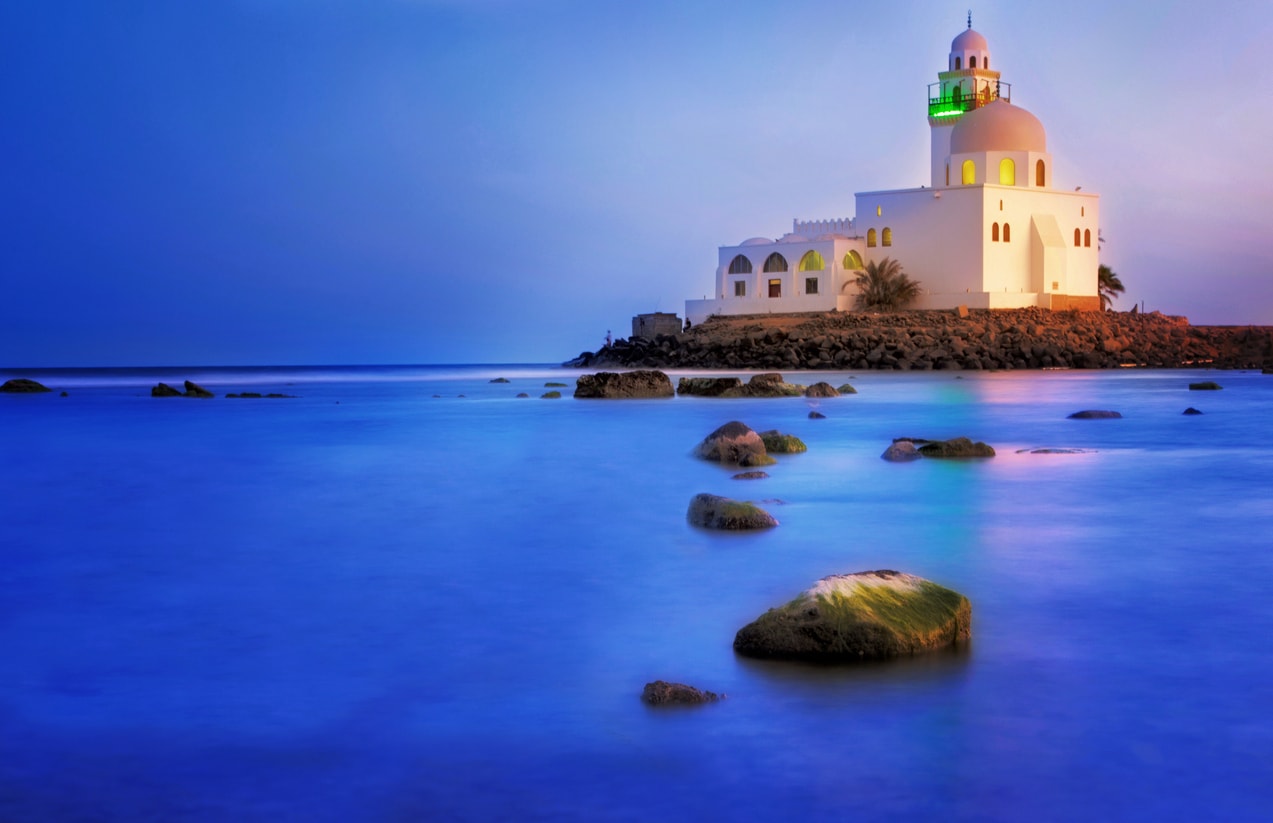 Jeddah has a desert climate with almost no chance to rain throughout the year. The hottest month is August and the coolest month is January. We suggest you to visit Jeddah during winter or early spring since the weather is more pleasant and welcoming. In addition to that, visiting Jeddah in September will present you plenty of beautiful sceneries because of Saudi Arabia's national day. It is recommended for you to enjoy Jeddah two to three days.
Festivals in Jeddah
Red Sea International Film Festival (March)

Al-Hemma Celebrations (September)

Fireworks Shows (September)

Kingdom of Stars (September)
Places to Visit in Jeddah
Jeddah has always been an important city throughout its history thanks to its proximity to sacred cities as well as being a significant trade city. Today, Jeddah attracts millions of tourists every year not only because of its location, but also for its unique attractions such as Al-Rahma Mosque or Bait Al Balad.
Jeddah Corniche
Jeddah Corniche is the must-go place of the city. In Jeddah Corniche, you can enjoy the cities spectacular Red Sea sceneries as well as many sculptures, fountains, and recreational areas. The cornice stretches about 30 kilometers with an uninterrupted walking path. 
Al-Rahma Mosque
Al-Rahma Mosque is one of the most visited mosques of the city. The mosque has spectacular Venetian-Style architecture and also known as "The Floating Mosque" and "Fatima Al-Zahra Mosque". The mosque was built in 1985 on the edge of Jeddah Corniche. 
Abdul Raouf Khalil Museum of Jeddah
Abdul Raouf Khalil Museum consists of a mosque, castle and a museum that exhibits Saudi Arabian, Islamic and Pre-Islamic artifacts. Abdul Raouf Khalil Museum of Jeddah is one of the most beloved museums of the city and is located in King Fahd Street in the city center.
Mecca Gate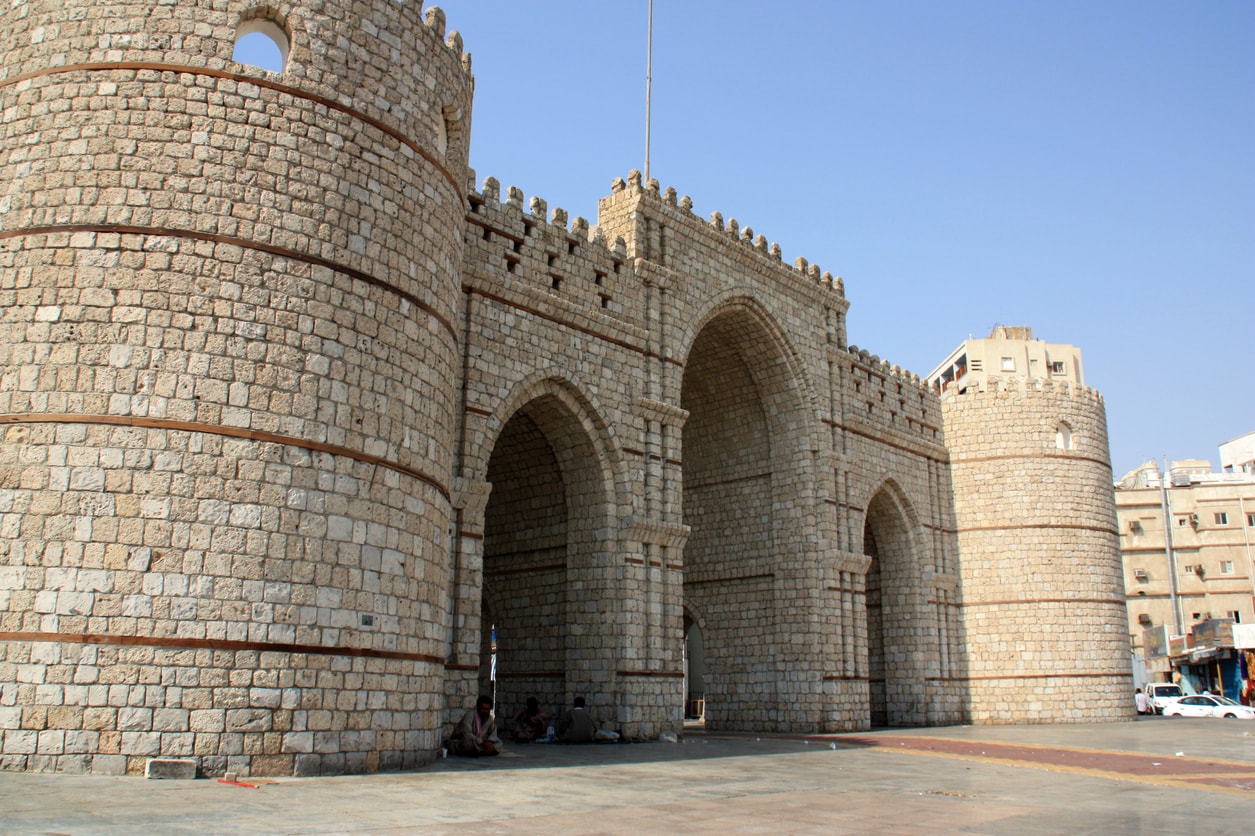 Mecca Gate is also known as "Qur'an Gate" and is an arch gateway monument located on the Jeddah-Mecca highway. It was built in 1979 to resemble the holy Qur'an for passengers that are traveling to Mecca for their pilgrimage.
Bait Al Balad
Bait Al Balad is the local history museum of Jeddah. The museum was used as a British headquarters until the mid-1930s and has a striking Hejazi architectural style. Bait Al Balad is located in the city center, next to famous Red Sea Palace.
Where to Stay in Jeddah?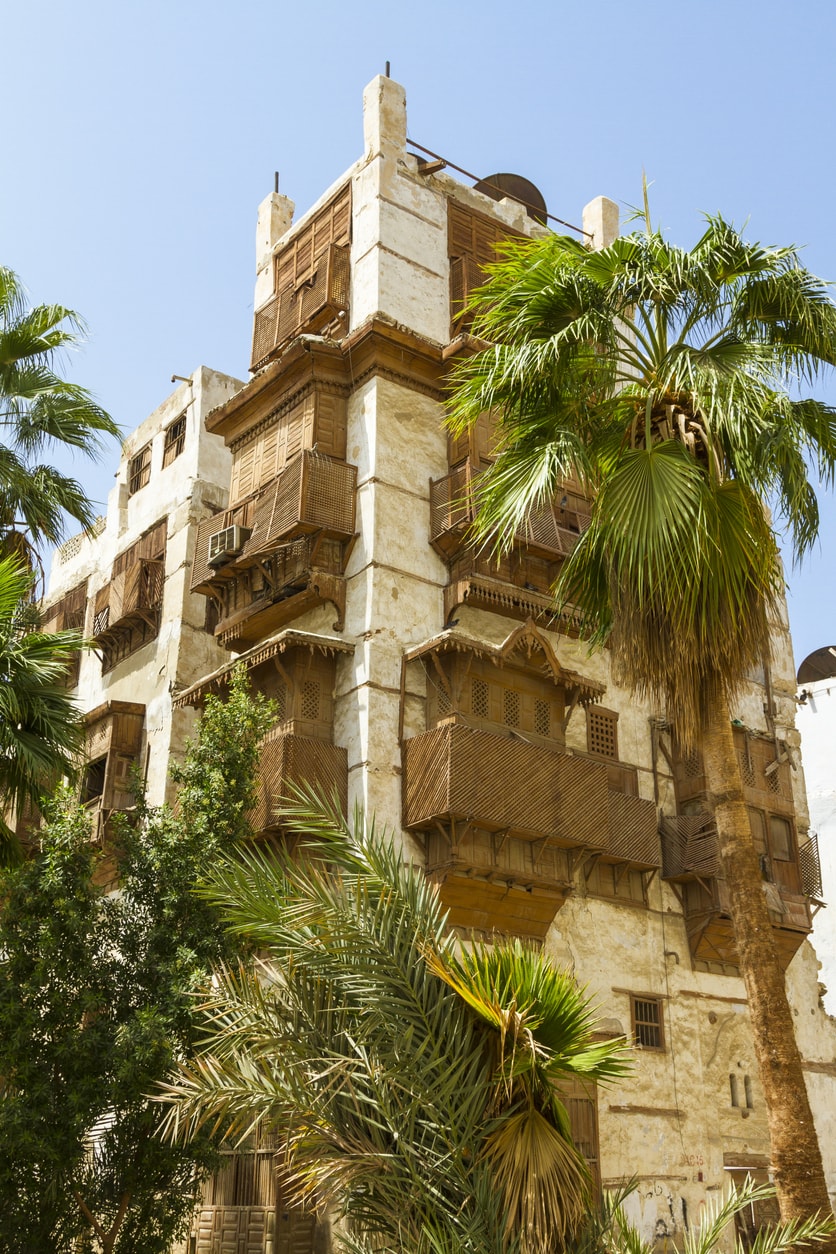 Jeddah is one of the most popular destinations of Saudi Arabia and offers a variety of accommodation options to its visitors. 
If you are in Jeddah to explore the city and enjoy its spectacular Red Sea sceneries; Al-Hamra'a and Al-Ruwais districts are the best options for you with many boutique and luxury hotels. If you are in Saudi Arabia for hajj, Mada'un Al-Fahd and Al Amir Fawwaz Al Junoobi districts offer many affordable hotels that are one hour drive away from Mecca.
What to Eat in Jeddah?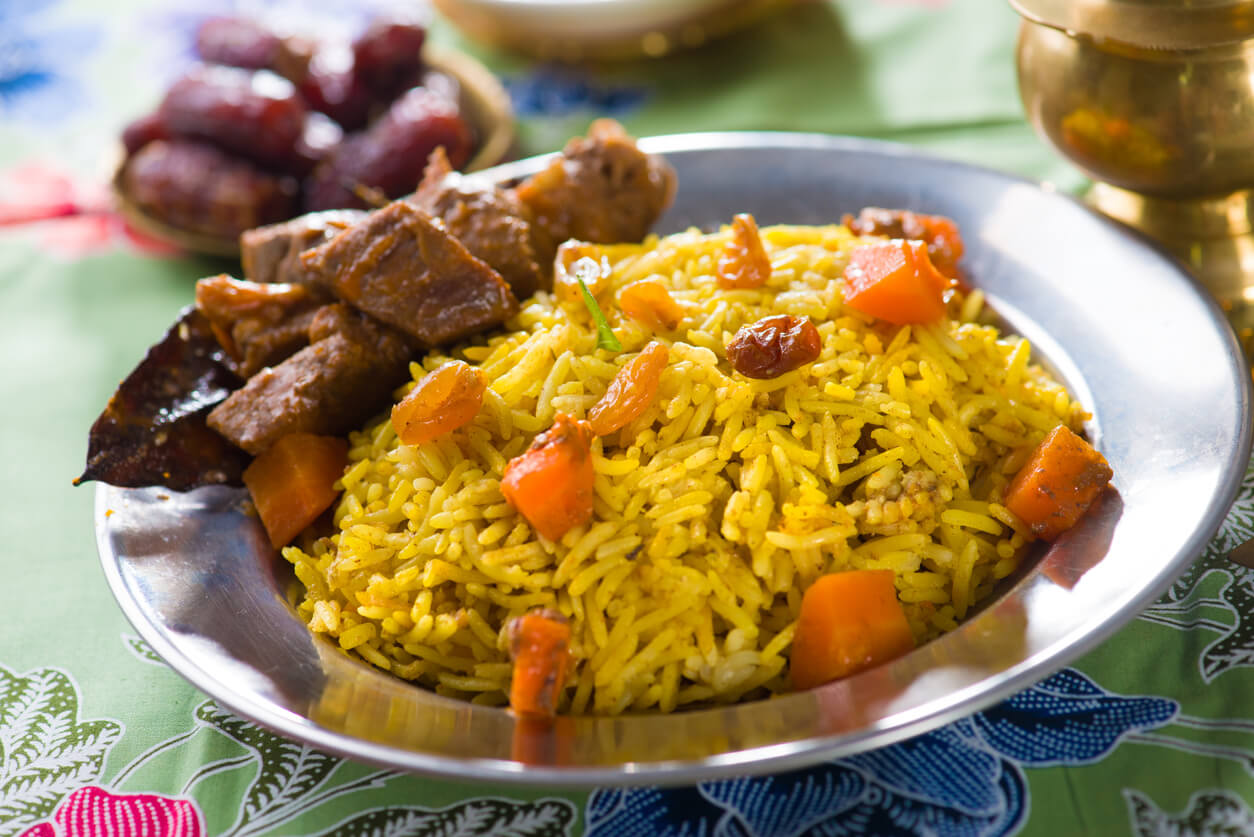 Jeddah is a coastal city and its recipes traditionally differ from conventional Arabian cuisine as the city is famous for its seafood. However, Jeddah is a huge city and there are many traditional Arabic restaurants as well. In addition to that, Jeddah is a cosmopolitan city so it is possible to find top-notch world kitchen restaurants.  
Seafood: Al Nakheel, Blue Ocean

Kabsa, Matazeez, Jarish, Maamoul: Al Baik, Abu Zaid, Al Tazaj

Italian: Piatto

Japanese: Sakura

Lebanese: BYBLOS

Turkish: Khayal Restaurant
Shopping in Jeddah: Best Souvenirs to Buy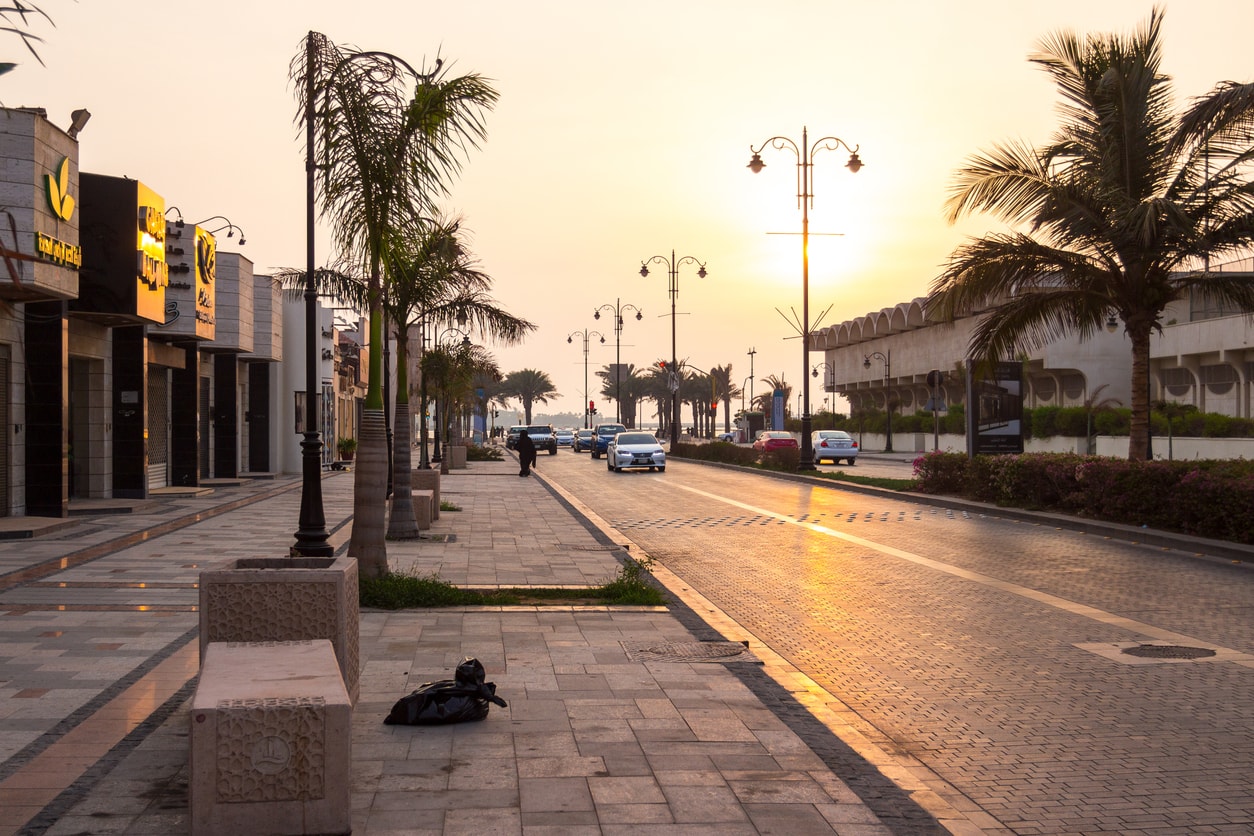 Many souvenir shops are scattered in the different parts of Jeddah. You can buy khanjars, perfumes, golden or silver calligraphy jewelry, leather shoes, abayas, and amber beads to your loved ones from traditional souks, especially from the ones that are located around Ahmet Al Attas Street. Jeddah International Shopping Center is the most popular modern shopping mall in the city both for locals and tourists.
Nightlife in Jeddah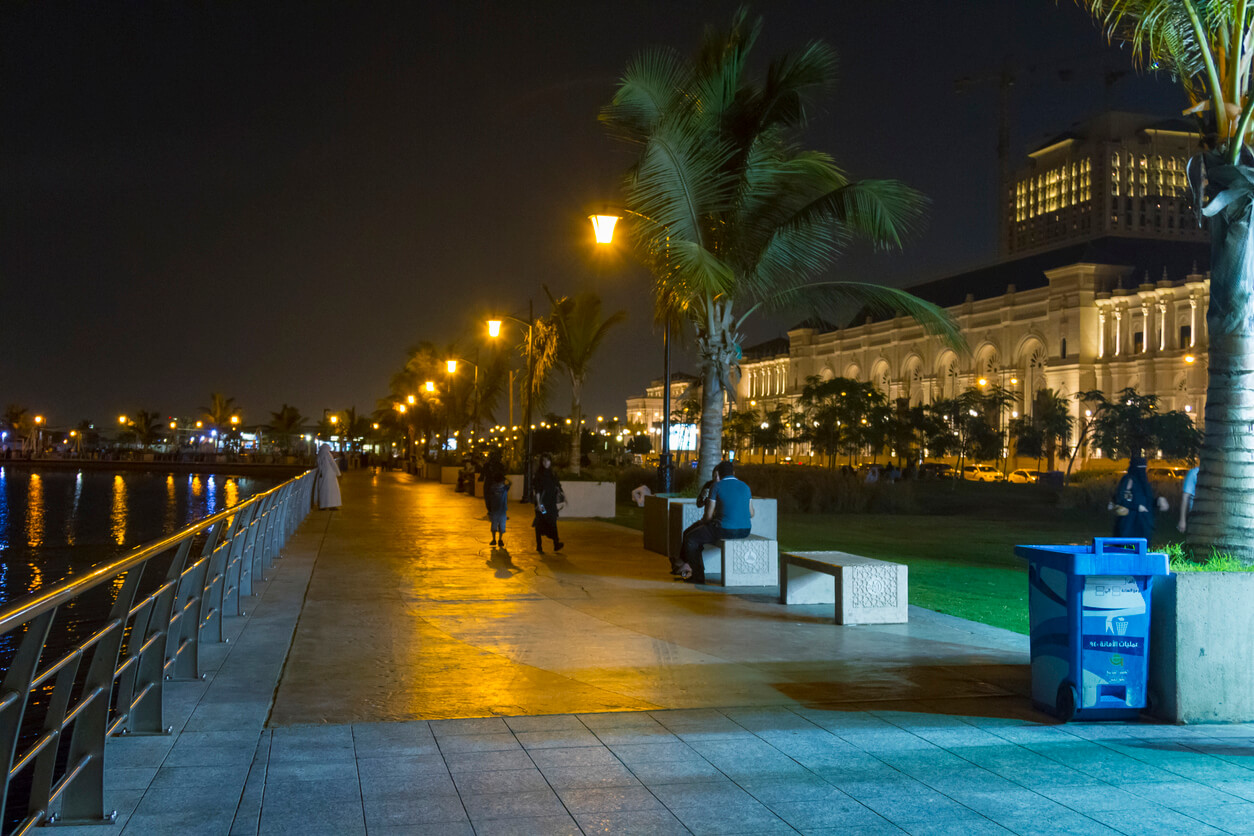 Jeddah does not have an active nightlife. Nightlife is limited to many coffee shops and restaurants that are open until midnight.
Things to Know Before Visiting Jeddah
It is common to bargain in Jeddah since vendors usually raise the prices of their goods to tourists. 

It is important to cover your skin with light, breathable fabric. Sun is always up there! 

It is not recommended to display affection with your partner in public.

Women are expected to wear clothes that cover their shoulders and knees. 

Credit and debit cards are commonly accepted.
Essential Numbers
Country Code: +966
City Code: 012
King Abdulaziz International Airport: +49 40 50750
Police: 999
Ambulance: 997