Baghdad is the capital and the largest city of Iraq with a population of almost 12 million, located in the central part of the country. Baghdad has always been an important city starting from the prehistoric times to modern era Iraq. Now, the city is being rebuilt after the 2003 Invasion of Iraq, putting it back on the track to become a unique destination to be visited in the Middle East again.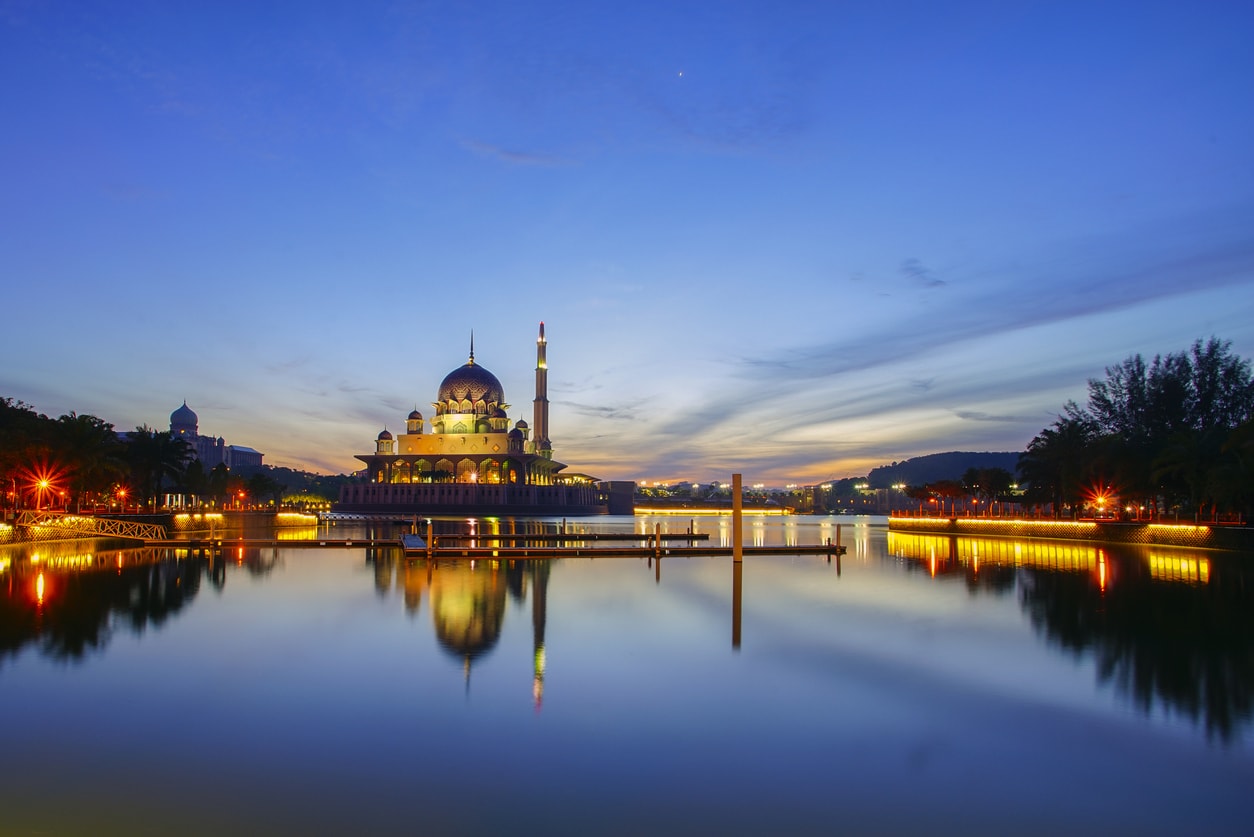 General Information
| | |
| --- | --- |
| Country: | Iraq |
| Region: | Central Iraq |
| Area: | 204.2 km2 |
| Language: | Arabic and Kurdish |
| Average temperature: | 22.6 °C |
| Climate: | Desert Climate |
| Vegetation: | Steppe |
| The difference between GMT: | GMT+3 |
| Telephone Code: | +964 |
| Currency: | Iraqi Dinar |
| Socket Type: | Type F |

How to Get to Baghdad?
Baghdad is a growing tourism destination of the Middle East with amazing cultural and historical attractions. Pegasus Airlines offers direct flights to Baghdad from İstanbul, making your trip to Baghdad from Europe very practical with numerous flights to Istanbul.
The flight duration to Baghdad from İstanbul is 3 hours. You can buy your direct flight tickets to Baghdad from İstanbul from here.
Transportation from Baghdad International Airport to City Center
Baghdad International Airport is located 22 kilometers away from the city center. You can get to the city center with public bus, taxi and car. Public buses are available to the different parts of the city. Tickets may be purchased from kiosks at the airport.
There are also many taxis available in the airport 24/7. The trip to the city center from airport approximately costs 55.000 Dinars. You can also enjoy the city with a rental car. Pegasus Airlines car rental service has great offers for you in here.
Public Transport in Baghdad
You can use taxis to get around in the city.
The city does not have a reliable public bus or train system and taxis are the main means of transportation for visitors in Baghdad with relatively low fares.
Best Time to Visit Baghdad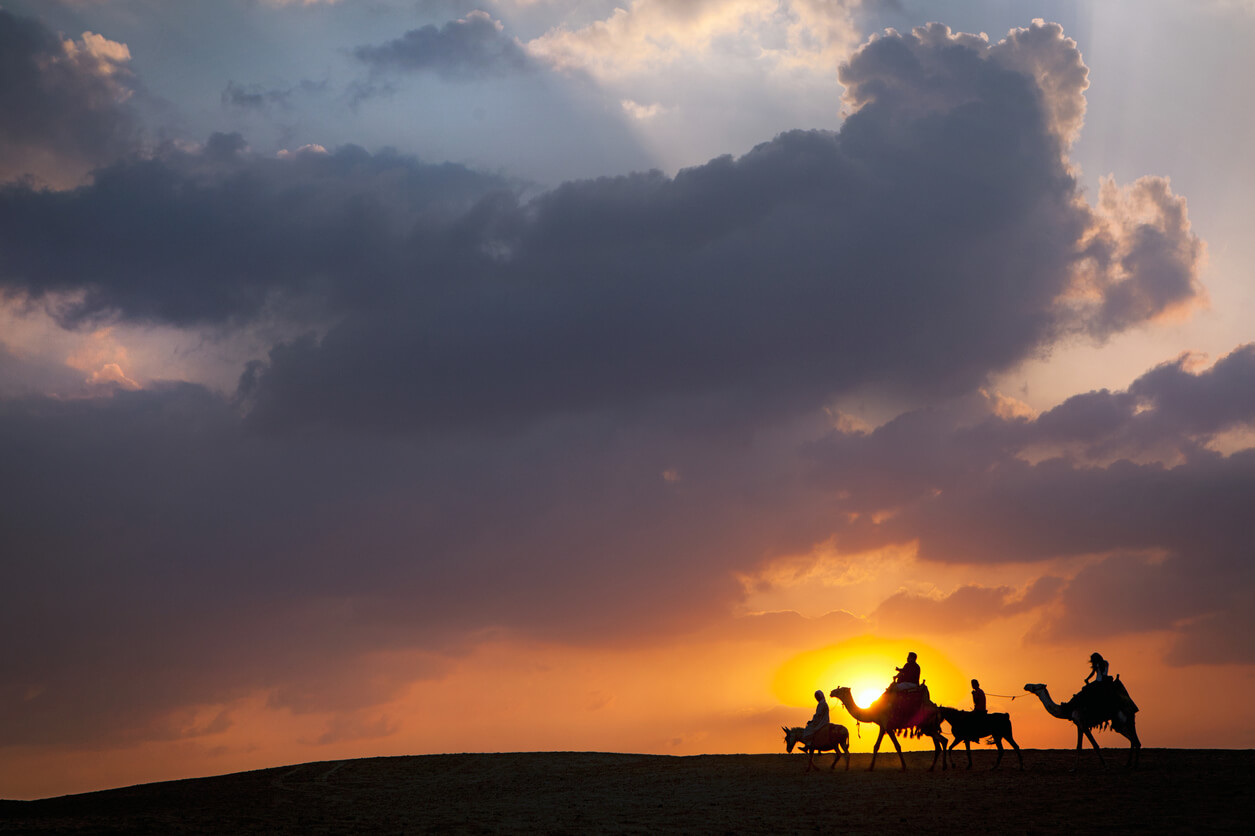 Baghdad has a desert climate with very hot and dry summers. Winters are warm with a very low chance of rain. The hottest month in the city is July and the coldest month is January. We suggest you to visit Baghdad during early spring or late autumn since the weather is rather pleasant and more welcoming during those months. It is recommended for you to enjoy Baghdad at least two to three days to discover the city.
Festivals in Baghdad
Baghdad International Film Festival (September)

Baghdad International Flower Festival (April)
Places to Visit in Baghdad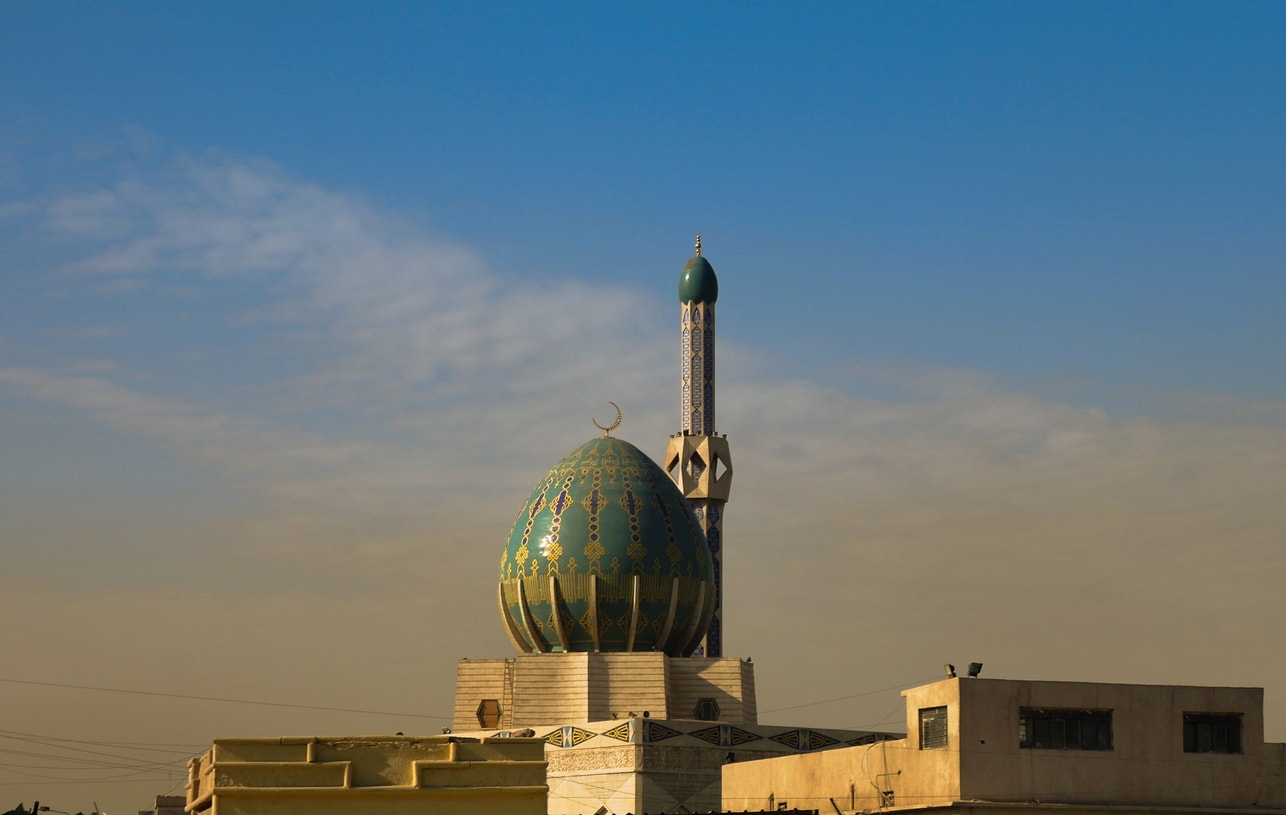 Baghdad is a fascinating city with its unique location in the heart of the Mesopotamia. The city has always been a significant cultural, commercial and political center of the Islamic World. Today, Baghdad does not welcome many tourists as it was used to but the city on its way to becoming a significant tourism destination again.
Al-Shaheed Monument (Martyr Monument)
Al-Shaheed Monument which also known as the Martyr Monument was built as a memorial for the soldiers who lost their lives during the Iran-Iraq War which lasted almost 8 years. Al-Shaheed Monument is located Almuhandseen district which is 15 minutes walking distance away from the city center. It was designed by Ismail Fatah al Turk and Saman Kamal. The monument was completed in 1983. Al-Shaheed Monument is 40 meters long and painted with an iconic turquoise color.  
Baghdadi Museum
Baghdadi Museum offers an insightful glance to history of age-old residents of the city. The museum is located on the banks of the Tigris River and walking distance away from the city center. Baghdadi Museum is famous for its wax statues and has an entrance fee of 2500 Iraqi Dinars.
The National Museum of Iraq
The National Museum of Iraq used to has the world's best collection of ancient Sumerian, Babylonian and Assyrian artifacts. During the Iraq War in 2003, some of the museum's most precious artifacts went missing. After a great collaboration of several countries to find these artifacts, The National Museum of Iraq was reopened in 2015. Today, the museum exhibits a wide array of artifacts from Ancient Sumerians to Islamic Era.  The National Museum of Iraq is located in the city center.
Hatra Ruins
Hatra Ruins was built around 300 BC as fortified caravan city and has many monuments that still are in outstanding condition. The ancient city is on the UNESCO World Heritage List and 290 kilometers away from the city center.
Abu Hanifa Mosque
Abu Hanifa Mosque is one of the largest mosques in Baghdad. The mosque was built around the tomb of Abu Hanifa an-Nu'man who is the founder of Hanafi School.
Where to Stay in Baghdad?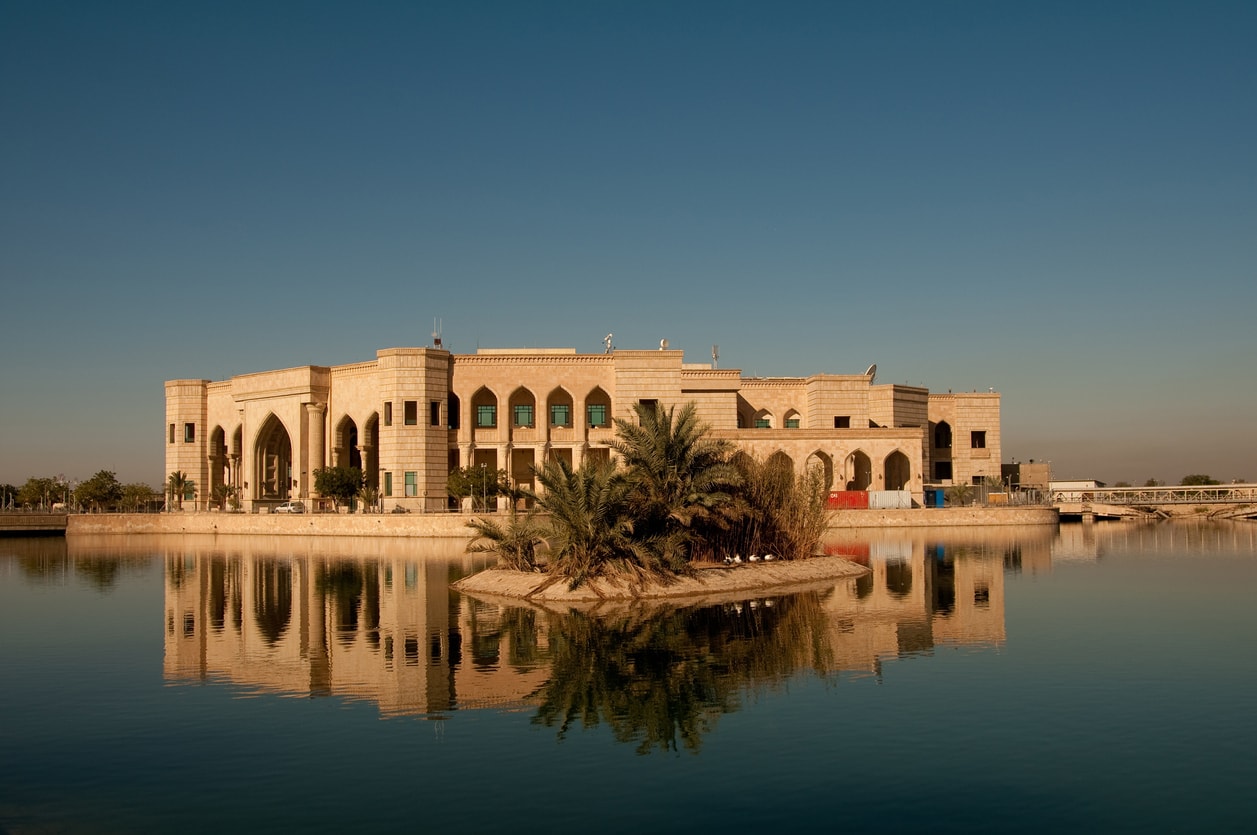 Baghdad does not offer a variety of accommodation options to its visitors. The city has few, but luxurious hotels such as the Babylon Rotana. Most of the hotels are located around the Green Zone, near the Tigris River. 
What to Eat in Baghdad?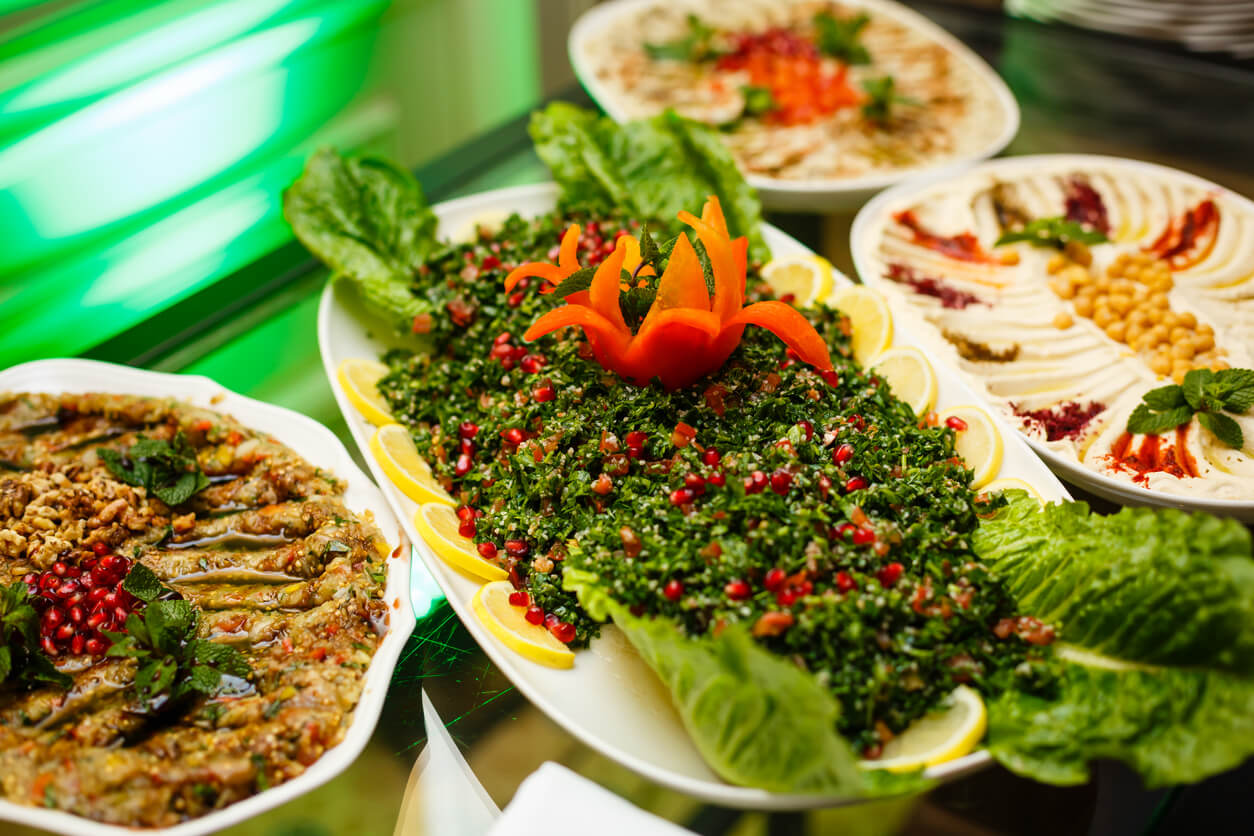 Baghdad has a refined and rich cuisine with recipes mostly consisting of vegetable, meat, spice and citrus. Visitors can find many local and international restaurants in the city center. 
Here are the must-try food and where to eat them in Baghdad:
Traditional Iraqi Recipes: Saj Al-Reef, Samad Restoran

World Cuisines: Mazaya 

Traditional Meat Recipes: Al-Areesha

Breakfast, Fast Food: Dojo's

Traditional Desserts: Alfaqma
Shopping in Baghdad: Best Souvenirs to Buy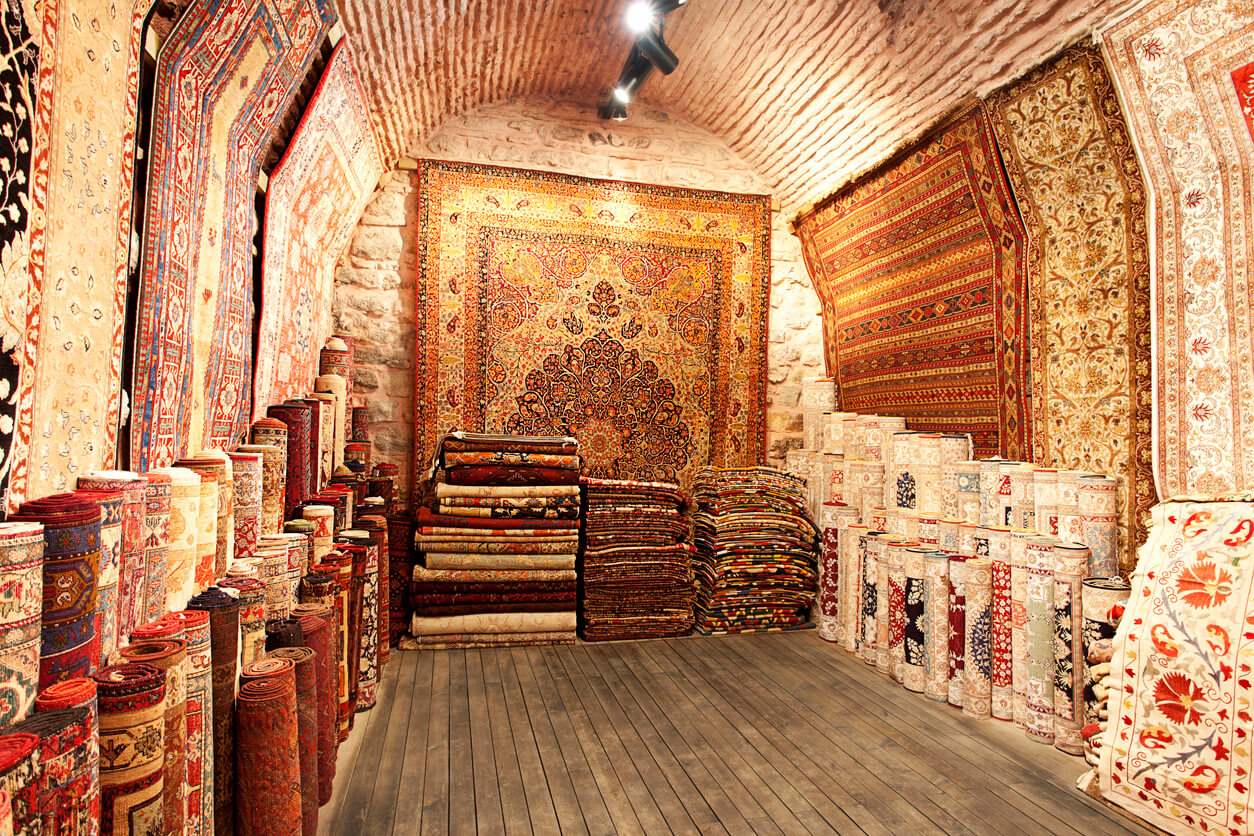 Most of the stores are located in the safe "Green Zone" in Baghdad. You can buy spices, traditional clothing, handmade rugs and jewelry, and ornaments for your loved ones from the city. Muntanser Street, Rashid Street, Folklore Center and Clothiers Square are must-go places to shop authentic Baghdad souvenirs. 
Nightlife in Baghdad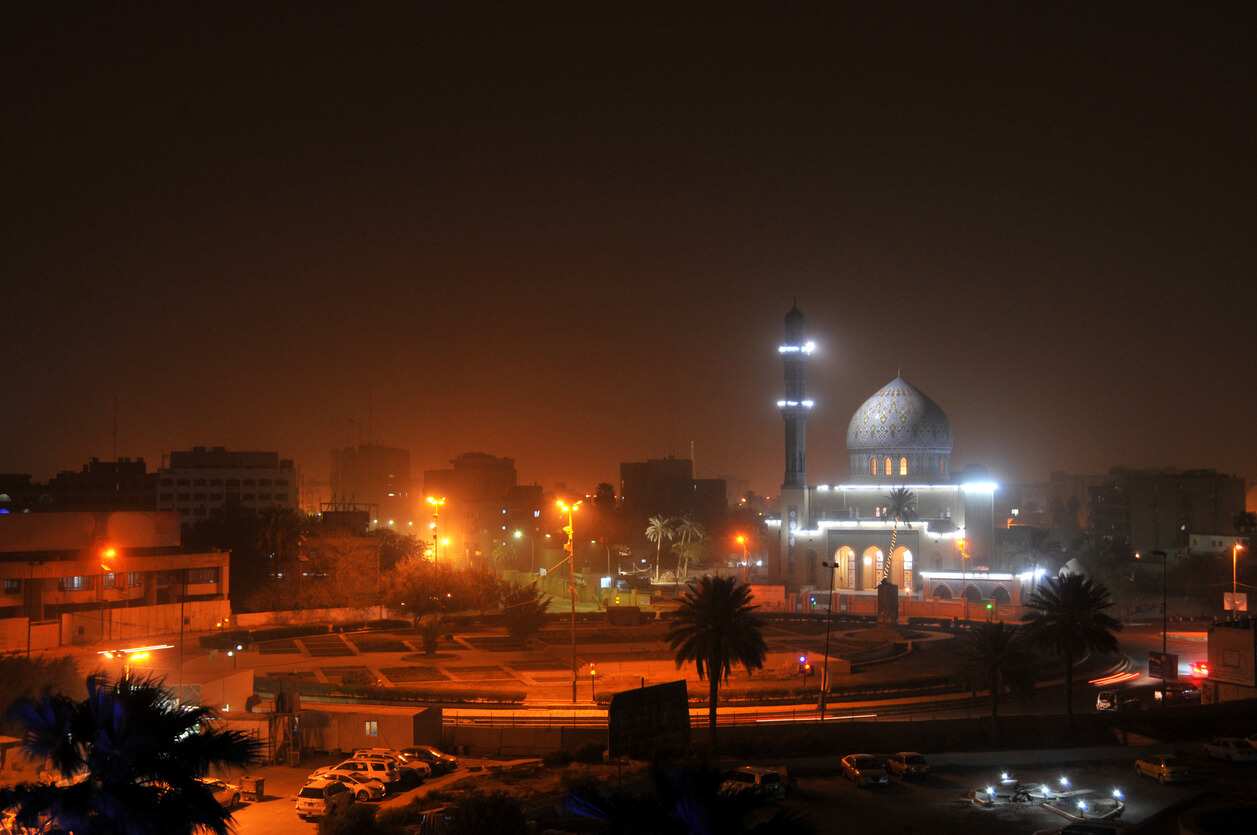 Baghdad does not have an active nightlife compared to many touristic cities. Entertainment for nighttime is mainly limited to some hotel lounges.
Things to Know Before Visiting Baghdad
Baghdad is a recovering war-weary city. It is recommended for you to stay in Green Zone area which is the safest place in the city. 

It is important to cover your skin with breathable fabric and apply sunscreen, as the tends to get very hot and sunny especially in the summer season. For the same reason, it is advised to keep a couple of bottled water in your daily bag to stay hydrated.

There are not many exchange vendors and banks around the city. It would be best for you to exchange some of your currency to Iraqi Dinar at the airport.

US Dollars are commonly accepted.

Most of the local shops accept payment only in cash.
Essential Numbers
Country Code: +964
City Code: 1
Baghdad International Airport: + 964 0790 140 3537
Police: 104
Ambulance: 122