Denizli is one of the most significant cities of southwestern Türkiye with a population of more than half of a million. Denizli is a leading industrial city of its region, especially on textile production. Historically, Denizli has always been an important cultural and economic center whether under the rule of Greeks or Turks. Now, the city attracts a growing number of tourists every year thanks to its historical landmarks, cultural heritage, and natural wonders.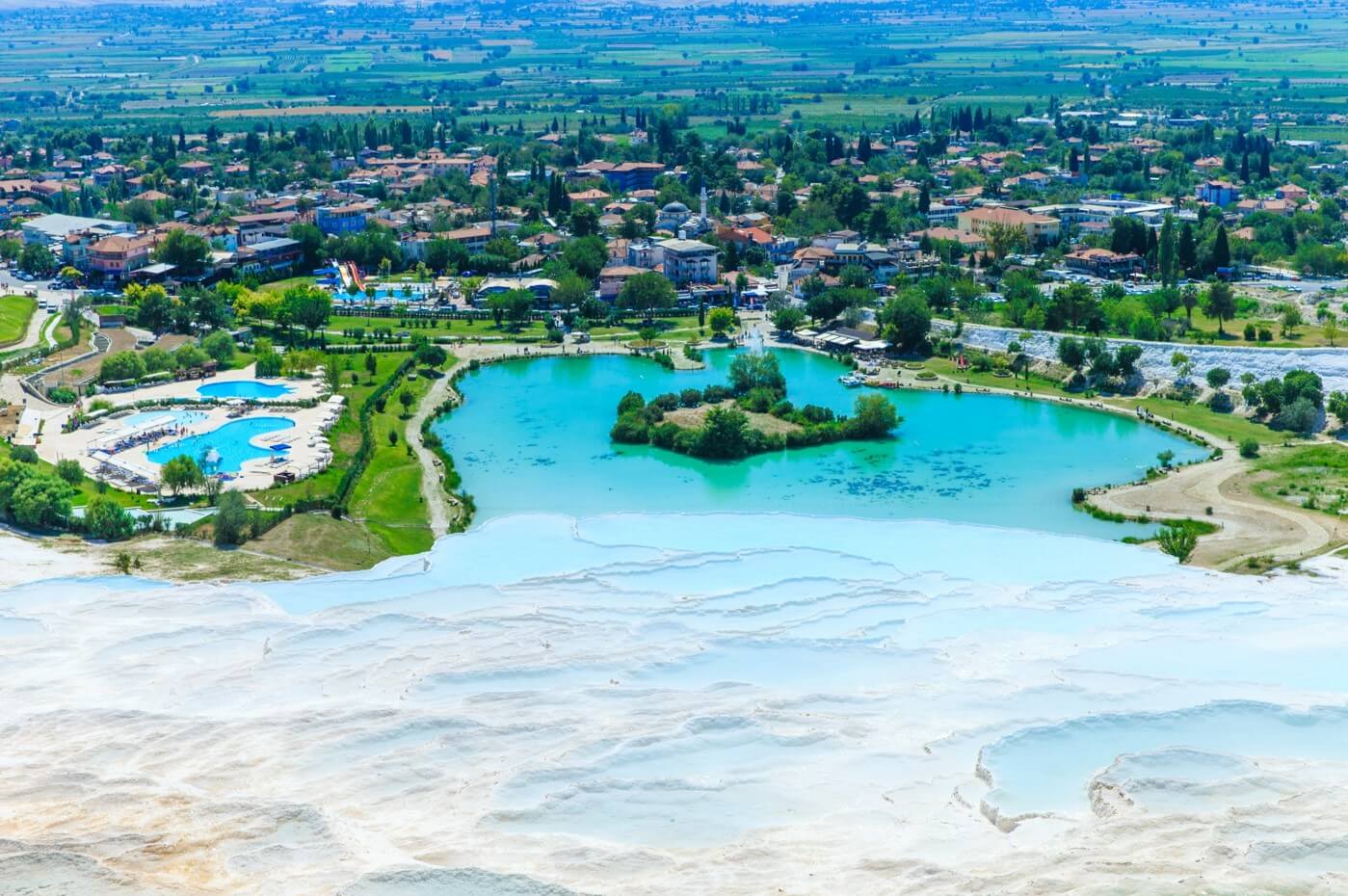 General Information About Denizli
fcdn
| | |
| --- | --- |
| Country: | Türkiye |
| Region: | Southwestern Türkiye |
| Area: | 12.321 km2 |
| Language: | Turkish |
| Average temperature: | 16.1 °C |
| Climate: | Mediterranean and Continental |
| Vegetation: | Heath and Steppe |
| The difference between GMT: | GMT+3 |
| Telephone Code: | +258 |
| Currency: | Turkish Lira |
| Socket Type: | Type C |

How to Get to Denizli?
Denizli is a growing tourism destination with its unique natural wonders and Pegasus Airlines offers direct flights to Denizli from İstanbul. The flight duration to Denizli from İstanbul is 1 hour and 10 minutes. You can buy your direct flight tickets to Denizli from İstanbul from here.
Transportation from Denizli Cardak Airport to City Center
Denizli Çardak Airport is located 65 kilometers away from the city center. You can get to the city center with direct bus, taxi, and car.
Direct buses are available for every arrival and the trip to the city center approximately takes 110 minutes. There are also many taxis available in the airport 24/7. You can also enjoy the city with a rental car. Pegasus Airlines car rental service has great offers for you in here.
Public Transport in Denizli
You can use public buses, small buses, and taxis to get around in the city. In order to use public buses, you need to buy a rechargeable "Denizli Kart" which is available in most kiosks and stops around the city center. You can check their timetables and routes from here. The site is only available in Turkish.
Small buses cover many routes around Denizli and they all have a stop in the city center. They do not have fixed stops on the route, pick-up and drop-off is made on demand and fare is paid in cash. 
You can also use taxis to get around in the city. 
Best Time to Visit Denizli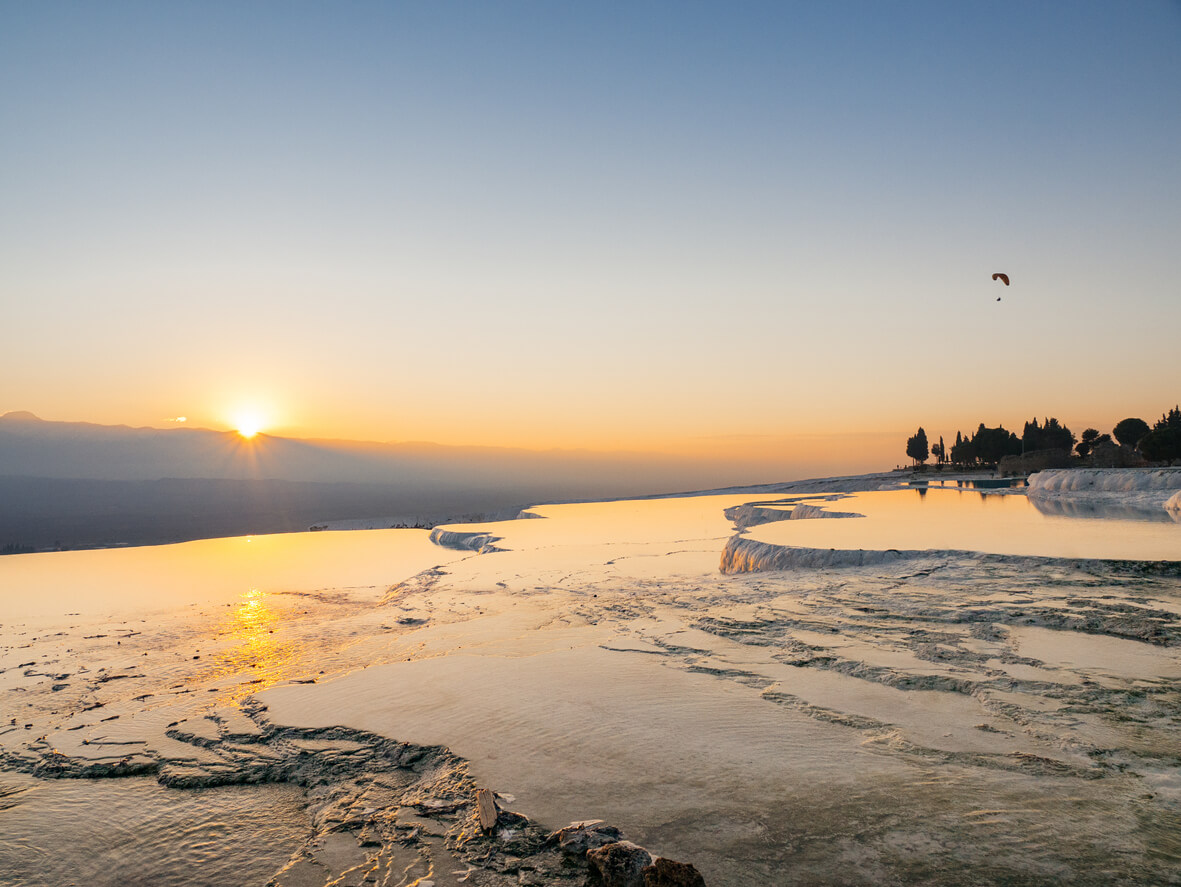 The western part of Denizli has a Mediterranean climate with hot and dry summers with mild and rainy winters. Eastern part of the city has a humid continental climate with cold and rainy winters and hot summers. The hottest month is July and the coldest month is January. We suggest you to visit Denizli during late spring or early autumn since the weather is more pleasant with a lesser chance of rain. It is recommended for you to enjoy Denizli for two or three days.
Festivals in Denizli
Buldan Traditional Rugs Handicrafts and Culture Festival (June) 

Çivril Bicycle Festival (June)

Acıpayam Nomad Festival (July)

Serinhisar Chickpea Knife and Culture Festival (July)

Buldan Nomad Turkoman Festival (August)
Places to Visit in Denizli
Denizli is a unique city with unique attractions. The city attracts more than two million international tourists thanks to its well-preserved natural and historical attractions such as the Travertines of Pamukkale or Hierapolis Ancient City.
Travertines of Pamukkale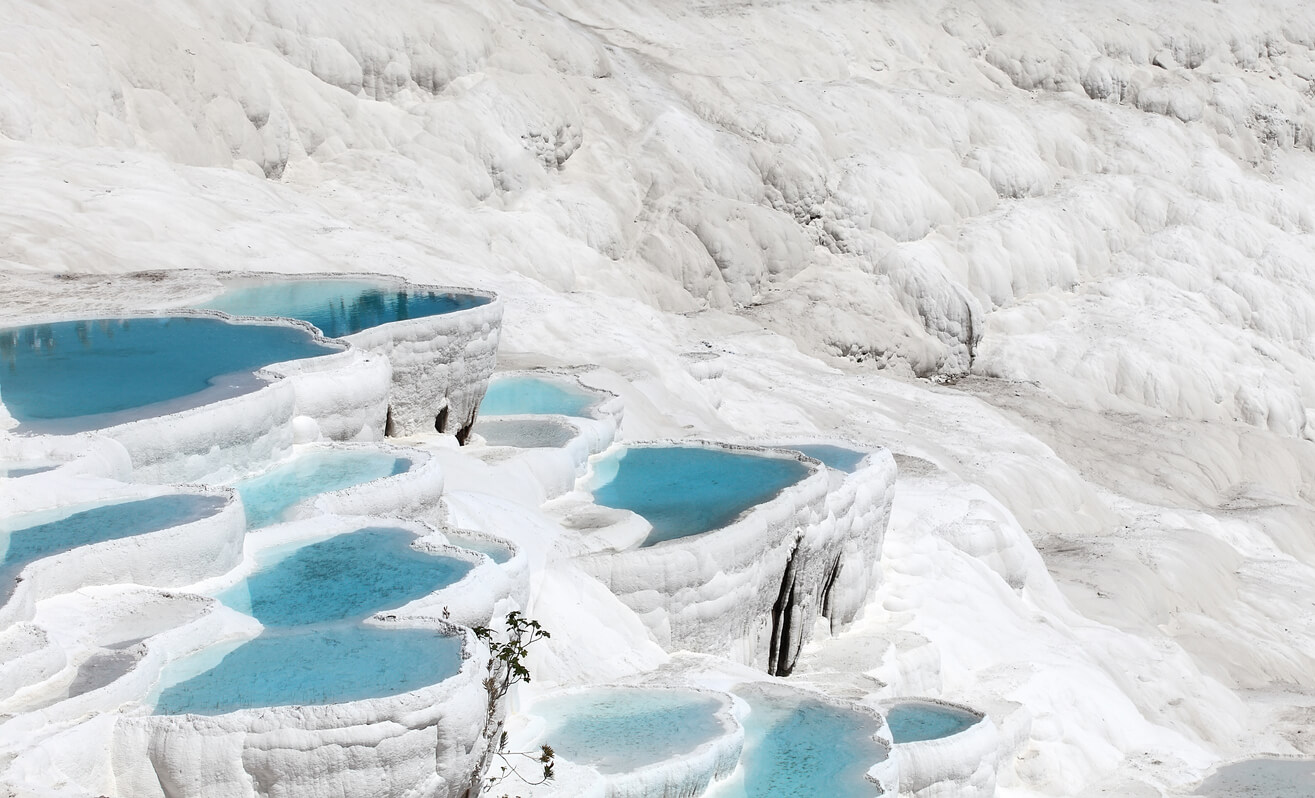 Travertines of Pamukkale are the iconic symbol of the city and visited by millions of tourists every year thanks to its one of a kind thermal waters, unique water, and multifaceted slopes. Travertines of Pamukkale are a sight to see with its dreamy atmosphere. Pamukkale, which literally means "Cotton Castle", is located 52 kilometers away from the city center.
Hierapolis Ancient City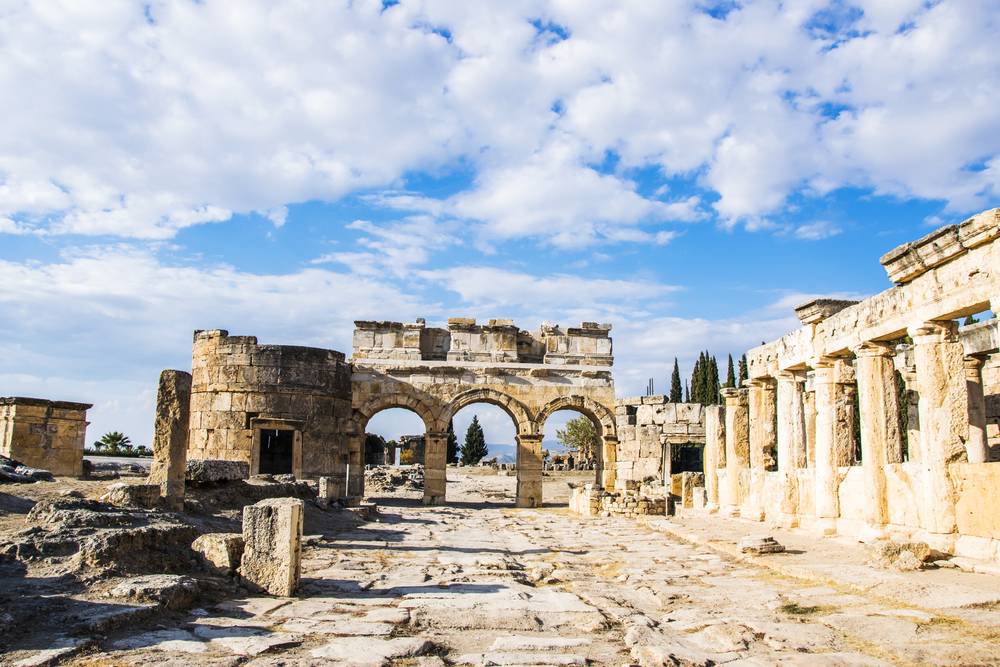 Hierapolis Ancient City was founded on hot springs in the 2nd century BC. The ancient city is located next to the Travertines of Pamukkale and is one of the most well-preserved ancient cities in its region, especially its iconic theatre.
Cleopatra Pools
Cleopatra Pools is the authentic attraction of Denizli where you can bath in thermal waters that are surrounded with ancient ruins both above and underwater. Cleopatra Pools are located walking distance away from the Travertines of Pamukkale.
Denizli City Park
Denizli City Park is the largest natural park in the city and located 10 kilometers south from the city center. There are many old trees, fountains, and recreational areas in the park.
Laodikeia Ancient City
Laodikeia Ancient City was founded in the 3rd century BC and is home to numerous ancient theatres, stadiums, gymnasiums, temples, and churches. The ruins are not as well as preserved like Hierapolis and yet Laodikeia still unique spectacular sceneries. Laodikeia Ancient City attracts thousands of international tourists every year and is located 9 kilometers away from the city center.
Where to Stay in Denizli?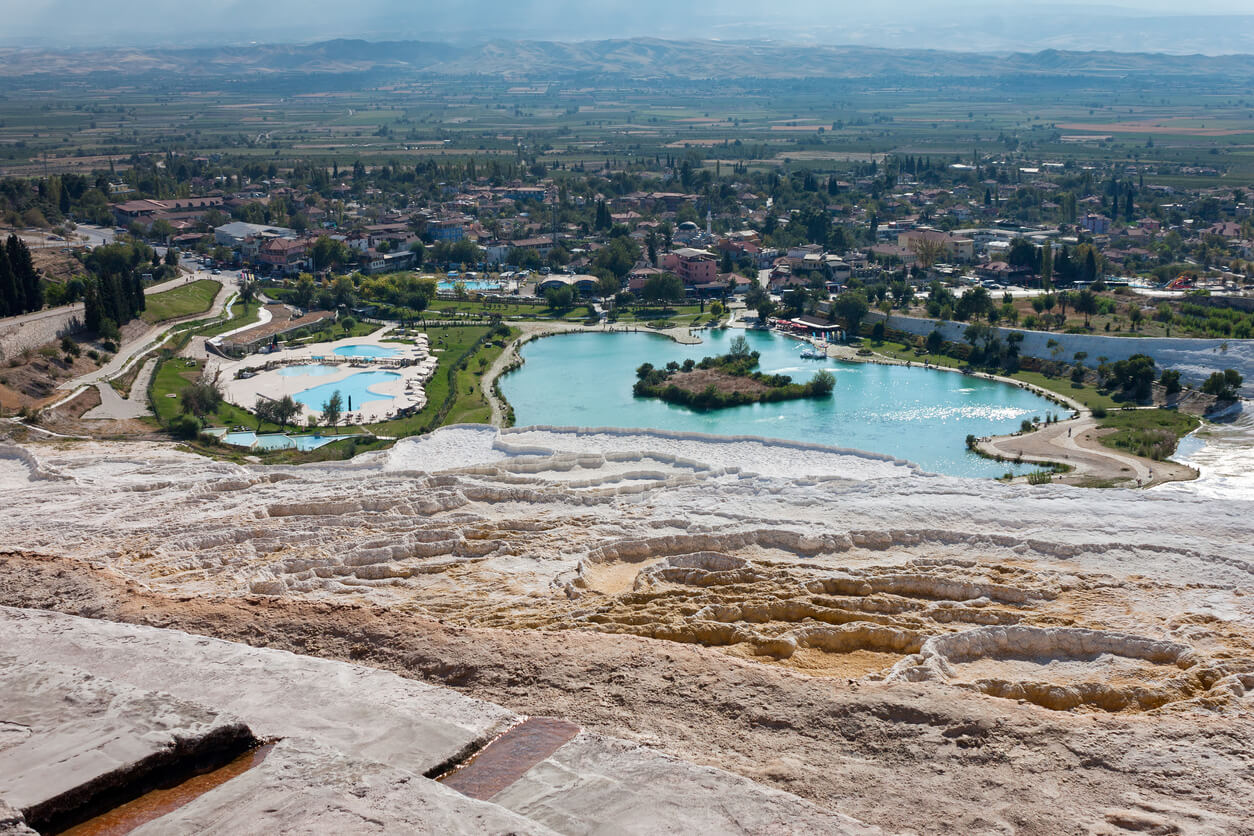 Denizli is a popular tourism destination among both international tourists and the city offers a variety of accommodation options to its visitors. 
There are many good hotels around Intercity Bus Terminal and Halk Street in the city center. In these hotels, you will be staying in the heart of the city and walking distance away from many traditional bazaars in the city. If you are in Denizli to enjoy Pamukkale district or its therapeutic thermal waters, you can stay in variously priced hotels located in Pamukkale and Karahayit neighborhood. There are many great boutique and luxury hotels in the districts.
What to Eat in Denizli?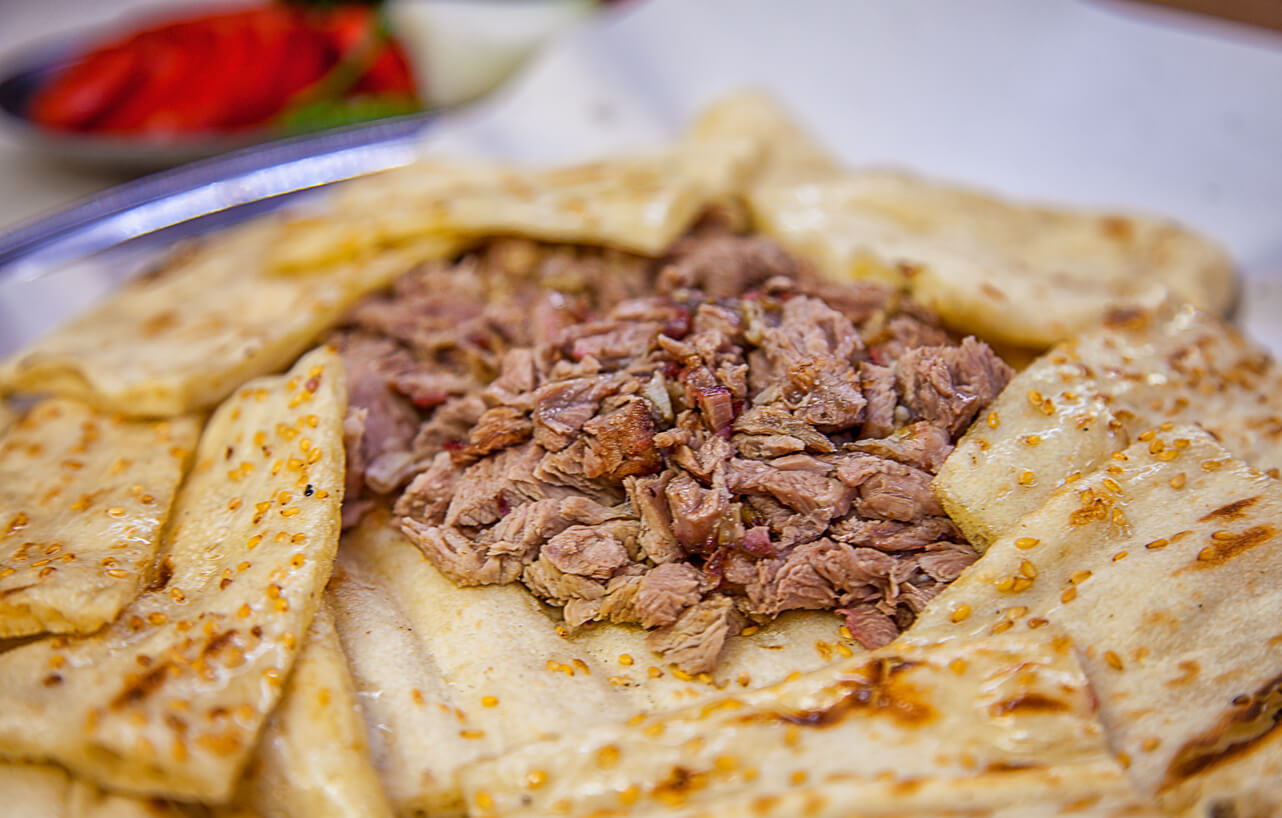 Mediterranean and Central Anatolia cuisines fused into an authentic yet varied kitchen in Denizli. The city is famous for its special meat, grain, and dairy recipes. There are many good local restaurants that serve traditional Turkish recipes in the city. 
Traditional Meat Recipes: Bağlı Kokoreç, Kocabaylar Kebap Salonu, Meşhur Denizli Kebapçısı, Garson Şükrü Aile Restaurant

Traditional Turkish Recipes: Saki Restaurant, Gazezoğlu Pide, Lokanta Pamir

Seafood: Değirmende Canlı Alabalık
Shopping in Denizli: Best Souvenirs to Buy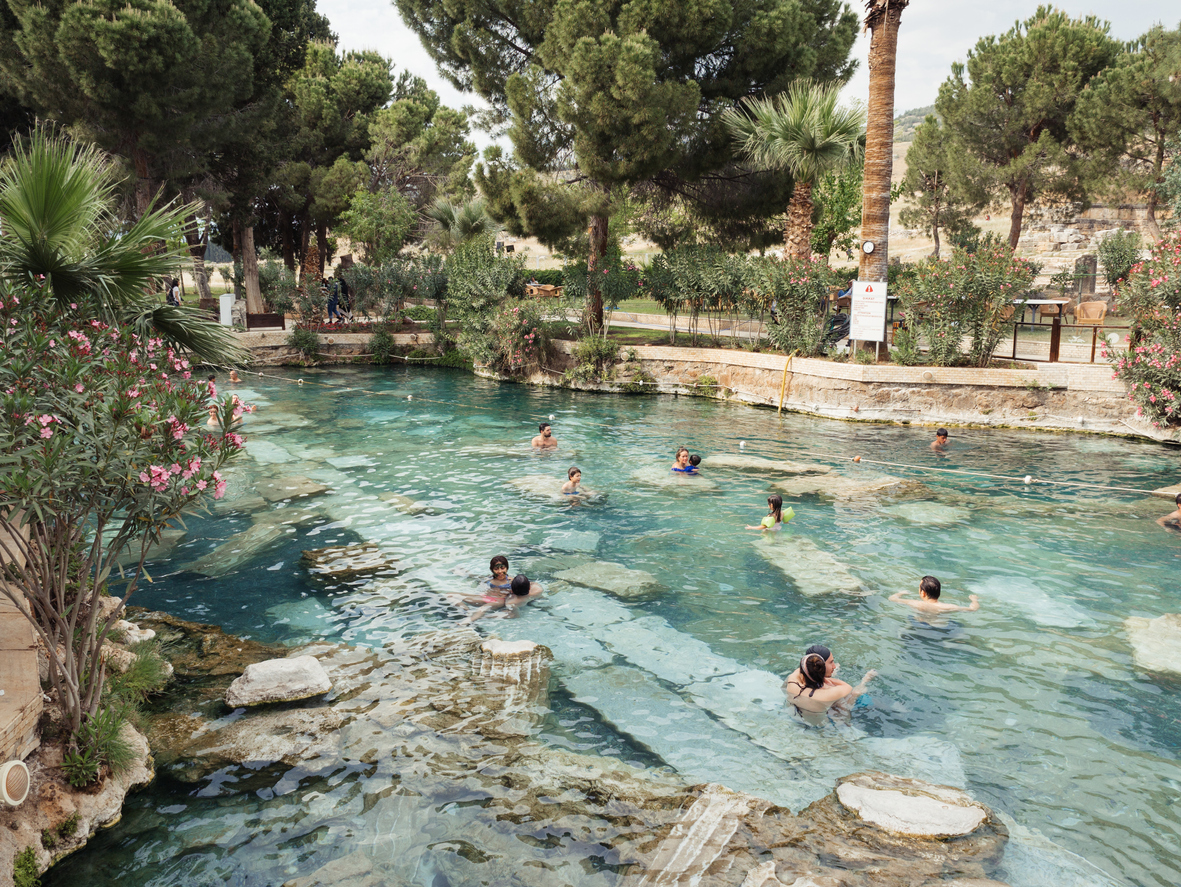 Denizli is a city of textile and you can buy world-class textile souvenirs such as hand-made scarfs, rugs, knitted decorations, and towels from the city. You should also look for special knives, leather shoes, clay pots and roasted chickpeas in the city. You can find many local vendors that sell these authentic Denizli souvenirs near Pamukkale district and around Saltak street in the city center. 
Nightlife in Denizli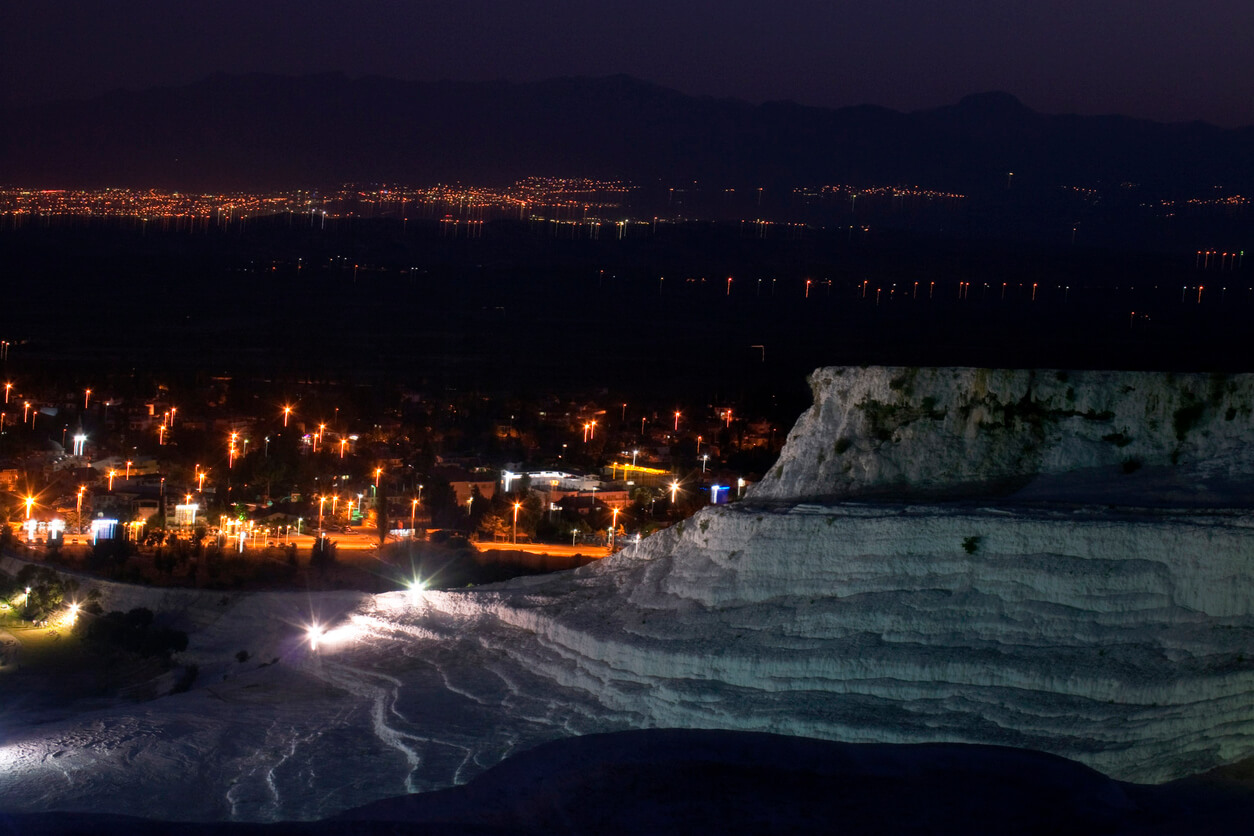 Denizli does not offer a variety of nightlife options to its visitors and its nightlife is limited to few venues. "Woops Café&Bar" in "789. Sokak" is one of the few places that is open after midnight in the city center. In Pamukkale district, you can find more good venues such as "Uğur Restoran Bar" and "Marina CLUP".
Things to Know Before Visiting Denizli
Pamukkale is a very popular attraction and sometimes it gets hard to find suitable hotels. It is best to book early.

There are many currency exchange vendors and ATMs around the city.

Credit and debit cards are commonly accepted.
Essential Numbers
City Code: 0 258
Denizli Çardak Airport: (0258) 846 11 39
Airport to City Center Transfer Bus: 444 28 07