Istanbul, as the heart of the Republic of Türkiye, has always been in a crucial place throughout the entire history. During the history Istanbul has been the capital of great empires, such as the Byzantines Empire and the Ottoman Empire.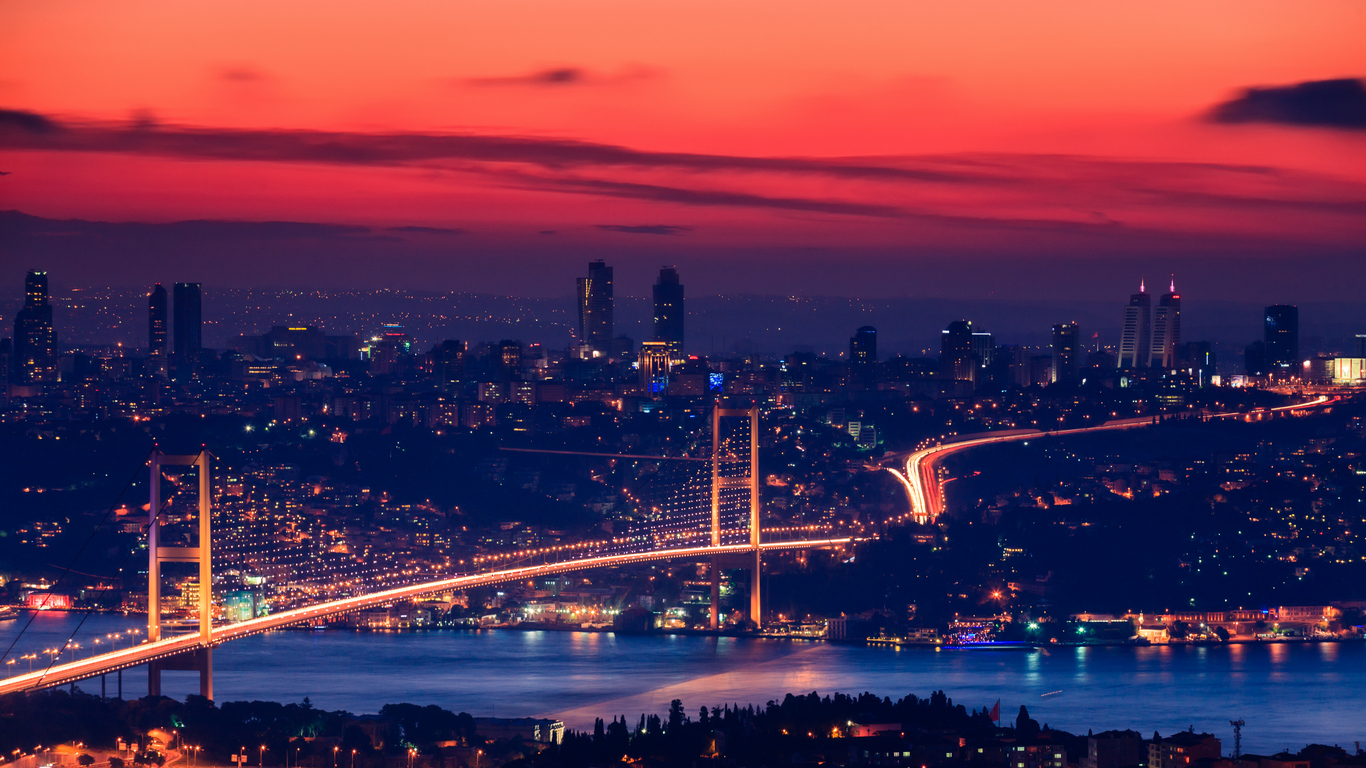 Istanbul has always been in the middle of commercial, political, touristic, and entertaining activities. As Napoleon Bonaparte said, "If the Earth were a single state, Constantinople would be its capital." Either you are an explorer who is eager to experience the historical fabric of the cities or a person who is more likely interested in local life and look for an intercultural communication option, you can literally find everything you want to have in Istanbul.
General Information
| | |
| --- | --- |
| Country | Türkiye |
| Region | Marmara |
| Area | 5,461 km2 |
| Language | Turkish |
| Average Temperature | 13.5 C |
| Climate | Mild |
| Flora | Maquis |
| GMT Difference | +3 |
| Phone Code | 0 (212) – 0 (216) |
| Currency | Turkish Lira |
| Plug Type | C |

How to Get to Istanbul?
You can go to Istanbul by train, bus, ferry, or plane. In Istanbul there are more than 5 coach stations and 3 international airports. While it is available to go to Istanbul domestically by buses, ferries, planes, and trains, you can go to Istanbul from abroad by bus, train, and plane. For civil flights, New Istanbul Airport on the European Side and Sabiha Gökçen Airport on the Anatolian Side are used. There are direct flights from these centers to many destinations in the world. For civil flights, New Istanbul Airport on the European Side and Sabiha Gökçen Airport on the Anatolian Side are used. There are direct flights from these centers to many destinations in the world.
You can find flight to Istanbul from here.
In Istanbul there are 2 active international airports, which are Sabiha Gokcen International Airport and Istanbul International Airport. 
From Sabiha Gokcen International Airport, you can go to central districts, such as Kadikoy, or public transport via shuttle services, cabs, or renting a car.
Transportation from Istanbul Airports to City Center
Istanbul Airport has been opened recently, in 2018. From there, you can go to central districts by cabs, shuttles, or renting a car. Havaist, IETT and Istanbul Travel offers services for passengers arriving to Istanbul Airport by public transport. Havaist provides luxury transportation services with luggage on 11 different lines and 34 intermediate stops. Providing city integration from Istanbul Airport 7 days 24 hours, Havaist provides services on the following lines.
Transport from Sabiha Gokcen International Airport to the City Center
The airport is accessed by car, public transport, taxi or shuttles. There are multiple public transport options including the metro and public bus that operate between various destinations. The timetables and bus routes can be reached online.
Metro
İstanbul Sabiha Gökçen Airport metro, which was opened on 2 October 2022, is one of the most convenient ways to reach the İstanbul Sabiha Gökçen Airport. This metro line is a part of the Kadıköy-Tavşantepe metro line, which was extended to the airport with four more stops.
The passengers can reach İstanbul Sabiha Gökçen Airport metro line from the central metro connection points such as Kadıköy and Taksim.
Passengers from Kadıköy can take the Kadıköy-Tavşantepe metro line from the first stop.
Passengers from the European side can take the metrobus line and transfer to Kadıköy-Tavşantepe at Ünalan.
The other option for transfer for the passengers from the European side is to take the Marmaray line and transfer to Kadıköy-Tavşantepe from the Ayrılıkçeşmesi stop.
Additionally, there is a connection stop at Kurtköy from where the passengers can transfer to the Üsküdar-Çekmeköy metro line.
These connection stops make it easy to reach İstanbul Sabiha Gökçen Airport without spending much time in traffic.
Bus
Bus E-3 operates between Sabiha Gokcen Airport and 4th Levent. Number E-9 departs from Bostanci, E-10, E-11 and SG-1 connects Kadikoy to the Airport. You can get to Taksim by taking SG-2 line. It is also possible to get to the airport by using Kadikoy-Tavsantepe Metro line. You have to get off at Soganlik stop and take one of the 16-S or E-10 buses. Since the metro is extended from Kartal to Tavsantepe, you can also get to the airport by taking a taxi from Pendik stop at the metro.
Marmaray
If you are coming from the European side, you should take the Marmaray stop from the nearest place (Kazlicesme, Yenikapı, Sirkeci) to cross to Anatolian side and get off at the Ayrilik Cesmesi stop and follow the path described above.
Havabus shuttle operates from Sabiha Gokcen Airport to various points in Kadikoy and Taksim. They provide service from 03.30 am to 01.00 am. Havabus routes and departure times are available online.
Alternatively, you can book a taxi or consider car rental services offered by Pegasus Airlines for a faster solution.
Public Transport in Istanbul
In addition to minibuses and buses, sea vehicles, subway, metrobus, tram, finular are frequently used in the city. There are also aircraft and helicopter rentals in Istanbul. There is a highway connection from Istanbul to all parts of the country. The starting point of domestic transportation is the international bus station in Harem on the Anatolian side and Esenler on the European side.
It is possible to travel by rail systems along the major arteries of Istanbul with a total of 137 km of 5 metro, 4 trams and 2 finicular lines. Atatürk Airport, Bayrampaşa Bus Station, Taksim, historical peninsula are important regions that can be reached by rail systems.
Metrobus is a preferred bus system that runs along the E5 state road from Beylikdüzü on the European side to Söğütlüçeşme (Kadıköy) on the Anatolian side. The 24-hour metrobus is the most passenger-carrying line in Istanbul.
Although the rail network is widespread, it is not yet sufficient to reach many residential and business centers in Istanbul. It is not easy to walk the distance to the subway in this pedestrian-friendly city, built on hills, where cars are still a priority. Buses are probably the most common means of transportation that can take you to the nearest point where you want to go.
Bus operating hours and travel times vary. It is possible to enter the line number of the bus you want to use from İETT's home page and find the route and schedules.
Istanbul is a seaside city. Therefore, there are also maritime solutions especially for trips between two continents. Apart from the main lines, there are Bosphorus, Golden Horn, Princes' Islands and Bosphorus Tour lines. City line ferries usually work all day long and stop their flights after business hours.
Best Time to Visit Istanbul
Thousands of tourists visit Istanbul every day. Since there is less seasonal activity than cultural activities in Istanbul, you can visit Istanbul whenever you want throughout the year. However, if you want to enjoy the Bosporus, winters can be too windy.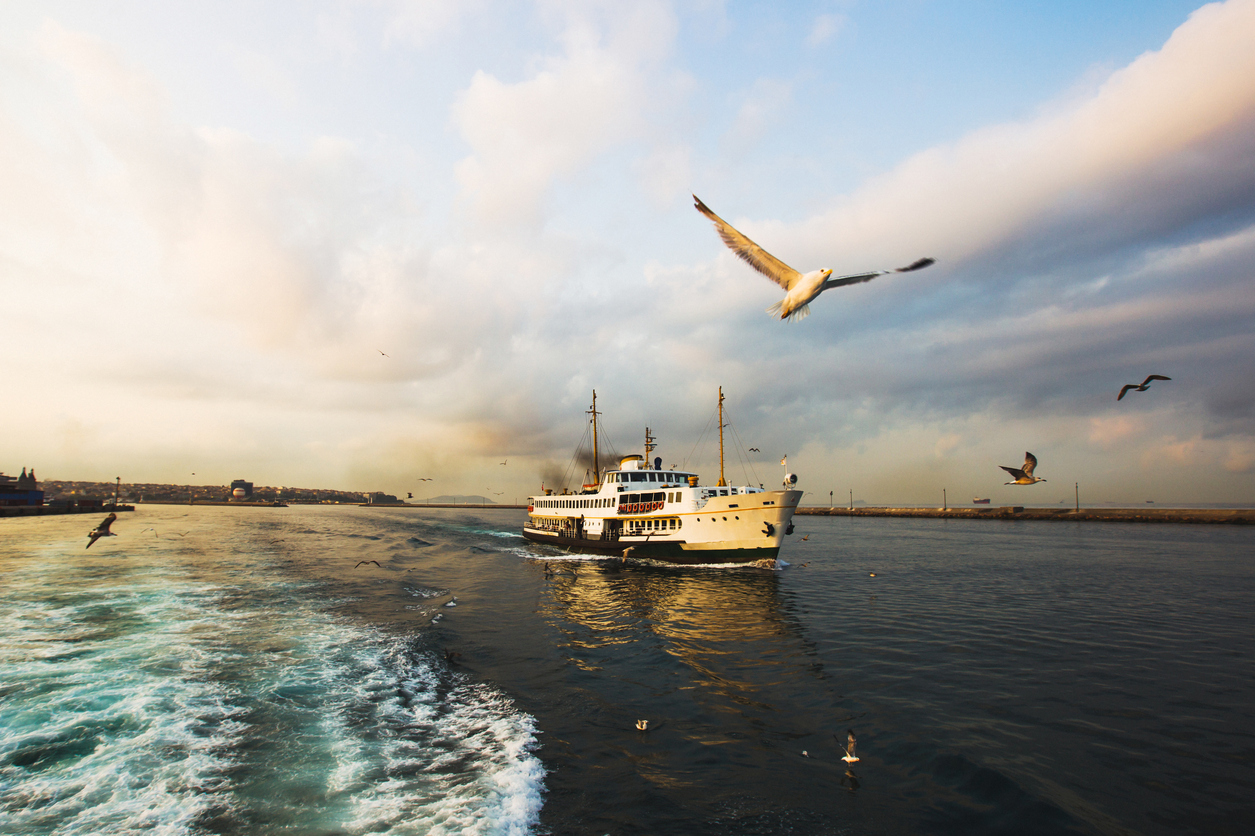 However, there is no suggestion that you should not come to Istanbul this season. Because it is beautiful in all seasons, this city always attracts itself. It is sufficient to take precautions against rainfall which intensifies especially in autumn and winter months.
Festivals in Istanbul
One of the most striking features of Istanbul is that it hosts many events at any time of the year. Regardless of the month, you can find a festival for you in this city. You can plan your trip by noting these dates.
Istanbul Film Festival 10-21 April

WTA Tennis: TEB BNP Paribas Istanbul Cup (annual, April)

Istanbul Tulip Festival (annual, last 3 weeks of April)

Istanbul International Music Festival (annual, June)

Chill-Out Festival Istanbul (annual, June)

Istanbul International Jazz Festival (annual, July)

Bosphorus Cross Continental Swim Race (annual, July)

Istanbul Coffee Festival (annual, September)

Akbank Jazz Festival (annual, October)

Istanbul International Puppet Festival (annual, October-November)
Places to Visit in Istanbul
Either you are eager to visit historical places, such as palaces, or chill in an overwhelming atmosphere and enjoy the beauty of this legendary city, Istanbul has something special to offer. We tried to pick the most essential destinations and activities for your trip:
Visiting the Historical Peninsula and the Galata Tower
The focus of all local and foreign tourists in Istanbul is the Golden Horn or the Historic Peninsula, which is one of the most important places to visit, hosts history on every inch of its name and is also one of the places you should give priority if you are planning a gourmet trip: Eminonu, Sirkeci, Beyazit, Laleli, Aksaray, Topkapi palace, Hagia Sophia mosque, Basilica Cistern, Kumkapi, Samatya.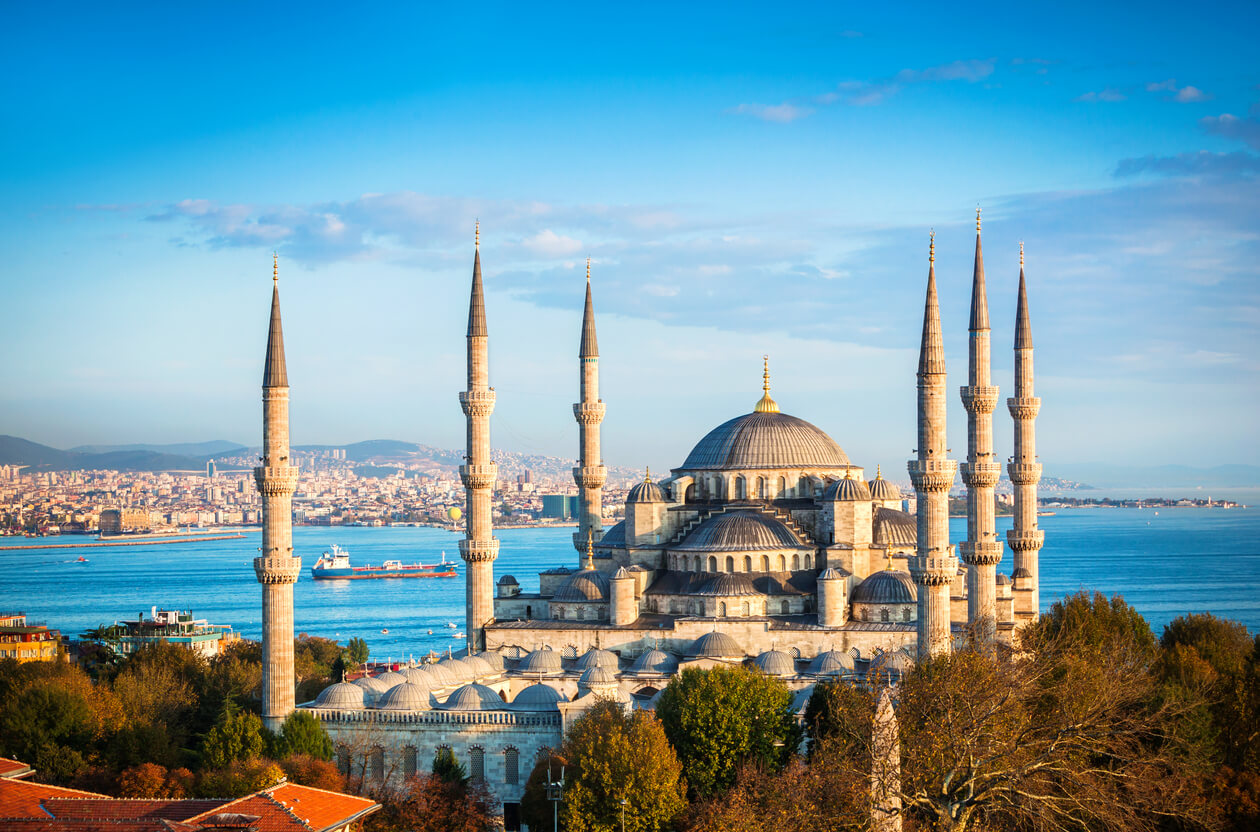 If we imagine briefly, Topkapı Palace, Basilica Cistern, Sultanahmet, Hagia Sophia Mosque and Archeology Museum are among the must-see places in Istanbul. If you have limited time, you can at least visit Topkapi Palace here.
Getting lost on the streets of Kadikoy
Kadıköy is at the top of the list of places to visit. especially for the historical Kadıköy Bazaar (Fishermen's Market) is a neighborhood worth seeing. In this historical market there are fishermen, delicatessens where you can find the best of all kinds of appetizers, spices that you may not even hear, and greengrocers that satisfy your eyes even with their counter. Süreyya Opera House is a must for Kadıköy. Even if you come for a touristic trip, you must watch the opera one evening.
Enjoying the sunset with the view of the Maiden Tower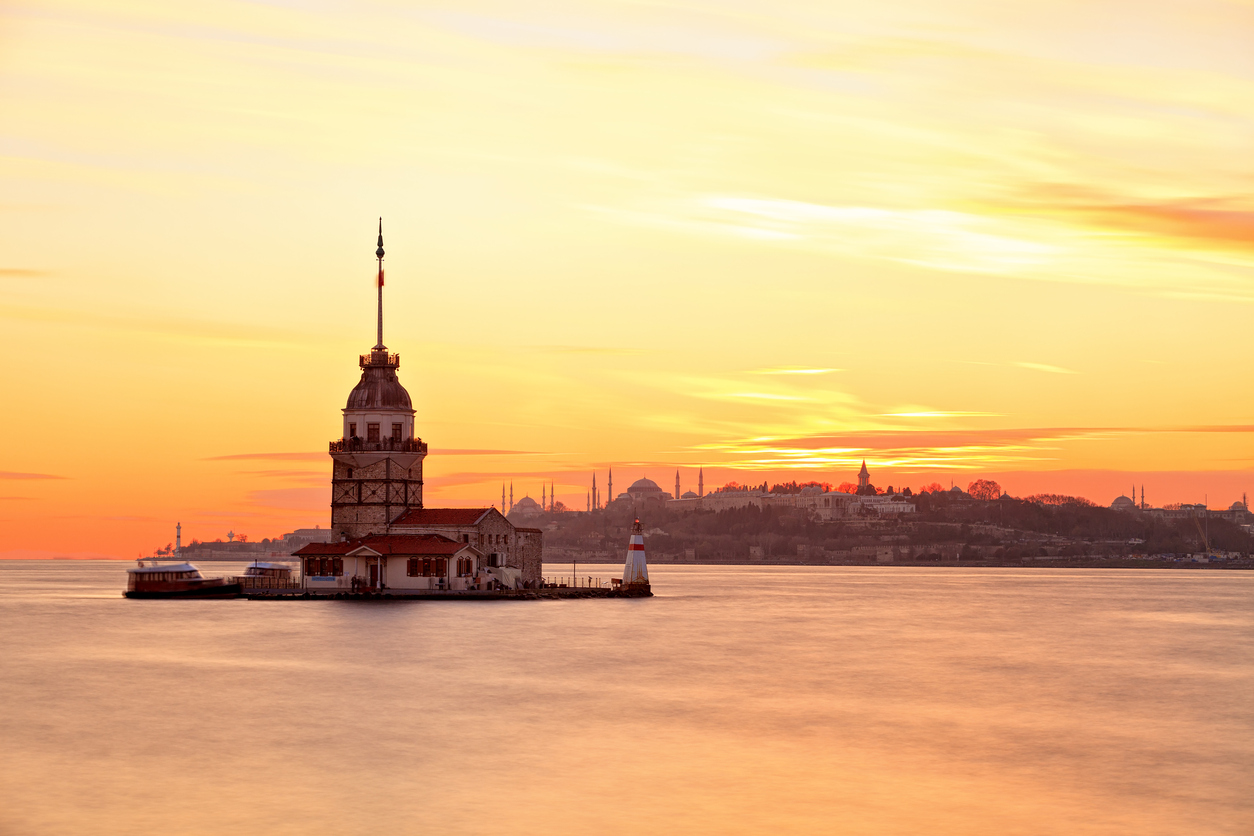 Apart from the rituals like throwing bagels to the seagulls and drinking ferry tea, it is extremely enjoyable to see the Maiden's Tower and Haydarpaşa Railway Station and watch the coastline of the Anatolian Side along the way. You can have a great great in front of Maiden's Tower, or you can take a boat to the tower. There is also a great restaurant here.
Going for a chilling trip to Princess Islands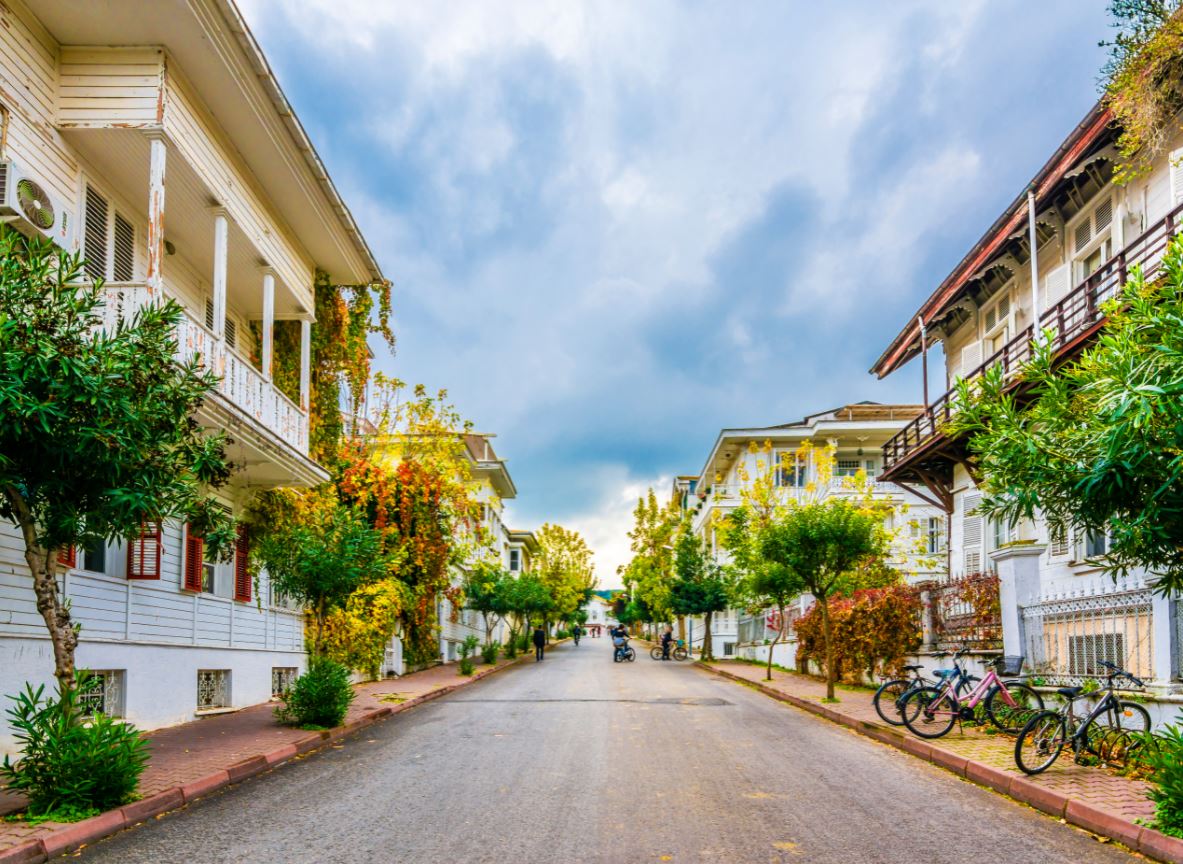 If you want to escape from the crowds of the city and enjoy the Marmara Sea, Prince Islands is waiting for you. Büyükada, Heybeliada, Kınalıada, Burgazada such as the small and large islands have a cute construction. There are many restaurants, cafés and hotels for tourists. If you want to explore a quieter but more colorful face of Istanbul, you should definitely come here. You can reach the islands after a 2-hour ferry ride.
Where to Stay in Istanbul?
When we talk about where to stay in Istanbul, the first options that come to mind are undoubtedly around Taksim and around Sultanahmet. Sultanahmet is preferred because it is close to many places to visit. However, Taksim area offers more options in terms of nightlife. If you want to be close to the sights and stay away from the night life, Golden Horn or region is the ideal address for you. In general, we can say that districts close to the coast are more preferred.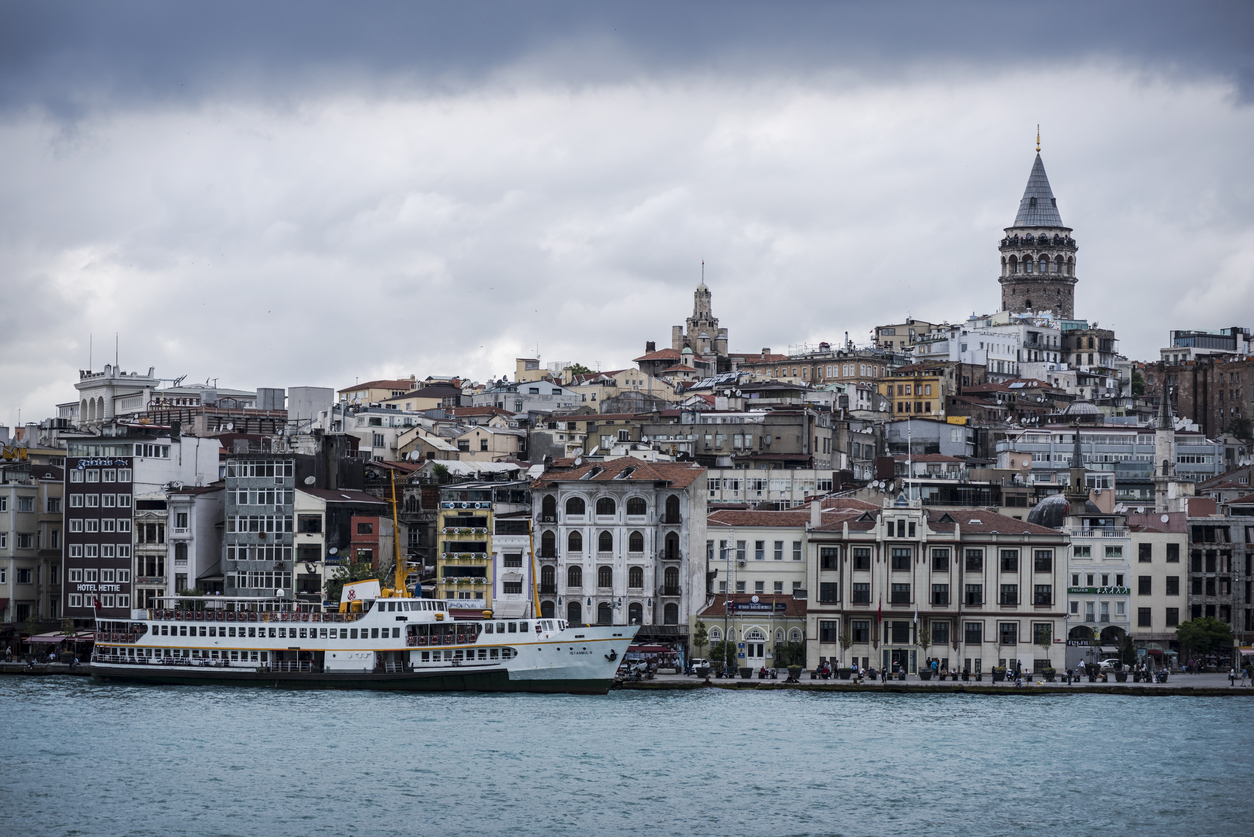 Istanbul has numerous alternatives for accommodation. Whatever your budget, you can find a suitable accommodation option. These include luxury hotels and boutique hotels. There are also very low cost hostels. They are usually around Taksim.
What to Eat in Istanbul?
Being one of the biggest cities of the world provides Istanbul to have a lot of opportunities in every aspect of social life. While you can find international franchisees and cuisines in Istanbul, you are also able to find delicious Turkish dishes from all around the country. Apart from these, the world cuisines you will try in Istanbul include Chinese, Indian, Pakistani, French and Armenian. Each of them can be found on the streets of Istanbul accompanied by master chefs. Besiktas, Kadikoy and Beyoglu districts are among the gastronomy centers of Istanbul.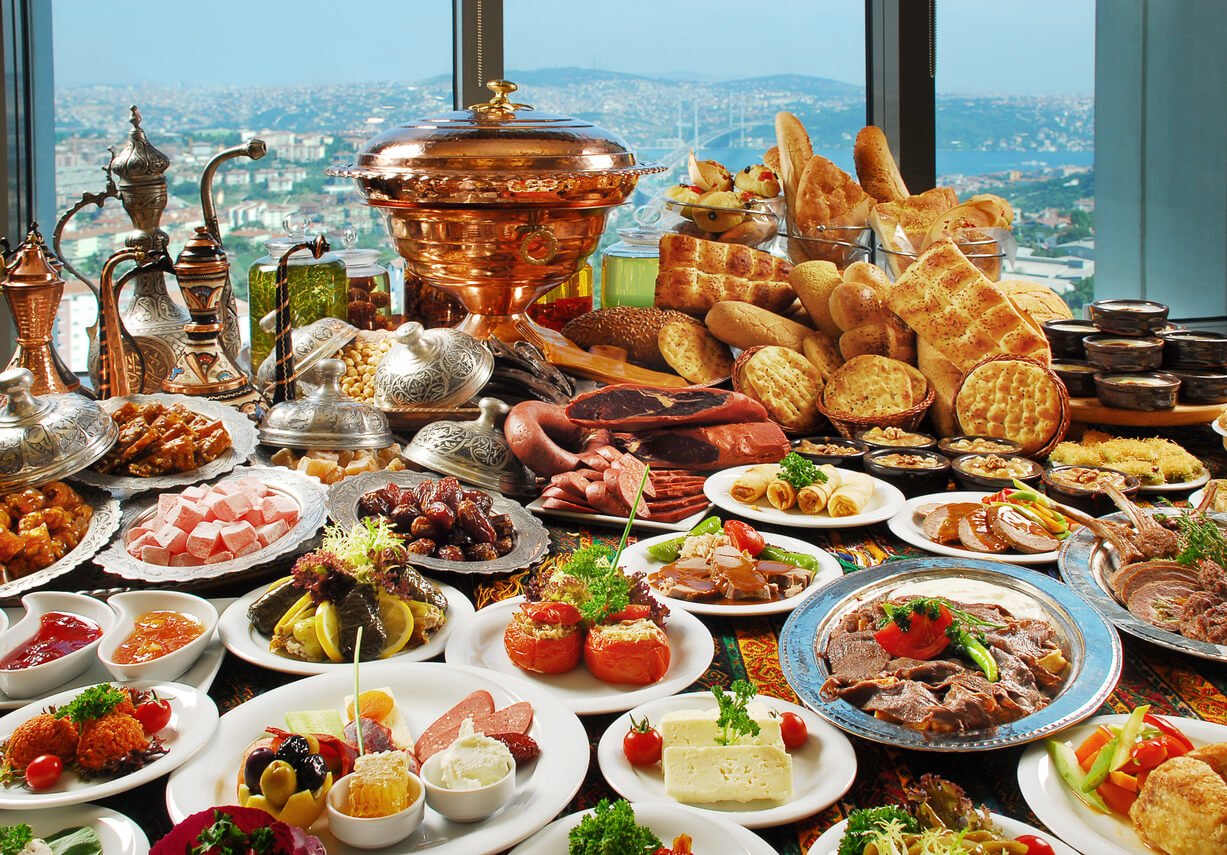 You can try Turkish breakfast at Besiktas Kahvaltıcılar Sokağı, lunch at Gaja Roof with a fascinating view, and a local dinner at Zubeyir.
Shopping in Istanbul: The Best Souvenirs to Buy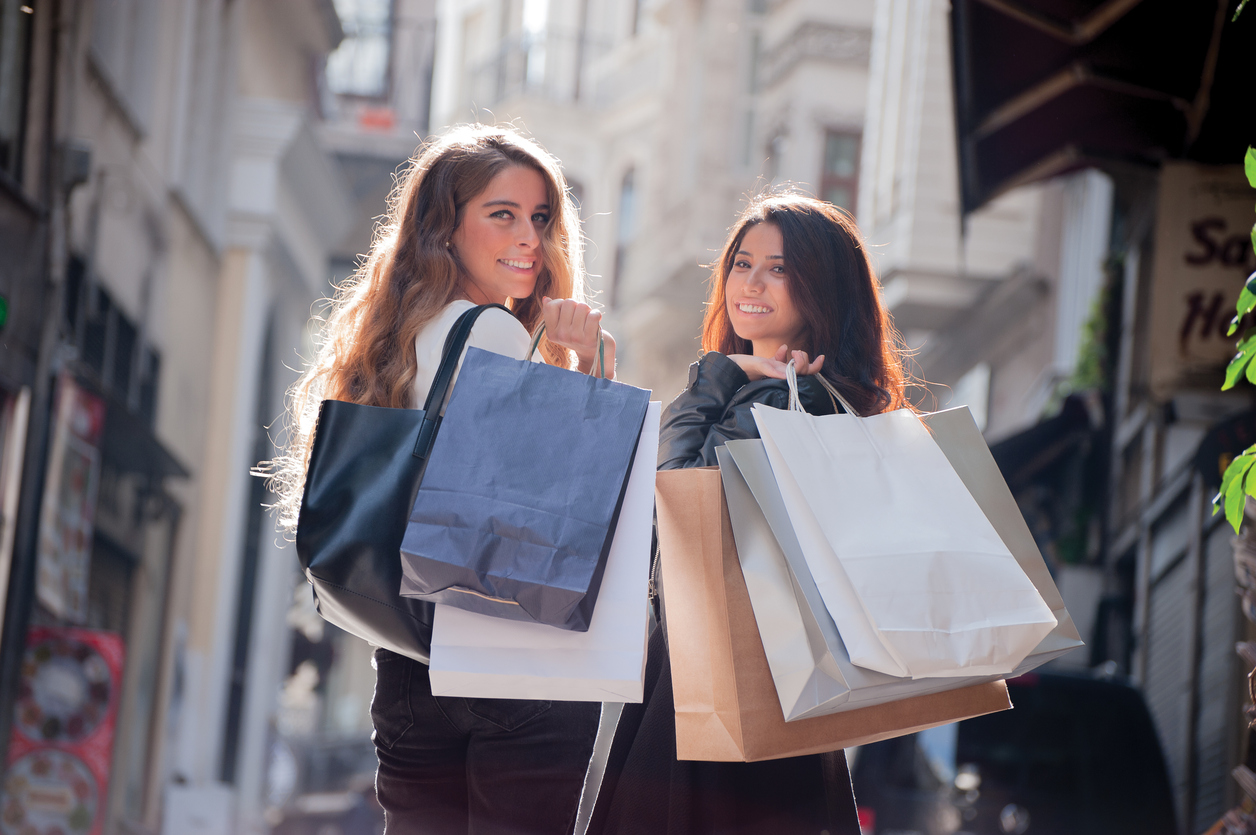 Istanbul has quite rich options for shopping. In each district, there is always a mall. In this case you can find everything you look for. If you look for luxurious brands, you can have a look at the stores at Nisantasi and Levent. On the other hand, you can find more common and budget friendly options at districts such as Mecidiyekoy and Taksim. If you want to go to a shopping mall, you can check Zorlu Center, Cevahir, Akasya, and Forum Istanbul. From luxurious brands to more affordable options, Istanbul is a heaven for foreign and Turkish textile.
Nightlife in Istanbul 
You can find limitless options in Istanbul if the nightlife is matter of fact. From the beginning of the night, the parties continue until the first light of the days.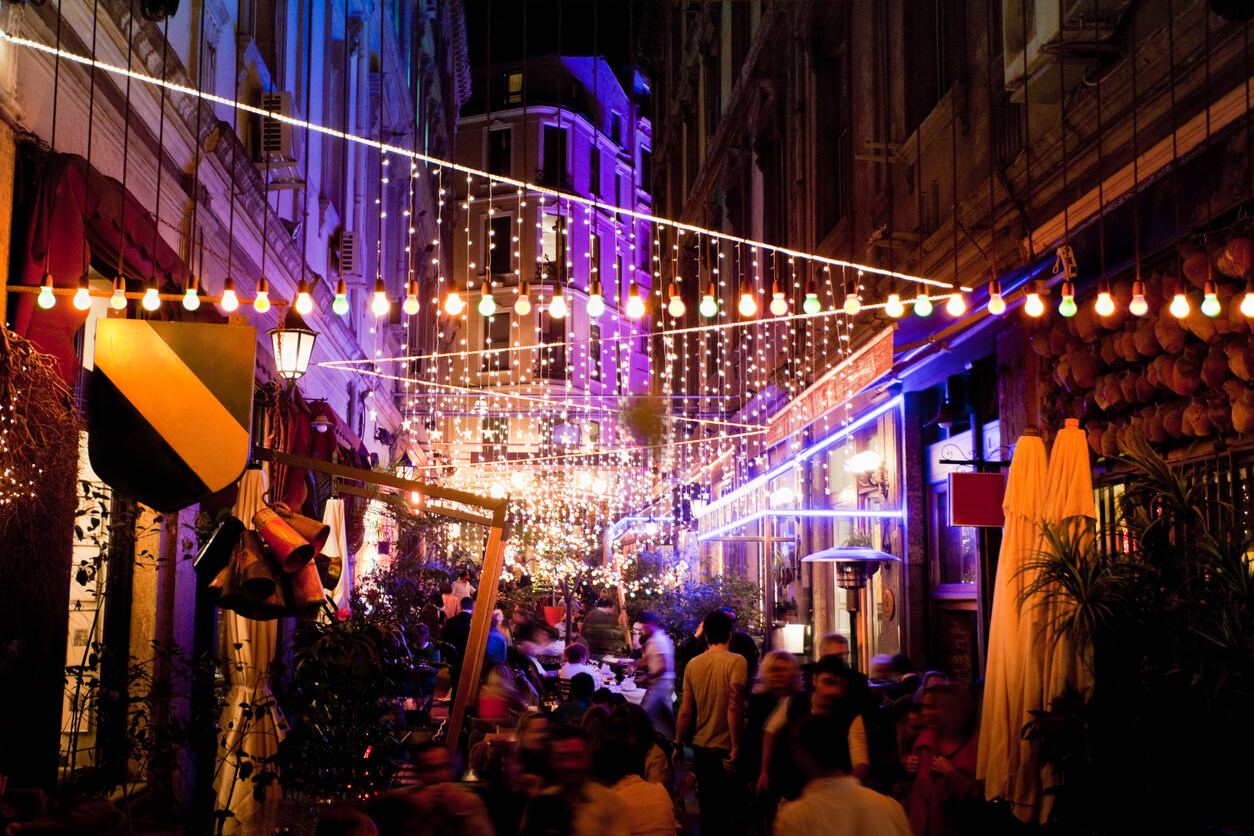 If you want to join the rhythm and dance until mornings, clubs at Ortakoy are exactly your cup of tea. If you are keen to discover how local people hang out, you can grab your drink and join the pub streets in Besiktas and Kadikoy or have a seat in a random bar in those districts.
Things to Know Before Visiting Istanbul
The first thing to know about Istanbul is its multicultural structure. Istanbul has a very dynamic structure with its historical heritage and social structure. You can discover the traces of another culture in every street of the city. Of course, you need to focus on the historical parts of the city. Fatih, Besiktas and Beyoglu districts are very rich in this respect. As a tourist you can easily visit these regions. All of the shops here offer special amenities for tourists. You can communicate in English in many places. Also, you can easily find currency exchange offices in many places.
Both women and men must comply with certain clothing rules when visiting places of worship. These rules apply to churches and synagogues as well as mosques. These rules are clearly displayed at the entrance of places of worship.
Especially in the autumn months Istanbul gets plenty rainfall. For this reason, it is recommended to have an umbrella or raincoat with you during these months. In addition, winter months can often be harsh. You should take precautions against cold weather.
All the public transports, except for metrobus, are work from 6 a.m. until 12 p.m. On weekends, metro services run 24 hours a day. However, after 12 o'clock at night, the frequency of subway trips decreases. However, you can use metrobus 24/7.
Essential Phone Numbers to Know
In case of emergency, you can call 112. 
Phone Code: 0212 (Europe), 0216 (Asia)
Istanbul Airport: 444 1 442
Sabiha Gökçen Airport: (0216) 588 88 88
Havaist: 0850 888 33 34