Kütahya, a city located in the Aegean region, is famous for its thermal sources, SPA centers, natural beauties, and porcelain production workshops. Located at the hearth of the Aegean Region, the city offers a fine selection of historical places and natural beauties for the visitors.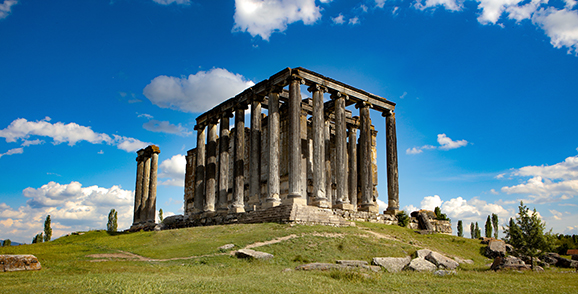 Kütahya has played an important role throughout history and the city has been home to numerous civilizations and states.
The city welcomes its visitors with an impressive history about the ancient world and modern day Türkiye. Kütahya, which is among the cities that must be explored in Türkiye, will take you back in time to the ancient Frig period to look through the lives of these people.
General Information
| | |
| --- | --- |
| Country: | Türkiye |
| Region: | Aegean |
| Area: | 2,484 km² |
| Language: | Turkish |
| Average temperature: | 20°C |
| Climate: | Continental Climate |
| Vegetation: | Steppe |
| The difference between GMT: | UTC+3 |
| Telephone Code: | +90 (274) |
| Currency: | Turkish Lira (TRY) |
| Socket Type: | Type F |
Location of Kütahya
Kütahya is located in the Aegean Region and Central West Aegean sub-region in Türkiye. The city is surrounded by Murat Mountain and Yellice Mountain and located on the Kütahya Plains. The most important freshwater source in the city is Porsuk River which is a branch of Sakarya River.
Best Time to Visit Kütahya
When planning your Kütahya trip, you might want to consider the weather conditions to have a fun and enjoyable visit. Kütahya has a continental climate, meaning there will be snow and cold days during winter. Also, fall tends to be rainy and cold as well. When these factors are taken into account, the best time to visit Kütahya is often stated as spring or summer. These two seasons have mild weather and summers are generally hot in the city.
Festivals in Kütahya
Kütahya is one of the culturally vibrant cities in Türkiye, with numerous festivals and events organized throughout the year. Some of the significant events and festivals in Kütahya can be listed as follows:
Hisarcık Culture and Art Festival
Gediz Tarhana Festival
Linyit Culture and Art Festival
Simav Fair
Hayme Ana Memorial and Migration Feast
Each of these festivals organized in Kütahya has its characteristics, and these festivals symbolize some of the most important cultural aspects of the city.
How to Get to Kütahya?
One of the best and easiest ways to get to Kütahya is to fly to this city. Zafer Airport is 41 km away from Kütahya, and this airport functions as an important hub for Kütahya, Uşak, and Afyon. When planning your Kütahya trip, the option to find direct flights from Istanbul, Brussels, Cologne, Dusseldorf to Zafer Airport are numerous. Further, it is possible to find connected flights to Zafer Airport from other airports in Türkiye and airports in other countries.
Transportation from Zafer Airport to Kütahya City Center
Passengers who arrive at Zafer Airport from different cities will find a couple of different modes of transport to reach Kütahya city center. One of the most utilized options for getting to Kütahya city center is to use the airport shuttles. It is possible to book the airport shuttles running between the airport and the city center before you arrive at the airport. Also, there is a chance to book these airport shuttles after you land at Zafer Airport. Another mode of transport that can be preferred to reach the city center is a taxi which can be found at the exit terminal of the airport.
Public Transportation in Kütahya
When it comes to visiting the city and going to different neighborhoods, the best option is to use public transportation in Kütahya. There is a large network of buses in the city covering almost the entire city. There are a total of 27 bus lines operated by the Municipality of Kütahya to cover every district of the city. In addition to bus lines, there is also a minibus option for certain districts of the city. Minibus routes and lines might change depending on the season so it is best to check the schedule and lines beforehand.
Places to Visit in Kütahya
Kütahya is a place where different civilizations have lived over a long period of history. Therefore, there are important artifacts and historical places to visit in Kütahya. The city has left its mark in history since the ancient ages. The city was initially known as Koteaeion the ancient times. The Frigs did the first settlement on this land. Later, many other civilizations, including the Hittite, Kimmers, Lydians, Persians, and Romans, ruled over the city and the nearby areas. The Seljuk Empire conquered the city in 1233 by famous Seljuk ruler I. Alaeddin Keykubat. The Ottoman rule in the city has left its mark with unique mosques, madrasahs, and fountain structures.
Frig Valley
Frig Valley is one of the important places in Kütahya because of its natural beauty and historical background. You can see the Aizanoi Ancient City and get to know the city's history while walking across the beautiful nature.
Kütahya Tile Museum
Since porcelain and tile production is one of the primary sources of income for the city, there is a special museum dedicated to these products. You can see different porcelain and glazed or unglazed tile productions in the museum and learn more about the production method.
Dumlupınar Martyr's Cemetery
Dumlupınar has a historical meaning for modern-day Türkiye because of the war of Independence. The cemetery is dedicated to the brave soldiers who have died in this battle to save the Turkish people from the occupation.
Where to Stay in Kütahya?
Before visiting Kütahya, you need to plan your accommodation. When it comes to booking a hotel in Kütahya, there are different options ranging from luxury SPA hotels to small family-run bed and breakfast hotels.
What to Eat in Kütahya?
Kütahya cuisine is one of the most remarkable cuisines in Türkiye as it is influenced both by the coastal part of the Aegean region and the Central Anatolian region. Some of the most famous dishes in the city are tarhana with cornelian cherry and sini dumplings with ground meat and lentils. The dishes prepared in Kütahya often use grain products. Also, Kütahya kebab is one of the most popular food options you can try when you are in the city.
Shopping in Kütahya: The Best Souvenirs to Buy
Kütahya is famous for its porcelain products, making them the best souvenir option to take back home with you. Glazed tiles, porcelain home accessories, porcelain sets, and many other products will remind you of your Kütahya trip when you go back home. There is a wide range of porcelain production in the city where you can learn more about how to craft products like glasses or vases. Also, you can make a porcelain product on your own in a workshop and take this unique gift back with you.
Nightlife in Kütahya
Compared to other cities in Türkiye, the nightlife in Kütahya is relatively calm. There are some bars and pubs to visit at night. However, the daily life in Kütahya is much more vivid than the nightlife in Kütahya.
Things to Know Before Visiting Kütahya
The weather might change due to the location of the city.
It is better to have a set of jumpers or thick clothes when you pack for your visit.
Tourists can also use public transportation with a transportation card which can be obtained easily from many different locations in the city.
Essential Numbers
Ambulance: 112
Police: 112
Fire: 112
Municipality: +90 274 223 60 12
Police Office: +90 274 224 81 41