Adana is the sixth most populated city of Türkiye and is located in the southernmost part of it. The city is home to various cultures in its borders and through this; Adana successfully creates its own great mixture and that mixture is quite delicious. Adana attracts more than one million tourists both locally and internationally thanks to its great modern, natural and historical attractions.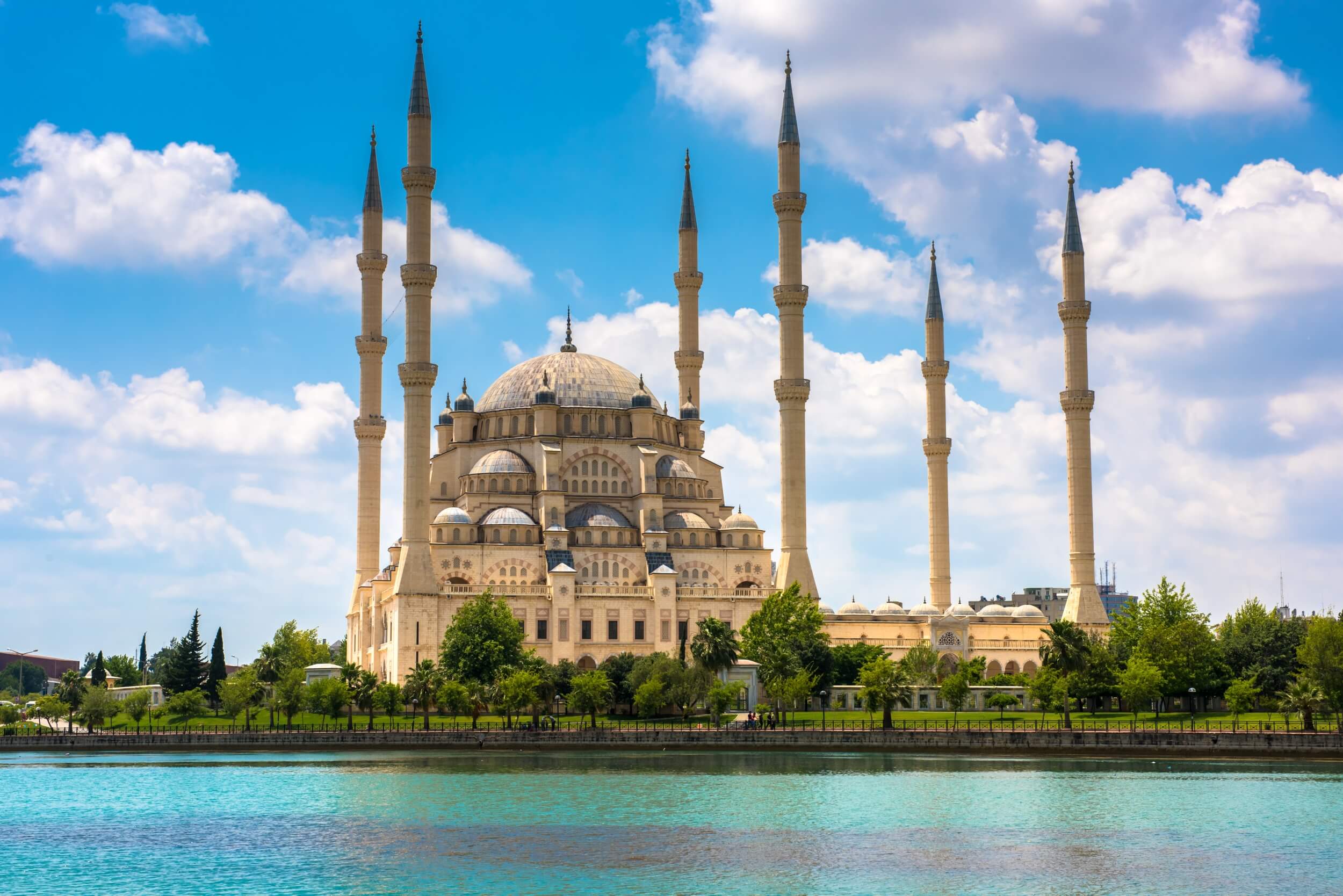 General Information
| | |
| --- | --- |
| Country: | Türkiye |
| Region: | Southern Türkiye |
| Area: | 13.915 km2 |
| Language: | Turkish |
| Average temperature: | 19.3 Celsius |
| Climate: | Mediterranean Climate |
| Vegetation: | Typical Mediterranean Plants and Forest |
| The difference between GMT: | GMT+3 |
| Telephone Code: | +322 |
| Currency: | Turkish Lira |
| Socket Type: | Type C |

How to Get to Adana?
Adana is a spectacular city to enjoy and welcomes its visitors with great cuisine and culture. Pegasus Airlines offers direct flights to Adana from İstanbul, İzmir, Antalya, Trabzon and Van. Those flights take approximately 1 hour and 30 minutes from the majority of destinations. You can buy your direct flight tickets to Adana from İstanbul, İzmir, Antalya, Trabzon and Van.
Transportation from Adana Şakirpaşa Airport to City Center
Adana Şakirpaşa Airport located just 4 kilometers away from the city center. You can get to the city center with municipality bus, small bus, taxi and car.
135, 159, 250, 251 and 252 are the municipality busses that go through Adana city center. 135 and 159 are available for every 30 minutes from 06.00 to 18.50. 250, 251 and 252 are available every 60 minutes after 22.00, until 04:00. The trip takes approximately 10 minutes.
Small busses are located outside of the airport and they depart every 5 minutes. They are available from 6.00 to 24.00. The trip takes approximately 10 minutes.
There are also many taxis at the airport that can take you to the city center. In Adana, you can also discover the city with a rental car. Pegasus Airlines car rental service has great offers for you.
Public Transport in Adana
Busses are frequent and accessible in Adana. The city offers a detailed schedule of the bus network and schedules here. You need to have a prepaid "Kent Kart" in order to use busses in the city. They are available in the airport and almost in any shop.
Small busses, called "dolmuş" are another way of transportation in Adana. They have fixed routes and prices. Those buses have a distinctive blue color.
You can also travel in Adana with taxis. There are a lot of taxis in populated areas.
Best Time to Visit Adana

Adana has a Mediterranean climate so winters are mild and wet and summers are hot and dry. The warmest month is August and the coolest month is January. We suggest you to visit Adana in late spring or in late autumn because of pleasant average temperatures. It is also recommended for you to enjoy Adana at least three or four days.
Places to Visit in Adana
Adana is a great city to explore in every way. The city's distinctive cultural qualities will never cease to surprise you. There are also many natural and historical attractions that are scattered around the city.
Stone Bridge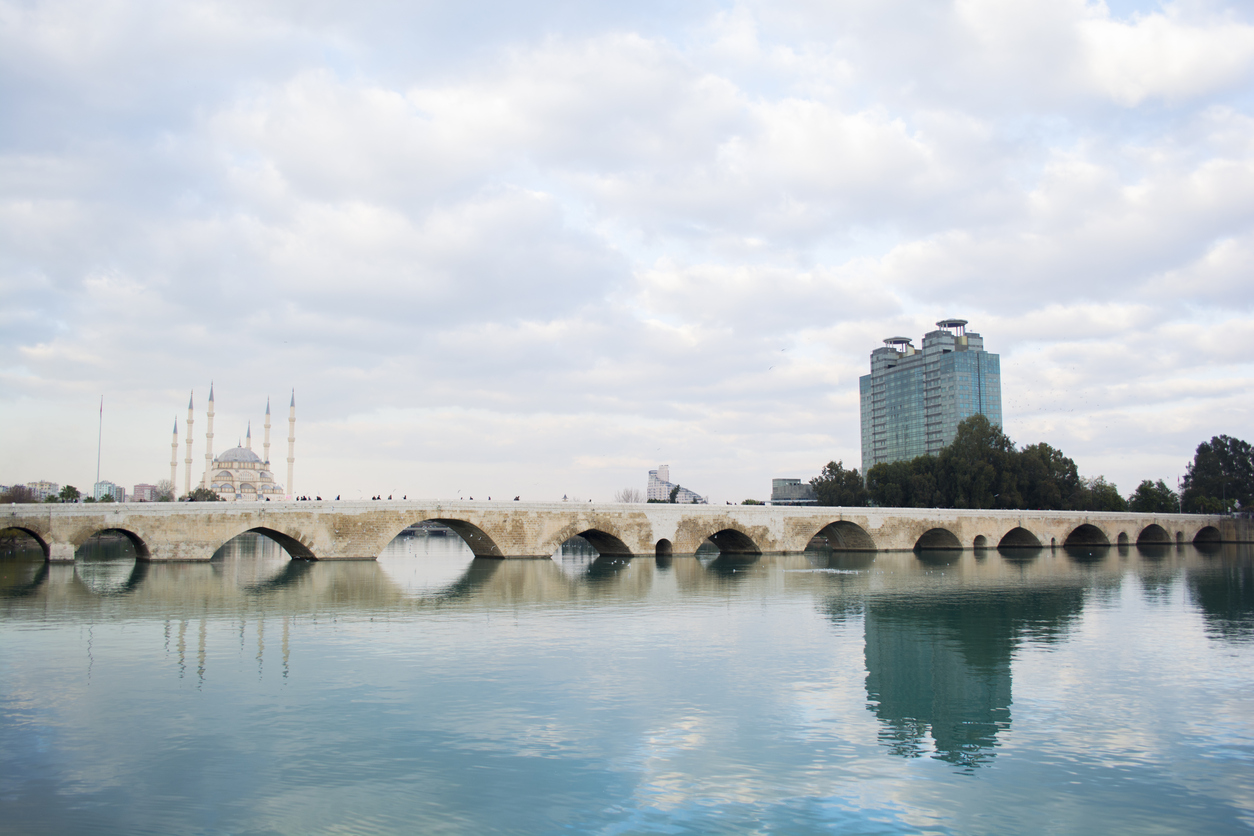 Stone Bridge (Taşköprü) is the most famous historic landmark of Adana. The bridge is built on the Seyhan River during the Roma reign. The bridge is located in the center of the city near the Adana Sabancı Central Mosque. 
Adana Cinema Museum
Adana has produced plenty of directors, actors and producers who contributed greatly to the development of Turkish Cinema. Adana Cinema Museum exhibits their works and parts of their professional lives. The museum is located on the west side of the Seyhan River and is only a walking distance away from the city center.
Great Mosque
Great Mosque was built in the 16th century by the Ottoman Empire and embodies the influences of Mamluk and Seljuk empires. It was the largest mosque of Adana until the completion of Sabancı Central Mosque in 1998. The mosque also has a madrasah next to it which used to be the home to many dervishes. 
The Great Clock Tower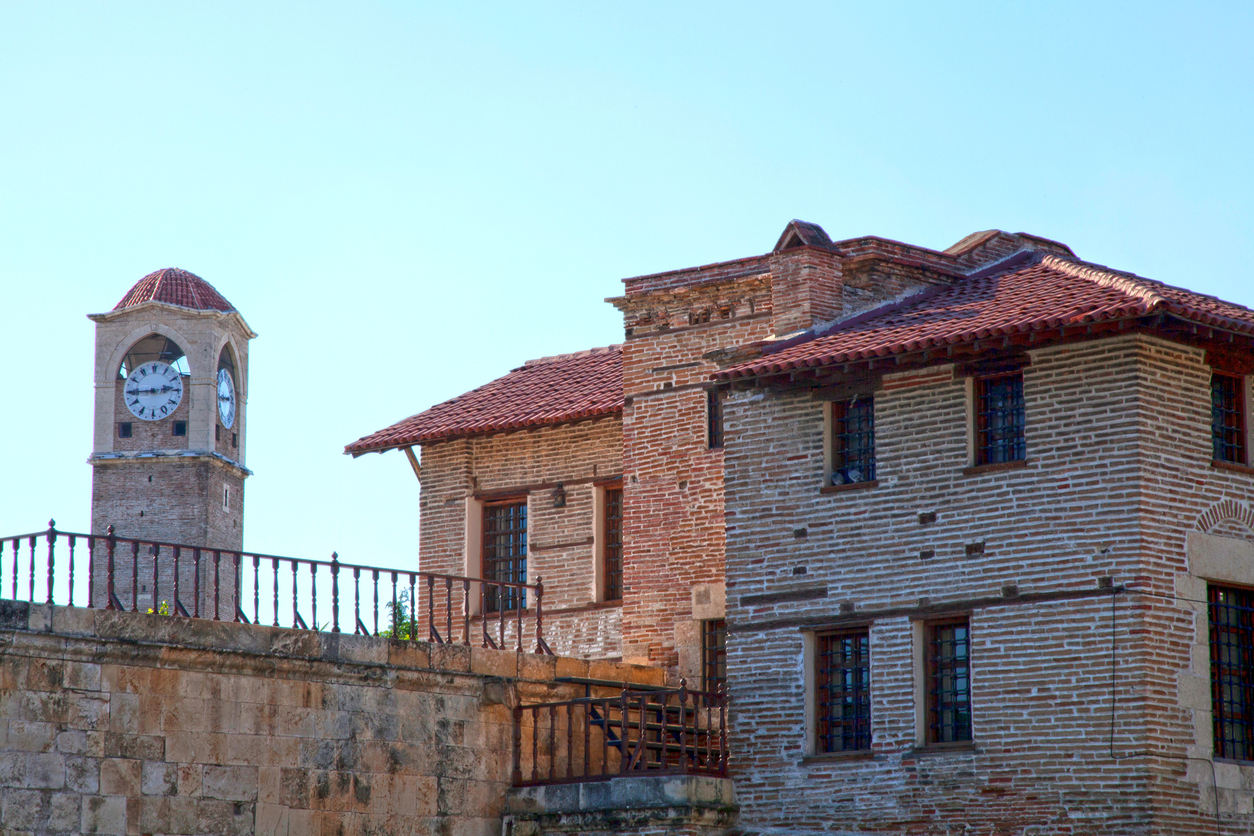 The Great Clock Tower is the tallest tower clock of Türkiye and was built in 1882. The tower has a height of 32 meters. The tower is located in Ulucami district. 
Adana Sabancı Central Mosque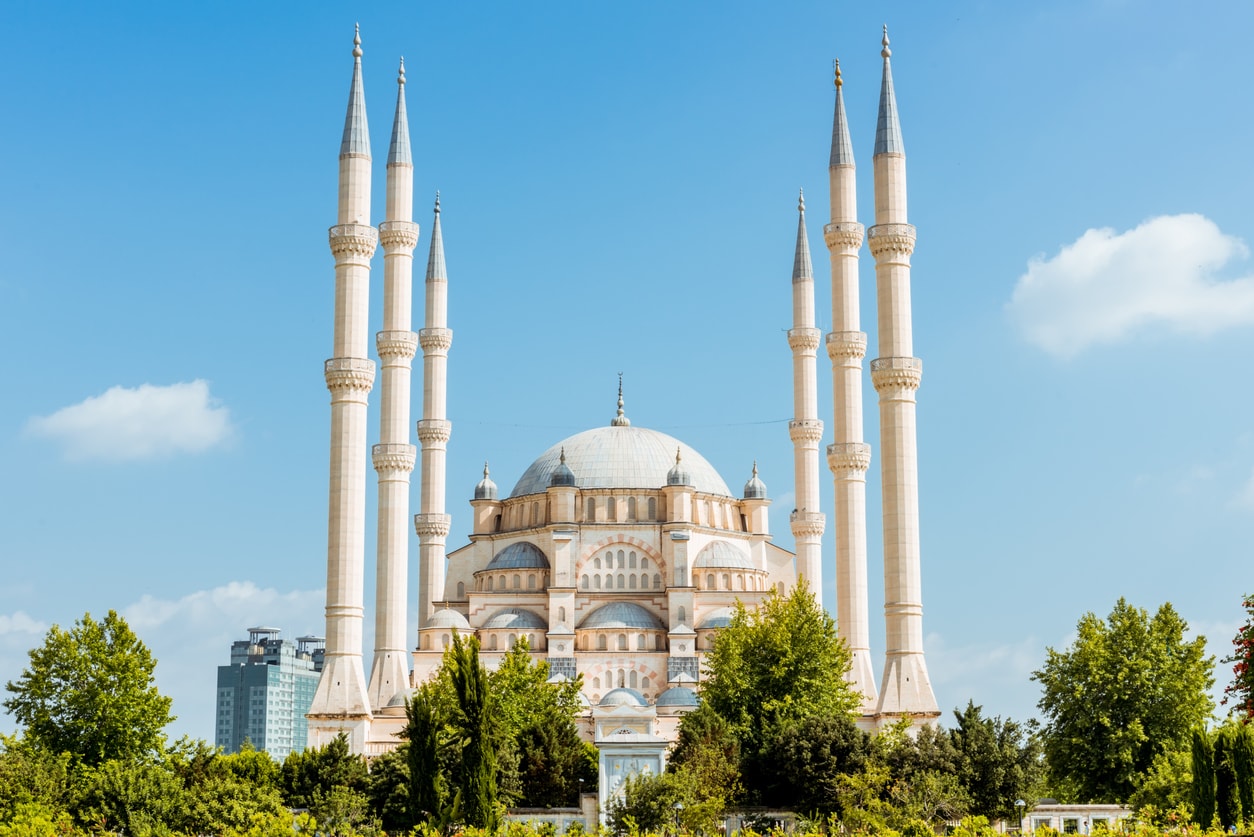 Adana Sabancı Central Mosque is a great example of modern Turkish architecture. The mosque is located in the heart of the city and a tough one to miss. There is a lovely city park around the mosque where locals love to spend their leisure time.   
Festivals in Adana
International Adana Film Festival (September)

Akçatekir Summer Festival (September)

Sarıçam Pomegranate Festival (October)

Adana Taste Festival (October)
Where to Stay in Adana?
Adana is a popular city within both local and international tourists thanks to its economic growth and historic importance. There are many accommodation options for its visitors in the city.  If you want to experience the city to the fullest, it is recommended for you to stay in hotels located on Sefa Özler Street. These hotels are located in the heart of the city. 
If you want a relaxing vacation on the outskirts of the city, it is best for you to check the hotels in Karataş district. They are located next to the Mediterranean Sea and has great natural beauties all around them. Adana does not have international backpacker hostels but you can also stay in locals houses in Adana. They are very welcoming people and sure to help you get around the city.
What to Eat in Adana?
Adana attracts many culinary visitors all around the world. Its cuisine is a mixture of numbers of cultures including but not limited to Arabs, Turks, Greeks, and Bosnians. Pastry, meat and vegetable products are prominent features of Adana kitchen. It is also common to use spices and flavorings such as cumin, parsley, onion, garlic, sumac, red pepper, and black pepper. There are many shops around the city that sell freshly squeezed red turnips called "Şalgam" and locals are love it. It is a great refreshment during hot days.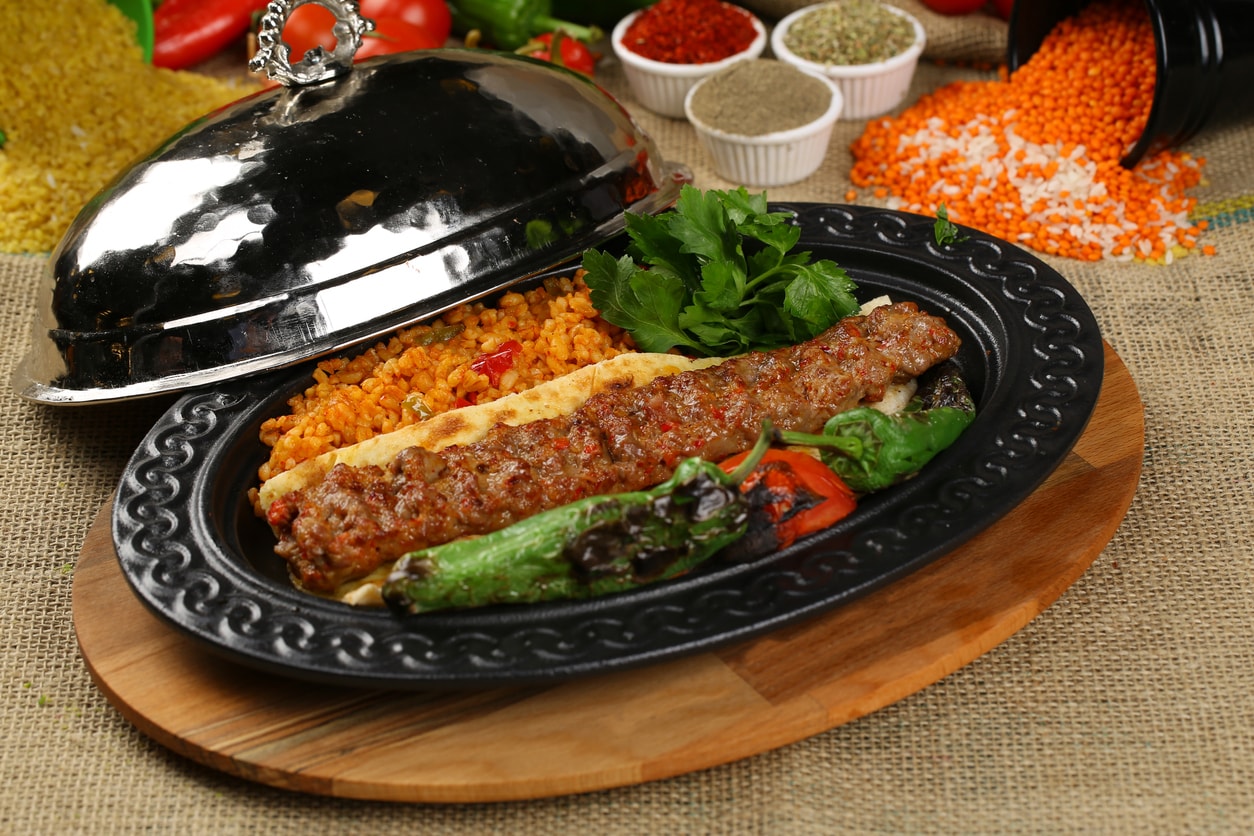 Dishes you must try and the best local places to try them are:
Adana Kebap: Birbiçer Kebap Salonu

Şırdan, Mumbar: Şırdancı Bedo

Yağlı Kara: Onur Kebap Restaurant

Muzlu Süt: Kazım Büfe

Lahmacun: Kaya Kebap

Şalgam: Doktorum Şalgam
Shopping in Adana: Best Souvenirs to Buy
Adana has many traditional street shops as well as many modern shopping malls. M1 Adana Shopping Center has the most international brands and offers plenty of recreational activities. 
Adana's city center is very lively and has everything one can think of. "Kazancılar Çarşısı" is the oldest bazaar in Adana and the bazaar has many shops carrying various souvenirs that are unique to the city. You can buy copper plates, ornaments, spices, hand-made rugs, and jewelry from there. Çakmak Caddesi is another street filled with local vendors. 
You can also send your loved ones Adana-made şalgam from various local vendors as a tasty souvenir.
Nightlife in Adana
Adana has the most lively and diverse nightlife in its region. Visitors can enjoy a wide range of nightlife options.
Kurtuluş district has many live music halls, nightclubs and pubs. "Paddy's Irish Pub" brings the Irısh Pub experience to Adana quite successfully. On weekends, the pub hosts local musicians. "Roka Balık" offers a traditional Turkish night for its visitors. The place has delicious appetizers and fresh fish. 
Things to Know Before Visiting Adana
Walking is an easy and fun way to discover the city. Most attractions in the city center are walking distance away from each other.

It is important to cover your skin with light, breathable fabric and sunscreen for protection against direct sunlight. The weather is usually hot and the sun is strong.

Although Adana is a safe city, its Hürriyet and Kiremithane districts are not very welcoming.
Essential Numbers
City Code: 0 322
Adana Şakirpaşa Airport: (0322) 435 03 80