The third largest city in Ukraine, Odessa is one of the most important port cities of the Black Sea. The city, which is also the largest port in Ukraine, stands out with its versatile industrial relations, trade activities and summer tourism. Odessa, which changed the face of the Black Sea during the Tsarist Russia, was also known as the fourth largest city of the 20th century Russian Empire after Moscow, St. Petersburg and Warsaw. With many opportunities such as museums, architectural buildings, theaters and universities, Odessa is one of the most known cultural centers of the country.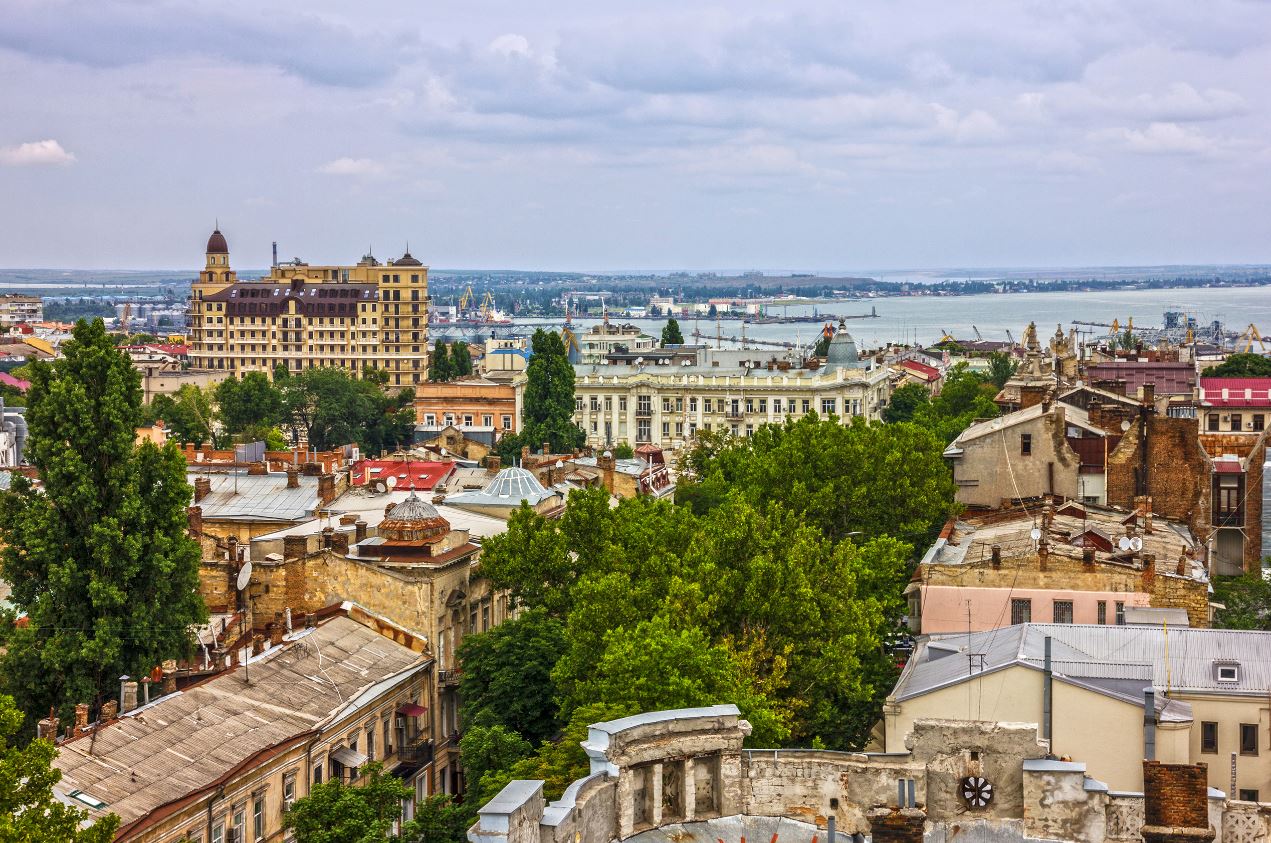 General Information
| | |
| --- | --- |
| Country: | Ukraine |
| Region: | Odessa Oblast (Southwestern Ukraine) |
| Area: | 162.42 km2 |
| Language: | Ukrainian and Russian |
| Average temperature: | 12 °C |
| Climate: | Humid continental climate |
| Vegetation: | Forestry |
| The difference between GMT: | UTC+2, UTC+3 (Summer) |
| Telephone Code: | (+380) 482 |
| Currency: | Ukraine Hryvnia (UAH) |
| Socket Type: | Type C and F |
Where is Odessa?
Odessa, one of the most important port cities of the Black Sea, is located in the southwest of the country. Being a neighbor with Moldova in the west and Romania in the south, Odessa is a significant city from the past to the present with its strategic location.
Best Time to Visit Odessa?
In the winter season, temperatures in Odessa can be -30 degrees. Annual rainfall is also very low throughout the city. In Odessa, where the winter is cold, the weather is very mild and hot in the summer. The period between June and September, when hot weather prevails, is the ideal time to visit Odessa. The hot weather continues in the city until October. Air temperatures can go up to 42 degrees in summer.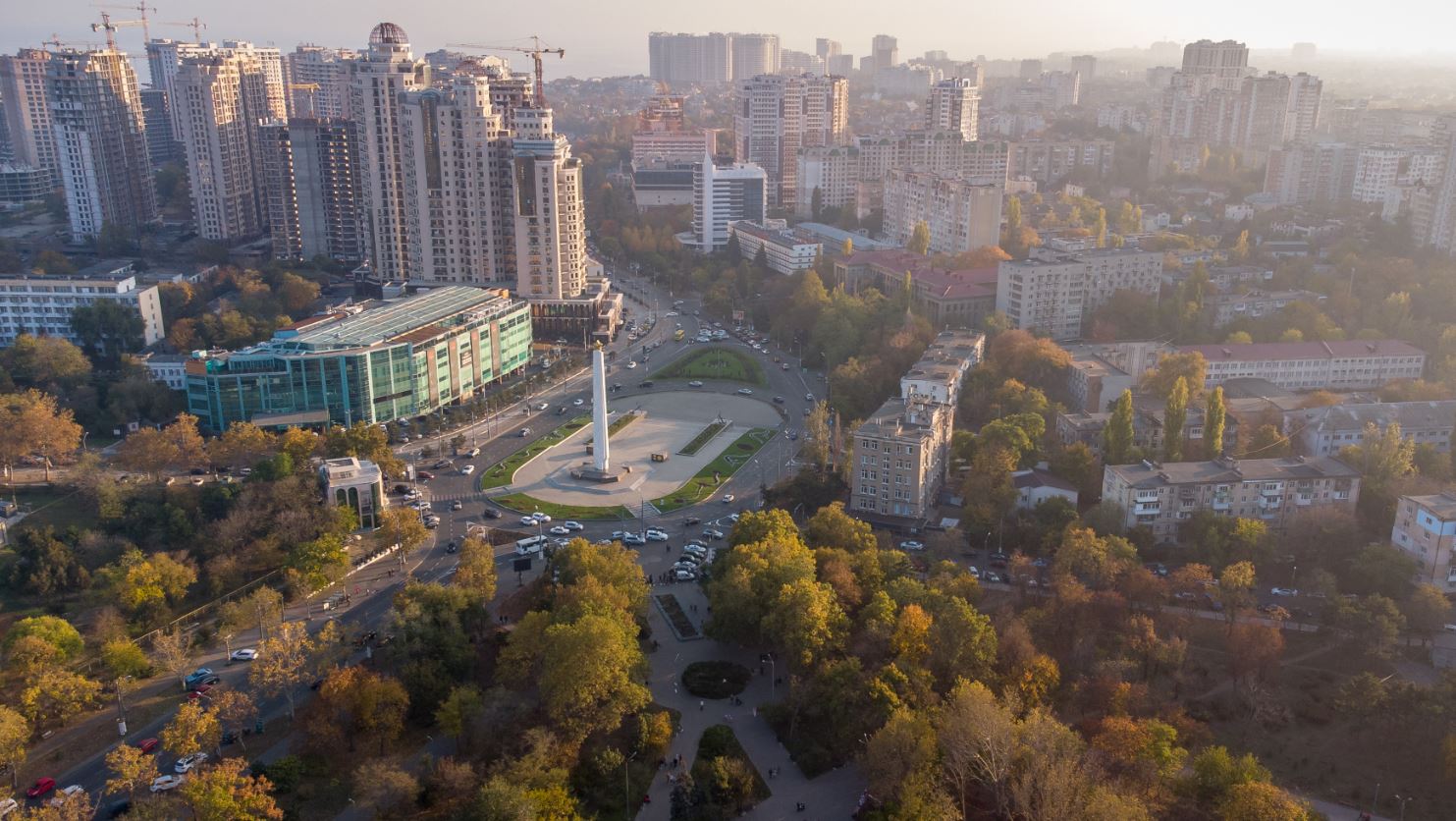 How Many Days to Visit Odessa?
If you consider it as cultural tourism and nature tourism, a trip of 2 or 3 days in Odessa will be sufficient. You can also visit the city and enjoy festival times.
Festivals in Odessa
Humorina Festival (April 1)
April 1, which is known as April Fools' Day, is celebrated in Odessa in a festive mood. Ukrainians wear funny costumes and spend this day celebrating in the city center.
Night of Museums (May 15)
The festival, which you can access to all museums in the city with free or attractive prices, offers a nice opportunity to get to know Odessa closely.
Odessa International Film Festival (July 16-24)
The Odessa Film Festival, which lasts for about a week, is among the most important cultural events in the country.
Odessa's Birthday (September 2)
This date is as splendid as the New Year's celebrations.
Odessa Jazz Festival (September)
The Jazz Festival, held in the middle of September, brings together famous musicians.
How to Get to Odessa?
The most prefered option to get to Odessa, the city of Ukraine is choosing the best flight option for your needs. Odessa has direct flights from Turkey. Pegasus Airlines offers direct flights from Istanbul to Odessa, flight time from Istanbul, Sabiha Gökçen Airport (SAW) to Odessa is 1 hour 35 minutes and Odessa flights land at Odessa International Airport. You can buy your direct flight tickets to Odessa from İstanbul with Pegasus Airlines privileges.
Public Transportation in Odessa
Public transport in Odessa is provided by tram, trolleybus, bus and minibuses (marshrutkas). Most public transport has staff who sell tickets. In this way, you can buy tickets directly from the vehicle with cash. You can also take advantage of all access facilities at reasonable prices like 3-4 UAH (2021).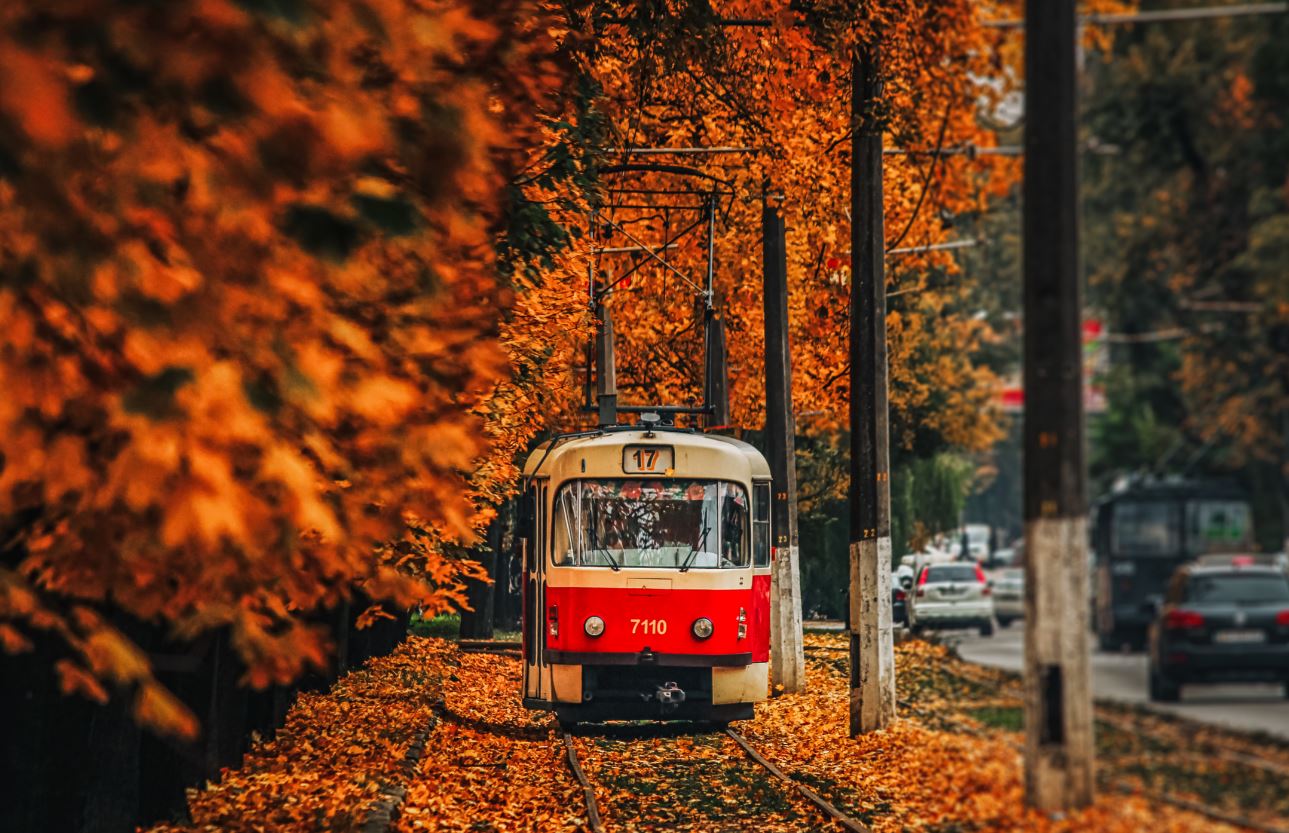 Uber is one of the most preferred transportation alternatives in Odessa with its attractive prices. Another comfortable transportation option is to rent a car. You can rent a car you want and travel freely around Odessa.
Transportation from Odessa International Airport (ODS) to City Center
There are direct access facilities to the city center from Odessa International Airport (ODS), which is 8 km away from the city, by various means of transportation such as taxi, bus and tram. You can get to the city center from the airport by bus number 129, marshrutkas number 117 and trolleybus number 14. For a more comfortable journey, you may also prefer taxi or car rental.
Places to Visit in Odessa
Odessa, one of the most famous cities of Ukraine, has many places to visit. With its architectural buildings, historical and cultural heritage, natural beauties, Odessa presents a quite peaceful and joyful trip.
Derybasivska Street
Derybasivska Street, one of the most lively places of the city, houses many hotels, cafes, restaurants and boutiques lined up one after another. You can visit Derybasivska Street by taking the bus number 137.
Pymorsky Boulevard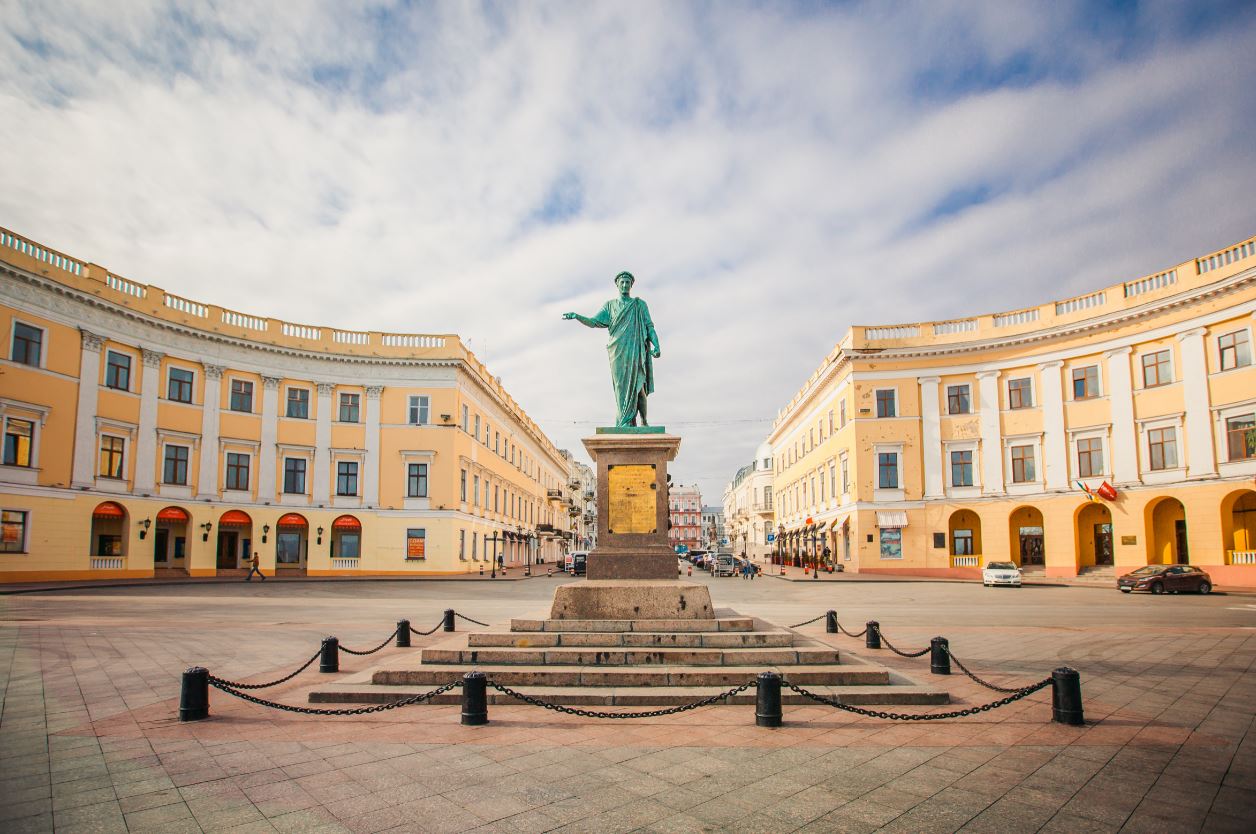 The iconic Pymorsky Boulevard is a great place to take long tours and explore the city up close. The boulevard is home to an old stock exchange building, the Alexander Pushkin monument and several monuments dedicated to military machines. This is also the exact location of the Vorontsov Palace.
Potemkin Stairs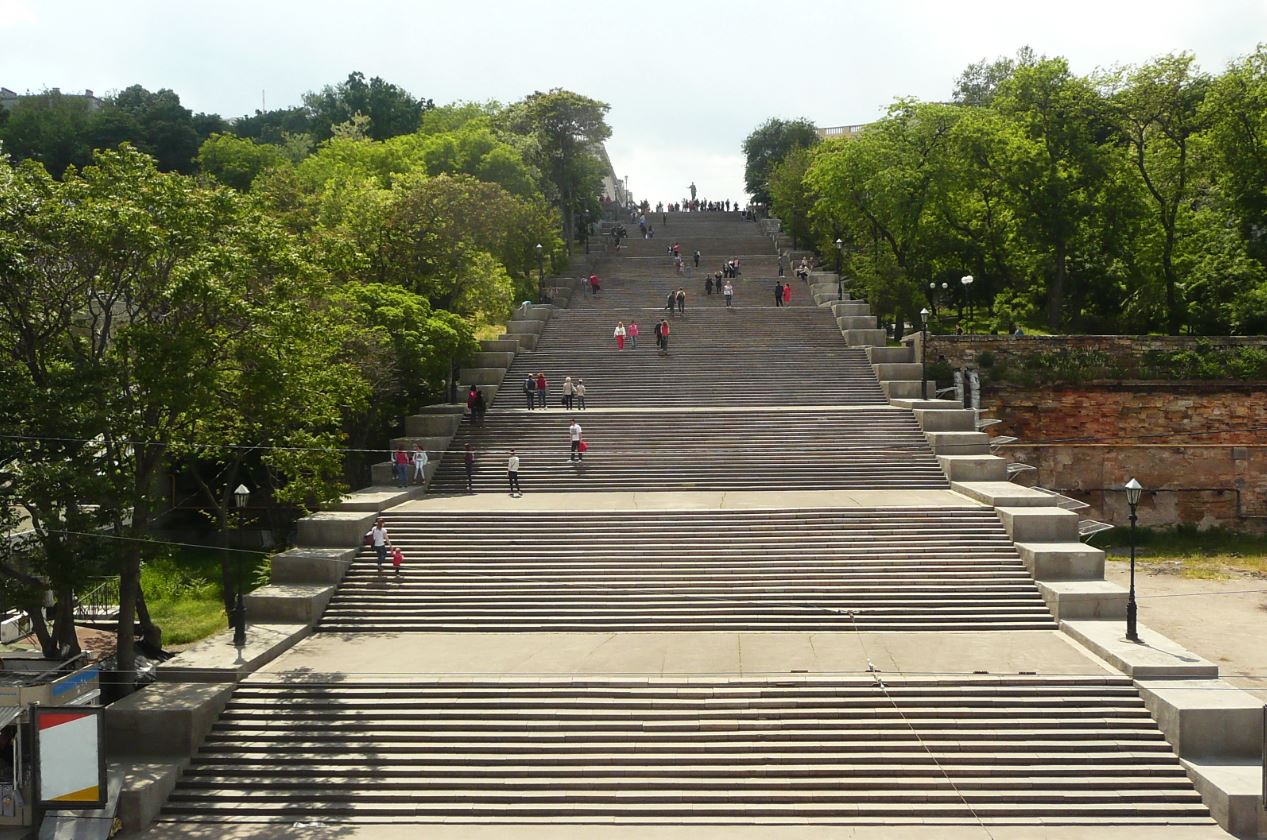 You should definitely visit Potemkin Stairs, used as a set in many important movies. The extraordinary structure consisting of 192 steps is named among the 10 most amazing stairs in Europe. When you go down the stairs, having a wonderful view, you can directly reach the port area.
Statue of the Duc de Richelieu
After spending time on the Potemkin Stairs, your next stop may be the Duke De Richelieu Monument, located just above the stairs. This monument, built in the name of Richelieu, who was the first president of Odessa, is located in the center of the city.
Monument to Orange
Monument to Orange, located on Zhvanetsky Boulevard, is among the structures that attract attention at first sight. You should definitely add the historical monument, which has an extraordinary story, to your Odessa sightseeing list.
Belvedere Columns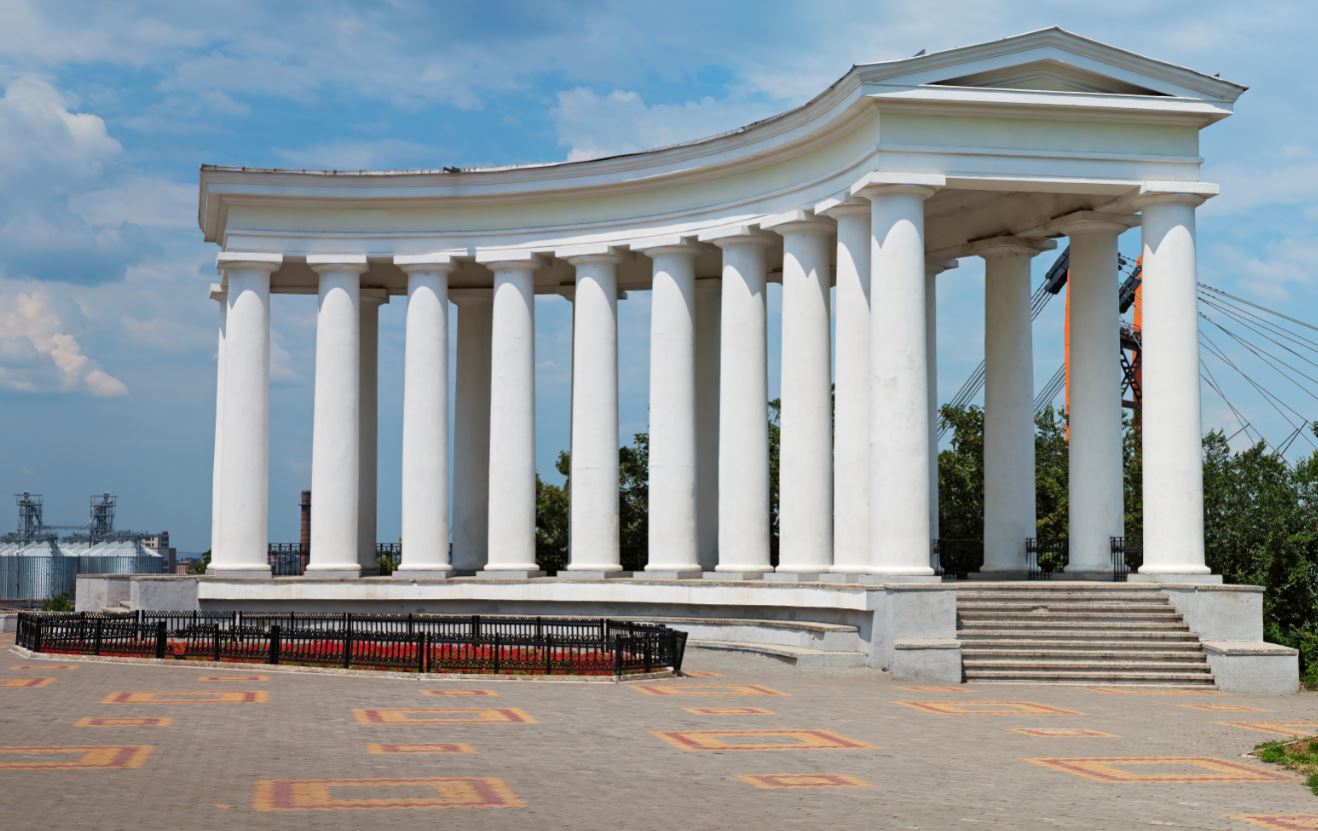 Located between Potemkin Stairs and Odessa Port, Belvedere Columns attract attention with their magnificent structure. Belvedere Columns, built with Hellenistic architecture, definitely adds extra beauty to Odessa. You can see the columns right across from the Vorontsov Palace on the boulevard.
Odessa Museum of Western and Eastern Art
Founded in 1923, Odessa Museum of Western and Eastern Art reveals the deep culture and history of the city in all its glory. Hundreds of important artifacts from all over the world are exhibited in the museum.
Pushkin Museum
This museum, which should not be missed by art lovers, hosts many important collections of Pushkin.
Odessa Numismatic Museum
The Numismatic Museum, also known as the money museum, is located on Hrets'ka St, 33. The museum contains old coins and artifacts unearthed as a result of excavations in Ukraine, Russia and the Northern Black Sea Region.
Arcadia Region
Arcadia Region, which includes the most popular beaches of Odessa, is a peaceful place to spend time and relax around the coast.
Where to Stay in Odessa?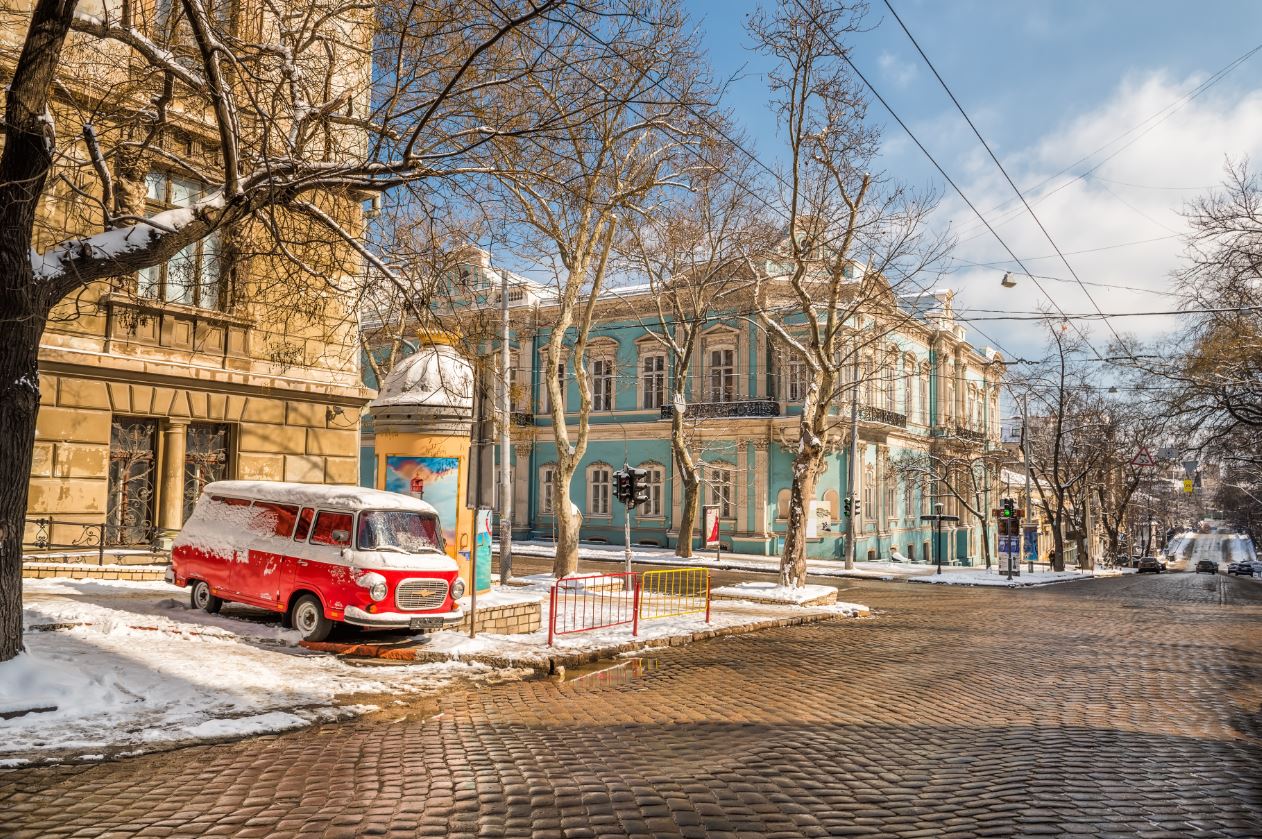 There are many hotels in the city center and Arcadia region which includes the most vibrant and popular beaches of the city. You can also choose coastal areas far from the city center for a peaceful holiday. Although Odessa hotels are generally attractive, prices can increase a little in June, July and August. Especially during public holidays, you may encounter prices that are not related to the cheapness of the city. By planning your visit to Odessa in advance, you can easily discover the most suitable accommodation opportunities.
What to Eat in Odessa?
Odessa has a huge cultural heritage living in the delicious tastes of the city. By tasting these delicious local delicacies you can experience the cultural beauties of the people and the city.
Vareniki
Vareniki, a type of dumpling, is served with ingredients such as cabbage, meat, mushrooms, cheese, cherries, currants or potatoes.
Deruny
Deruny, also known as potato pancakes, is served with different tastes like mushroom, beef and cheese.
Chicken Kiev
Served with garlic sauce, Kiev chicken is prepared as a simple combination of fresh chicken fillets with a piece of butter.
Homemade sausages
Homemade sausages are very famous in Ukraine. Luscious sausages blended with special oils, spices and sauces are a great choice for those who like different flavor alternatives.
Banush
Cooked with cream, butter, cheese and corn, Banush is served with meat, cured spiced beef or mushroom.
Syrniki
Syrniki, which is made of flour, cheese, eggs and sugar, is a great taste for those who cannot give up dessert for breakfast.
Kotleti Meatballs
Made from chicken, fish or meat, Kotleti meatballs are a good alternative for those who enjoy meat dishes.
Shopping in Odessa: Best Souvenirs to Buy
Sady Pobedy Shopping Mall, Europa, Kadorr City Mall and Fontan Sky Center are among the most popular shopping centers in Odessa. You can have the opportunity to find many products at affordable prices especially from the shopping centers in the Port area. In addition Famous Derybasivska Street, which is home to many shops, offers many alternatives for souvenirs. The antique market set up in the city center on Sundays is also a great place to discover original gifts.
Things You Should Know Before Visiting Odessa
Even though there are Wi-Fi points at the airport, shopping malls and many other places, purchasing an internet package will make your holiday easier.
Learning the Cyrillic equivalent of your destination from the internet or a city guide allows you to travel without missing the stop.
Credit and debit cards are mostly accepted by businesses. However, you should also have some cash with you just in case.
Nightlife in Odessa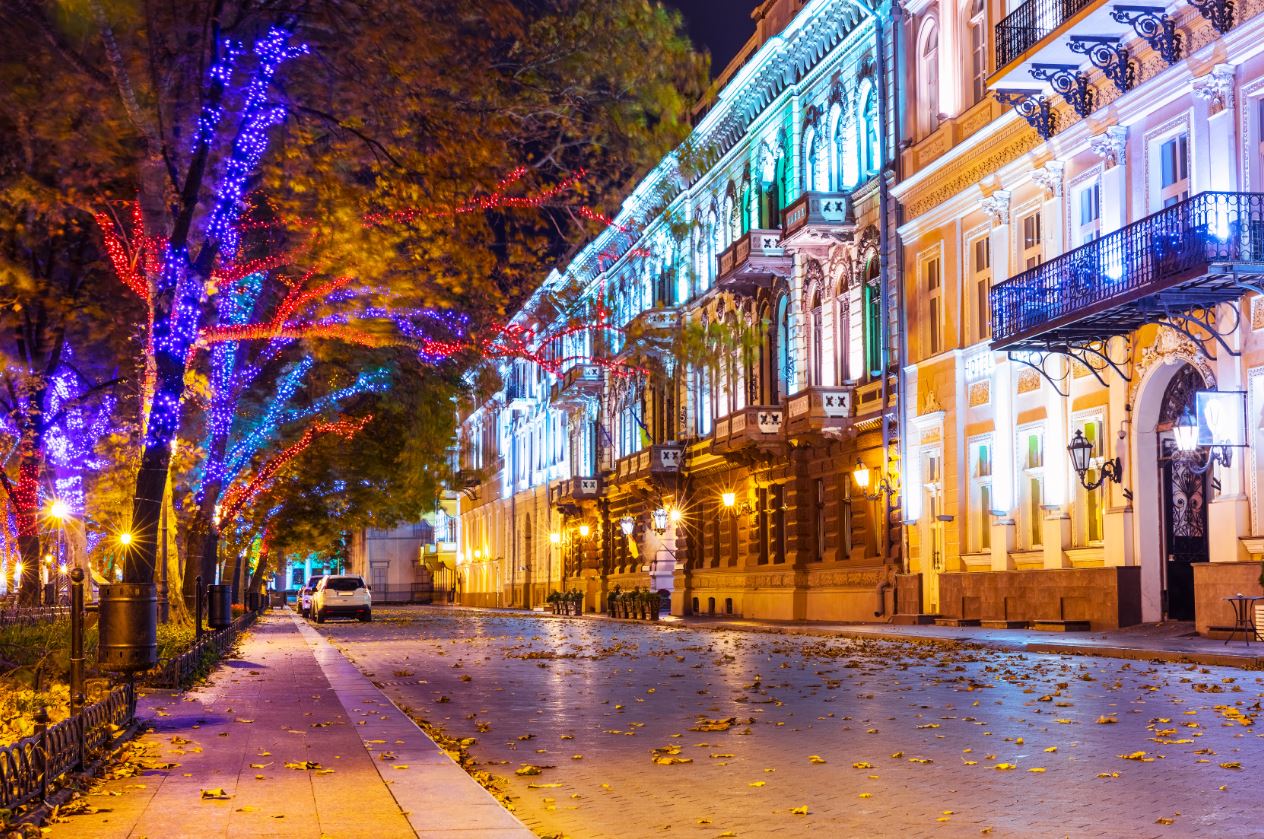 Famous for its colorful nightlife, Odessa is lively both in summer and winter. Arcadia is the place where nightlife is most active in Odessa. It is quite normal to see long lines after midnight in nightclubs.
Emergency Numbers
Ambulance: 103
Police: 102
Fire Department: 101