Kyiv is the capital and the largest city of Ukraine. It is located in north-central Ukraine on the Dnieper River, 187 meters above sea level. Europe's largest river "Dnipro" divides the city into two parts; the right bank, which is high with hills and the left bank, which is low and flat. Kyiv includes ten districts; three of them are on the left bank (Darnytskyi, Desnianskyi, Dniprovskyi) of the Dnieper river and seven of them are on the right bank (Holosiivskyi, Obolon'skyi, Pecherskyi, Podilskyi, Shevchenkivskyi, Solomianskyi, Sviatoshynskyi).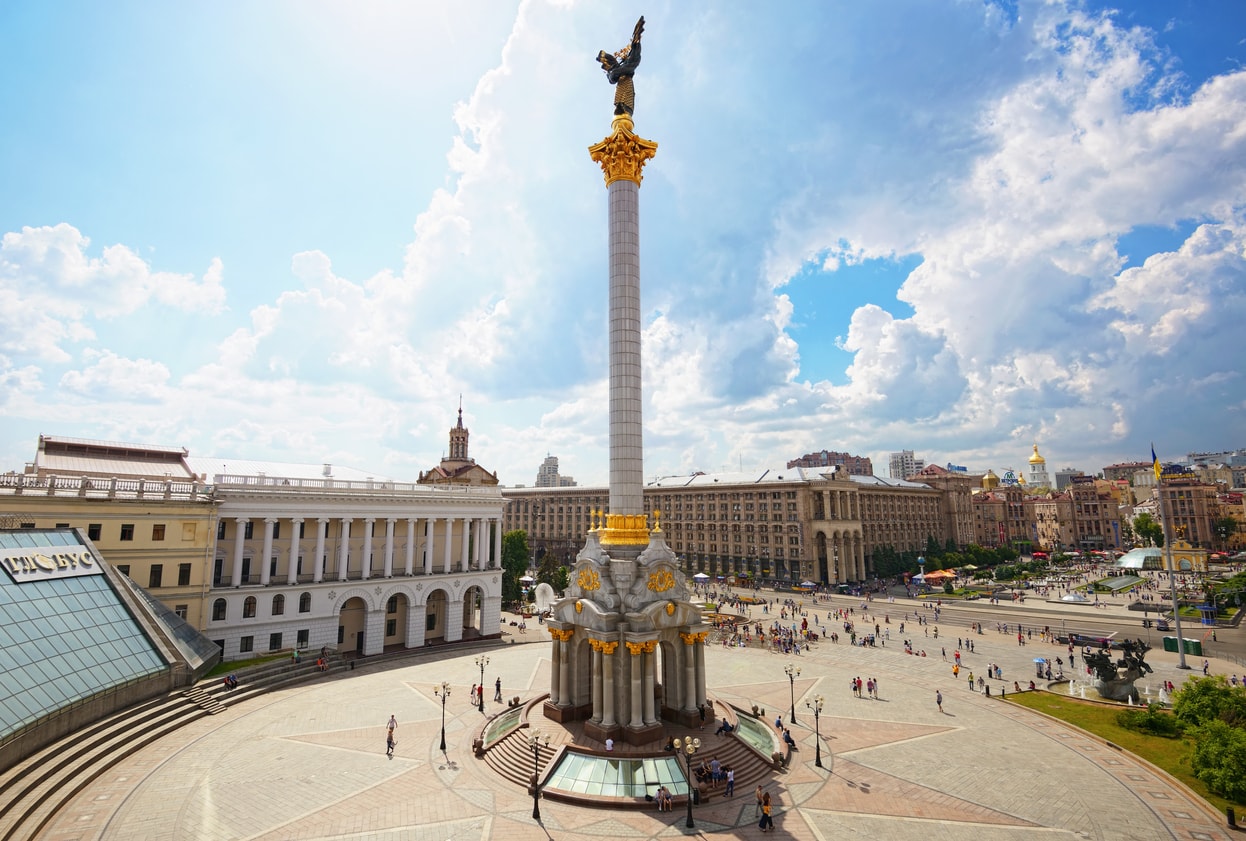 Kyiv is an ancient city. Although there were many civilizations previously, after the 5th century A.D. modern Kyiv appeared. There are different legends about where the name of Kyiv comes from. The most popular one is based on the foundation of Ukraine. According to the legend; there were three brothers, Kyi, Schek and Khoryv, and their sister Lybed who founded Ukraine at the beginning of the 6th century. In Ukrainian, Kyiv means the city of Kyi who was the eldest brother. The word "Kyev" is Russian and more known around the world since the Soviet Union.
Because of its rich culture, interesting history, charming architecture, monuments, peaceful gardens, and vibrant atmosphere, it is an attractive city. Moreover, Ukrainian cuisine with delicious food varieties leads tourists to attend gastro tours. There are many cities close to Kyiv. In Ukraine: Bila Tserkva (76 km), Chernihiv (131 km),  Zhytomyr (133 km), Cherkasy (155 km), Vinnytsia (197 km), Kirovohrad (248 km), Kremenchuk (255 km) and in Belarus: Gomel (226 km). The famous Russian city Chernobyl is also 100 km away.
General Information 

| | |
| --- | --- |
| Country | Ukraine |
| Region | Kyiv (oblast – region) |
| Area | 847,7 km2 |
| Language | Ukrainian |
| Average Temperature | 19 C (the hottest) / -5 C (the coldest) |
| Climate | Moderate Continental |
| Flora | Pine, Spruce |
| GMT Difference | +3 |
| Phone Code | +380 |
| Currency | Hryvnia |
| Plug Type | C Europlug and E/F |

How to Get to Kyiv?

Pegasus Airlines has direct flight options from Turkey to Kyiv. You can fly directly from Ankara and İzmir to Kyiv by using Pegasus Airlines. The flights last approximately 2 hours. Kyiv flight ticket can be easily bought online. There are also many indirect flight options. 
Transportation from Kyiv Airport to the City Center 

There are two airports in Kyiv: The busiest airport is called Kyiv Borispol Airport (KBP) and the small airport is Kyiv Zhulyany Airport (IEV/UKKK). 
The distance between the city center and Kyiv Zhulyany Airport (IEV/UKKK) is 9 kilometers.  It takes 25 minutes to get to the city center by car. The airport presents premium to low-cost parking options. It is possible to rent a car or use taxis from the airport, too. Taxis at the airport can be pre-booked. 
Public transportation is another option. You can use metro, trolley bus and minibus. The bus stop is located 200 meters from Terminal A and Terminal D. Every 15 minutes trolley bus number 22 departs from the airport to metro station "Syrets". You can buy the bus tickets from the driver, but do not forget to validate it. Arriving at the city center takes around 35 minutes by taking the bus (18 minutes) and transferring to the metro. Metro trip takes 10 minutes.
In order to reach the main railway station, you can take minibus 805, which departs every 11 minutes. You can prefer minibus 368 that departs every 16 minutes, as well. Both take 20 minutes.
The distance between the city center and Kyiv Borispol airport (KBP) is 35 kilometers.  You can use car rental, taxi options, which takes 30 minutes, as well as public transportation. Sky Bus (line number 322), runs between the airport and Kyiv's the main railway station (Kyiv-Pasazhyrskyi). The bus station is at Terminal D. It is easy to distinguish this purple bus with is noticeable color. Sky Bus runs every 15 minutes (at night every 30 - 45 minutes). Sky Bus to city center journey takes approximately 50 minutes. If you want to use the metro, the bus stops at the metro station "Kharkivska". You can transfer from bus to metro at this station. 
Pegasus allows passengers to rent a car or to make a reservation in advance, to provide an organized and comfortable trip. You can reserve a car before starting your journey even from a different country. Pegasus rent a car service provides 24/7 customer support and secure online payment.
Public Transport in Kyiv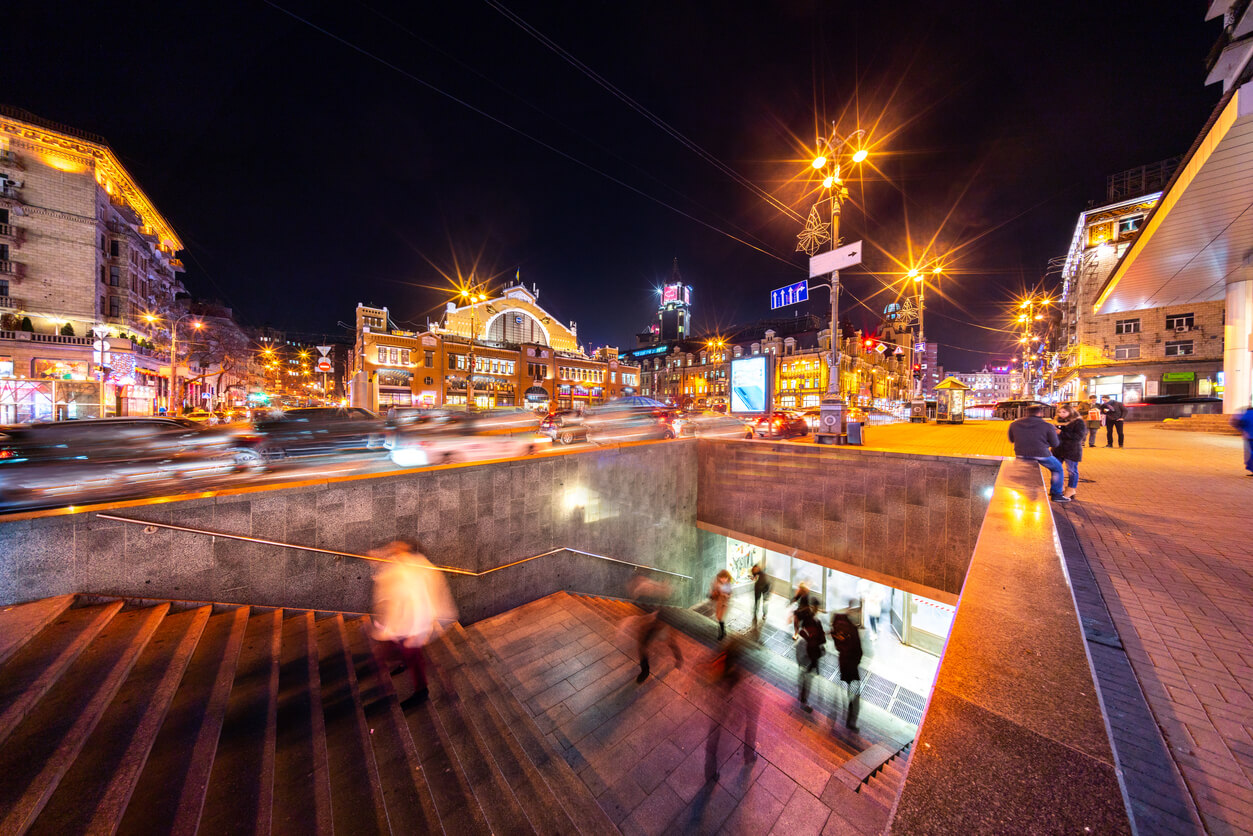 There are many transportation options in Kyiv. Taxis are commonly used. Metros, trams, funicular, trolleybus, bus, marshrutkas (public minibus), railway train, light rail, and suburban are public transportation options in Kyiv. All the information about each public transportation including the map, name of the stations, tickets, ticket price, distance, intervals, work days and time information can be reached from Kyiv Public Transportation Web page and Ukraine Travel Center web page. 
Metro lines (M1-red, M2 – blue  M3 – green) go through the city center. There are 3 transfer points: "Majdan Nezalezhnosti" (blue) to "Kreshhatyk" (red), "Teatralna" (red) to "Zoloti Vorota" (green) and "Palatc sportu" (green) to "Ploshcha Lva Tolstogo" (blue). All the stations are announced and displayed on the screens in the metro. Maps are translated into English. Metro working hours are between 6:00 to 24:00. There are different versions of metro tickets (monthly, PayPass, cards with magnetic tapes, refillable metro cards). You can buy a simple token from the ticket machines in stations. 
The best transportation ticket option for tourists is "Kyiv Smart Card", which is one ticket for all Kyiv public transportation including trams, trolleybuses, funicular, suburban electric train, marshrutkas, subway, and buses. The Smart card is not refundable and expires in 1 year after its first use. In addition, the balance is not transferable. 
You can obtain this card from Kyiv Metro Ticket Offices. Moreover, you can purchase the smart card from self-service boxes (Ibox, EasyPay, PrivatBank, 2Click),  kiosks ( "Press", TourInfo, T-Kiosks), on payment portals (Ipay, Portmone, EasyPay, Privat24) and over Privat24 App. 
Kyiv smart card price changes according to the number of trips that are covered. Currently, there are six types of tickets based on trip numbers; 1-9 trips, 10-19 trips, 20-29 trips, 30-39 trips, 40-49 trips, and 50 trips. 
Best Time to Visit Kyiv
You can visit Kyiv at any time, depending on your preference. Kyiv has a moderate continental climate. The hottest days are in July and the average temperature is around 19 °C.  It is the best time of the year if you don't enjoy cold weather. However, if you prefer to have snow, the snowiest days are in January. 
Skiing is a popular activity in Kyiv. There are several places that are close to Kyiv for skiing, such as "VyshHora", "Holosiievo", "Protasiv Yar". The coldest time of the year is also January, the average temperature is around -5°C. 
Mid-October and May are also busy months among tourists to visit Kyiv because of the weather conditions as well as its festivals. Since there are many touristic activities in Kyiv, minimum 3 to 4 days will be necessary to discover the city. Depending on your personal interests, and your planned activities, you may need a longer duration.
Festivals in Kyiv

There are several festivals held in Kviv during different times of the year. Most of them are cultural festivals.
Orthodox Christmas (January 7)

Ukrainian World Music Festival (late June/early July)

Kyiv Day (the last weekend of May)

Lviv City Day (in May)

Molodist International Film Festival (last week of October)
Places to Visit in Kyiv 

The city offers many attractive places to visit, such as amazing architecture, relaxing parks, interesting monuments. Due to its long history and rich background, Kyiv is a diverse city. The street art, outdoor attractions, countless cafes, bars and varieties of markets make the city more inviting. Besides the rich culture, affordability is another reason to visit the city. There are many places worth visiting in Kyiv. 
Impressive Architecture

The main avenue in the center of Kyiv is "Khreschatyk" street, which turns into a pedestrian zone during weekends. It is possible to see notable buildings that display Soviet architecture on this street. Walking around the Expo center (Vystavkovyi tsentr) you will appreciate this style, as well. Ukrainian architecture is also amazing. "Yaroslaviv Val" and "Arkhitektora Horodetskoho" streets are the main places to see beautiful examples of Ukranian architecture. In "Podil" area, which is one of the most ancient parts of the city, it is possible to see a wide range of architecture styles: Ukrainian Baroque, Russian Classicism, Eclecticism, and Modernism.
Charming Golden Dome Churches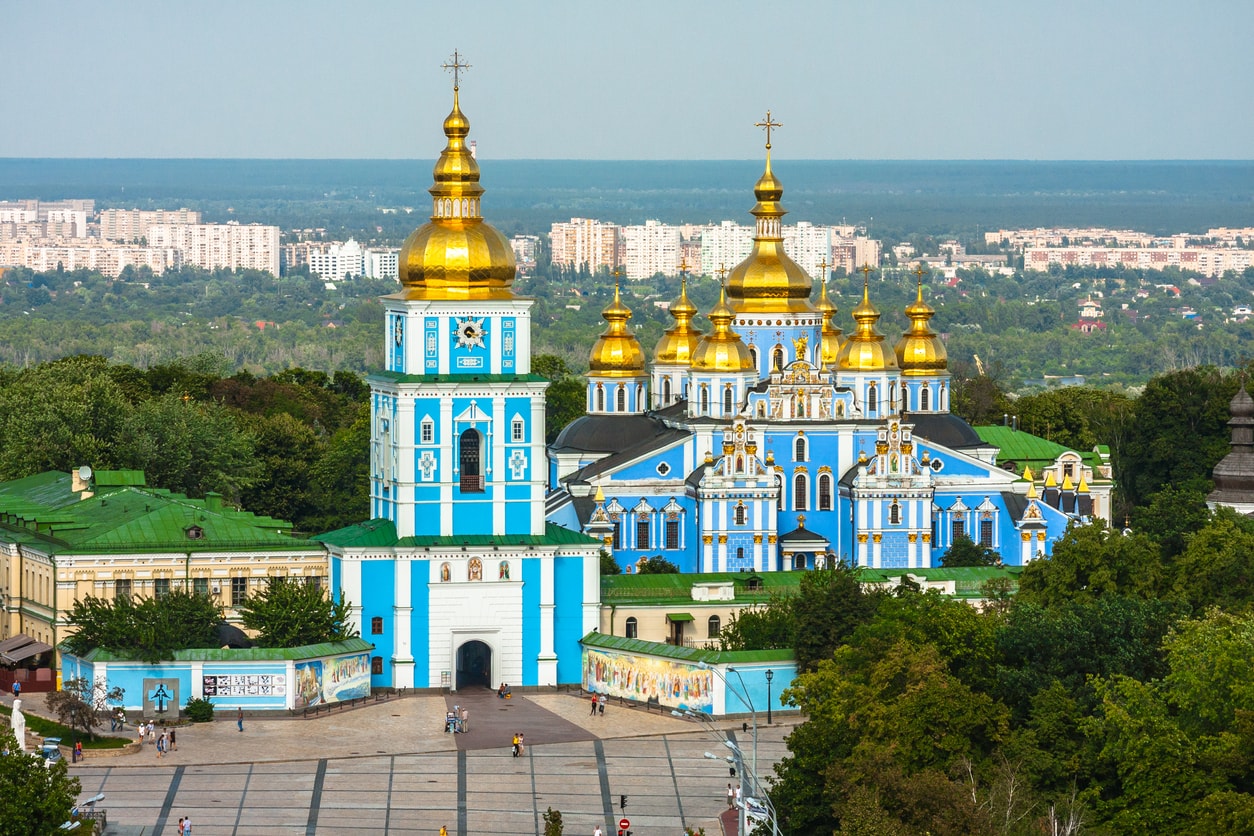 It is common to see gold dome churches around Eastern Europe. In Kyiv, there are many charming examples of them. The most famous churches are St. Andrew's Church, St. Michael's Golden-Domed Monastery and St. Volodymyr's Cathedral. Pechersk Lavra complex is declared as a World Heritage Site by UNESCO. It is worth visiting St. Sophia Cathedral, which is another UNESCO protected construction.
Relaxing Parks

The city includes diverse park alternatives, too. If you are looking for an old fashion place, Hydropark with an amusement park is a good option. Close to the main university building there is a perfect spot to rest, chill, nap or read called "Shevchenko" Park. Another relaxation corner choice can be the sandy beaches at the shore of the Dnieper river.
The National History Museum of Ukraine (WWII)
If you are interested in history and military equipment, the National Museum of the History of Ukraine in the Second World War is the correct place to visit. It is one of the largest museums in Kyiv and located under the famous Motherland Statue. The museum includes many items to give the details of WWII. 
Outdoor Attraction Streets and Unique Markets

Plenty of outdoor attractions happen in Kyiv. Especially between St. Sophia's and St. Michael's churches, you can see an attraction at almost any time. There are many vibrant and unique places in the city. In vivid touristic streets, full of sculptures, street art, and markets take the attention of visitors. The famous "Besarabski" market, culture center "Art Zavod Platforma" and historic "Podil" area (next to "Poshtova Ploshcha" metro station) worth to visit, as well. 
Where to Stay in Kyiv?

Kyiv offers various accommodation options. Therefore, you can select the most suitable one based on your visit purpose and your budget. If you are on a business trip, the hotels close to the airport can help you to save time. It is possible to find accommodations in "Gorkogo",  "Yabluneva", "Kharkivske shose", "Gagarina" streets which are close to Kyiv-Borispol Airport. Also in Boryspil, there are many hotel and apartment choices. If you are using Zhuliany Airport for your business trip, "Molodohvardiiska", "Henerala Tupykova", "Mykilska" streets, and "Lobanovskyi" Avenue present nice hotel options. 
If you plan to do cultural activities and to walk in the city, then you can prefer to stay around "Podil" area. "Yaroslavska" and "Kostiantynivska" streets in "Podil" have varied accommodation alternatives at the heart of the historic area. You can find a large number of hotels around "Khreschatyk" and "Prorizna" streets, which are very central,  as well. 
In addition to traditional hotels, there are luxury hotels, boutique hotels, apartments, mid-range hotels, young hostels, too. Moreover, it is possible to rent an apartment, and this is pretty common among tourists. 
What to Eat in Kyiv?

Ukrainian cuisine shows diversity under the influence of rich culture and climate conditions. Many traditional dishes include grains and vegetables. Ukrainian food is generously flavored.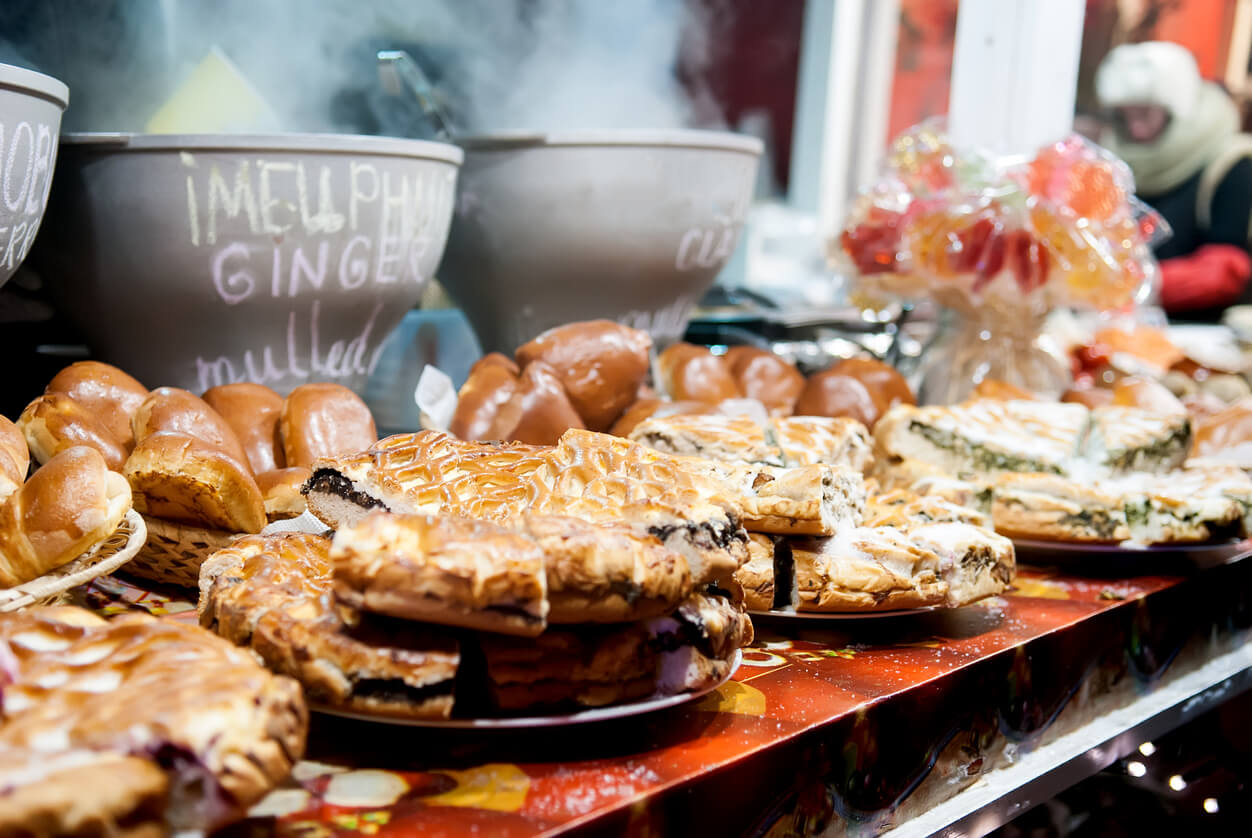 Garlic plays a fundamental role in the Ukrainian cuisine. The dough can be baked, boiled, such as "kasha" or fried as dumplings or fritters. Desserts include baked sweet bread, cakes, cookies that contain honey and fruits, such as blueberries, cherries, and plums. Also, you can taste Georgian food in Kyiv. If you would like to check well-known traditional food, try them at these restaurants:
Vareniki (filled dumplings): Sho

Holubtsi (Stuffed Cabbage Rolls): Kanapa

Borscht: Petrus-b Restaurant

Khachapuris adjaruli (Georgian food): Mama Manana
Shopping in Kyiv: The Best Souvenirs to Buy

In Kyiv, there are many shopping malls, markets, bazaars, gift shops, and supermarkets. The touristic areas, such as "Shevchenka" Boulevard, "Kreschatik" Street, "Krasnoarmeyskaya" street, there are many gift shops. In these souvenir shops, you can find hand-made, traditional and memorable gifts according to your taste. You can purchase unique gifts among jewelry, paintings, sculptures, and tablecloths created by artisans.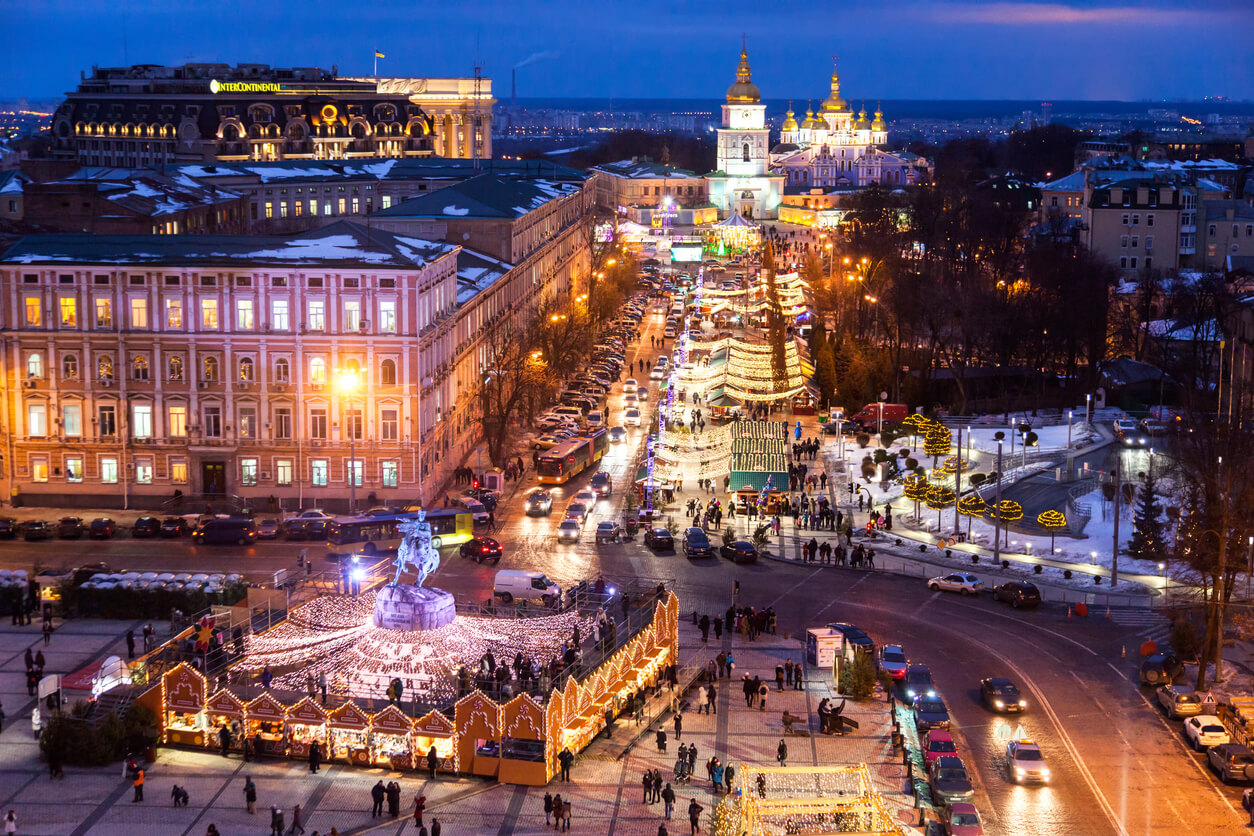 One of the oldest streets is "Andreevsky Spusk" known as the street of artisans, present numerous gifts shops, small art galleries, and outdoor souvenir bazaar. It is possible to buy paintings, sculptures, and other traditional authentic gifts from this street. If you are interested in handmade objects you can enjoy hand-woven rugs, hand carved, wood inlay and lacquered boxes, embroidery, hand-painted Easter eggs (pisanki) and semi-precious stones.
"Besarabsky" Market located at the "Bessarabska" square is a traditional market includes Ukrainian food, nuts, dry, fresh fruit, fish, meat and vegetables. In case you are looking for a modern mall, Gulliver shopping mall at "Sportyvna" square, Ocean Plaza at "Gorkogo" and Skymall at "2T Generala Vatutina" Avenue can be good alternatives for you.
Ukraine offers several famous traditional gifts: Rag Dolls (Motanky), Easter eggs (pisanki), colorful ceramics, Ukrainian Matryoshka / Babushka, Ukrainian Folk Blouse (chemise), Handmade lacquered wood boxes, Ukrainian folk music CDs, Ukrainian jewelry (wooden bracelets & beaded necklace), carved wooden items, handmade textile and Ukrainian rug (kylym) are among them.
Nightlife in Kyiv 

Nightlife in Kyiv is very vivid and presents a wide range of entertainment options. There are plenty of pubs and bars. If you prefer to dance over the river then Disco Radio Hall, which is mostly favored by the young people, is a perfect choice. If you would like to listen to musical groups or Ukrainian stars, and interested in Latin dance then try Caribbean Club. CHI club is a quality place in Kyiv and known with the strict entrance selection system.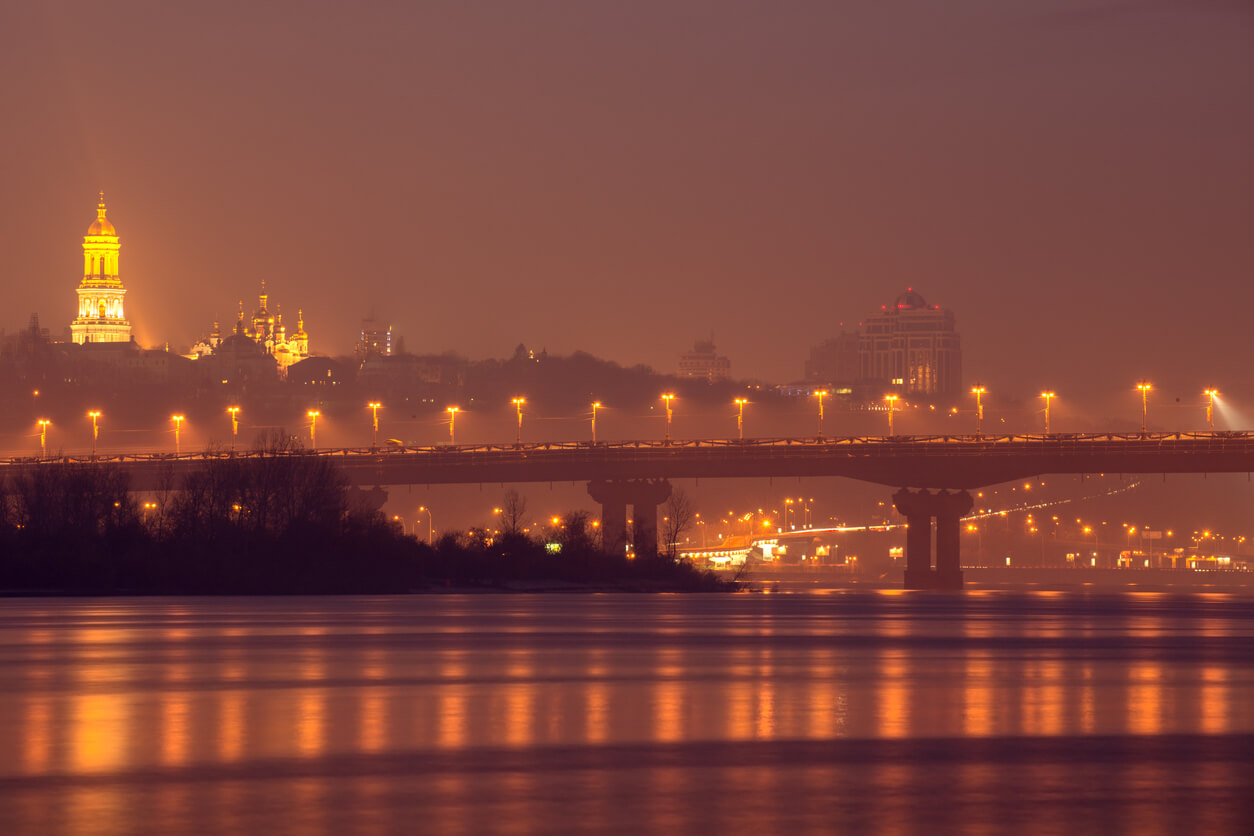 Kyiv is a European city famous for its nightlife. The city attracts tourists with its feature of being alive around the clock. All nightclubs have different music options. However, there are also pub-style venues for those who do not prefer the classic nightclub concept. Popular nightclubs in Kyiv are located close to the city center. There are many popular sites around the Avalon complex, the old Dynamo Kiev stadium and the National Aviation Agency. 
Things to Know Before Visiting Kyiv

The city is generally a safe place to travel, but it is still good to be careful. Street scams and taxi scams are frequently reported.  

Bargaining is not widespread in Ukraine and not suggested.

Most taxis do not have a taxi-meter. So it is necessary to set a price in advance. 

Legally, there is no difference between standard or night tariffs of taxis. However, taxi drivers tend to ask for more at nights.

Not all taxi drivers are English speakers. 

The city has bitterly cold winters. In winter it is likely to see – 33 °C. Hence, take your cold protecting clothes.

There are ATMs all over the city so that you can withdraw money easily. 

You can use debit or credit cards in almost every cafe, restaurant, or supermarket.
Essential Phone Numbers to Know

Ukraine Code: 380
Kyiv Code: 44
Kyiv Borispol Airport (KBP): 296 72 43 
Kyiv Zhulyany Airport (IEV/UKKK): 242 23 08
Police: 102
Ambulance: 103