Sarajevo is the capital and most influential city of Bosnia and Herzegovina and located between Croatia and Serbia, and 150 kilometers away from Montenegro. The city is surrounded with Dinaric Alps and every season sparks various beautiful sights. Although its history dates back to prehistoric times, Sarajevo arose as a significant Ottoman stronghold during the 15th century. Now, the city is a growing tourism destination with many historical, natural and cultural attractions.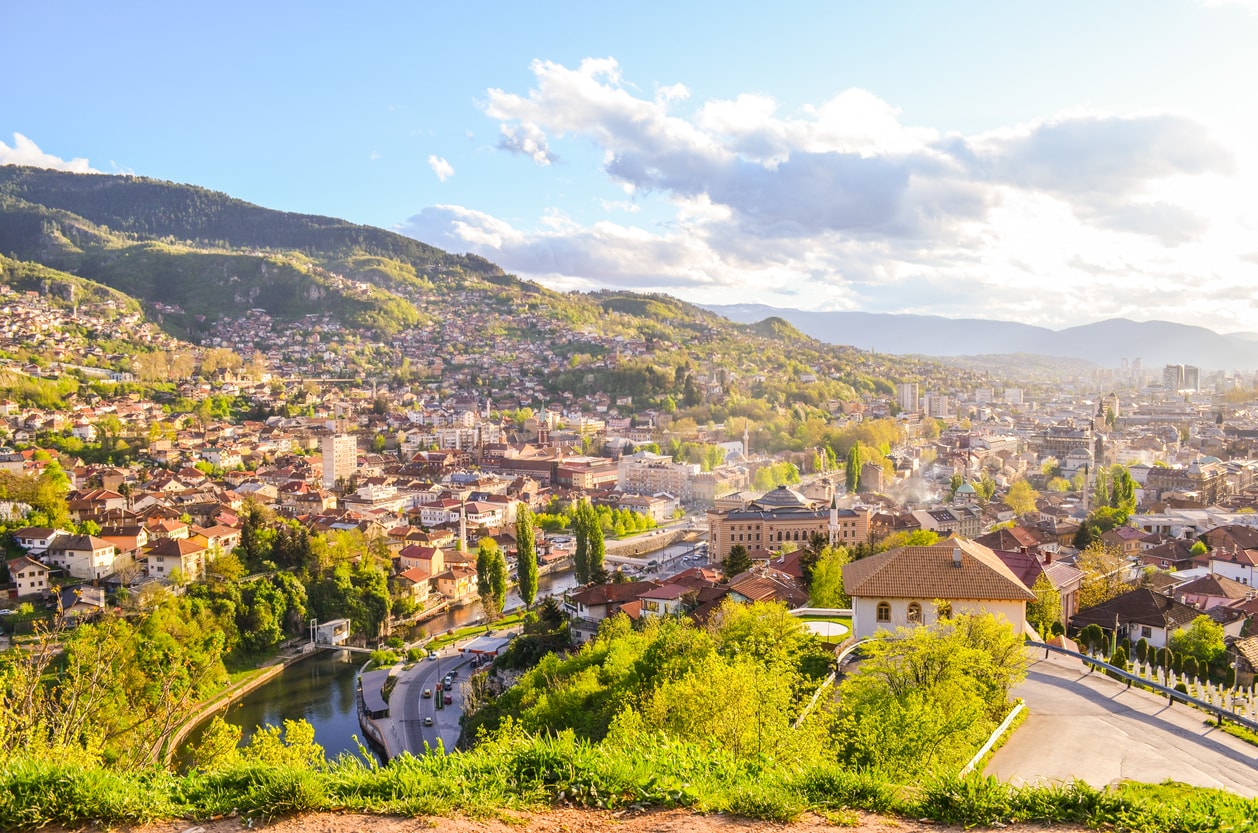 General Information
| | |
| --- | --- |
| Country: | Bosnia and Herzegovina |
| Region: | Southeastern Europe |
| Area: | 141.5 km² |
| Language: | Bosnian-Serbian-Croatian |
| Average temperature: | 12 °C |
| Climate: | Humid Continental Climate |
| Vegetation: | Forest and Small Plants  |
| The difference between GMT: | GMT+2 |
| Telephone Code: | +387 |
| Currency: | Bosnia and Herzegovina Convertible Mark |
| Socket Type: | Type C |

How to Get to Sarajevo?
Sarajevo is a great Balkan city with rich history and culture. Pegasus Airlines offers direct flights to Sarajevo from İstanbul. 
The flight duration to Sarajevo from İstanbul is 1 hour and 55 minutes.
You can buy your direct flight tickets to Sarajevo from İstanbul from here.
Transportation from Sarajevo Airport to City Center
Sarajevo International Airport is located 10 kilometers away from the city center. You can get to the city center with shuttle bus, taxi and car.
Shuttle buses are available 5.30 to 22.00 in summer and 6.25 to 22.30 in winter. The trip costs 5 KM and takes approximately 20 minutes. 
There are also many taxis available in the airport 24/7. Most taxis offer 30 KM fixed price to the city center. 
You can also enjoy the city with a rental car. Pegasus Airlines car rental service has great offers for you in here.
Public Transport in Sarajevo
You can use buses, trams, small buses and taxis to get around in Sarajevo. You need to have a rechargeable card to use public transport. The card costs 5 KM and available in most stations and kiosks.
It is recommended for you to buy a rechargeable card beforehand in order to buses. The price goes 0.20 KM's higher if you buy the ticket from drivers. You can check timetables and routes from here. The site is available in Bosnian.
You can also use taxis to get around in Sarajevo. The starting price for taxis is 1.5 KM and costs 1 KM per kilometer.
Best Time to Visit Sarajevo
Sarajevo has a continental climate with a high chance of rain all year long. Summers are hot and rainy and winters are cold and snowy. The hottest month is August and the coldest month is January. We suggest you to visit Sarajevo during late spring or early autumn since the weather is cooler and more welcoming. It is also recommended for you to enjoy Sarajevo at least two to three days. 
Festivals in Sarajevo
Sarajevo Fashion Week (November)

Sarajevo Winter (February, March)

International Folklore Festival (July)

Kozara Ethno International Folklore Festival (June, July)
Places to Visit in Sarajevo
Sarajevo is one of the most significant cities in Balkans in terms of historical landmarks and cultural heritage thus the city attracts up to 3 million tourists annually. 
Baščaršija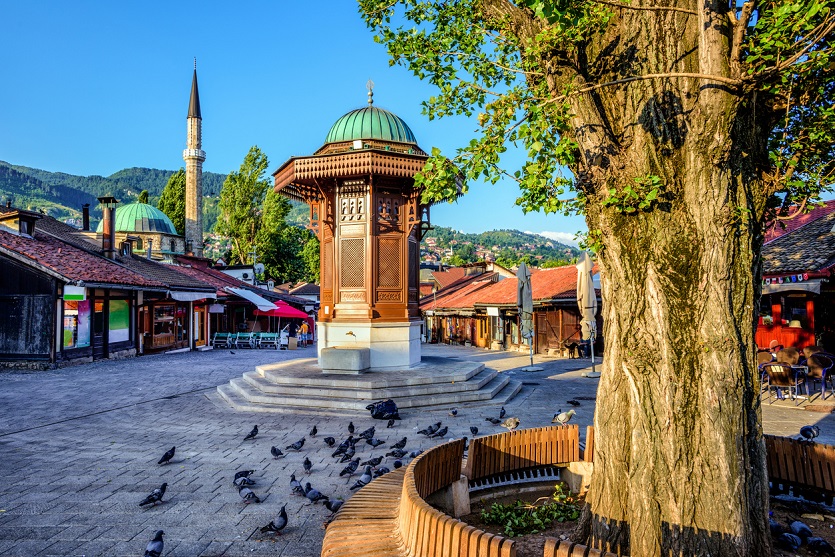 Baščaršija is the historical and cultural center of Sarajevo. Baščaršija is also a commercial district with countless products. The district has some of the best examples of oriental architecture and Sarajevo's must-go attraction. 
Latin Bridge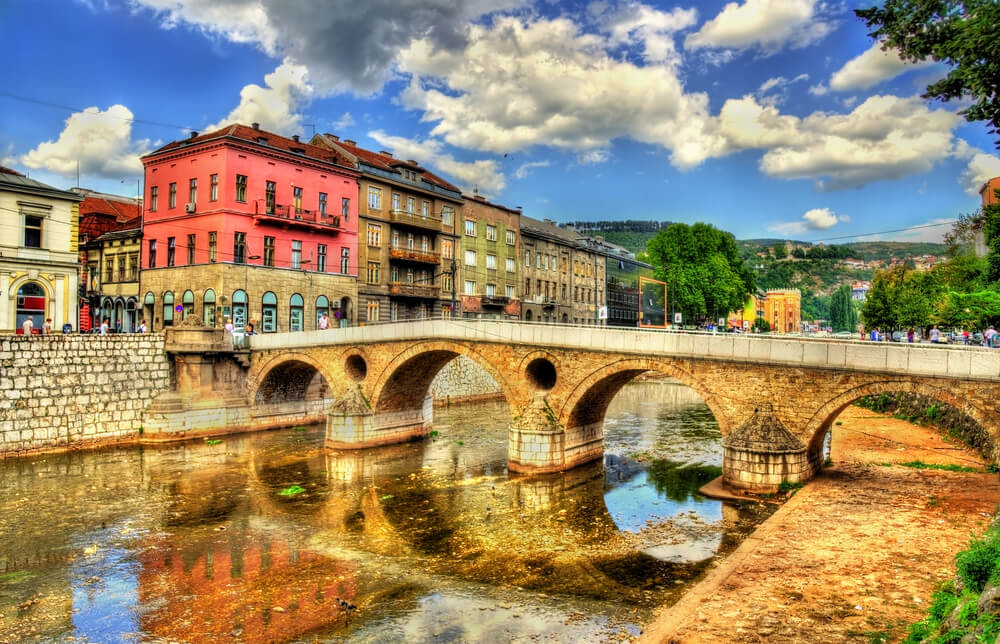 Latin Bridge is an amazing Ottoman Bridge built in the 18th century. The bridge is located in the center of the city in front of the Sarajevo Museum. The northern end of the bridge was the place where the assassination of Archduke Franz Ferdinand happened. 
Sacred Heart Cathedral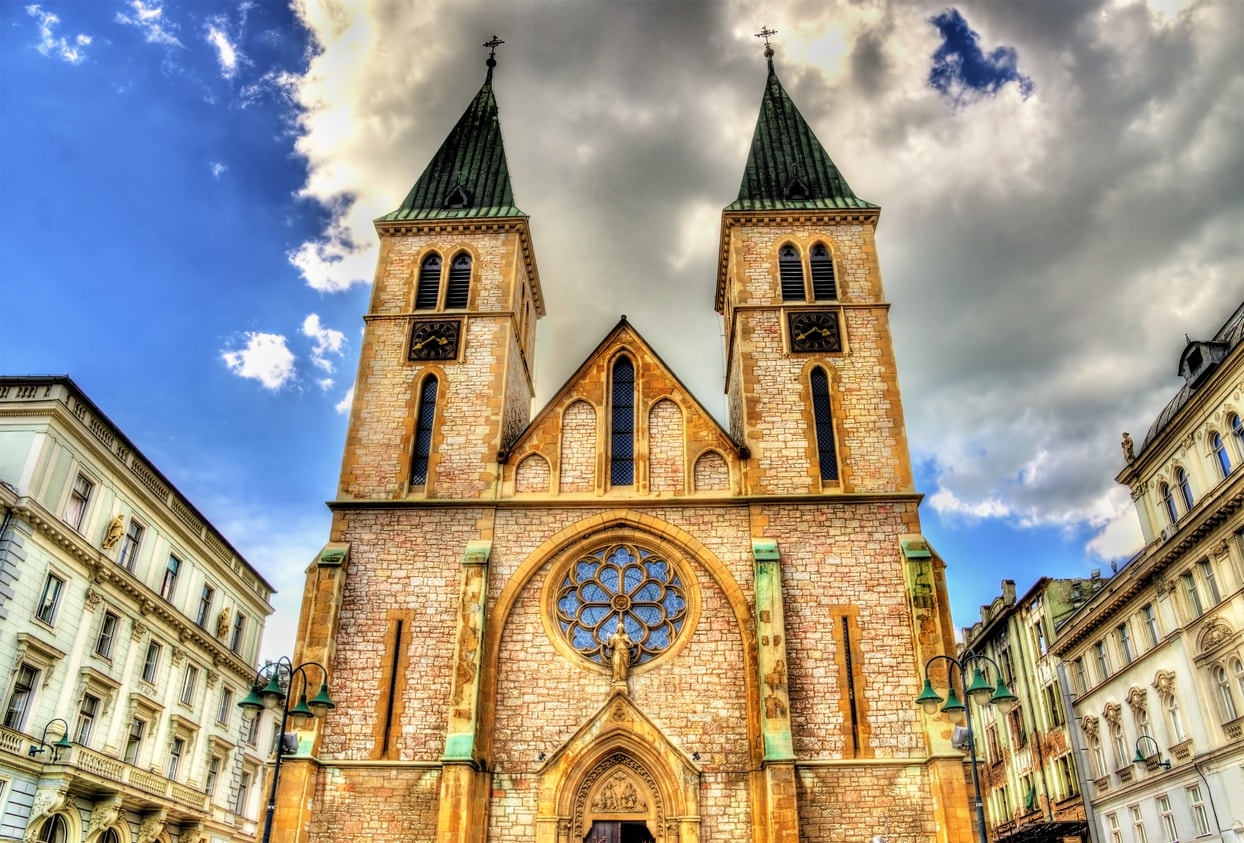 Sacred Heart Cathedral is a catholic church that was built in 1889 and also referred as Sarajevo Cathedral. Interiors of the church are beautifully decorated with many frescos. The cathedral is located in the city center walking distance away from the Latin Bridge. 
Brusa Bezistan
Brusa Bezistan was built in 1551 as a bazaar by Rustem Pasha who was the Grand Vizier of Suleiman the Magnificent. Nowadays, the bezistan has many contemporary galleries as well as artifacts ranging from prehistory to Ottoman period. 
Gazi Husrev-beg Mosque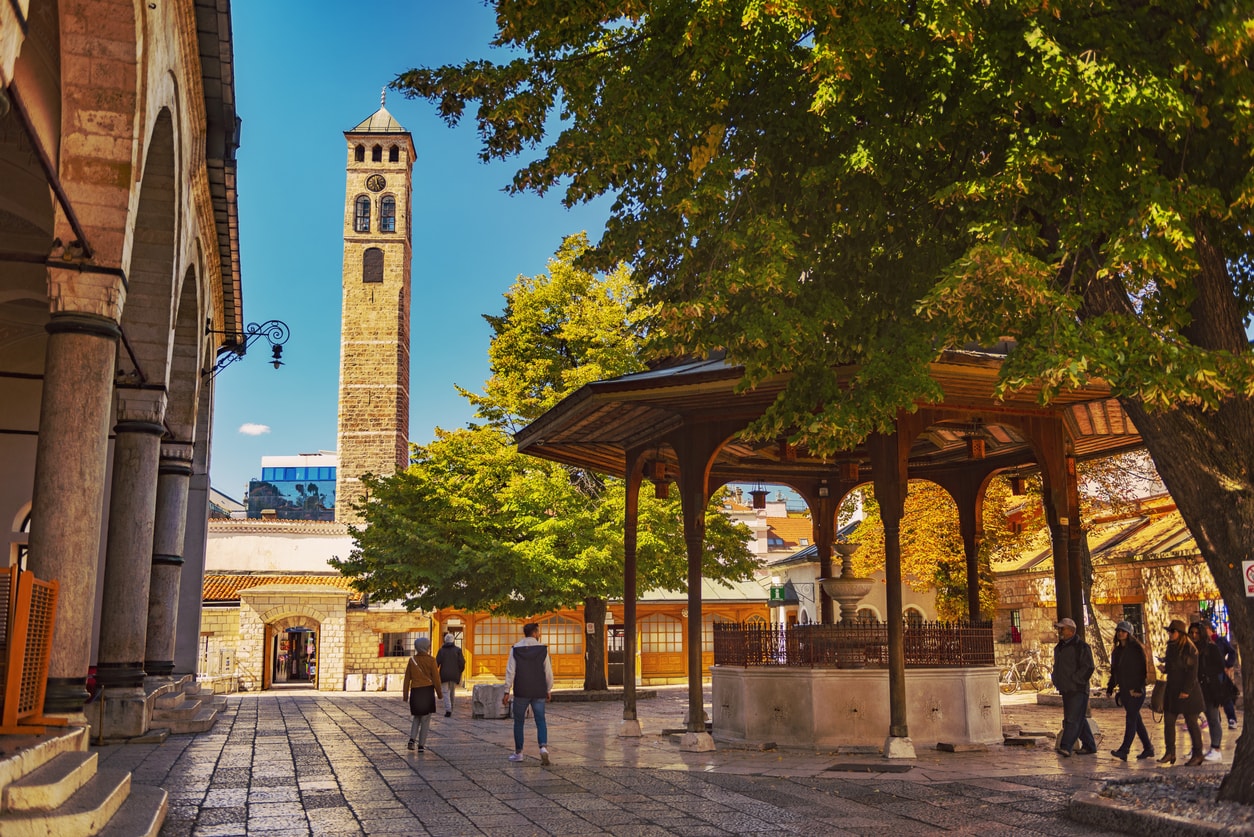 Gazi Husrev-beg Mosque was built in the 16th century and is the largest mosque in Bosnia and Herzegovina. The mosque is located in the center of Baščaršija district. Gazi Husrev-beg Mosque considered as the most significant architectural monument from Ottoman rule.
Where to Stay in Sarajevo?
Sarajevo offers a variety of accommodation options to its visitors. 
If you are in Sarajevo to enjoy its amazing historical and cultural attractions to the fullest, it is recommended for you to stay in hotels located on Obana Kulina Bana and Mula Mustafe Bašeskije streets. These hotels are near the Baščaršija, cathedrals and museums.
There are also many good backpacker hostels in Sarajevo such as Hostel Lucky and Hostel City Rest. 
What to Eat in Sarajevo?
Sarajevo is a culinary heaven for food enthusiastic visitors. Its cuisine is a delicious fusion of Turkish, Bosnian and Serbian kitchens. Its traditional recipes mostly consist of meat and pastry.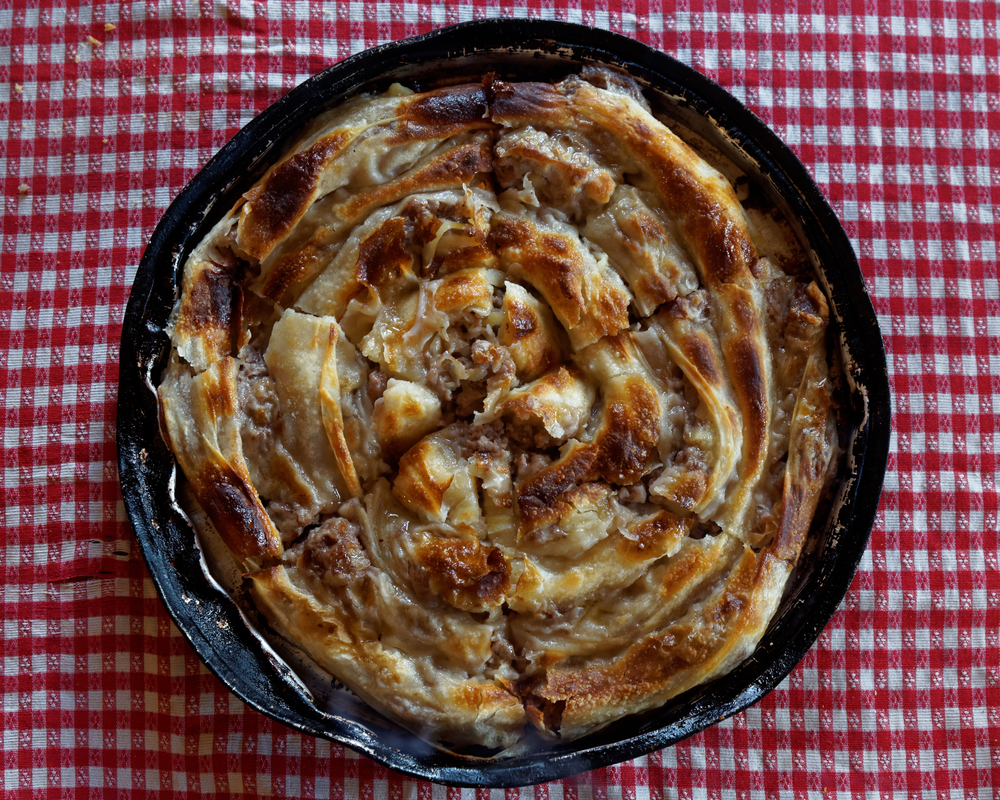 Ćevapi, Pljeskavica: Ćevabdžinica Željo 2

Traditional Pastry: Pekara Edin

Trileçe, Kalburabastı: Nafaka
Shopping in Sarajevo: Best Souvenirs to Buy
Ferhadija Street and Marijin Dvor is the must-go places to shop in Sarajevo. There are many handcrafted products, jewelry, souvenir made of copper and porcelain in these places. Also, Baščaršija district is famous with its dazzling traditional Bosnian crafts.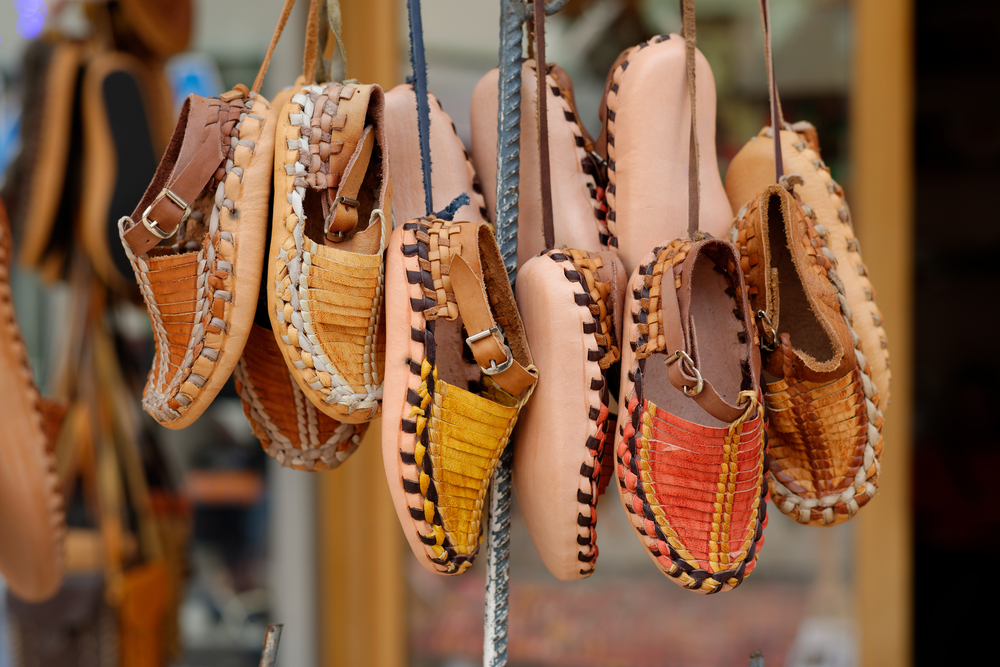 In addition to local products, Sarajevo has huge shopping malls with large stores. BBI Center and Sarajevo City Center offer many world-famous brands. 
Nightlife in Sarajevo
Sarajevo offers a variety of nightlife options to its visitors. There are many pubs, dance clubs, and rock bars in Sarajevo. Most of the bars are concentrated in the city center, north side of the river. Zlatna ribica offers great food and drinks to its visitors. You can walk along the banks of the Miljacka river to discover other great places to enjoy the night.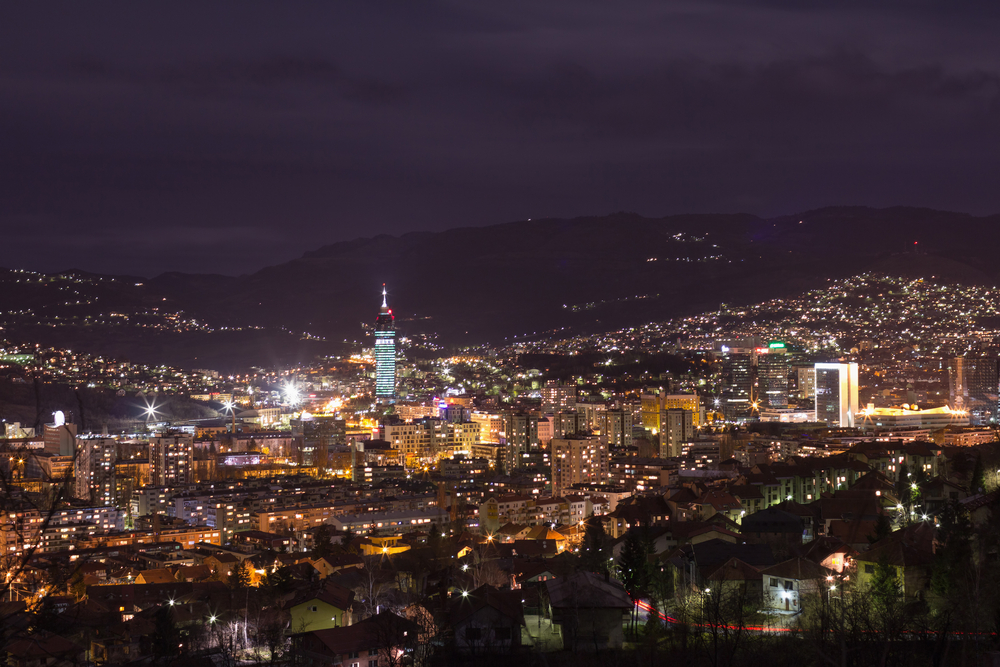 Things to Know Before Visiting Sarajevo
There are many currency exchange vendors and banks around the city.

If you are visiting Sarajevo during winter, it is best for you to bring your best coat.
Essential Numbers to Know
Country Code: +387
City Code: 33
Sarajevo International Airport: +387 33 289-100
Police: 122
Ambulance: 124