Nuremberg is the second-largest city of Bavaria region with a population of more than half a million people. The city is located on the southern part of Germany and 150 kilometers west of Czechia. Nuremberg's modern documented history starts with the mentioning of a strong castle in a letter in the 11th century. Since then, the city always held great importance in its region regarding economy, culture and military affairs.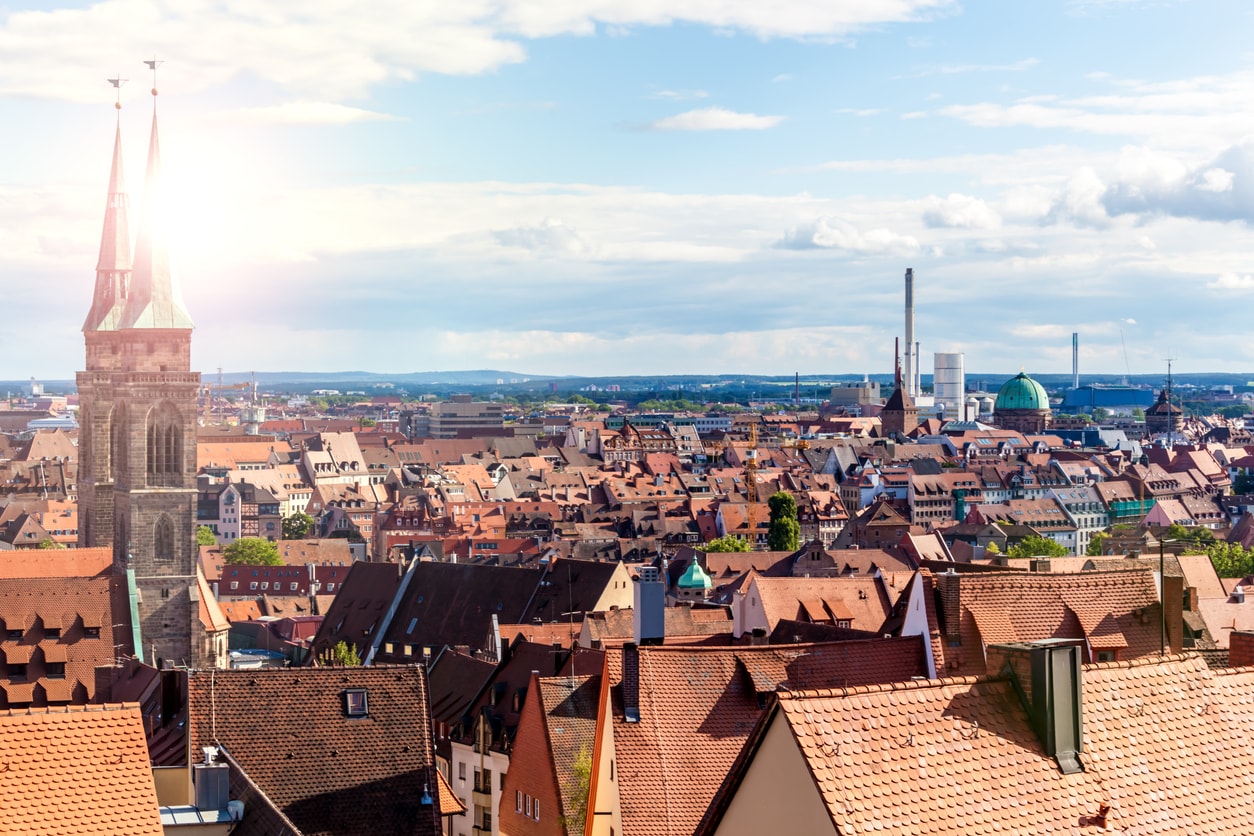 General Information
| | |
| --- | --- |
| Country: | Germany |
| Region: | Southern Germany |
| Area: | 186.5 km2 |
| Language: | German |
| Average temperature: | °C |
| Climate: | Continental |
| Vegetation: | Birch and Beech Trees |
| The difference between GMT: | GMT+2 |
| Telephone Code: | +49 |
| Currency: | Euro  |
| Socket Type: | Type F |

How to Get to Nuremberg?
Nuremberg is a great city with its renowned historical and cultural attractions. Pegasus Airlines offers direct flights to Nuremberg from İstanbul, İzmir and Antalya.
The flight duration to Nuremberg from İstanbul is 2 hours and 45 minutes.
The flight duration to Nuremberg from İzmir is 2 hours and 55 minutes.
The flight duration to Nuremberg from Antalya is 3 hours and 25 minutes.
You can buy your direct flight tickets to Nuremberg from İstanbul, İzmir and Adana from here.
Transportation from Airport Nuremberg to City Center
Airport Nuremberg is located 8 kilometers away from the city center. You can get to the city center with subway, bus, taxi and car. 
U2 subway line can directly take visitors to the city center in 12 minutes. The subway runs every 10 minutes. The line is available except between 01.10 AM and 05.00 AM. You need to buy a VGN ticket in order to use trains and buses. They are available in the airport and in every subway station. T
he bus stop is located in front of departure terminal 1. 30 bus line can take you to the city center directly. N12 bus line is available at night for every hour.
There are also many taxis available in the airport 24/7. The trip to the city center takes approximately 20 minutes and costs 20 Euros (2019).    
You can also enjoy the city with a rental car. Pegasus Airlines car rental service has great offers for you in here.
Public Transport in Nuremberg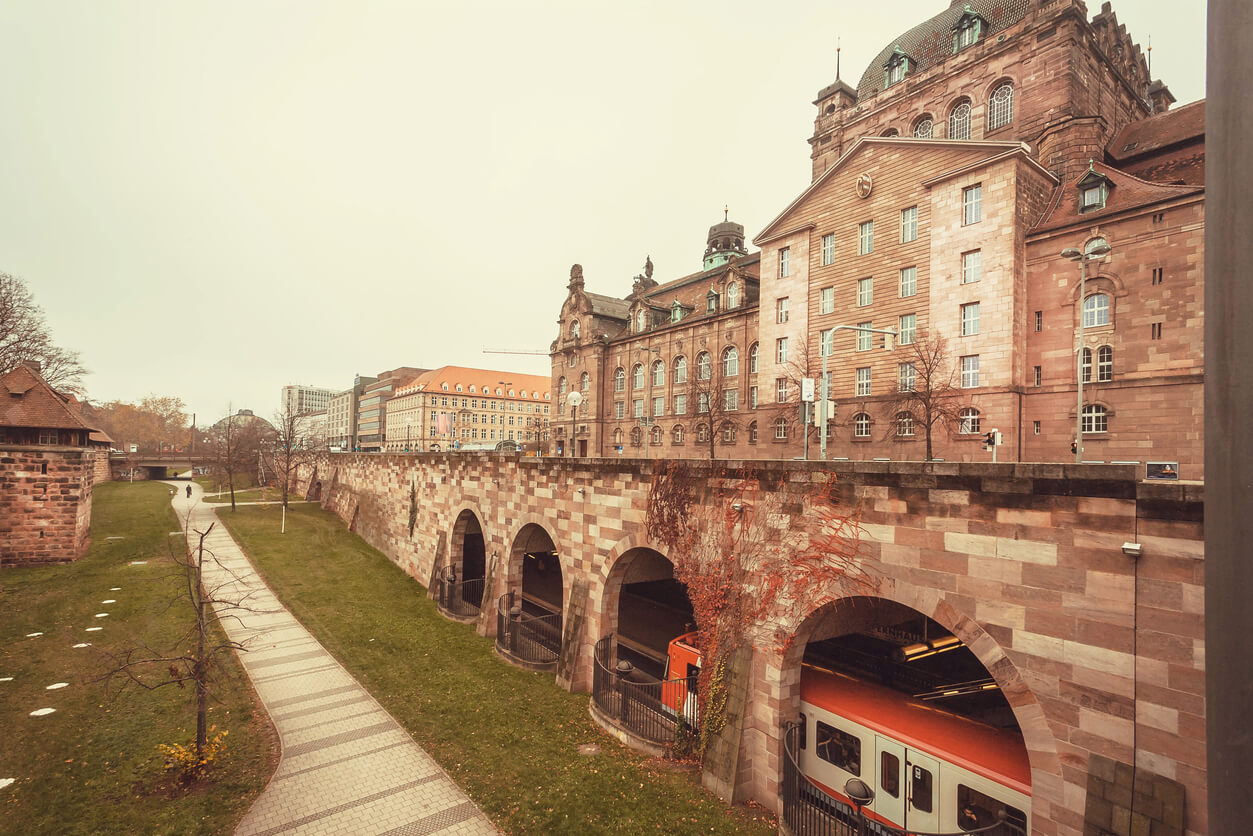 Nuremberg has an extensive and convenient means of public transport all around. You can use buses, trams, subway and taxis to get around in the city. You need to buy tickets beforehand in order to use public transport. Tickets are available at vending machines, sale points and online. You can click here to check sale points.
Buses run 05.00 to 24.00 on weekdays with 10 to 20 minutes intervals and 20 to 45 minutes intervals on weekends. There are also night buses that run from 01.00 to 05.00 with hourly intervals. You can also buy your ticket from the bus driver. 
You can click here to check timetables, fares and routes for trams, subway and buses. The site is available in English.
There are also many taxis available in the city center. It is recommended for you to download a taxi service application to avoid excessive fares. 
Best Time to Visit Nuremberg

Nuremberg has a typical continental climate but temperatures rarely reach to extreme levels. Summers are warm and dry; winters are cold with a slight chance of snowy days. The warmest month is August and the coldest month is February. We suggest you to visit Nuremberg during late spring or early autumn since the weather is cooler and more welcoming. It is also recommended for you to enjoy Nuremberg at least two to three days.    
Festivals in Nuremberg
Nuremberg Christmas Festival (December)

Nürnberger Volksfest (April)

Nuremberg Old City Festival (September)
Places to Visit in Nuremberg
Nuremberg is one of the significant cities in Bavaria region in terms of historical landmarks and cultural heritage thus the city attracts up to 2 million tourists annually. 
Imperial Castle of Nuremberg
Imperial Castle of Nuremberg is considered as the greatest military compound of Europe during middle ages. The castle is first mentioned in 1050 and is the iconic symbol of the city. Visitors can enjoy its huge imperial hall and historical rooms with an audio guide from 09.00 to 18.00 in April to September and 10.00 to 16.00 in October to March. 
Frauenkirche (Church of Our Lady)
The Frauenkirche was built in 1362 and contains many sculptures and artifacts. The church is home to amazing Christmas celebrations of the city since 1948. The Frauenkirche is located in the heart of the city next to the main open-air market. 
St. Lorenz (Lorenzkirche)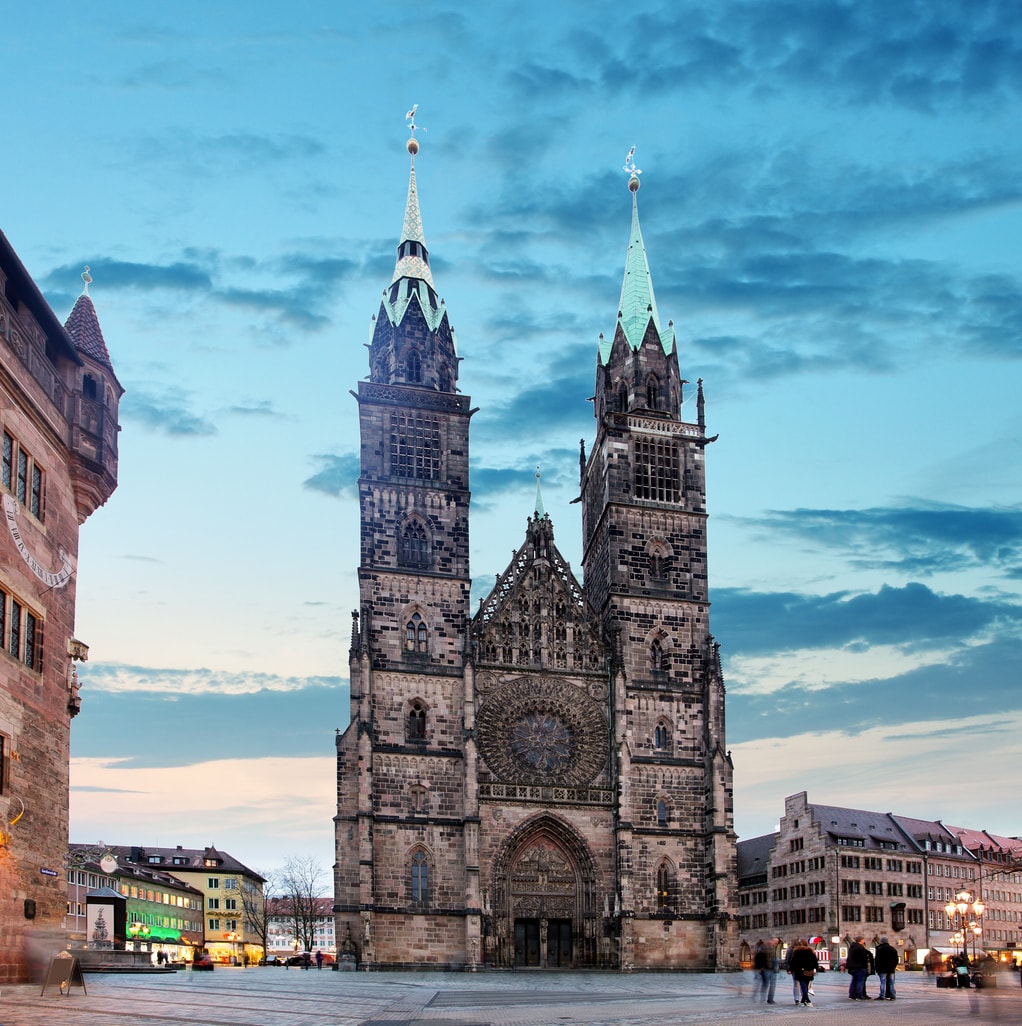 St. Lorenz was completed in the 15th century and is home to an extensive medieval art collection. Its west facade is greatly decorated to reflect the wealth of Nuremberg citizens. St. Lorenz is located in the city center near the main train station.
Germanisches Nationalmuseum
Germanisches Nationalmuseum is home to countless artifacts from ancient times to contemporary exhibitions and was built in 1852. The museum is Germany's largest museum of cultural history. 
Albrecht Dürer's House
Albrecht Dürer's House was home to great German Renaissance artist Albrecht Dürer. He worked in this house for nearly 20 years and created spectacular woodcut prints, paintings and books ahead of his time. The house is located walking distance away from Frauenkirche. 
Where to Stay in Nuremberg?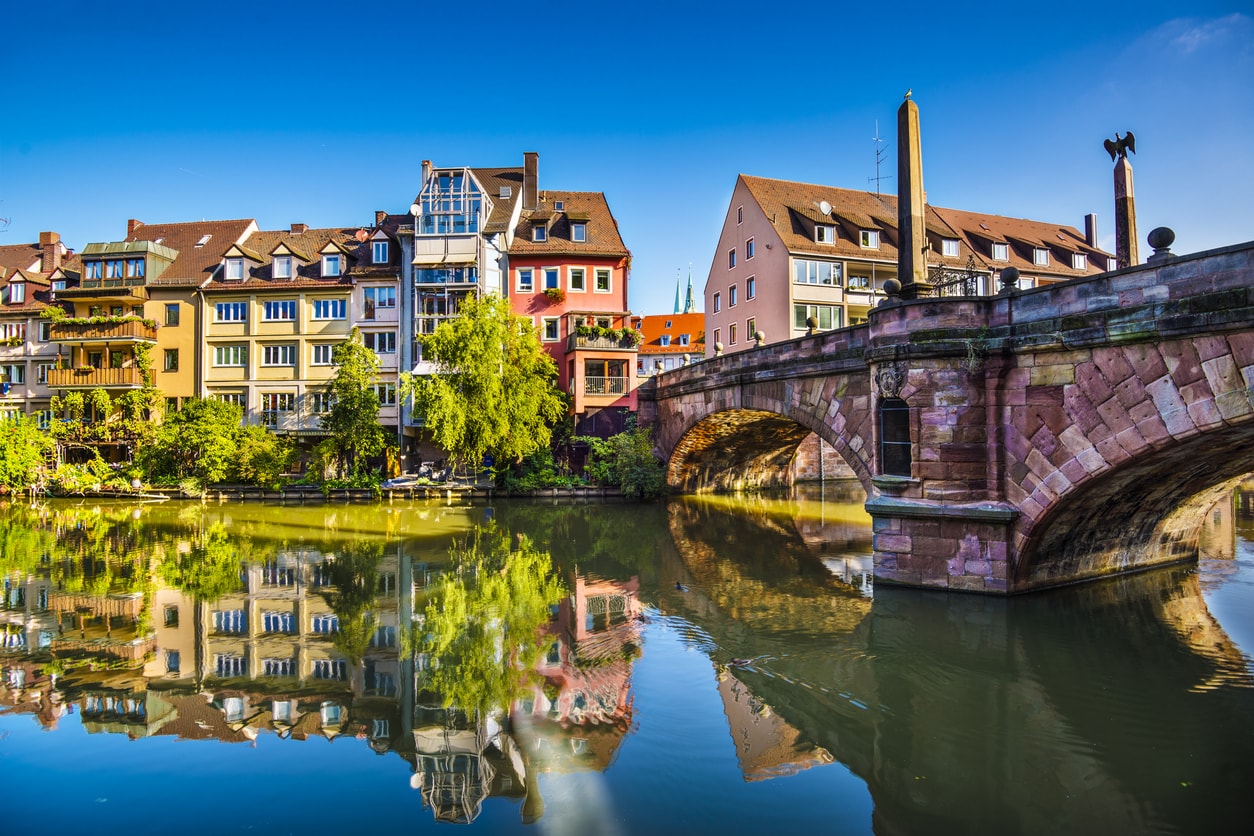 Nuremberg offers a variety of accommodation options to its visitors ranging from backpacker hostels to luxury hotels. 
If you are in Nuremberg for the first time and enjoy its iconic attractions, it is best for you to stay in hotels scattered around the old town where great Imperial Castle of Nuremberg stands high. Hotel Agneshof offers a calm stay to its visitors and is surrounded by great restaurants. 
If you are in Nuremberg to shop and enjoy its everyday life, it is best for you to stay in hotels located on the south side of the river. Hotels on Vordere Ledergasse has great hotels such as Hotel am Josephsplatz and Garden Hotel. 
What to Eat in Nuremberg?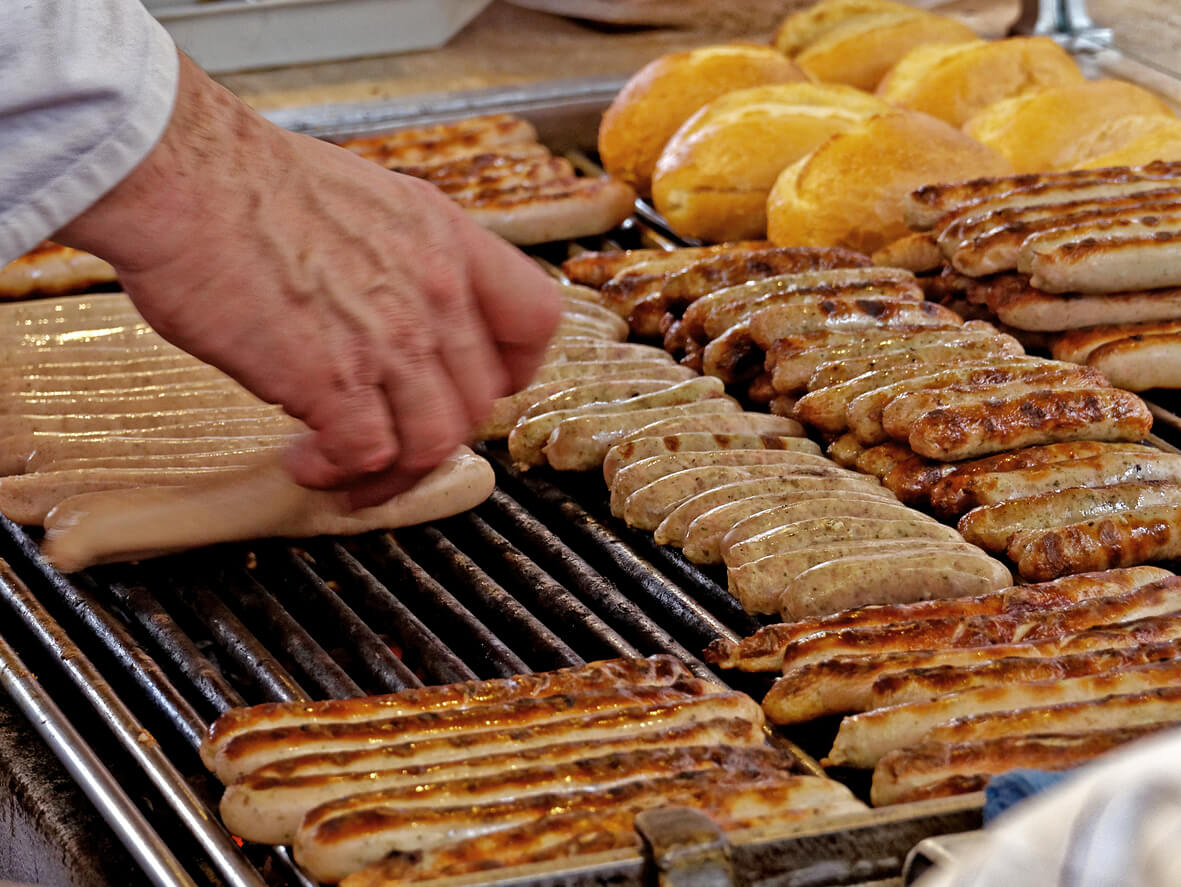 Nuremberg can be considered as a major culinary center of Bavaria region. The city is an amazing place for culinary enthusiastic visitors and street food lovers. Most of Nuremberg's traditional recipes are meat-based and its residents love desserts.
Nuremberg Sausage: Bratwursthäusle

Schäuferle: Albrecht Dürer Stube

Lebkuchen: Gingerbread - Schmidt, Lebkuchen-Schmidt

Local German Recipes: Albrecht Durer Stube, Restaurant Trodelstuben, Bohm's Herrenkeller

Beef: Goldener Pudel, Block House Nurnberg, Eku Inn

Cafes: Cafe Nef, Cafe Mainheim
Shopping in Nuremberg: Best Souvenirs to Buy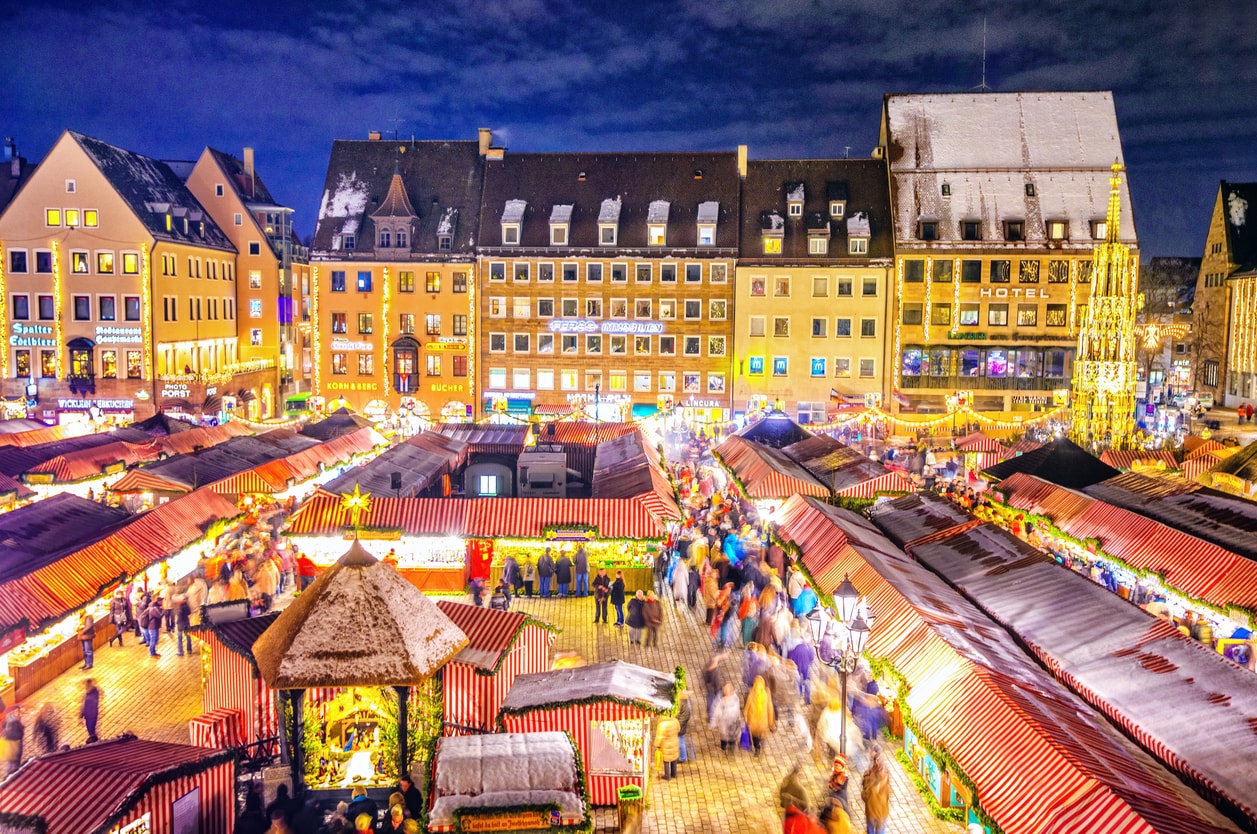 Nuremberg, a city famous for its Christmas Market, attracts many international and local tourists during this period. In Christmas Market, there are many vendors that sell traditional dishes, crafts and jewelry.  
Breite Fruaentor, Karalinenstraße and Kaiserstraße along the Pegnitz River are significant shopping avenues in the city. In Hauptmark, you can encounter many souvenirs to buy for loved ones such as a "zwetschgenmännle".
Nightlife in Nuremberg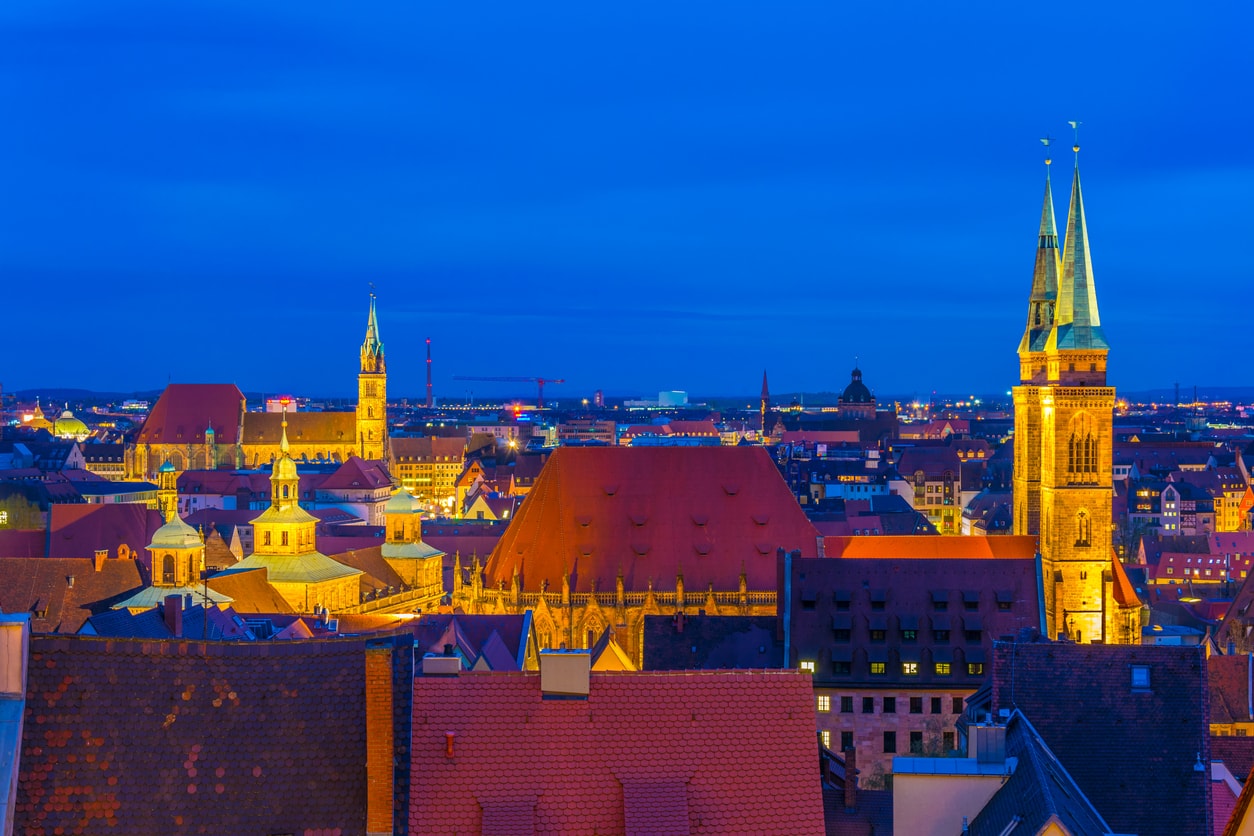 Nuremberg has a diverse nightlife scene with many traditional venues. Most of the bars are concentrated on the city center and Weißgerbergasse has the best ones. Mata Hari Bar is located on the Weißgerbergasse and offers a great variety of food and drinks. Loom Bar is the go-to nightclub of the city.
Essential Numbers to Know
Country Code: +49
City Code: 911
Airport Nuremberg: +49 911 93700
Emergency Number: 112