Konya is the biggest city of Türkiye by its surface. It is a great location between the Mediterranean Region and Central Anatolian Region. It has been hosting civilizations since the beginning of the history. Today, it is considered as one of the first residential areas of the world. During your trip in Konya, you can come across traces of civilizations that have been in Konya since 7000 BC, such as Anatolian Seljuk. Also, Konya will provide you both traditional and modern atmosphere with its architecture. Throughout history, important people and philosophers lived in Konya, such as Nasreddin Hodja and Mevlana, also known as Rumi.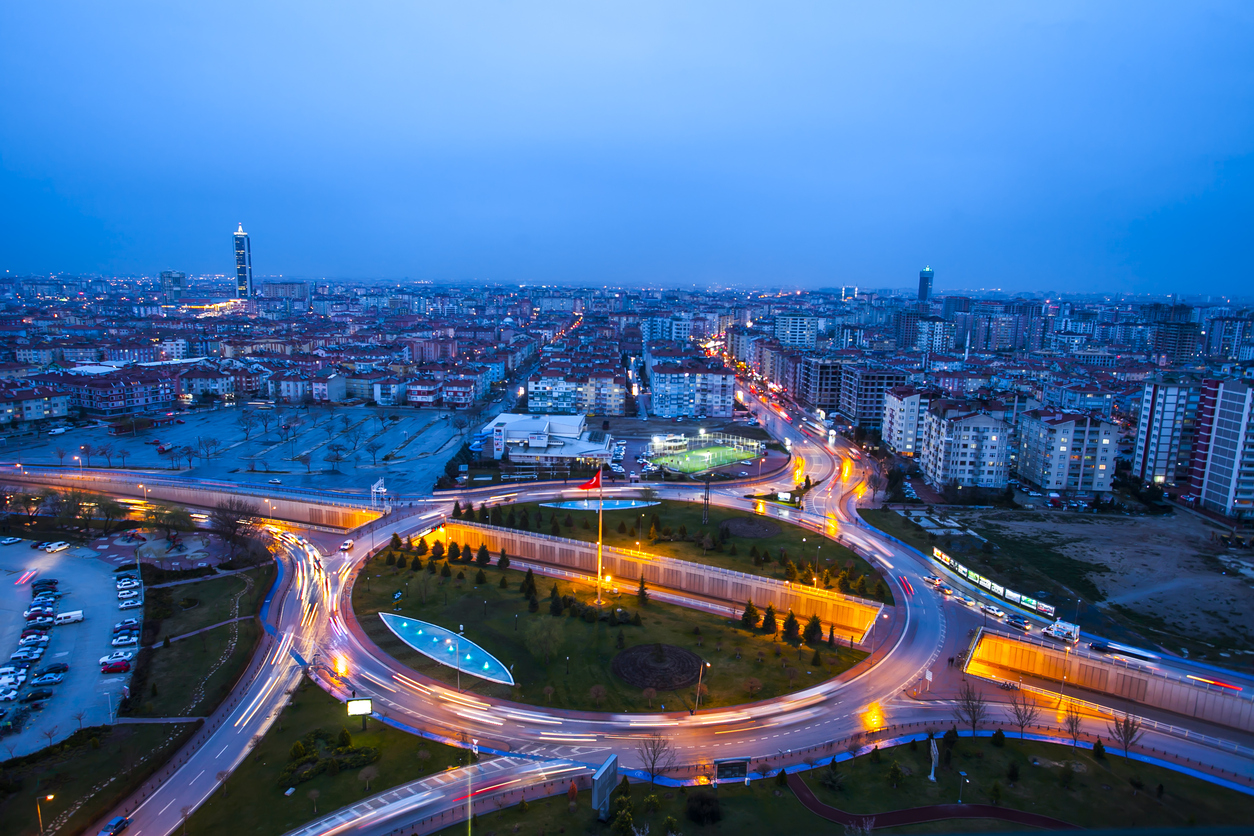 General Information About Konya
| | |
| --- | --- |
| Country: | Türkiye |
| Region: | Turkish |
| Area: | 38,873 km2 |
| Language: | Turkish |
| Average temperature: | 11.3 °C |
| Climate: | Arid |
| Vegetation: | Steppe |
| The difference between GMT: | UTC +3 |
| Currency: | Turkish Lira |
| Socket Type: | Type C |
How to Get to Konya?
Since Konya has always been an important city, the infrastructures for transportation are well-done. You can go to Konya by plane. Today an international airport is available for transportation in Konya. You can buy your Pegasus flight tickets to Konya from here.
Transportation from Konya Airport to City Center
Konya Airport is located at Selcuklu. You can reach the city center from the airport via Havas shuttles, cabs, or renting a car. You can even go to Karaman from the airport via Havas shuttles.
Best Time to Visit Konya
Due to its continental climate, it is suggested to visit Konya in falls and springs. You can also check the list that demonstrates festivals held in Konya below.  
Festivals in Konya
Insuyu Cultural Festival – May
Commemorative Ceremony of Mevlana – December
Akkise Annual Culture and Art Festival - May
Places to Visit in Konya
Either you look for a place where you can smell the history or visit the shrine of the historical people and religious locations, you will find what you want to see in Konya.
Some of the museums and madrasah to see in Konya are Mevlana Museum, Karatay Madrasah, Konya Archeology Museum, Konya Ethnography Museum, Konya Science Museum.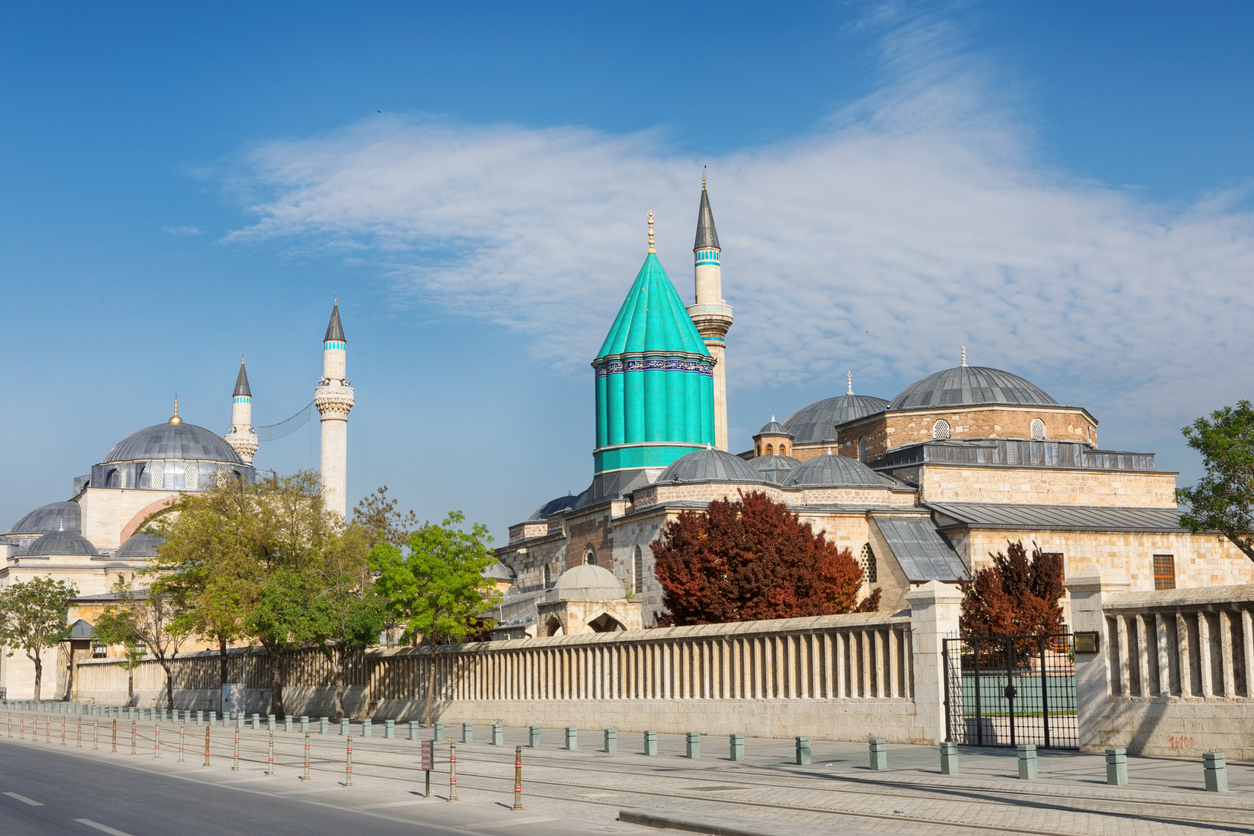 Parks and picnic areas in Konya are Kyoto Japanese Park, Karatay City Park, Alaeddin Hill, Konya Culture Park, Konya Tropical Butterfly Garden, Sille Barrage Park.
Religious places to visit in Konya are Selimiye Mosque, Alaeddin Mosque, Aziziye Mosque, Kapu Mosque, and Iplikci Mosque.
If you want to see natural beauties in Konya, you can visit Beysehir Lake, Salt Lake, Yedikopru Waterfall, Karapinar Desert, Meke Crater Lake, Meram Vineyard, Obruk Lake, Aksehir Lake, Balatini Cave and Korukini Cave.
The historical places you should visit in Konya are Catalhoyuk Ancient City and Sille Koyu, Kilistra Ancient City, Isaura Ancient City and Zengibar Castle.  
Where to Stay in Konya?
Konya has innumerable options for accommodation. With an early reservation you can get cozy and comfortable place with affordable prices. The city center offers a variety of accommodations.
What to Eat in Konya?
Konya is a gastronomical heaven for all. We guarantee you that with its unique cuisine, you will remember your trip to Konya as a gourmet trip rather than a cultural and historical one. Etli ekmek, okra soup, arabası soup, brewis kebab, sacarasi, cebic, buckthorn, su boregi, and oven kebab are some of the most popular dishes around Konya.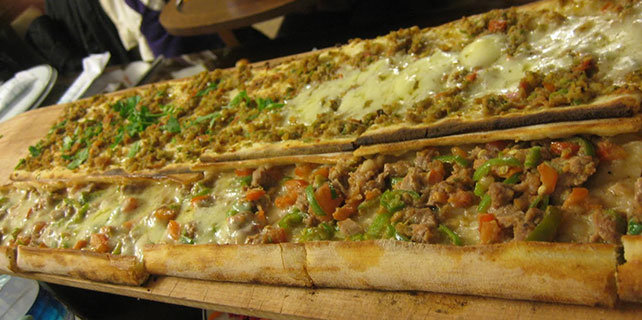 You can visit local restaurants like Bolu Lokantasi, Cemo Restaurant, Pideci Hasan Sendagli, Kuzucu Ali, and Haci Sukru. If you're a lover of meat dishes, your trip to Konya will be unforgettably delicious!  
Shopping in Konya: The Best Souvenirs to Buy
Shopping in Konya is an entertaining activity all around the city, including big districts. You can go to malls where you can find worldwide and Turkish brands, eateries, and playgrounds for your children. In bigger districts like Selcuklu, Karatay and Meram, you can find shopping malls. As souvenirs, you must definitely buy the famous Konya sekeri, a kind of candy. Konya is also famous for Dervish whirling dance, where you can find lots of small souvenirs relating to this tradition.  
Nightlife in Konya
Despite the fact that Konya has a rich cultural and historical background, it doesn't have a bright nightlife as much as other metropolises like Istanbul, Ankara, or Izmir. But you can still find some places to enjoy your night. You can visit Club Inferno for dancing with your favorite songs.  On the other hand, you can have a nice night at Roof Bar Dedeman Hotel with an astonishing view. If you like live performances, you can also have an enjoyable night at John Coffey Bistro, and Haraba Cafe every night.  
Things to Know Before Visiting Konya
You can check the public transports with ATUS via your mobile phone. Also if you have contact-free bankcard, you can pay the public transport fares without needing another special card.  
Essential Phone Numbers to Know
In case of emergency, you can call 112 for an ambulance, 155 for police, 110 for firefighters.