Karachi, which has a coast to the Indian Ocean, is one of the important commercial centers where modernism and history are intertwined. The city, which has grown with the abundance of the Kingdom River, attracts attention with its multicultural and natural beauties. Located in the Indus Valley, Karachi is the most populous city in Pakistan and the capital of the Sindh region. You will admire the movement and aesthetics of the life in Karachi.
General Information
| | |
| --- | --- |
| Country: | Pakistan |
| Region: | Sindh Province (Southern Pakistan) |
| Area: | 3.780 km² |
| Language: | Urdu and English |
| Average temperature: | 26 °C |
| Climate: | Mild and tropical climate |
| Vegetation: | The coastal vegetation |
| The difference between GMT: | UTC +5 |
| Telephone Code: | +92 21 |
| Currency: | Pakistani Rupee (PKR) |
| Socket Type: | C, D 230 V/50Hz |
Where is Karaci?
Located in the south of Pakistan, Karachi is close to India and has a coast to the Indian Ocean. The city, the former capital of Pakistan, is the administrative center of Sind Province. Karachi, the capital of Sindh province and one of the 4 states of Pakistan, is the oldest and most important city of the country.
Best Time to Visit Karachi
With an average annual temperature of 26 degrees, Karachi can be visited at any time of the year. January, February, March, April, September, October and November are the periods when the city has the most ideal temperature.
How Many Days are Enough for the Visit?
One day may not be enough to visit Karachi. Two or three days are ideal for  to see the historical buildings of the city, relax on the beach and visit different flavor points.
Travel to Karachi
The distance between Istanbul and Karachi is 3937 kilometers by plane. It takes 5 hours 20 minutes by plane between Istanbul airports and Jinnah International Airport, Karachi. You may follow campaigns for direct Karachi flights and travel between two cities at attractive prices.
Transportation in Karachi
Taxi and private vehicles are often preferred for urban transportation. During busy times, buses are very crowded and you may have to wait to get on the bus. In taxi journeys, it is useful to check the taximeter. It can be said that road signs are quite understandable for visitors who rent a private car.
Transportation to Karachi Airports
There is no public transport to Jinnah International Airport, which is 18 km away from the city center. The easiest and fastest way to reach Karachi Airport is to use airport shuttle, taxi and rickshaw. When you arrive at KHI Airport, you can also rent a car to travel more comfortably and quickly in the city.
Places to Visit in Karachi
Karachi, the commercial center of the country, is also very rich in terms of history and culture. Get ready for a colorful journey with fascinating historical buildings and natural areas as well as modern buildings that you will see during your city trip. Take a closer look at the 8 most popular attractions in Karachi.
Mohatta Palace
Mohatta Palace, one of the most popular buildings of Karachi, was designed by Aga Ahmed Huseyin in 1927. Designed as a summer house, Mohatta Palace is built on a very large area. The palace, which has a pleasant architecture with its stonework, fountains, domes and patterned balustrades, has hosted the Mohatta family for 20 years. The palace was built with Gizri's local yellow stone. The Palace of Mohatta consists of the museum with sculptures of some legends such as Queen Victoria and the Soldiers of the Rajis. You can visit the museum every day of the week, except Monday, between 10:00-18:00.
Karachi Zoo
Karachi Zoo, where you can see the vibrant natural life diversity of Pakistan, was founded in 1878. Karachi Zoo is one of the largest zoos of Pakistan. There are Reptiles House, Museum of Natural History, Mughal Garden and Aquarium Hall in the zoo. You can visit Karachi zoo every day of the week between 08:00-20:00.
Bin Qasim Park
Bagh Ibne Qasim, where you can easily access the green and fresh air, is the largest city park of Karachi. The park that hosts different events throughout the year is very active and crowded in all day. İbni-e-Qasim Park is one of the most beautiful places in Karachi. Located in the suburb of Clifton, Bin Qasim Park is known as the city's largest urban park. There are thousands of roses and turtle ponds here. The park, frequented place by local and foreign visitors, is especially full in summer evenings. In the park, which is visited by millions of people every year, you can see rose gardens and turtle pools.
Mazar-e-Quaid (Jinnah Mausoleum)
Mazar-e-Quaid, built in the name of Pakistan's founder Muhammet Ali Cinnah, is one of the most spiritual places of the city. The building, designed in 1960, was completed in 1970. Jinnah Mausoleum, dominated by the white color, is also one of the most important points that you should see in Karachi.
Clifton Beach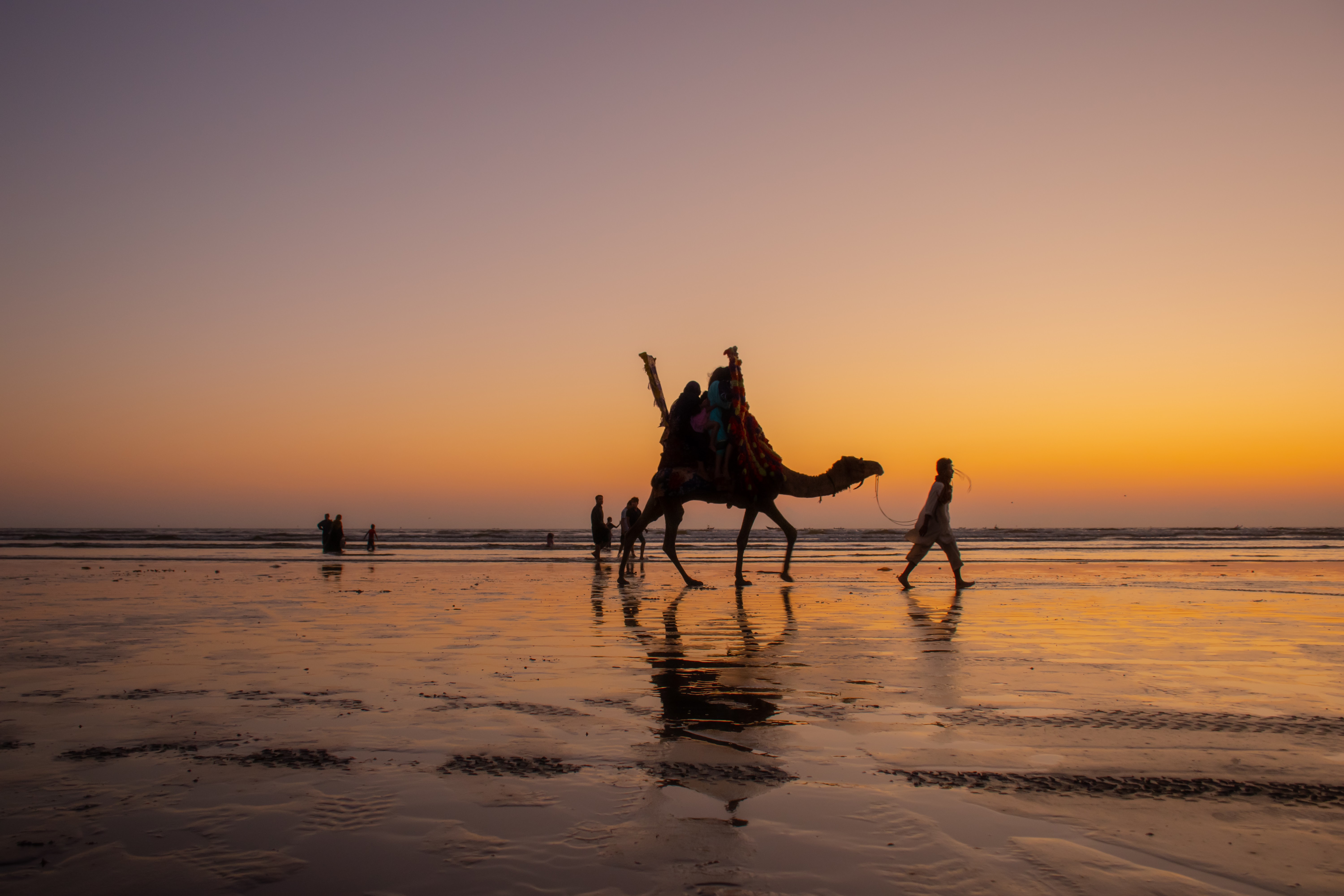 Karachi, which is one of the important coastal cities of Pakistan, draws attention with its wonderful beaches. The marvelous Clifton Beach is among the most visited destinations of the city. You can participate in fun activities, go to a restaurant or relax in beach cafes in the seaside area. In addition to swimming, you may also join the festivals and concerts for a pleasant holiday.
National Museum of Pakistan
Archaeological finds, ancient ruins and historical coins are displayed in National Museum of Pakistan. It is possible to find important works of the country's history in the museum, which also contains religious elements. When you visit the National Museum of Pakistan, you can have detailed information about the ethnic culture and historical aspect of Pakistan. In addition, you may also see the Quran manuscript in the "Quran Gallery". National Museum of Pakistan is open between 09:00-17:00.
Pakistan Maritime Museum
The Maritime Museum, also known as the Bahria Auditorium, is among the most important museums in Pakistan. Opened in 1954, Pakistan Maritime Museum contains six galleries. It includes dioramas, murals, relief sculptures, ancient weapons and miniature paintings. The Maritime Museum is also a comprehensive place that provides information about maritime history and heritage of Pakistan. You can include this museum, where the most important works of the sea heritage are exhibited, in your Karachi trip.
Safari Park
Karachi Safari Park, which was established on a large area in 1970, contains many different sections. You can see the lush golf courses and Swan Lake in the park. Thanks to cable car system, called chair lift, you may see the whole park from a bird's eye view and have the chance to watch the magnificent Karachi scenery. Safari Park, which is a touristic location, can be visited every day of the week from 06:00 to 20:00.
Where to Stay in Karachi?
There are many accommodation options in Karachi that you can choose according to your budget. If you are visiting the city for the first time, you can give priority to tourist areas. You may also choose interesting hotels in local neighborhoods.
What to Eat in Karachi?
Meat, vegetables and legumes are consumed in Pakistani local cuisine. In addition, rice and bread are also used in Pakistani dishes. For Pakistanis, serving the food is as important as its taste. In addition, they use various spices to add different flavors to their dishes.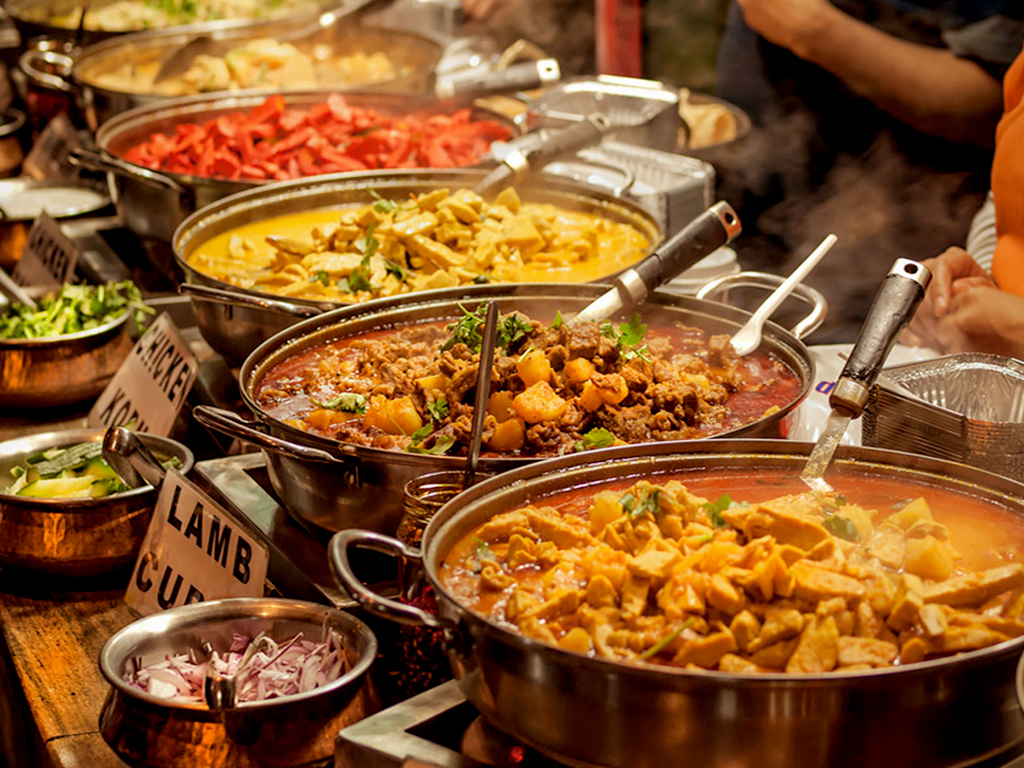 You can try dozens of options from traditional tastes to world cuisines and discover new tastes during your holiday. There are many places where you can find the best local dishes in Karachi. You may taste traditional dishes in the Boat Basin food street.
Karachi Cuisine
Do not return without tasting these flavors in Karachi;
Kabab
Korma
Biryani
Nihari
Lukhmi
Falooda
Samosa
Karachi Restaurants
Kolachi Restaurant
Zoaq Restaurant
Bar B.Q Tonight
Okra
Sakura
Shopping in Karachi: Best Souvenirs to Buy
You can find different shopping options in Karachi. The Empress Market is one of the most enjoyable shopping places in Karachi. Spice wholesalers stand out in the great Victorian-style places. Saddar Town, which hosts many boutique stores, is quite interesting. Gulf Shopping Mall, Zamzama Mall, Bahadurabad, Elphinstone Street and Anarkali Bazar are among the most important shopping points of the city. You can buy souvenirs such as spices, pottery, shawls, stone jewelry, carpets, rugs and pillow covers with a good bargain.
Nightlife in Karachi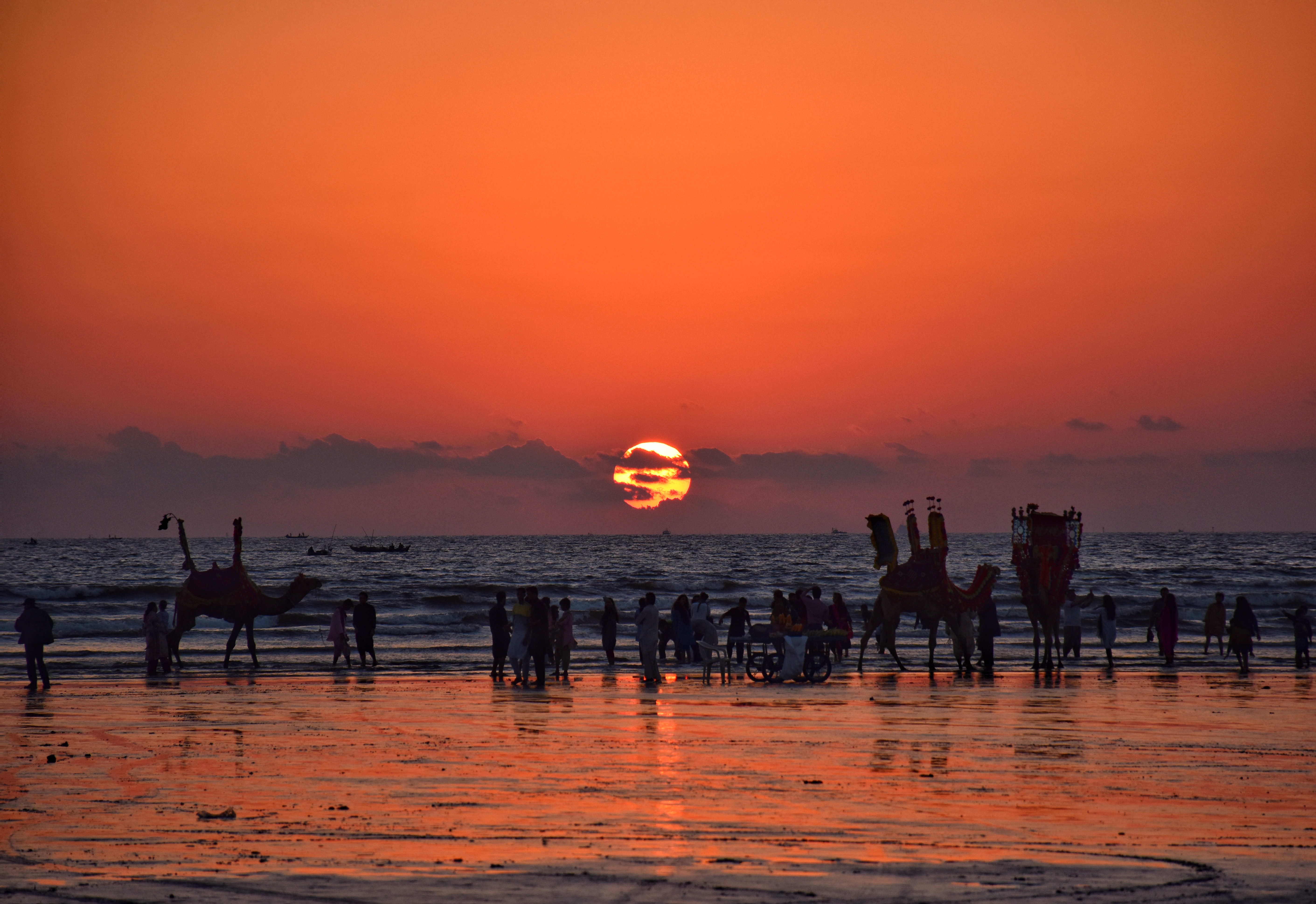 Karachi nightlife offers different alternatives to its guests. The best entertainment locations in the city are located in Clifton and the seaside areas. From bars with fun concepts to nightclubs with live music, fun-filled nights await you. While sipping your drink at night places, you can taste the snacks and enjoy the atmosphere.
Things to Know Before Visiting Karachi
Smoking is prohibited in some places. It is useful to ask before lighting your cigarette in places where you cannot see the sign.
Thanks to a good bargain, you can buy interesting souvenirs in the wonderful city markets of Karachi.
It is better to hire a guide when planning a trip outside to the city. When searching for a guide, be sure to check if the guide has an official tour license or not.
What are the emergency numbers in Karachi?
Ambulance: 115
Emergency and police from mobile phones: 112
Police: 15
Fire Department: 16