Hurghada is the beach resort city of Egypt that stretches along the Red Sea for 40 kilometers. The city is located 600 kilometers away from the capital city Cairo, at the south end of the Gulf of Suez. Hurghada used to be a small fishing village in the 1900s until the discovery of oil in 1913. After the production of oil, the city gradually became richer and richer. Eventually, Hurghada started to attract international attention thanks to its gorgeous beaches and sea around the 1970s. Now, the city is one of the most prominent scuba diving and snorkeling centers in the world.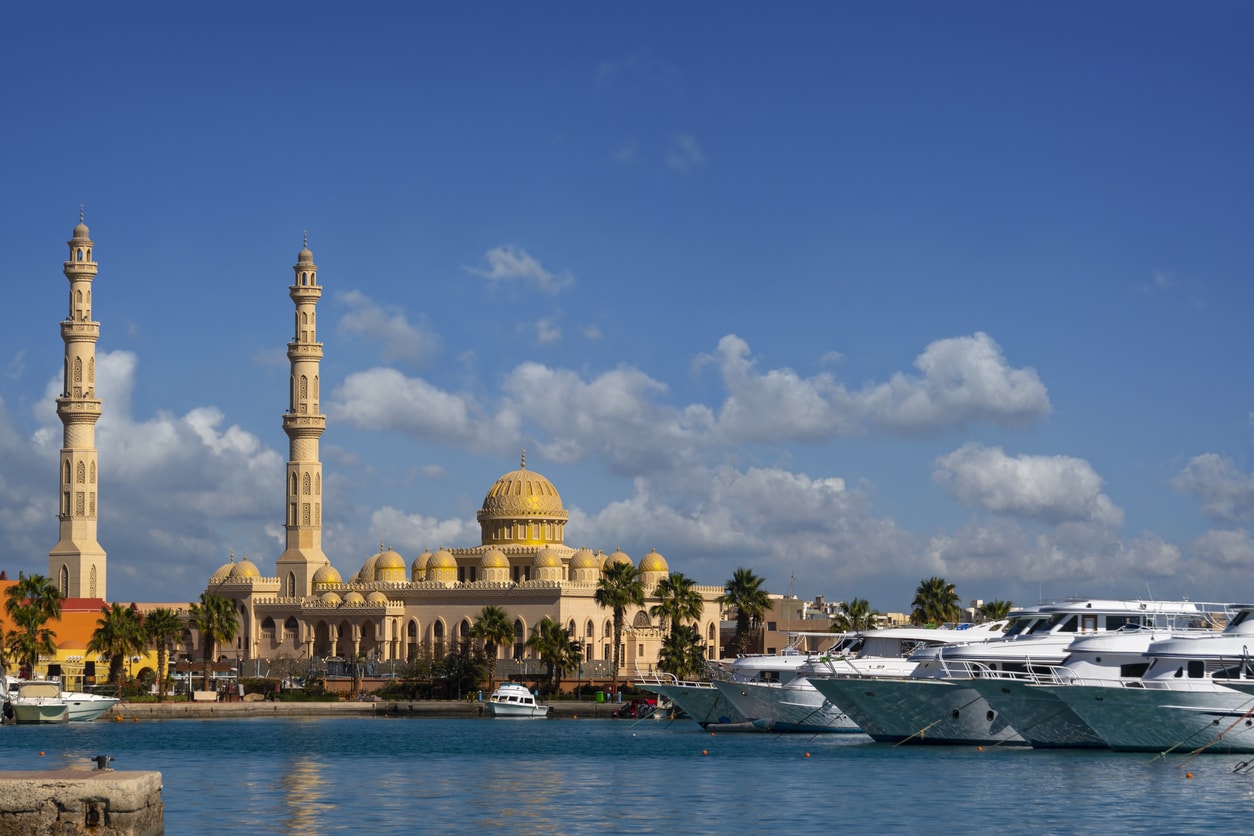 General Information About Hurghada
| | |
| --- | --- |
| Country: | Egypt |
| Region: | Eastern Egypt |
| Area: | 203.683 km2 |
| Language: | Arabic |
| Average temperature: | 22.9 °C |
| Climate: | Subtropical Desert Climate |
| Vegetation: | Desert Plants |
| The difference between GMT: | GMT+2 |
| Telephone Code: | +20 |
| Currency: | Egypt Pound (LE) |
| Socket Type: | Type C |

How to Get to Hurghada?
Hurghada is one of the most popular tourism cities of Egypt with amazing natural and cultural attractions. Pegasus Airlines offers direct flights to Hurghada from İstanbul. The flight duration to Hurghada from İstanbul is 2 hours and 45 minutes. You can buy your direct flight tickets to Hurghada from İstanbul from here.
Transportation from Hurghada International Airport to City Center
Hurghada International Airport is located 12 kilometers away from the city center. You can get to the city center with small bus, taxi and car.
Small busses are available next to the airport passenger terminal. They do not have fixed stops on the route, pick-up and drop-off is made on demand. The trip takes approximately 25 minutes.
There are also many taxis available in the airport 24/7 with fixed prices to the different parts of the city. 
You can also enjoy the city with a rental car. Pegasus Airlines car rental service has great offers for you in here.
Public Transport in Hurghada
You can use small buses and taxis to get around in the city. Small buses are the main means of public transportation in Hurghada.
Small buses cover many routes around the city. They do not have fixed stops on the route, pick-up and drop-off is made on demand and fare is paid in cash. 
Taxis are frequently used in Hurghada by visitors. 
Best Time to Visit Hurghada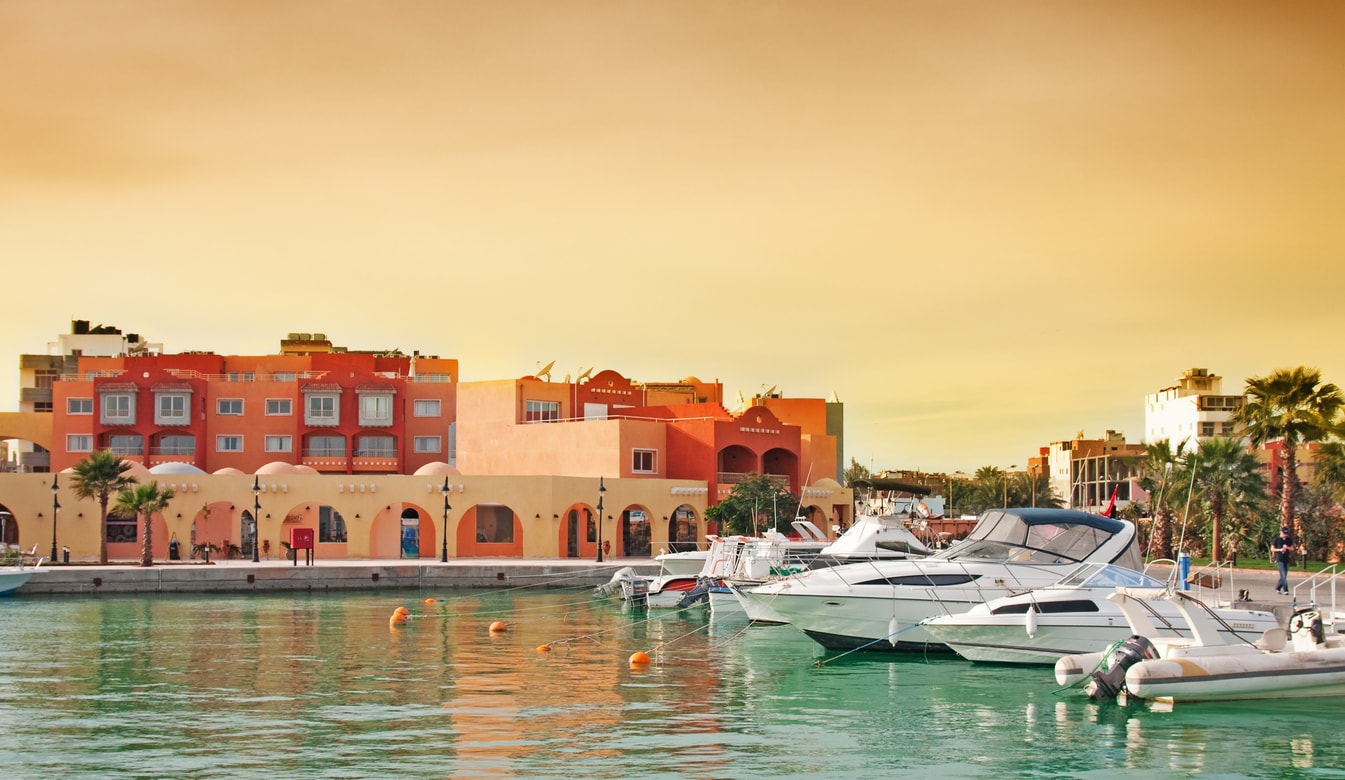 Hurghada has a desert climate with almost no chance to rain throughout the year. The hottest month is August and the coldest month is January. We suggest you to visit Hurghada during late spring or late autumn since the weather is pleasant and more welcoming. Also, during those months, the water reaches to the most favorable levels for water sports. It is recommended for you to enjoy Hurghada at least three to four days.
Festivals in Hurghada
Coptic New Year (June)

Hurghada International Festival (February)

Yacht Races and Waterslide Festival (October)
Places to Visit in Hurghada
Hurghada is a modern, cosmopolitan and a newly-found city. Although it is hard to encounter a historical landmark or monument in the city, Hurghada fills that gap with amazing modern and natural attractions.
Hurghada Sand Museum (Sand City)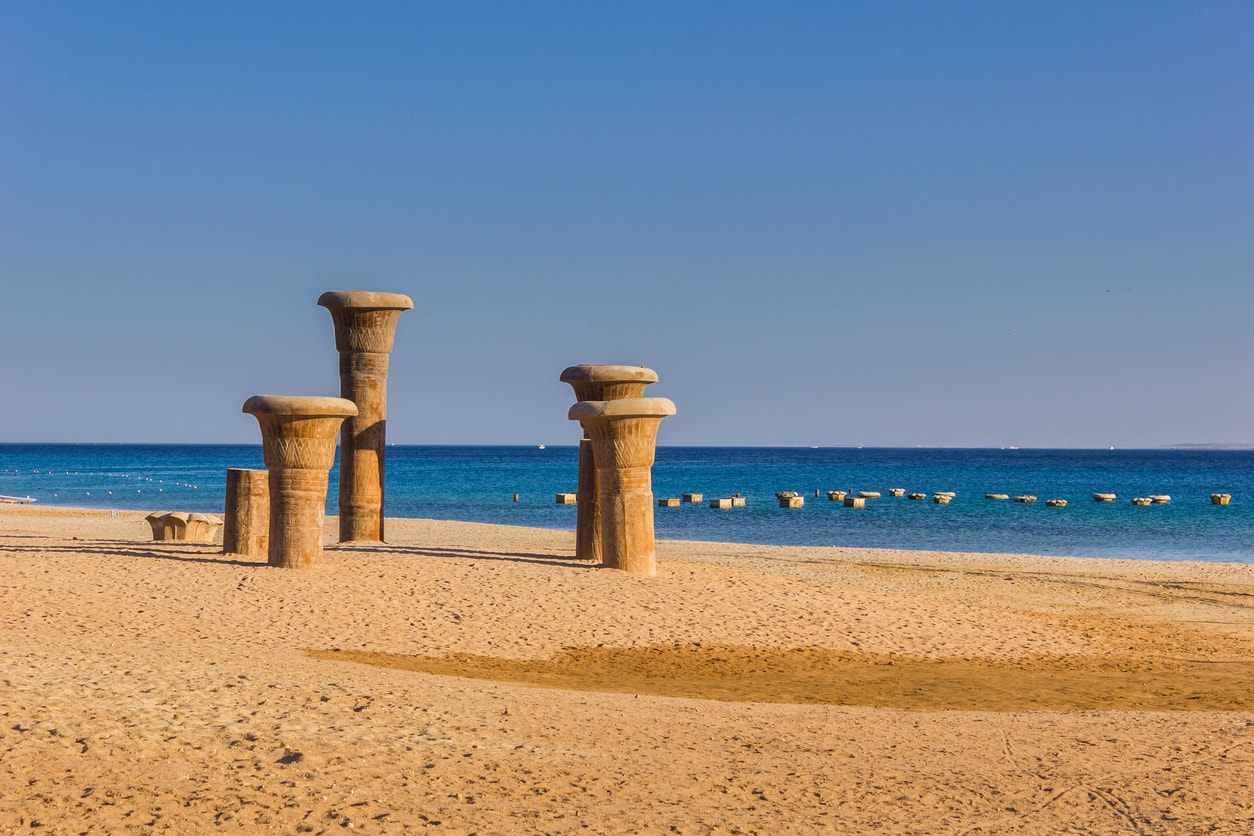 Hurghada Sand Museum is the only open-air museum in Africa and the Middle East. There are numerous real and imaginative sculptures from sand in the museum. Hurghada Sand Museum is located 12 kilometers away from the airport, next to Senzo Mall. 
Bedouin Village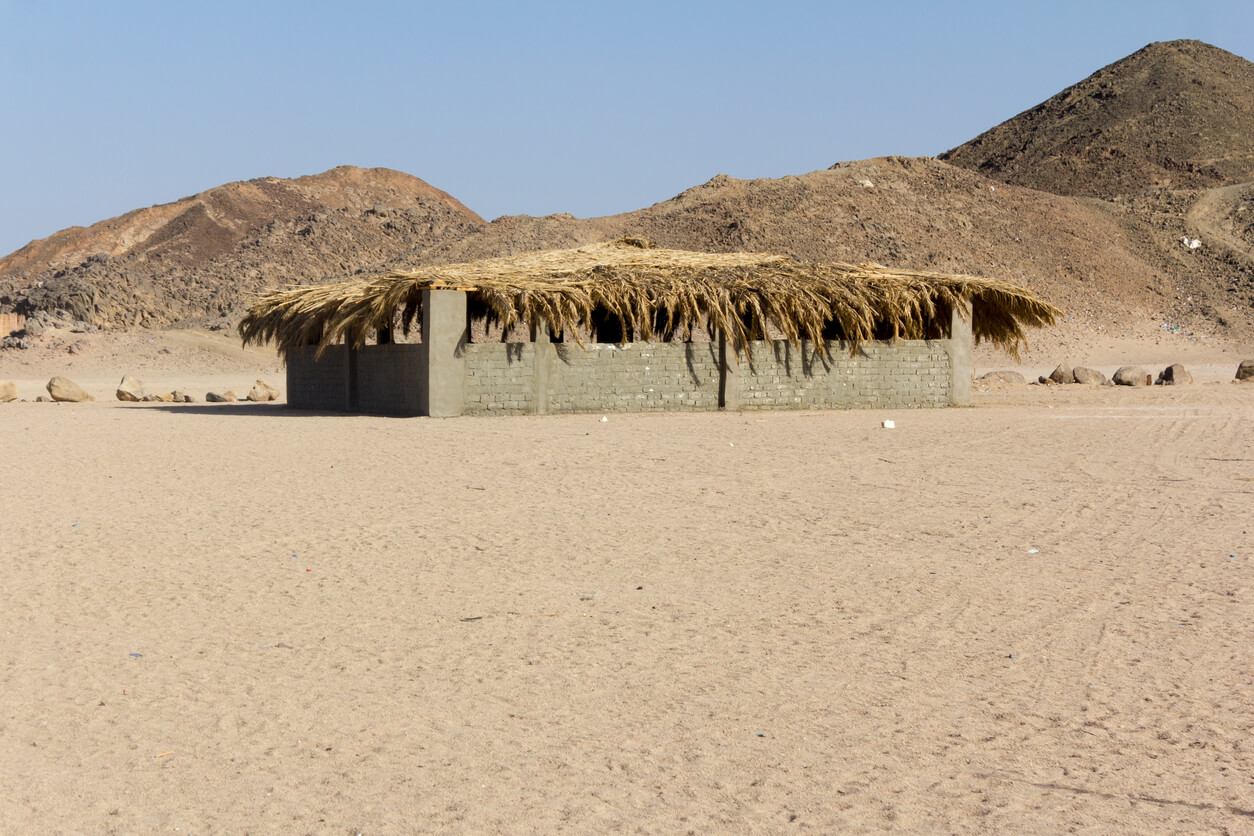 Bedouin Village offers an insightful glance to the everyday lives of local Bedouin people. The village is located in the desert parts of the city and is reachable through jeeps or camels. Guided tours to the village are organized by hotels. 
Red Sea - Kızıldeniz
Shores of Red Sea in Hurghada offer the most stunning views through the water. Hurghada has never ending amazing sand beaches on the banks of the Red Sea.
Gubal Strait
Gubal Strait is one of the world most popular scuba diving centers. There are tremendous amounts of coral reefs beneath the sea in the Gubal Strait.
Sindbad Submarines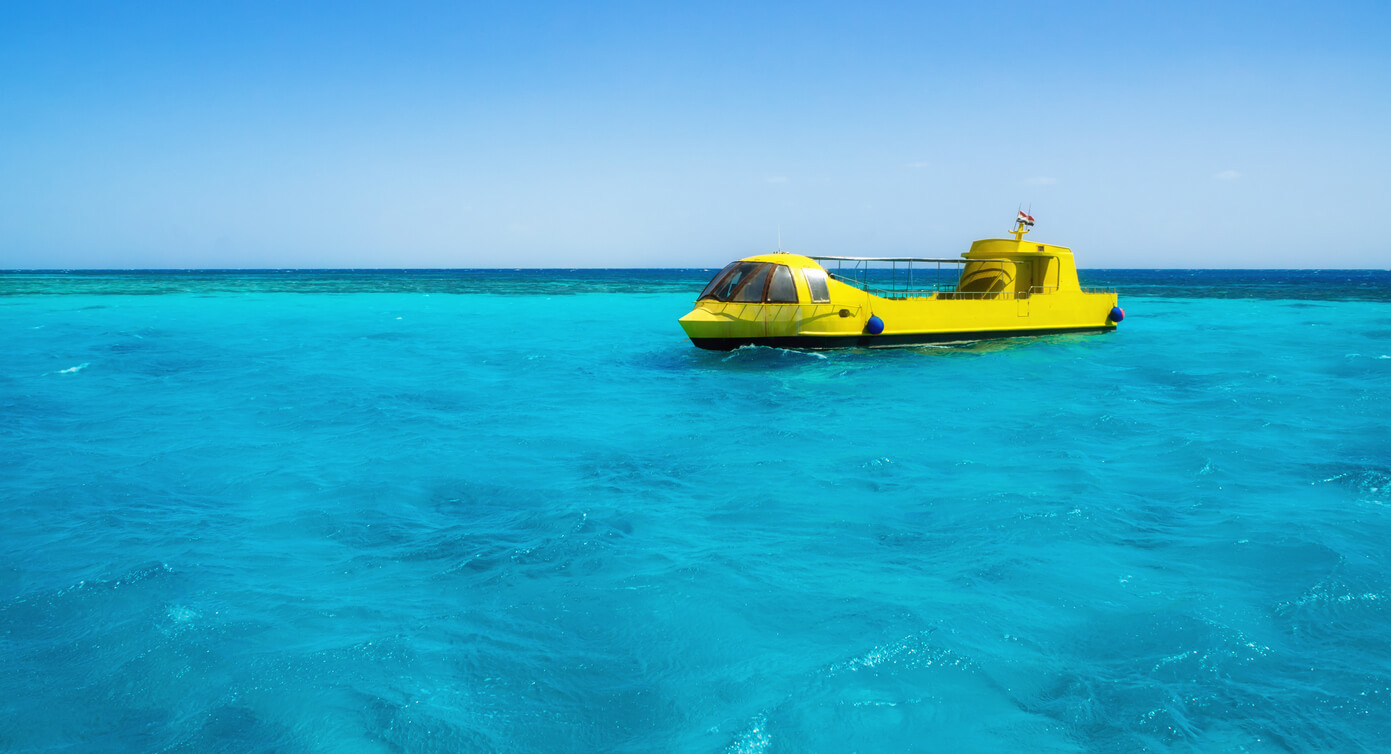 Sindbad Submarine promises 3 hours of fun to its visitors. Sindbad Submarine is an actual underwater submarine that can travel 22 meters deep and travelers can observe coral fish, colored fish and diversity of life below the sea.  
Where to Stay in Hurghada?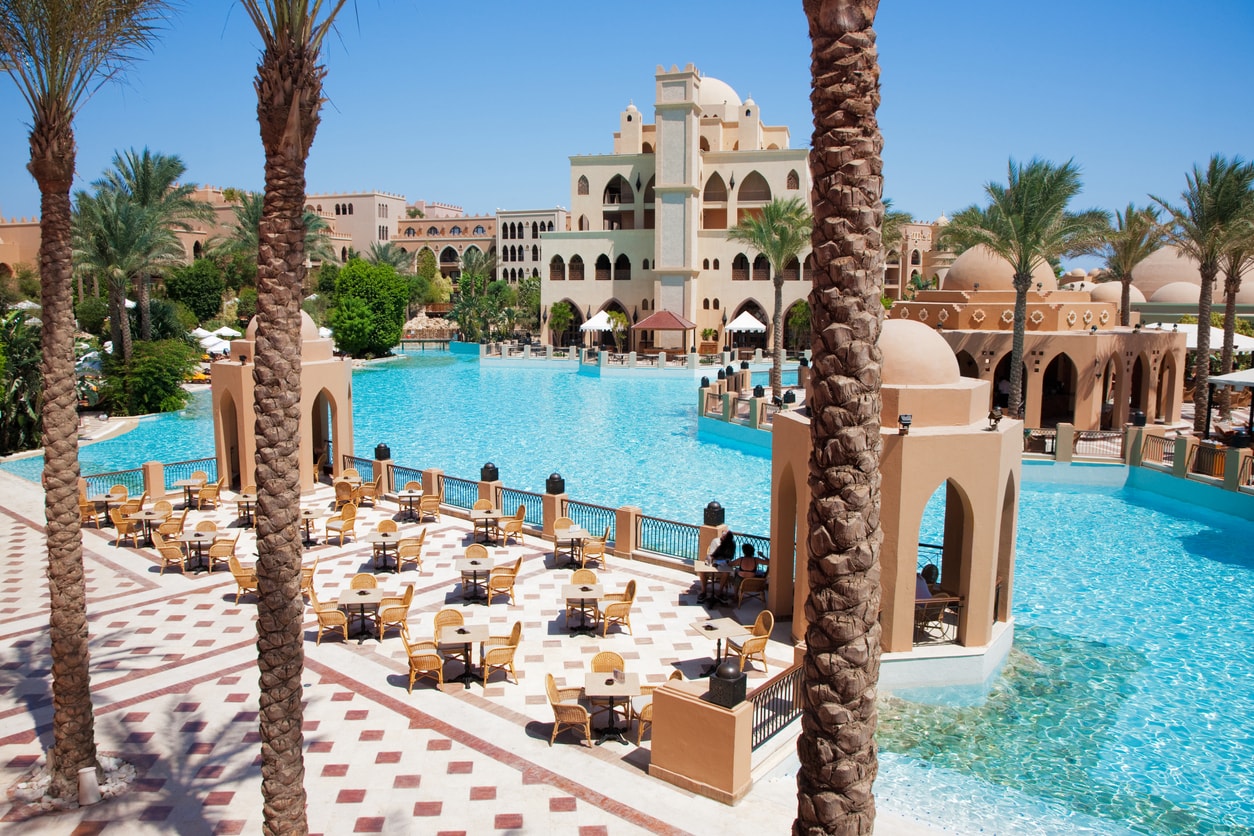 Hurghada is one of the most popular tourism destinations of Africa and offers many great accommodation options. Since Hurghada is a coastal city, most of its hotels are lined on the shores of the Red Sea. If you are in the city for a luxury stay, it is best for you to stay in hotels located around El-Gouna district. These hotels are located on the northern part of the city and have the most amazing shores. 
If you are in the city for the first time, hotels around Old Sheraton Street would be the best choice for you. In these hotels, you can engage with the everyday life of locals and they are much closer to the airport.
If you are looking to enjoy diving in the city, hotels around Sofa Bay offer the best facilities. These hotels are located on the southern part of the city and 45 minute drive away from the airport. 
What to Eat in Hurghada?
Hurghada's traditional cuisine mostly consists of fresh seafood recipes. The city has many restaurants that serve traditional Egyptian dishes with a modern take. In addition to these restaurants, Hurghada offers many international diners.
Seafood, Sayadeya: Star Fish, El Halaka, The Heaven Restaurant

Traditional Egyptian Cuisine: Kan Zaman Restaurant, El Dar Darak Restaurant

Falafel, Kushari: Sofra Restaurant, The Smokery

Breakfast: Malu's Deli, Puddleduck Bar & Restaurant, Granada

Traditional and Modern Desserts: Grasshopper Cafe Restaurant, The Purrfect Cuppa English Tea Room, Seventh Star Restaurant 
Shopping in Hurghada: Best Souvenirs to Buy
There are many souvenir shops scattered in the different parts of the city. You can buy Egyptian rugs, Middle East spices, handicraft pieces of jewelry and pyramid figures for your loved ones, especially from Al-Dahar district.
Senzo Mall is the most popular and largest shopping mall in Hurghada where you can shop from international brands. The mall is located on the south end of El-Nasr Street. 
Nightlife in Hurghada
Hurghada offers a diverse nightlife scene for its visitors. Hotels organize Arabic dance nights to its visitors on a weekly basis. There are also many great bars and venues in the city. Most of them are located around the Sheraton Road to the north and Sahl Hashish Road to the south. Caribbean Bar on Al Fondok Street is next to the Red Sea and offers amazing scenery with delicious menus. 
Things to Know Before Visiting Hurghada
You are encouraged to bargain with the local vendors and taxis.

It is smart to keep a couple of bottled water in your daily bag to stay hydrated. 

It is important to cover your skin with light, breathable fabric and sunscreen for protection against direct sunlight.

There are many currency exchange vendors and banks around the city yet Euro and US Dollar are also commonly accepted.
Essential Numbers
Country Code: +20
City Code: 65
Hurghada International Airport: +20 65 3414213
Police: 122
Ambulance: 123