Kharkiv is the second biggest city of Ukraine that is located in the north east of the country. It is the biggest industrial and administrative center of Ukraine. The city is also famous for its grand Freedom Square which is the 8th largest square in Europe. Being the capital of Kharkiv Oblast, Kharkiv has a population of around 1.5 million. Over the last years, Kharkiv has been attracted by visitors all around the world with its unique culture, history and industrial power.
General Information About Kharkiv

| | |
| --- | --- |
| Country: | Ukraine |
| Region: | Northeast of Ukraine |
| Area: | 350 km2 |
| Language: | Ukrainian |
| Average temperature: | 8℃ |
| Climate: | Continental |
| Vegetation: | Steppe |
| The difference between GMT: | UTC+2 |
| Telephone Code: | +380 |
| Currency: | Grivna (UAH) |
| Socket Type: | Type: F, C |

How to Get to Kharkiv?

You can easily fly to Kharkiv with Pegasus Airlines. Pegasus Airlines offers direct flights from İstanbul Sabiha Gökçen Airport to Kharkiv Airport 6 days per week (except Thursdays). The flight takes approximately 2 hours. You can purchase your Kharkiv flight tickets from Pegasus with the best deals.
How to Get from the Kharkiv Airport to the City Center
Kharkiv airport is approximately 15 km away from the city center. From the airport, you can get to the city center by bus, taxi or car. The airport bus stop is 200 m away from the terminal A exit. From this bus stop, you may use the bus numbers 115e, 1192, 152e and 255e to reach the different destinations in the city center. 
The bus number 115e goes back and forth between the airport and the Prospekt Haharina Metro Station every day between 6:30 and 22:15, every 5-15 minutes. Number 119e goes to Peremohy Avenue every day between 6:30 and 22:00, every 15-30 minutes. Number 152e goes to Barabashova Street every day between 5:30 and 22:15, every 15-20 minutes. Finally, the number 255e goes to Akademika Barabashova metro station every day between 6:00 and 20:00, every 15-20 minutes.
It is possible to take a taxi from Kharkiv airport. If you'd like to be more independent on your journey, you may consider renting a car through Pegasus from the Kharkiv airport. Pegasus car rental service allows you to rent your car in Kharkiv in advance and comfortably discover the city.
Public Transport in Kharkiv
Kharkiv has a highly developed public transport network. It is possible to reach almost every point in the city by public transport. Metro, bus, tram, trolleybus, taxi and minibus (marshrutka) are used in public transportation. You may find all the routes and schedules of Kharkiv public transport alternatives here. As there is no multi-trip tickets and daily passes for Kharkiv public transport, every time before a journey a token should be validated.  You can also use taxi in the city center. The most popular taxi companies in Kharkiv and their numbers are:
InterCity Taxi - 756-52-47, 050-083-32-57, 097-767-44-31, 093-053-30-29,

Vip Taxi «Solli » - 067-35-10-777

Ais taxi - 763-00-77

Blues - 733-0000

Vashe taxi - 716-4444, 716-2222, 8-050-716-4444

Granit - 75-88-777

Deviatka - 751-9999, 050-401-9999, 096-856-9999, 068-610-9999

Diana - 719-3333

Cabriolet - 715-5555
Best Time to Visit Kharkiv

In Kharkiv, where the humid continental climate is effective, the winter months are quite cold and snowy, and the summer months are hot and humid. The average temperature in winter is -4℃ and in summer it is around 20℃. The lowest temperatures of the year are observed in January and February. Therefore, the best months to visit the city are May and September. It is recommended to stay for 2-3 days to discover this unique city.
Festivals in Kharkiv
Kharkiv Za Jazz Festival - Music Festival (March)

Kharkiv International Festival of Arts and Travel (May)

Kharkiv Mayor's Cup - Dance Festival (October)
Places to Visit in Kharkiv 

Kharkiv is famous for its wide streets, historic buildings and Soviet-era monuments. The city center is very rich in 19th-20th century attractions. Although a big part of the city was destroyed during WWII, it was rebuilt in a very short time. In the old town, you may find a lot of museums, churches, parks and monuments. Here are the most popular places that you should visit.
Freedom Square

This square is located at the heart of the city. It was built in the early 20th century when Kharkiv became the capital of the Soviet Socialist Republic of Ukraine. Freedom Square has been the center of the city since it was built. Today, official festivals, festivals and concerts are held in this square.
Kharkiv Art Museum
Kharkiv Art Museum is the most famous museum in the city and one of the most famous museums in Ukraine. In the museum, paintings and sculptors of Ukrainian and worldwide famous artists are exhibited. The museum collection contains more than 20,000 valuable pieces.
Intercession Monastery
Located in Kharkiv city center, the monastery is the oldest building in the city. It has been established in 1689. Preserved to today, the building was designed in the style of traditional Ukrainian three-domed churches. Its architecture was considered as one of the seven wonders of Kharkiv. The monastery was damaged during WWII and was restored in the early 1990s.
Shevchenko Garden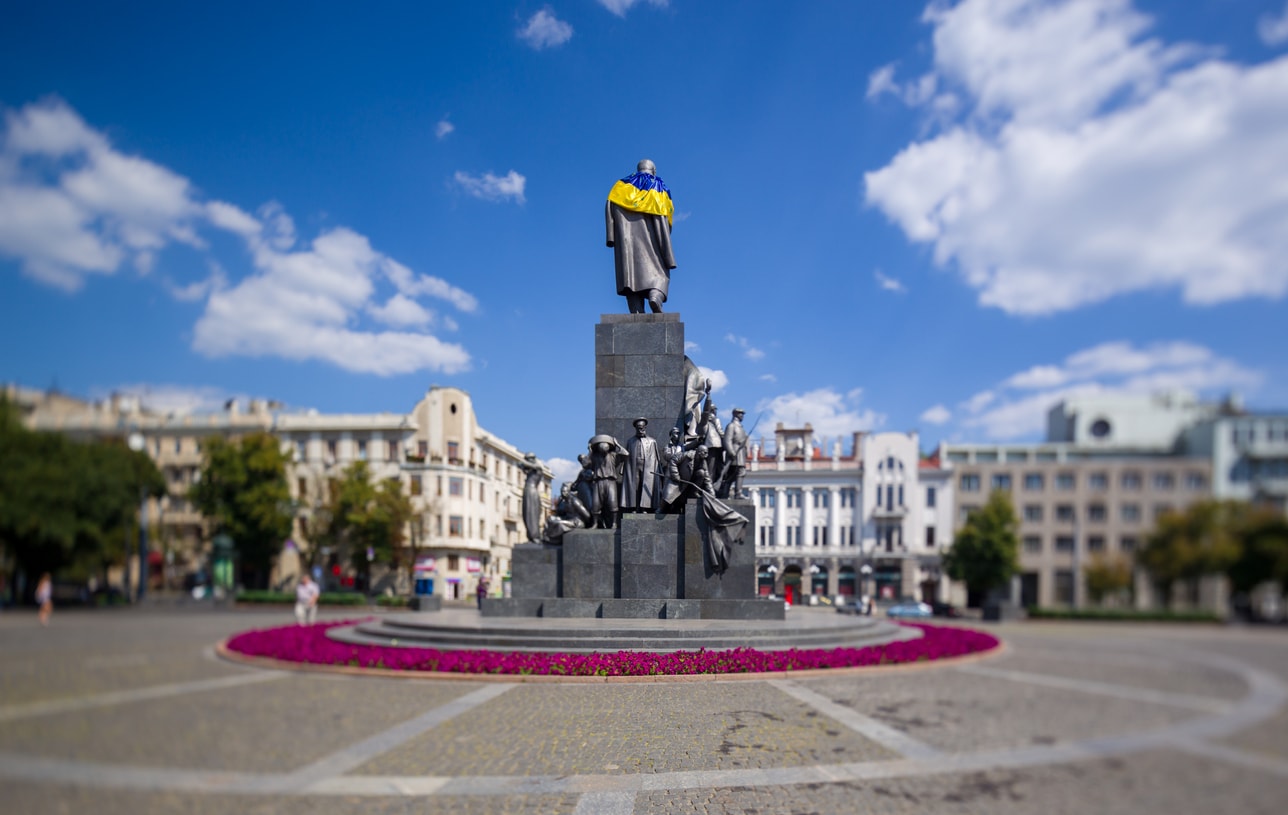 The magnificent Shevchenko garden is the oldest and largest park in Kharkiv. The park includes beautiful green spaces, important monuments, playgrounds and the Kharkiv Zoo. It was created by the founder of Kharkiv University, Vasily Karazin, between 1804-1805. Every summer, natural flower exhibitions are organized in the garden. 
Assumption Cathedral
It is the oldest Orthodox Cathedral in Kharkiv. Located in the old town, it served as the main worship center for the Orthodox Church. The building reflects the neoclassical style.  
Where to Stay in Kharkiv?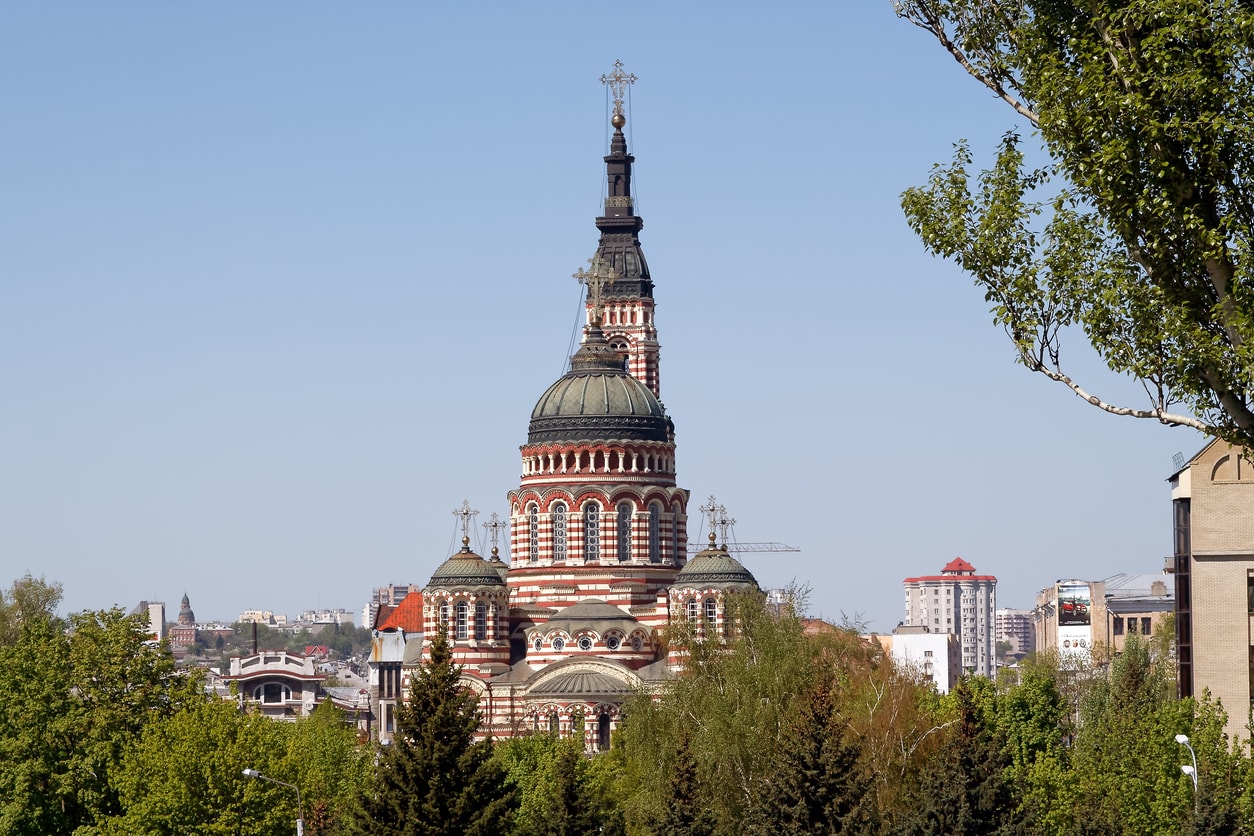 There are numerous accommodation options in Kharkiv. The advanced public transport network allows you to easily navigate anywhere in the city. Accommodation options in the city are usually located in the city center.
If you are travelling for touristic reasons, then it is recommended to stay either in the city center or nearby the river. You can visit the historical buildings and shopping centers close to the center by staying in 3-4 and 5 star hotels in the city center. You can enjoy the privilege of staying in the center, especially on Sumskaya and Pushkinskaya streets. Also, you can enjoy the beauty of the Kharkiv river by staying nearby which is also close to the old town. 
If you are travelling for business reasons, there are plenty of hotels around the airport that you may consider. In Kharkiv, it is also possible to stay in B&B facilities and apart hotels. If you prefer to have a more comfortable stay, you may also consider renting a short-term apartment in Kharkiv. Short-term stays in studios and apartments in Kharkiv are very common, especially by business people. You may some short-term apartment alternatives such as: Molon Apartments Kharkiv, Kotlova Studios and Gray-Orchid.
What to Eat in Kharkiv?

Ukrainian cuisine, which has a wide variety of dishes and different tastes, is famous worldwide for its traditional tastes. The most popular dishes of Ukrainian cuisine are "borsch soup" that is made with various vegetables and "vareniki", a type of ravioli. The most commonly used ingredients in Ukrainian cuisine are cold-resistant vegetables such as beets, potatoes, cabbage and other products such as pork, lard, eggs and wheat flour. As high-quality wheat is grown in the country, bread is an important element of the cuisine. Make sure to try these in Kharkiv: 
Sloboda: Borsch Soup

The Varenik: Vareniki

Fresh Line: Breakfast

Mafia Restaurant: Pizza

Gdeburger: Hamburgers

Aroma Kava: Coffee
Shopping in Kharkiv: Best Souvenirs to Buy

Kharkiv is one of the most convenient cities in Ukraine for shopping and there are many souvenir shops, bazaars, and market places for shopping. In addition, Kharkiv is a very rich city in terms of shopping centers including outlet centers. Almost every product is offered at very affordable prices over the city. In the city center, Barabashovo is the largest clothing and retail market in Ukraine and Eastern Europe and offers great deals. 
The most popular items that can be purchased in Kharkiv are Ukrainian local clothes, national clothes, Yuri Gagarin printed T-shirts, homemade vodka, jewelry and souvenirs describing Ukraine and Kharkiv. In addition, wooden matryoshka dolls, which are a part of Russian culture, are among the products you can buy in Kharkiv. One of the most convenient places to shop in Kharkiv is Freedom Square. You can find and buy Kharkiv's local items from boutiques, souvenir shops and local shops around Freedom Square. In addition, big and fun shopping malls such as Karavan Mall, Mamindom, Dafi Shopping Center, Symbol Plaza and Palladium Shopping Mall can be preferred for shopping. In these shopping centers, all kinds of products are sold, from clothing to jewelry, furniture to electronics.
Nightlife in Kharkiv

In Kharkiv, entertainment is an important part of the local life. Even though Kharkov is quite cold at night, the nightlife is enjoyed regardless of whether it is summer or winter. When we take a closer look at the Kharkov entertainment venues, the standardized booking and security measures come first. It is almost impossible to a night out without having a reservation. In addition, in the aftermath of adversity and conflict in recent years, entertainment venues took extraordinary security measures, while Kharkiv security forces started to provide 24-hour service on the streets. With this aspect of the city, the local government, which does not want to reduce the revenues of tourism and entertainment venues, has realized an important project and has managed to increase the amount of bilingual police on the streets to a sufficient level. Therefore, Kharkiv nightlife has made great progress with this improvement in security conditions.
If you want non-stop entertainment until the first lights of the morning, then you can go to Misto- Klochkovskaya. Being one of Kharkiv's most popular entertainment venues, its name means "the most beautiful city to enjoy". It is a form of a nightclub that offers a wide range of services including bowling, steam bath, casino and so on. The place requires a reservation. The entertainment starts after 21:00 and continues until 06:00 in the morning.
If you have security concerns and are looking for a safe venue, then Panaroma Kostyurinsky can be a possible destination for you. Security is very important in this place. Before the entrance, there are strict facial controls and fingerprint controls done with a rigorous effort to prevent the entertainment of international criminals or local criminals and to ensure a safe entertainment environment. The place has a specific dress code, requires a reservation and it is open from 22.00 to 05.00. 
If you have kids and look for somewhere that you can take your kids with you, then the right place is Arizona Beach Club. This nightclub offers a playground and swimming pool for children free of charge. The Beach Club is protected by professional swimming instructors who serve as lifeguards. In addition, in summer, there is an open-air disco in the club. The place is open from 22.00 to 06.00 and it requires a reservation. 
Things to Know Before Visiting Kharkiv
Kharkiv is very hot in summer and very cold in winter. Best months to visit the city are May and September.

Watch out your belongings in bazaars and touristic streets for pickpocketing. 

You can bargain in the open air market.

You can bargain with the taxi driver prior to your journey. 
Essential Numbers
Country code: +380
City code: 57
Kharkiv Airport: +380 57 766 00 76
Police: 102
Ambulance: 103