Astana, formerly known as Nur-Sultan, is the capital of Kazakhstan. Being the second largest city in the country, Astana attracts international visitors due to commercial bonds, cultural exchanges and historical heritage. You can find cheap offers to Astana via Pegasus direct flights from Istanbul all over the year.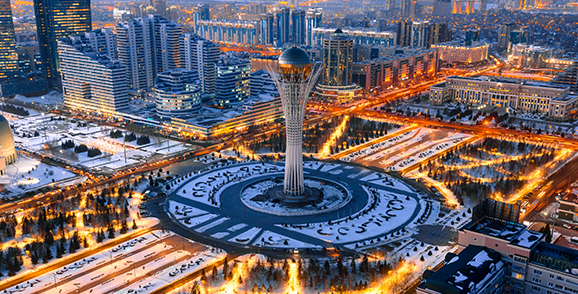 General Information about Astana
| | |
| --- | --- |
| Country | Kazakhstan |
| Official Language | Kazakh and Russian |
| Surface Area | 722 km² |
| Elevation | 347 m |
| Time zone (GMT / Local time) | UTC+6 (ALMT) |
| Telephone Code | +7 7172 |
| Location | To the north of Kazakhstan |
| Climate | Continental climate with very low temperature in winter and semi-arid weather |
| Currency | Kazakhstan Tenge (KZT) |
| Annual Average Temperature | -14.2 °C in January to 20.8 °C in July |
| Socket Type | Type C and F / 230V |
Location
Astana is situated in Akmola Provincial State, alongside the Ishim River, to the north of Kazakhstan. Although population density is higher in the south, the northern territories have started to get more inhabitants after the city was declared as the new capital in 1998.
Best Time to Visit Astana
The climate in Astana allows travelers to get around the city and other favorable destinations in spring and summer. As minus degrees are frequently seen in January and February, April and May become the most preferred alternative to the peak season. Summer usually lasts warm in the capital with very few rainfalls. You can also visit cities like Almaty, Shymkent and Aktoby during the peak season in July and August by cheap Astana flights from Istanbul.
Transportation in Astana
Nur-Sultan direct flights from Istanbul SAW will save time for international passengers. If you take Pegasus flight, you will land at Astana Nazarbayev International Airport (NQZ) near the city. There are various options for airport transfer from and to the city center.
Airport Transfer
The easiest route to get to the capital from the airport is to get on Bus 10 or Bus 12. These are scheduled every half an hour on weekdays. From T1, you can reach the gate of T2 to see the bus stop near the entrance. Taxi is the second option if you need to transfer urgently.
Public Transport
Like Almaty and Shymkent, public transport is based on bus and railway systems. Astra Bus is the provider of public buses. There are different routes and frequent stops for the majority of them. At rush hour, buses may be too crowded but you can check the scheduling and exact location of your bus, the Astra Bus app will guide you.
Commuter Transport
For intercity traveling, you may prefer the railway system. From Astana to other cities and provinces, there are various train lines. You can get to Almaty and Moscow by three railway lines departing from the station on the northern part of the city. The train takes 20 hours overnight to get to Almaty. Nurly Zhol Railway Station, opened in 2017, offers various domestic and international routes through its modern platforms. Bus 50 will transfer you to downtown Astana and bus 48 to the other station. Another comfortable way is to drive yourself. You can try Pegasus rent a car service for premium options.
Places to visit in Astana
The mosaic of cultures combining Turkish, Soviet, Kazakh figures and rich history makes this Central Asian city an inspiring destination for travelers. There are various museums, monuments, mosques and palaces to be included in a travel list. Our Astana City Guide describes the places to see during your Kazakhstan trip. Here are four items:
Nur Astana Mosque
Located on the left side of the river, this majestic mosque is attributed to the prophet Muhammad and the Islamic belief in Central Asia. The structural height (40 m.) symbolizes the prophet's age and the minaret height (63 m.) represents his age of receiving revelations. Recorded as the third largest mosque in Central Asia, Nur Astana Mosque is spiritually and physically enchanting.
Atyrau Bridge
Its futuristic architecture gives visitors a blended impression of historical and contemporary artifacts in Astana. For sightseeing and city panorama, Atyrau Bridge creates a splendid spot with its 314 meters long pedestrian route.
Khan Shatyr
Internationally known as the ¨Royal Marquee¨, Khan Shatyr is a reflection of neo-futuristic understanding in engineering. This giant tent-like construction serves as an entertainment center on Turan Avenue, one of the busiest streets in Astana. There is a boating river, a shopping center, minigolf and indoor beach oın the venue.
Atameken Map of Kazakhstan
This outdoor museum has been established like a miniature map of the whole country. In the map, there are 200 pieces representing Kazakh cities, historical memoirs and figures.
Palace of Peace and Reconciliation
The pyramid shaped building encompasses two art galleries, an ethnography and archaeological museum with a large park. The park overlooks the city for a panoramic view. The pyramid block of 62 meters high serves as a meeting hall for the biennial summit of all religions.
Khazret Sultan Mosque
Opened in 2012, the mosque is labeled as the second largest of its type in Central Asia. It has the capacity to serve 10.000 worshippers and is open between 09:00-21:00 both for prayers and visitors.
Bayterek Monument
Locally known as Chupa Chups, the monument symbolizes post-modern architecture. There is a bar, restaurant, aquarium and a golden palm print for visitors to touch.
Accommodation in Astana
Astana is a destination with a wide variety of cost-effective accommodation facilities. Four and five-star luxury hotels are usually global brands offering elegance and quality services. There are satisfying local options, B&B accommodation and housing in various districts. For cheap hotels in Nur-Sultan to see, the area covering Ishim riverside, Chubary district and streets around Grand Square and Bayterek Tower are the best to search.
Popular Food and Restaurants in Astana
Delicious food and local drinks give a glimpse of the large scaling in gourmet tasting and eating styles. Local food and drinks are highly recommended though international recipes and vegan food are also available in Astana restaurants. You should not leave before tasting those appetizing dishes and drinks listed in our Astana Travel Guide with four below:
Beshbarmak: Kazakh beshbarmak is a different version of Central Asian cuisine. The boiled meat is The local horse meat is boiled and served with noodles. The portions are appetizing and satisfying.
Boursaky and shashlik: Shashlik is a kind of kebab served with traditional bread, called boursaky.
Kumis: Also pronounced as ¨kımız¨ in Turkish, is a drink produced from fermented mare's milk (female horse). It might be a bit salty and strong but worth it to taste in Astana.
Shubat:It is a kind of fermented camel milk, sparkling white and tastes sour. Shubat is also called chal.
Souvenir Shopping in Astana
Talisman and Suveniry Astana are two large and local shops where you can buy traditional items like the iconic Baiterek statue, ceramic and porcelain kitchenware, felt toys and leather products.
Important Tips about Astana
The mobile operators are active in the capital like in other regions of Kazakhstan. The mostly favored prepaid SIM cards with 4G/LTE for your mobile are as follows:
KCell (Activ)
Tele2
Beeline
Entertainment in Astana
The capital of Kazakhstan hosts a variety of places for entertainment day and night. Complexes like Ak Bulak and ReVision Park hosts cinema, aquarium, swimming pool, sports facilities, billiard hall and traditional baths. In the city center, you can find other lively spots for night entertainment.
Emergency Numbers in Astana
If you need any kind of emergency during your Astana trip, you can call the related department via these numbers:
General rescue 112 or 051
Fire brigade 101
Police 102
Ambulance 103
Gas services 104